Slow Cooker Kalua Pork [Easy Meal Prep]
By Amy Dong
Published Apr. 15, 2021
Updated Aug. 17, 2022
The flavors of Hawaiian Luau Kalua Pork can easily be made at home. Just 5 ingredients for this tender, smoky, Slow-Cooker Kalua Pork. It's perfect for weekly meal prep.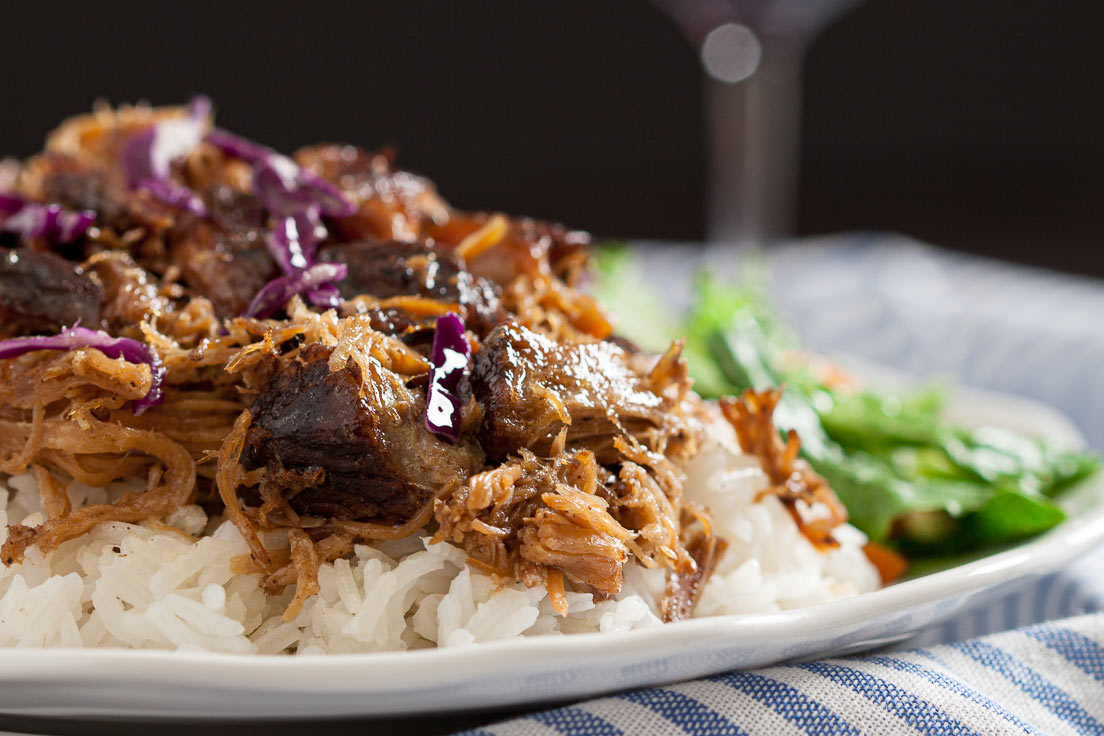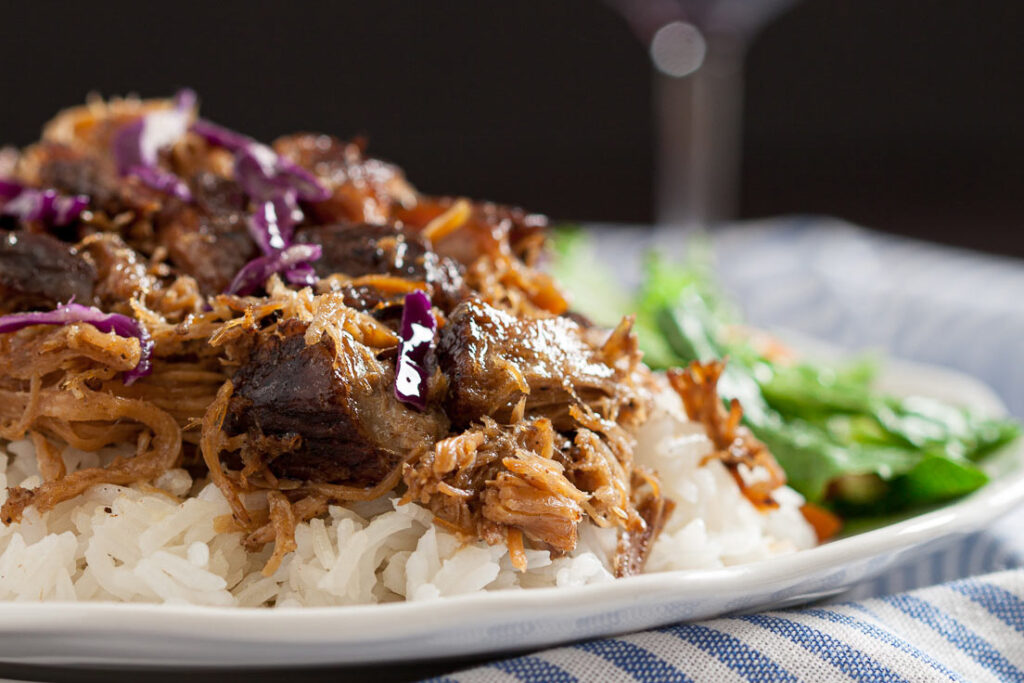 Kalua Pork: Easy Meal Prep
Many of my good friends were born and raised in Hawaii and we've spent a good amount of time hopping the sandy islands. Aside from the awesome culture, pace of life, waterfall dives, and crazy hikes…what I love most about the islands is da food. The local food is unparalleled. Lolo 'ono.
Note: Kalua Pork contains no liquor. The term "kalua" refers to food that's been cooked in an underground oven, or "from the pit." That smoky, tender, flavorful kalua pork makes Maui parties exceptionally festive. Now you don't have to fly over the Pacific for a simple kalua pork fix.
This kalua pork recipe delivers all the savory flavors with just 5 ingredients and a slow cooker. It's absolutely perfect for weekly meal prep, it's freezer friendly, and works fabulously for potlucks and gatherings.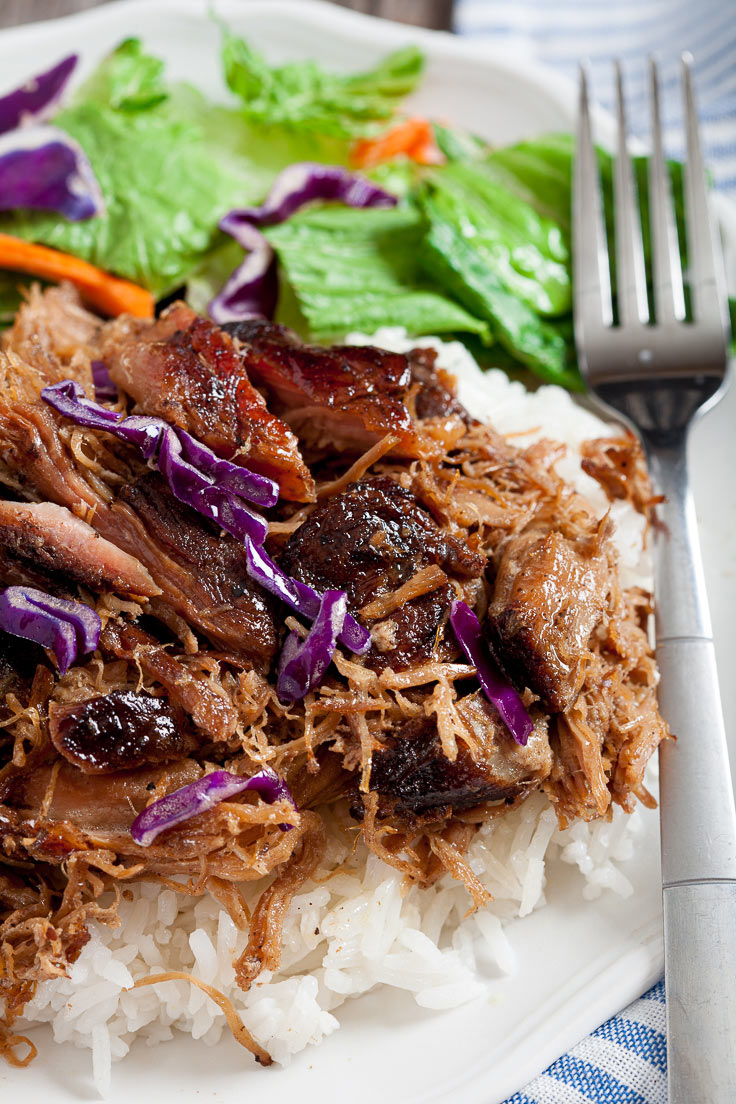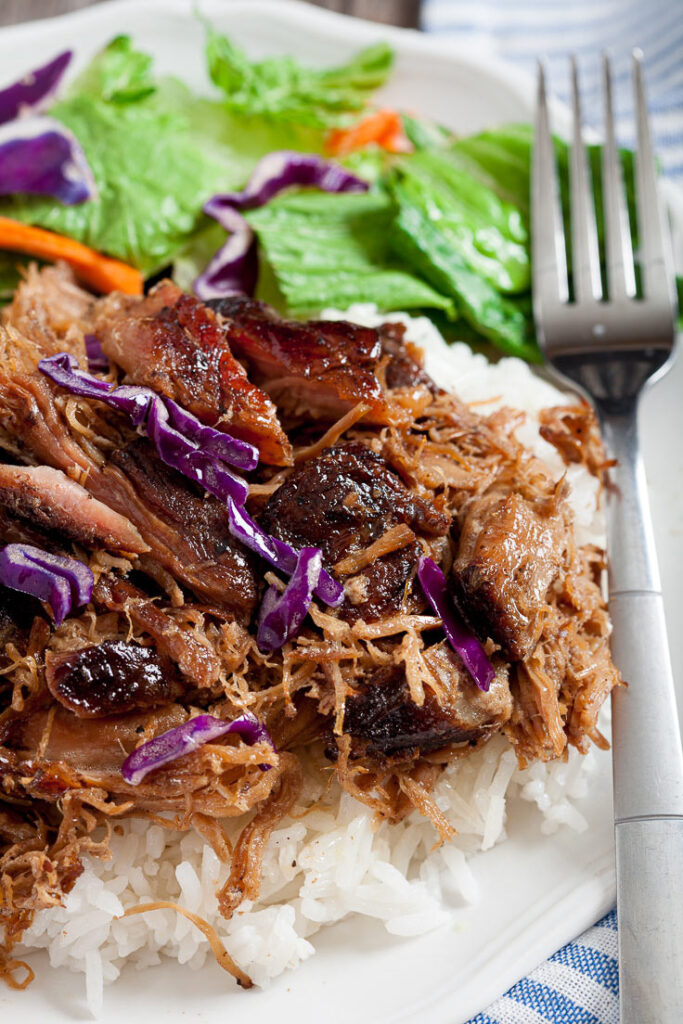 How to Meal Prep
This Kalua Pork recipe makes a generous amount, with approximately 10 servings or more, depending on how it's served. This recipe results in an extremely flavorful, tender dish similar to our favorite Pulled Pork, and it's just as meal-prep and freezer friendly.
Place cooked Kalua Pork into desired meal prep containers, without any garnishes or condiments. Include all accumulated juices. Serve over the next several days, over Jasmine rice, brown rice, in tortilla wraps, or in buns. Mix up the way you serve it for variety throughout the week.
Cooked Kalua Pork can also be divided into freezer containers to store in freezer for several weeks.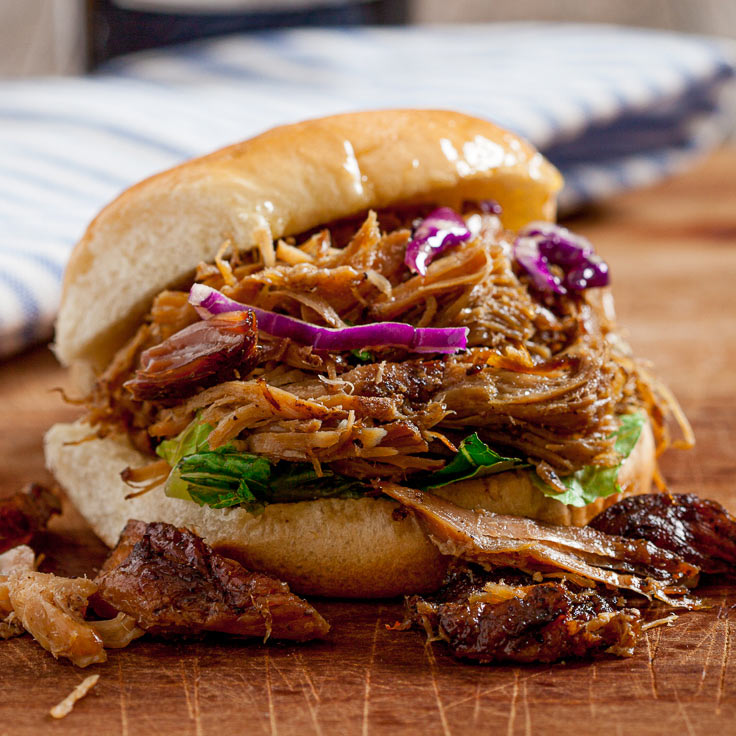 Use this cut of pork
The best cut of pork for this dish is boneless pork butt/shoulder. It's an ideal cut for slow braising and slow cooking, as it breaks down and becomes tender with a long, slow cook time.
Boneless pork butt/shoulder is affordable and easily accessible, so just look for a nice fresh roast. Feel free to trim excess fat, but you'll need to leave some of the fat, as it helps to ensure your pork turns out tender and not dry.
The other 4 ingredients
Liquid smoke is where this Kalua Pork gets all its succulent, smoky flavors. We went into detail about liquid smoke in this post, so feel free to check that out if you want to know more.
Coarse sea salt or rock salt should be used in lieu of common table salt. There's a big difference in amounts used when it comes to coarse vs. fine salt, so do be sure to use coarse grained salt.
Garlic powder is our BFF in the kitchen, and rightly so. It provides aromatic garlic flavor to dishes without any fuss. Be sure to use pure garlic powder, and not a blend that might include additional sodium, which would make the dish too salty.
Freshly ground black pepper is a must for zesty kick. If you aren't already using fresh whole peppercorns in a pepper grinder, it's time. You'll notice a drastic improvement in aroma and flavor immediately.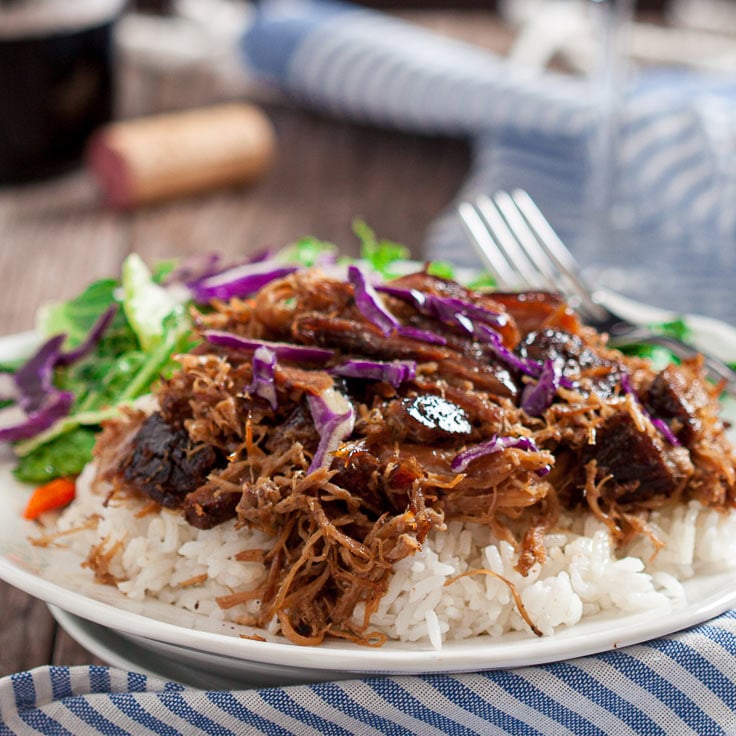 Ways to Serve Kalua Pork
Our favorite ways to serve this succulent Kalua Pork include:
Served over Jasmine rice or brown rice
In tortilla wraps or even lettuce wraps
In buns of any kind; hamburger buns, hoagie rolls, Hawaiian rolls
With a side of Hawaiian Macaroni Salad
Over a bed of greens
Mix up the way you serve your Kalua Pork, for variety. Whichever way you serve it up, it promises to be 'onolicious.
Other Meals to Prep and Eat:
---
Did you make this?
Please give us a rating and comment below. We love hearing from you!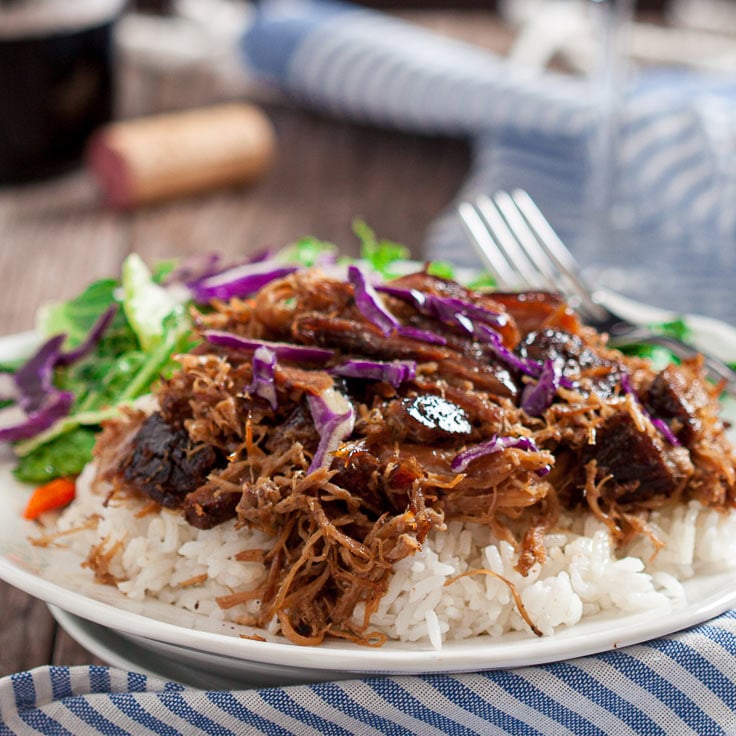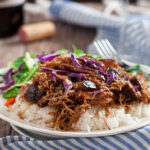 Slow Cooker Kalua Pork
You won't believe how easy this Hawaiian style Slow Cooker Kalua Pork is. Just 5 ingredients for this tender, smoky pulled pork. Ideal for meal prep and parties.
Instructions
Thoroughly dry pork with paper towels. Use a sharp, small knife to pierce pork all over (about 1/4" deep slits throughout entire pork.) Place pork in slow cooker.

Rub salt all over pork. Rub liquid smoke all over pork, using all the liquid smoke. Sprinkle on the garlic powder and black pepper. Cover and cook on low for 12 hours, turning roast over once midway through cooking.

Using forks, shred pork in slow cooker. Add 1 cup water to pork and all its drippings (do not skim the drippings.) Cook on low 1-2 more hours.

Serve warm over freshly cooked rice.
Notes
Traditionally, kalua pork is slightly saltier than typical roasts, as it's meant to be eaten with plain white rice. If your pork was pre-injected with a tenderizing salt solution, or if you're watching sodium intake, decrease salt to 1 1/2 teaspoons. Be sure to use coarse grained salt and not table salt.
Hawaiian Mac Salad is a popular side dish to serve with this recipe. See original article for additional serving suggestions.
Nutrition (per serving)
Calories:
289
kcal
|
Carbohydrates:
1.6
g
|
Protein:
49.9
g
|
Fat:
7.7
g
|
Saturated Fat:
2.4
g
|
Cholesterol:
148.7
mg
|
Sodium:
585.5
mg
|
Fiber:
0.1
g
|
Sugar:
1.2
g