Hawaiian Grilled Pork Chops are grilled to tender perfection and amazingly flavorful. Experience a flavor explosion in your mouth with every succulent bite. Either outdoor grill or indoor cast iron grill works great.
Watch How to make Hawaiian Grilled Pork Chops: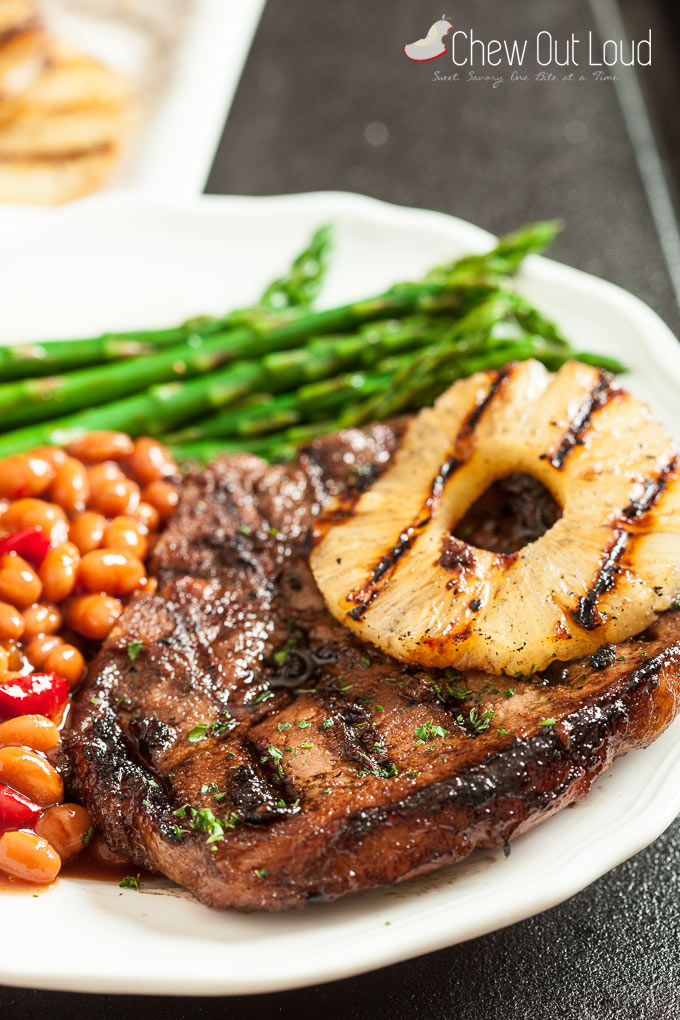 Hawaiian Grilled Pork Chops
Many of you know I'm like a fish out of water in the wild, wild land of Minnesota. Wild is fabulous. We love Wild. We're all about the great outdoors, so Wild is not what throws me off.
It's the other W word. Now that we're finally out of the freeze and heading into summer, I'm afraid to say the W word out loud.
Suffice to say I'm giddy saying goodbye to my long down coat for awhile. However few months of warmth we get, we will SO take it.
Summer brings on a big, statewide happy sigh. It's the season all the grills emerge from hibernation. Left, right, high, and low…it's grill time.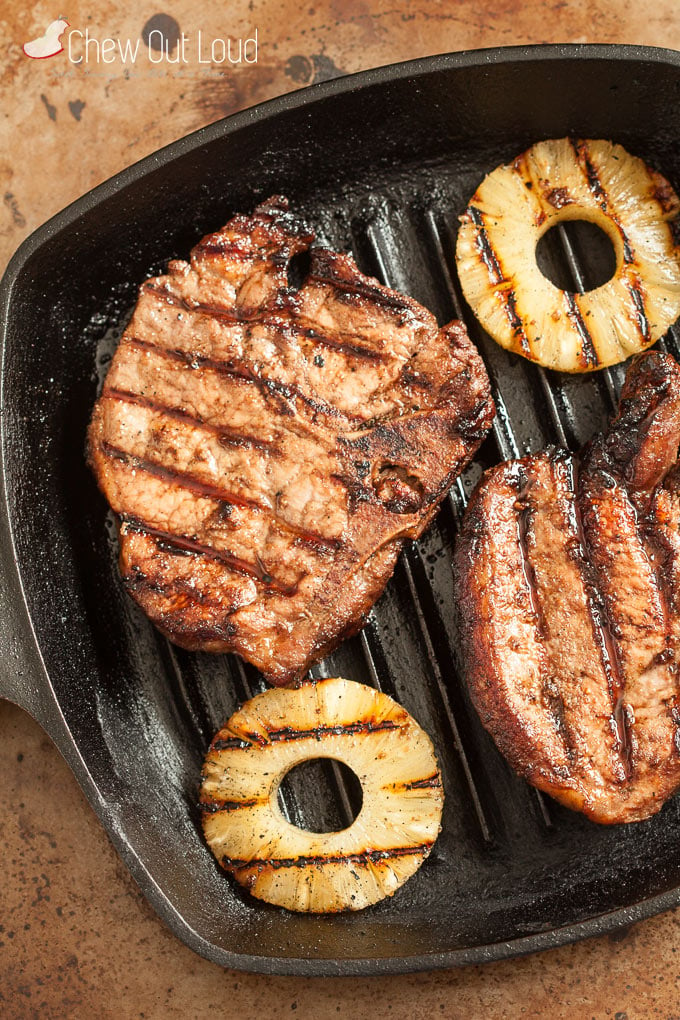 Tasty Marinade Makes all the Difference
We've long been fans of throwing pork chops on the grill. I've already bragged about my mama's amazing pork chops when we grilled you these Honey Mustard Pork Chops.
But lately, we've been daydreaming about Hawaii and all its amazing flavors. That's how these Hawaiian Grilled Pork Chops were born. They're incredibly tender, juicy, and loaded with flavor. Savory, sweet, and simply irresistible.
Hawaiian Grilled Pork Chops only need a handful of ingredients to come true. Give it plenty of time to soak up all the tasty marinade and fire up the grill.
You'll definitely want to grill up some pineapples to go with these ridiculously delish pork chops.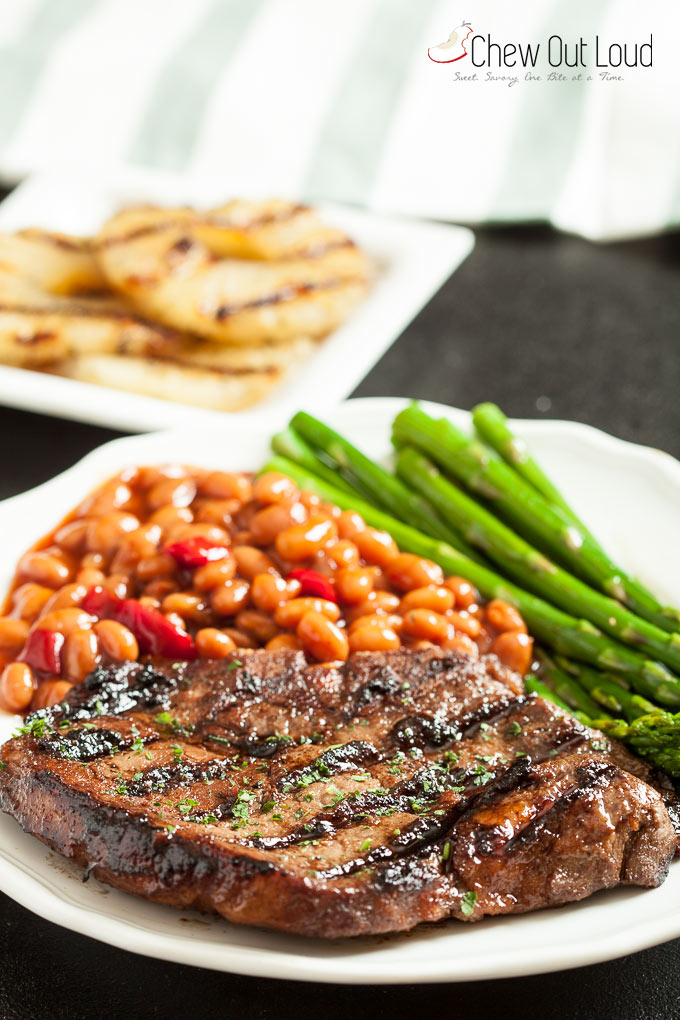 Here's to all the grills emerging from hibernation. Enjoy!
Print
Hawaiian Grilled Pork Chops (+Giveaway)
---
Description
Ingredients
---
Scale
Ingredients
4

center cut pork chops, about

3/4

inch thick each

1/4 cup

light brown sugar, packed

1/4 cup

regular strength soy sauce

1

can (8oz) pineapple rings, with 1/4 cup juices reserved

1 tsp

. onion powder

1 tsp

. garlic powder

1/4 tsp

. ground ginger

1/4 tsp

. freshly ground black pepper
Oil for grilling
Optional: Chopped parsley for garnish
---
Instructions
Use paper towels to dry excess moisture from pork chops. Poke holes throughout chops with a fork. Set aside.
In a very large bowl, whisk together brown sugar, soy sauce, 1/4 cup pineapple juices, onion powder, garlic powder, ground ginger, and black pepper. Whisk to combine well. Place pork chops in bowl, taking care to ensure both sides of each chop are fully coated and immersed in marinade. Cover tightly and chill in fridge at least 6 hours, but preferably overnight for best flavor.
Grease and preheat your outdoor grill or indoor cast iron grill. Once grill is hot, remove chops from marinade, and grill on medium-high heat about 4 minutes per side, or until there are deep grill marks and center is no longer pink. You want it fully cooked, but take care not to overcook the meat (Note: Indoor cast iron grills may cook faster. Actual cook time depends on thickness of your chops, temperature of your grill, and temperature of your meat before cooking.)
If using outdoor grill, you can use marinade for brushing on the meat during the first couple minutes of cooking, but not towards the end of cooking time. Discard excess marinade.
Grill desired amount of pineapple rings until grill marks appear. Serve pineapple rings on top of grilled pork chops. Sprinkle with chopped parsley, if desired.
---
Reader Interactions