How to Make Baked Salmon in Foil
By Amy Dong
Published Jan. 25, 2021
Updated Feb. 9, 2023
Baked Salmon in Foil is an easy way to cook salmon that results in a tender, tasty, and healthy dinner. There's a reason salmon foil packets are supremely popular; they're no-mess, nutritious, and taste outrageously scrumptious. This Honey Baked Salmon in Foil takes less than 30 minutes.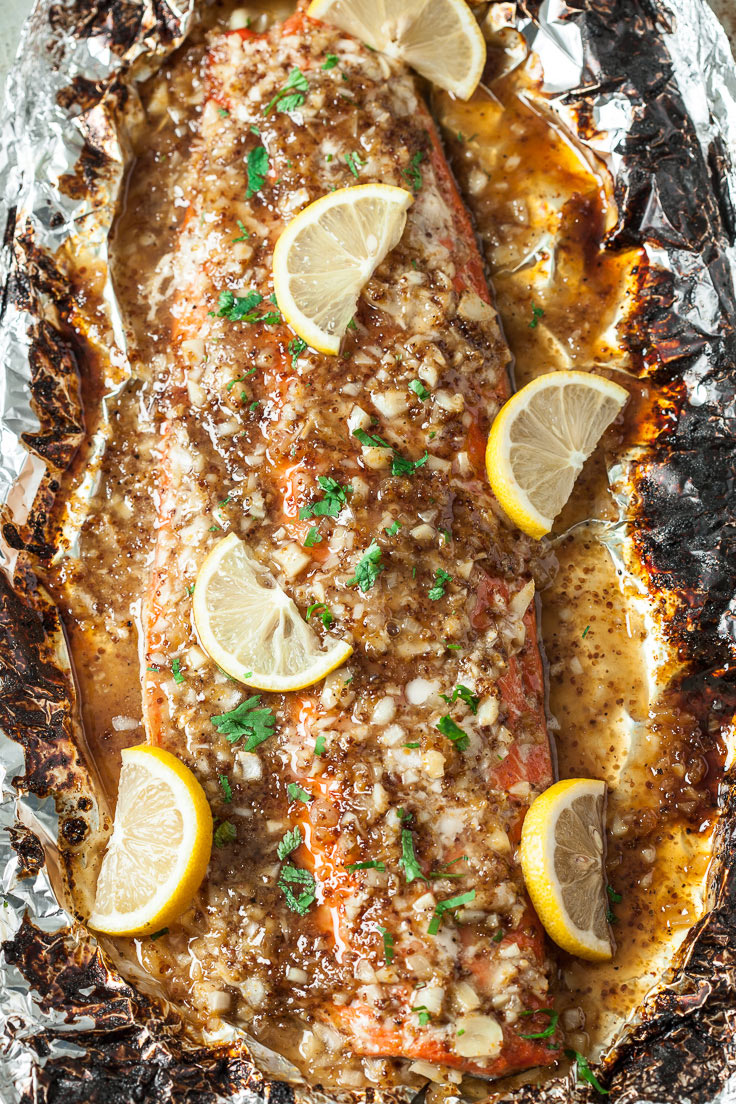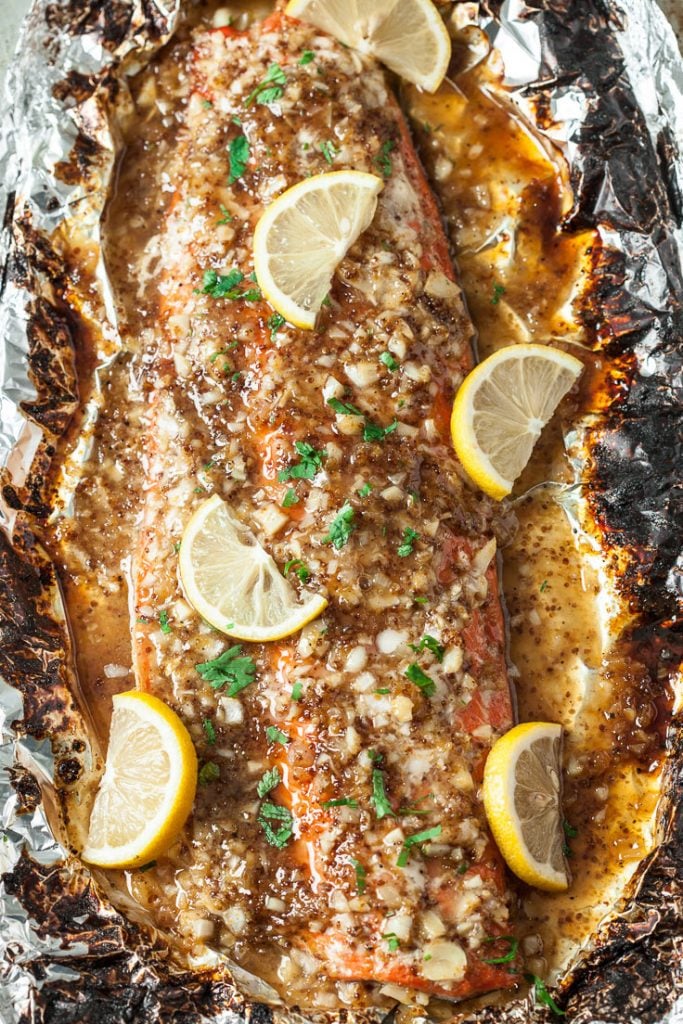 Baked Salmon in Foil
I've gotta hand it to Hubby and the boys: they've done a remarkably stellar job keeping up with my no-sugar shenanigans since January 1st. Not that there haven't been tempting-temptations and such. But my guys have been awesome about choosing to feast on healthier snacks instead.
It doesn't hurt that I'm The Shopper around here and have eschewed anything with sugar on all my grocery store runs. And it helps that I'm also the cook on these grounds and have proclaimed a temporary farewell to as many refined sugars as possible.
Instead of refined sugar, I've been subbing with raw honey so that we can still have super tasty meals. Some recipes kind of glow with a bit of pure raw honey goodness. Which brings me to our recipe today.
Hello, Baked Salmon in Foil. You're on center stage today…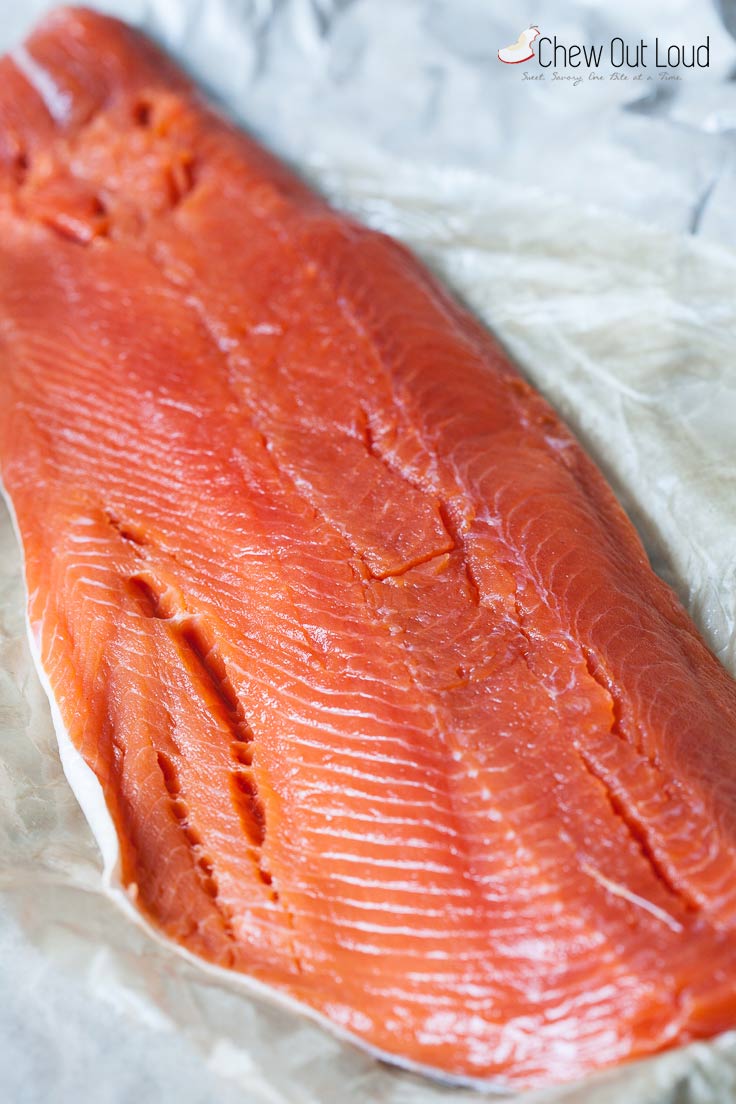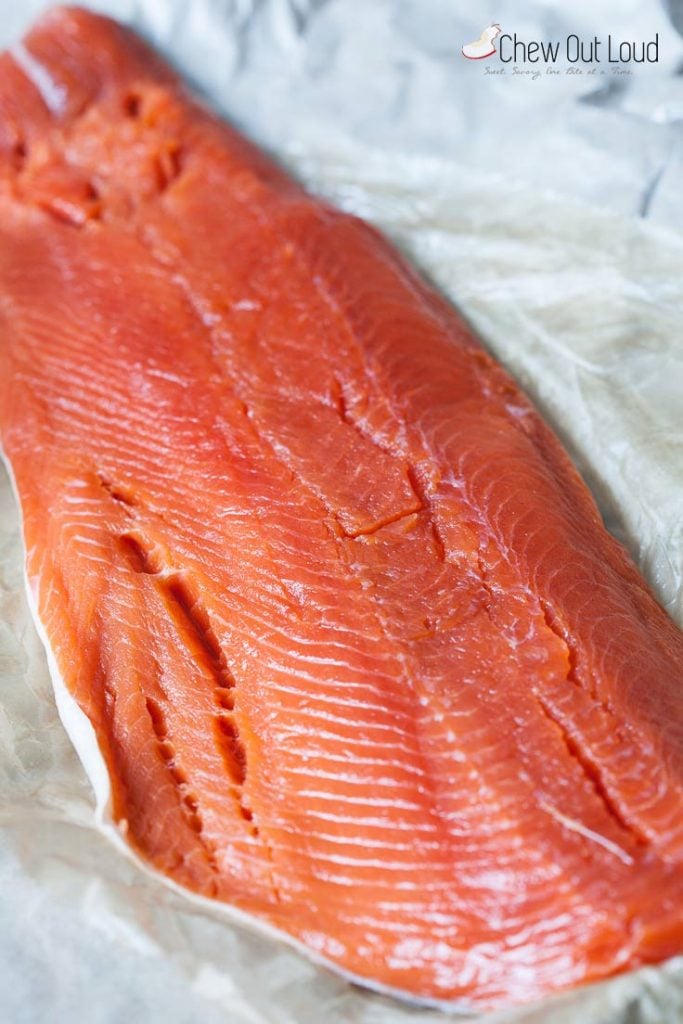 How to make baked salmon in foil:
Before diving in, is that wild-caught Alaskan Salmon not just swimmingly gorgeous? It was such a great catch, I was immediately hooked and had to reel it in.
Ok. How to bake salmon in foil. I used to be intimidated with the whole salmon in foil thing. Like, how do you actually wrap it up and all that? And what do you put on it? And what if it leaks everywhere?
Rest assured, this is a totally easy gig. You can go with a whole fillet of salmon, like I prefer to do, or you can go with sliced salmon fillets in individual foil packets. Either way, it's a cinch. You'll place that salmon over a large, rimmed baking sheet lined with heavy duty foil.
Simply whisk together a flavorful marinade, brush it over the salmon fillet, and fold/seal the foil like a packet so that all four sides are tightly sealed. Then just let the foil-steam magic happen in the oven.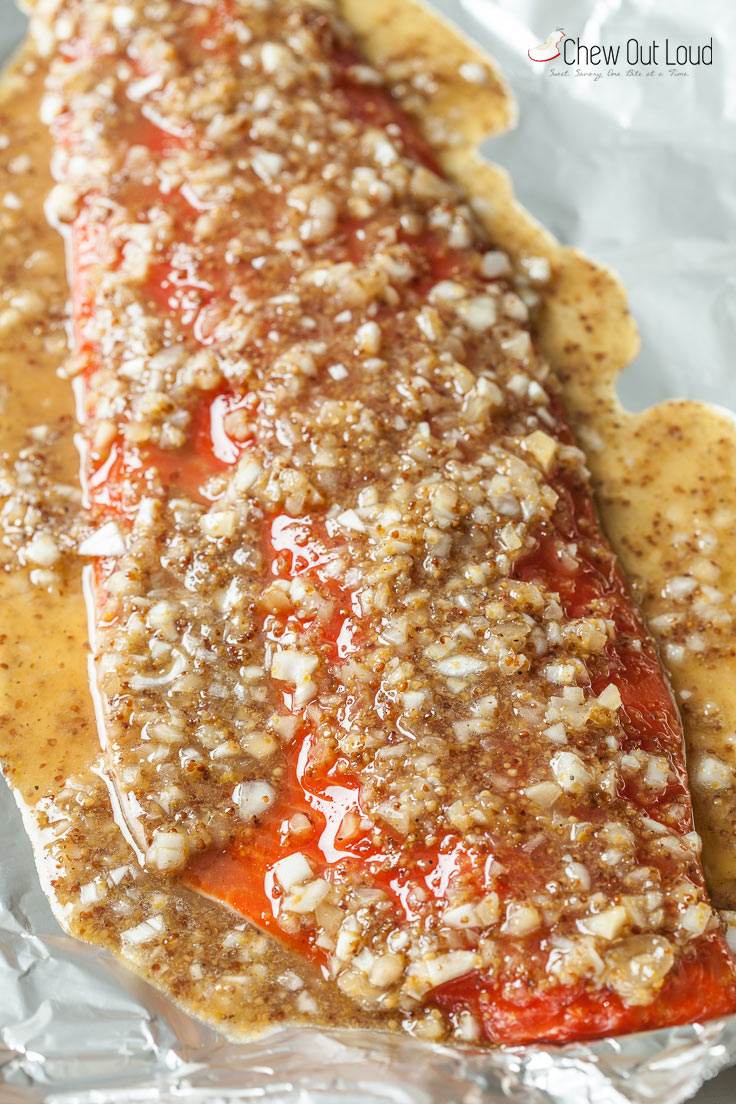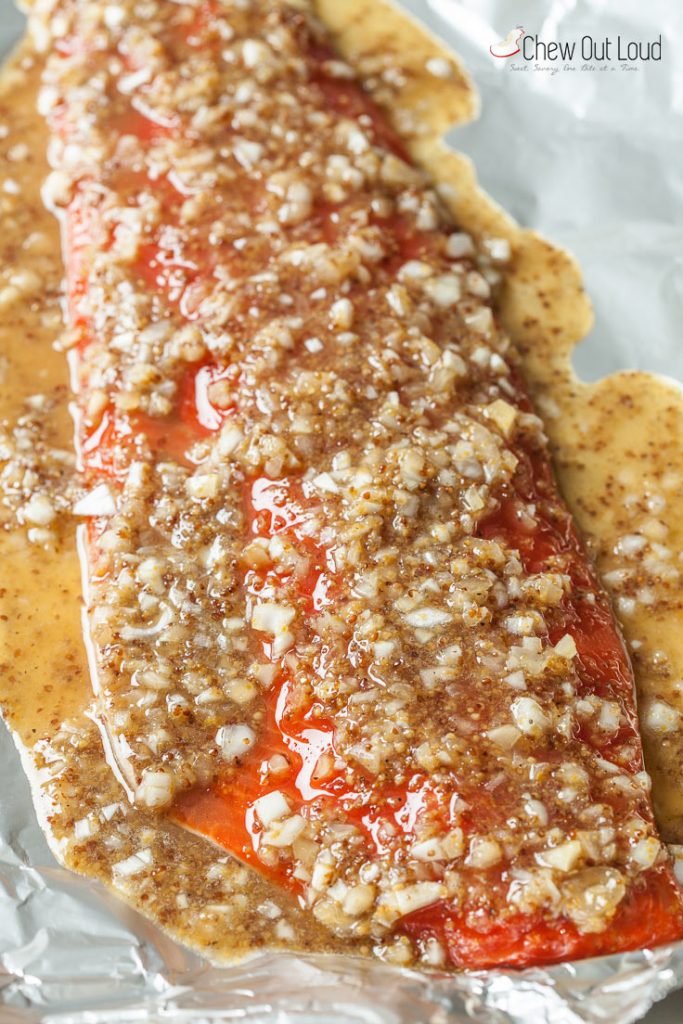 How long and what temp to bake salmon in foil?
This is the easiest question to answer, as well as the most important aspect.
Keep the temp between 350-400F, as every oven heats a bit differently. I've chosen to do this Honey Baked Salmon in Foil at 400F. Rack on middle position, so it all cooks as evenly as possible.
Most importantly, do not overcook the salmon. Seriously, many recipes have us way overcooking our fish to the point of dry sadness. Salmon is best when barely just cooked and no more. With a 1-inch thick fillet, let 'em bake no more than 10-15 minutes. Again, this will vary by a minute or two, depending on the thickness of your fish, but don't listen to those 20-minute cook time instructions.
If your salmon, for whatever reason, isn't fully done at the 10-15 mark and you've opened your foil packet, no worries! You'll be broiling the salmon under the broiler for another 2-3 minutes to brown the top. You can always add a bit of time under the broiler if necessary.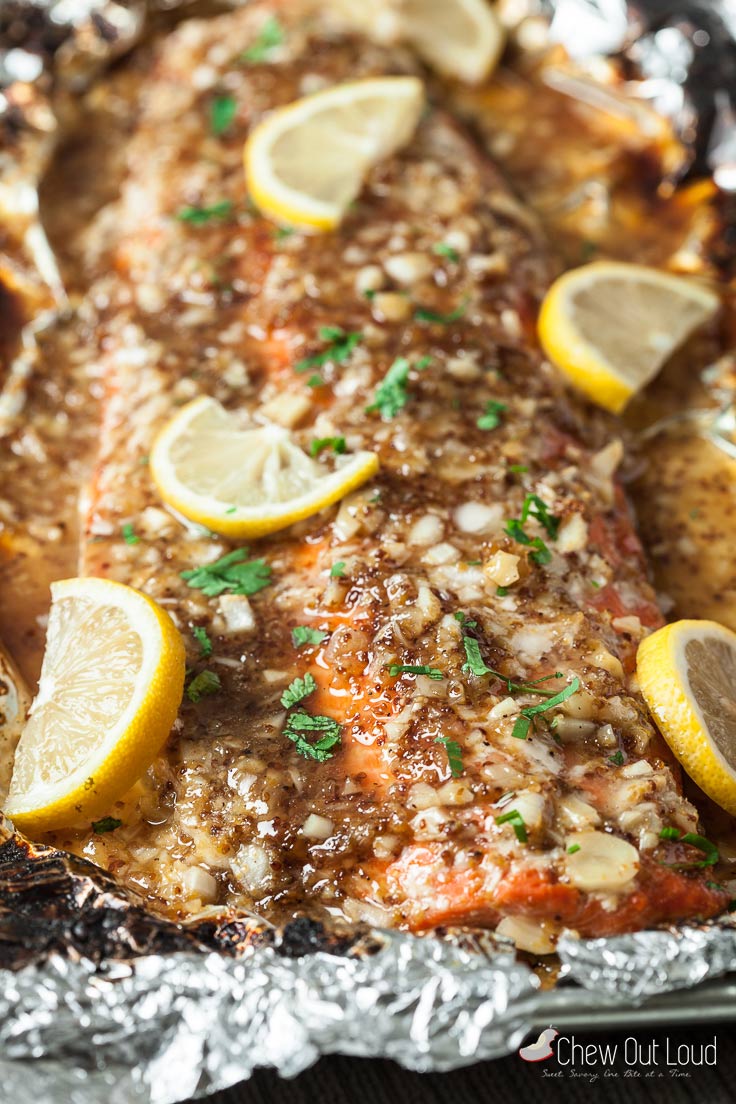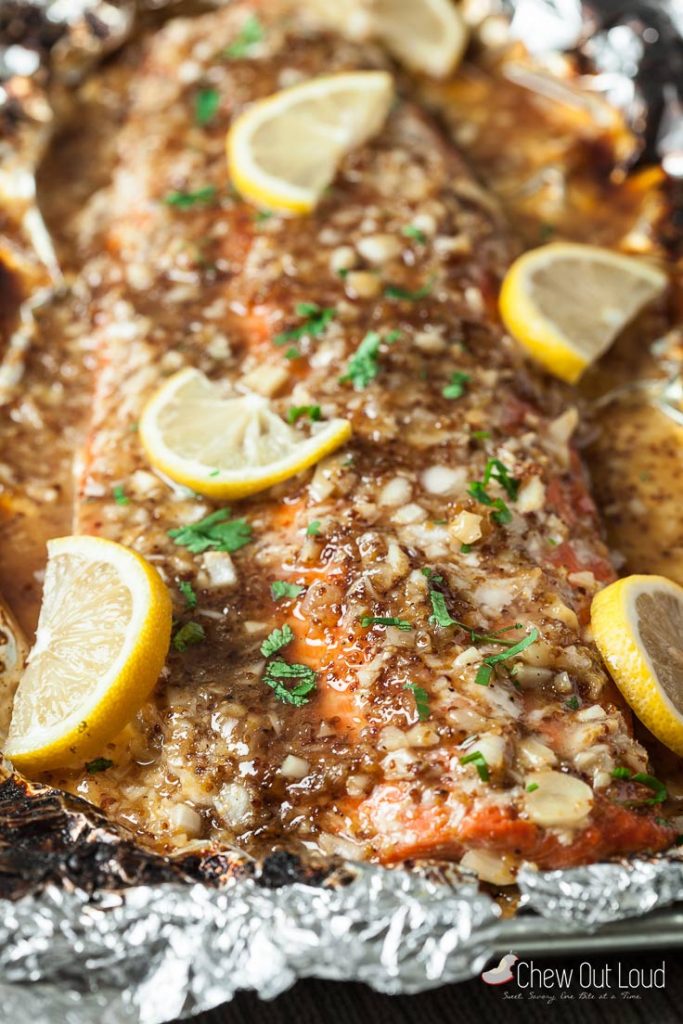 Why bake salmon in foil?
Ok, I fibbed before. This is the easiest question of all.
Baking salmon in foil creates an ultra moist, tender fish that's ultimately quick-steamed without a fussy steamer. It's flavorful, healthy, and easy.
Mostly, there's almost zero cleanup after dinner. Just toss the foil after dinner and never look back. Or wrap up any leftovers in the same foil and reheat as-is in the oven tomorrow.
Less mess = 😊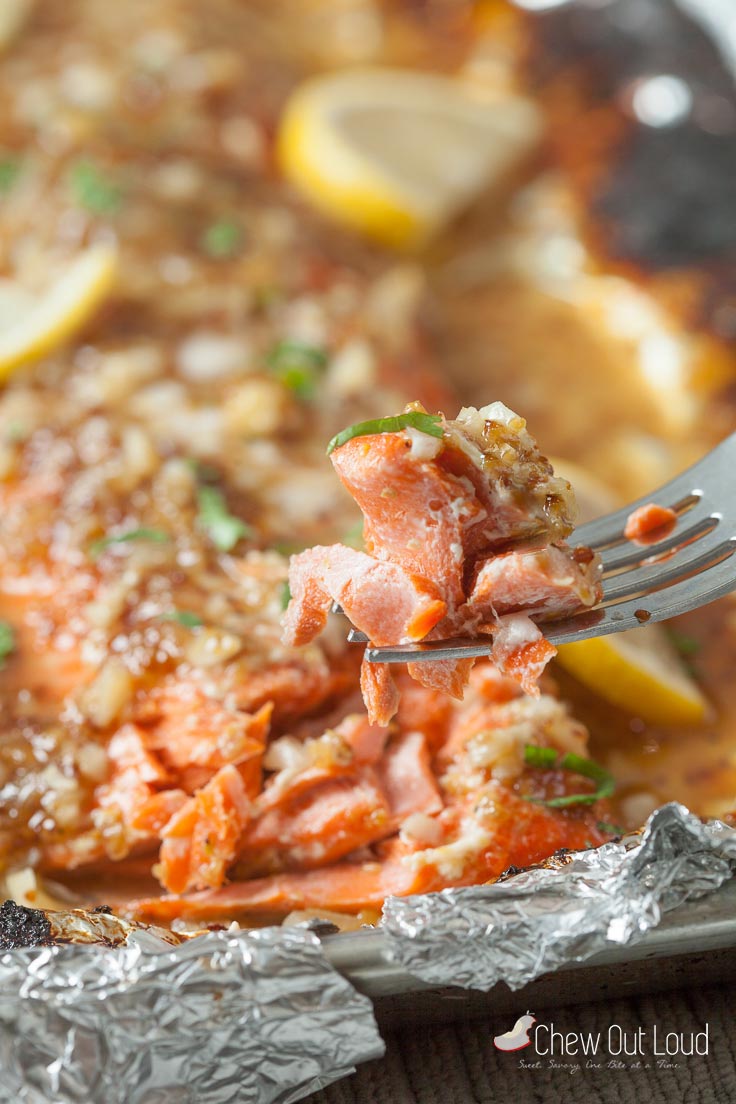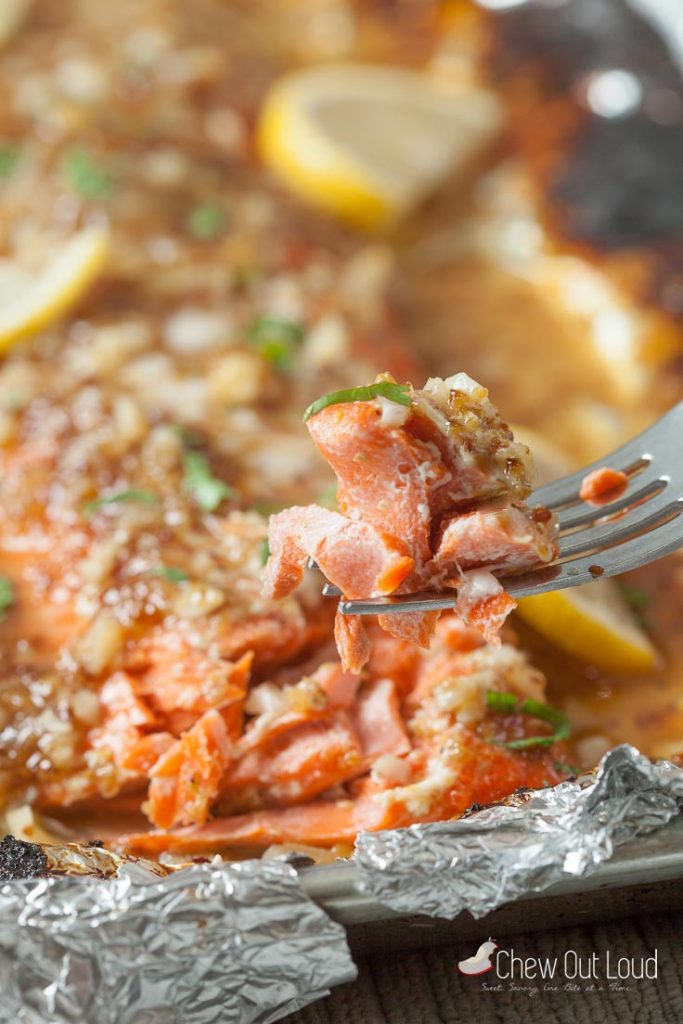 Watch This Recipe in Action
Did you make this?
Please give us a rating and comment below. We love hearing from you!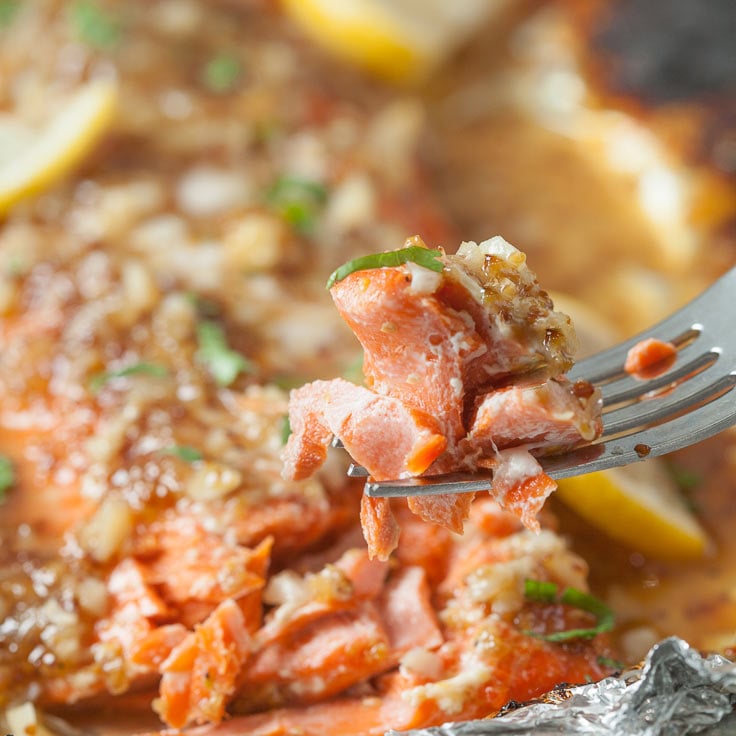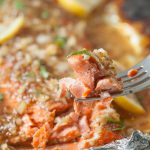 Honey Baked Salmon in Foil
This Honey Baked Salmon in Foil is an easy baked salmon recipe that results in a tender, tasty, and healthy dinner. There's a reason salmon foil packets are supremely popular; they're no-mess, nutritious, and taste outrageously scrumptious.
Ingredients
1.5 to 2

lbs

salmon fillet

⅓

cup

pure honey

6

cloves

garlic

,

minced

1

shallot

,

finely chopped

⅓

cup

coarse grain Dijon mustard

3

TB

freshly squeezed lemon juice

1 ½

tsp

kosher salt

Parsley chopped for garnish

1

lemon

,

sliced, for garnish
Instructions
Preheat: Preheat oven to 400F with rack on middle position. Line a large, rimmed baking sheet with a big sheet of heavy duty foil that's large enough to fully wrap salmon fillet. Set aside.

Make Sauce: In a medium bowl, whisk together the honey, garlic, shallots, mustard, lemon juice, salt, and pepper. Set aside.

Remove Moisture: Use paper towels to dab off all excess moisture from salmon fillet - this step is important, so don't miss it.

Prepare Foil Packet: Place salmon onto foil-lined baking sheet. Evenly spoon most of the honey mixture (reserve 1/3 cup of the mixture for later) over the salmon. Carefully fold all four sides of the foil so that it creates a "packet" that seals tightly closed and won't leak.

Bake: Bake 10-15 min (10 minutes for a salmon less than 1-inch thick, 15 min for thicker salmon) While salmon cooks, transfer reserved 1/3 cup of honey mixture to a small saucepan or microwavable bowl and cook just until the onions/garlic are soft. You'll use this for serving on the side.

Move Rack: Gently open the foil packet, leaving salmon on the foil (it may seem slightly undercooked, which is fine.) Move oven rack to top position under broiler.

Broil: Broil salmon on high for about 3 minutes or until nicely browned on top; if needed, rotate salmon and broil until desired brownness. Watch closely, as top can easily over-brown.

Serve: Serve salmon with reserved/cooked honey sauce. Garnish as desired, with freshly chopped parsley and/or lemon slices.
Notes
If you enjoyed this recipe, please come back and give it a rating ♡
Nutrition (per serving)
Calories:
189
kcal
|
Carbohydrates:
19
g
|
Protein:
19.5
g
|
Fat:
4.2
g
|
Saturated Fat:
0.7
g
|
Cholesterol:
43.5
mg
|
Sodium:
561
mg
|
Fiber:
0.4
g
|
Sugar:
14
g
Best Salmon Recipes:
Smoked Salmon Roll-Ups with Creamy Lemon Dill Spread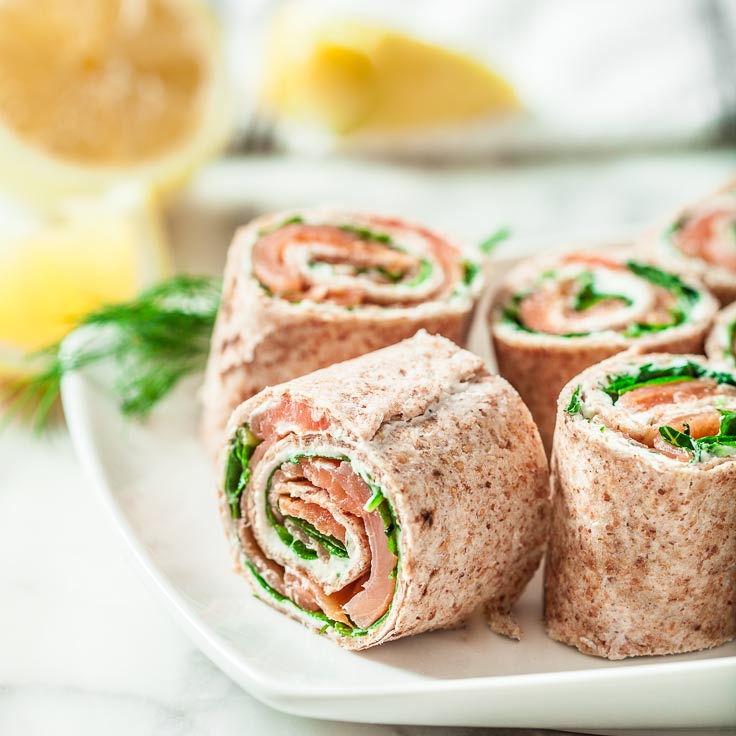 Miso Glazed Salmon; Healthy and Easy