Not Your Hostess Cupcakes
By Amy Dong
Published Sep. 8, 2014
Updated Aug. 17, 2022
These are not your everyday Hostess cupcakes. These are incomparably better than any store bought cupcakes. These cupcakes are unforgettable. They are richly chocolatey, extremely moist, and melt-in-your-mouth. The cream filled center trumps anything that ever came from a box. Grown-ups will fight their kids for these.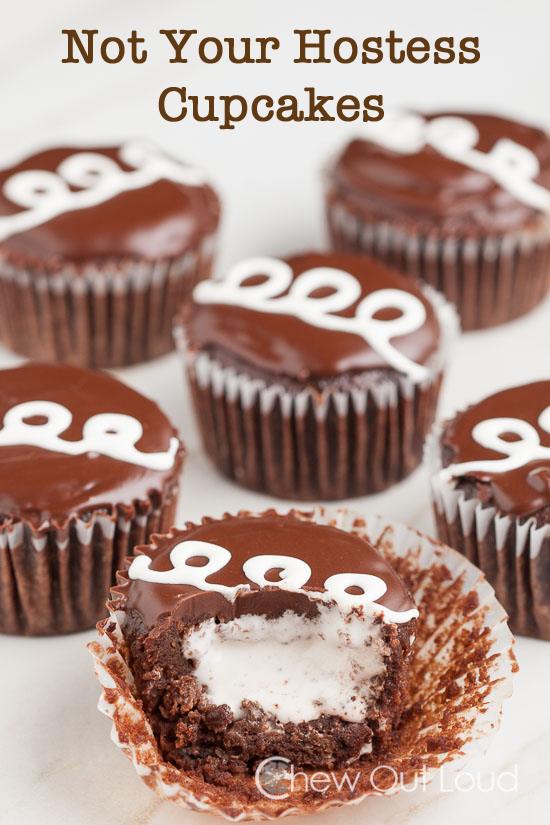 When I visited all the classrooms for Back to School Night last week, I noticed many eye-catching posters on the walls. Inspirational quotes, word charts, and calendars. I lingered especially long in front of the birthday charts.
Of course I notice (and love) birthday charts. I adore everything about birthdays. Not that I'm eagerly counting my own years anymore, but I just love the festivities and celebrations wrapped around birthdays. It's all so fun.
And of course there's the treats. From my favorite cake to sprinkly breakfasts, birthday food is a special kind of deeeelish…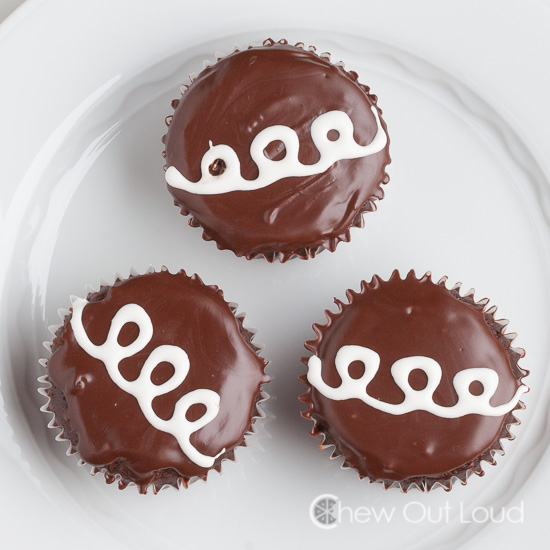 With a new school year comes friends, both new and old. For both the kids and their grownups. With friends come birthday parties.
These days, most schools don't allow homemade treats anymore. Gone are the simple days when mamas could send homemade cookies to share with the class. So let's take it outside.
I can't think of a more iconic cupcake to celebrate any occasion with than these wicked good cream filled chocolate cupcakes. And the secret truth is that grownups devour these faster than their kids.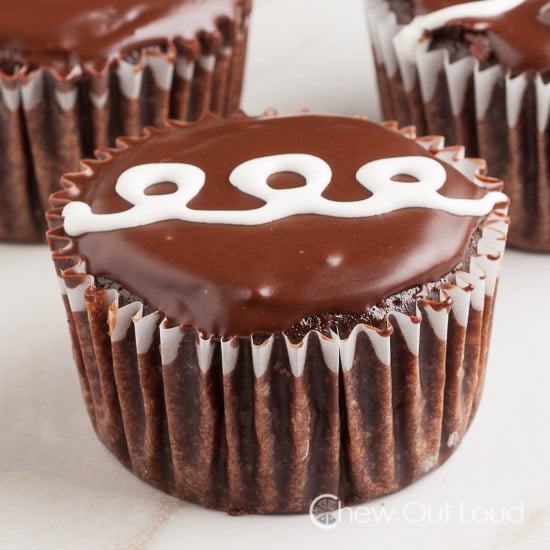 I titled these decadent treats Not Your Hostess Cupcakes because though they look like their boxed counterparts, that's where the resemblance ends.
These uber chocolatey cupcakes are filled with a marvelous marshmallow filling that tastes simply divine. Made with real and simple ingredients.
The cupcakes themselves are unbelievable. The crumb is tender and moist, with every bite tasting like pure chocolate bliss. Nothing fake. Nothing artificial. Nothing weird.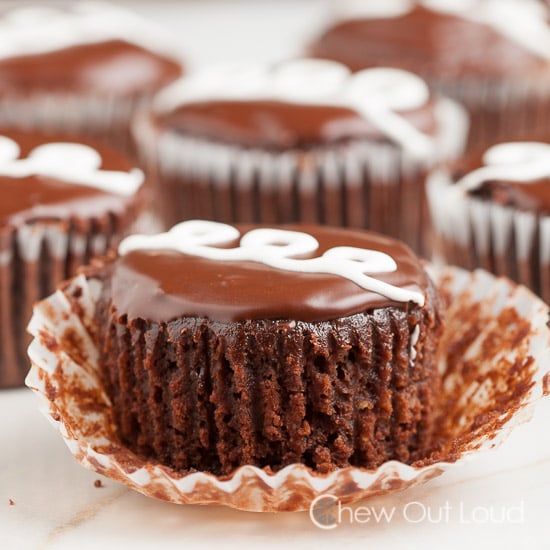 You know these have to be great when the original recipe comes from the guys at Cook's Illustrated. I knew these had to be much better than the commercial stuff, but I was blown away by how delicious these cupcakes turned out.
When it all comes together at the end, it's like a cupcake symphony. One of the very best baby cakes I've ever sunk my teeth into.
I think my peeps agreed. Big people, little people…they all sported hugely wide, chocolate-laced smiles.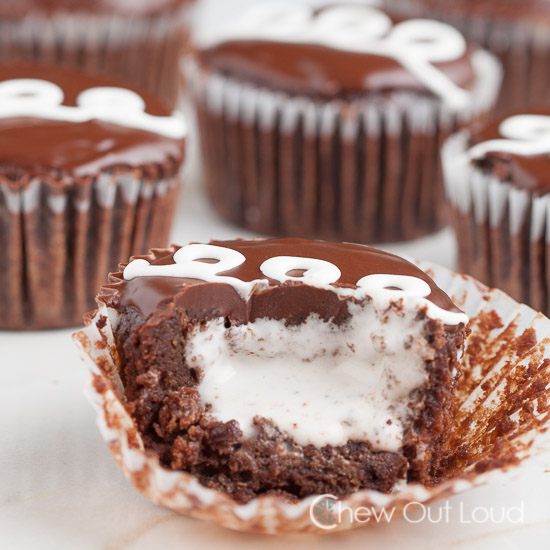 This is one cupcake that will brighten everyone's smiles.
Go celebrate the kid in you.
Enjoy!
Did you make this?
Please give us a rating and comment below. We love hearing from you!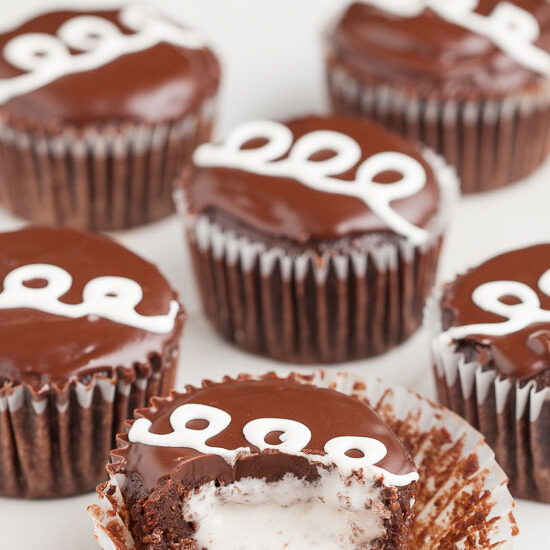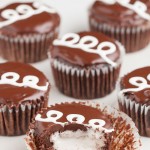 Not Your Hostess Cupcakes
These cupcakes may look like the boxed version, but they taste nothing alike. Homemade is immeasurably better, hands down. Richly chocolatey, tender, and super moist. The marshmallow creme center is fantastic.
Ingredients
FILLING:
3

TB

water

¾

tsp

unflavored gelatin

4

TB

butter

,

softened

1

tsp

vanilla extract

pinch

salt

1 ¼

cups

marshmallow creme
GLAZE:
½

cup

semisweet chocolate chips

3

TB

butter
Instructions
BATTER: Adjust oven rack to lower middle position and preheat to 325F. Line a 12-cup muffin tin with your favorite liners. In a bowl, whisk together flour, baking soda, and salt. In another bowl, whisk together boiling water, cocoa, mini chocolate chips, and coffee powder until smooth. Add sugar, sour cream, oil, eggs, and vanilla, mixing until combined. Gently fold in dry ingredients with the wet ingredients, just until combined - do not over mix. Divide bater evenly among muffin cups. Bake until toothpick inserted into center of cupcakes comes out with a few tender crumbs attached, about 18 min. Cool cupcakes in tin for 10 min. Transfer to wire rack and cool completely.

FILLING: Combine water and gelatin in a large bowl and let sit until gelatin soaks up the water, 1 min. Microwave for 10 seconds at a time, until mixture starts bubbling around edges and gelatin is dissolved. Stir in butter, vanilla, and salt until combined. Let mixture cool until just warm to the touch. Whisk in marshmallow creme until smooth. Chill about 30 minutes or until set. Transfer 1/3 cup or the filling to a pastry bag or ziploc bag with a tiny hole cut off the corner. Set aside remaining filling.

ASSEMBLE: In a bowl, microwave chocolate chips and butter until smooth, stirring occasionally, 30 seconds. Let glaze cool to room temp; should be very glossy and thick syrup-like consistency. Hold a sharp knife at a 45 degree angle about 1/4 inch from edge of cupcake top. Cut out a cone shape from each cupcake. Fill cupcakes with just enough filling to leave a 1 cm margin from the top. Replace the tops and frost with a generous layer of chocolate glaze. Let cool. Using the marshmallow-filled pastry bag, pipe design across tops of glazed cupcakes. Serve.

(Note: Finished cupcakes can be stored in an airtight container at a moderate room temp for 1-2 days.)
Nutrition (per serving)
Calories:
386
kcal
|
Carbohydrates:
41
g
|
Protein:
4
g
|
Fat:
24
g
|
Saturated Fat:
10
g
|
Polyunsaturated Fat:
6
g
|
Monounsaturated Fat:
6
g
|
Trans Fat:
0.3
g
|
Cholesterol:
51
mg
|
Sodium:
163
mg
|
Potassium:
167
mg
|
Fiber:
2
g
|
Sugar:
26
g
|
Vitamin A:
311
IU
|
Vitamin C:
0.1
mg
|
Calcium:
30
mg
|
Iron:
2
mg
Source: Chew Out Loud, adapted from Entertaining from Cook's Illustrated, via Mom Mom's Apron
Let me also share with you the World's Best Chocolate Oatmeal Cupcakes. Seriously great stuff.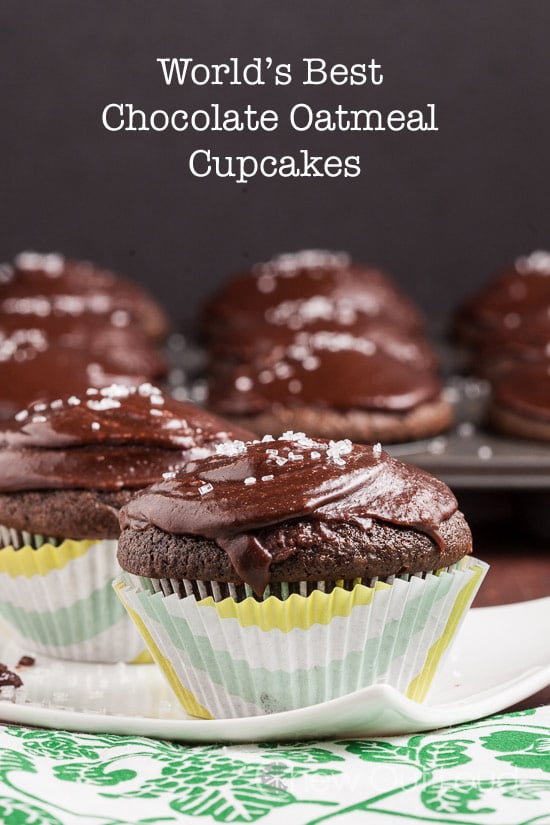 These Carrot Cake Cupcakes with Cream Cheese Frosting are phenomenal. Full of healthy carrots that you can't taste. Full of creamy dreamy frosting that you can.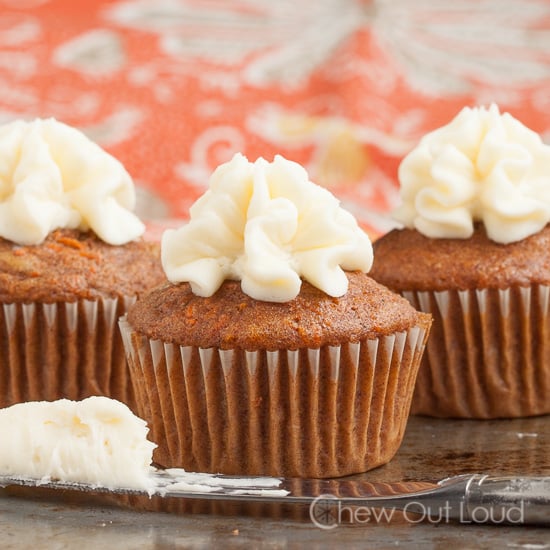 These Fresh Strawberry Cupcakes are what I love to bake for girly birthdays, showers, etc. But my boys devour them without reservation.