Smoked Ribs (Baby Back or Spare Ribs)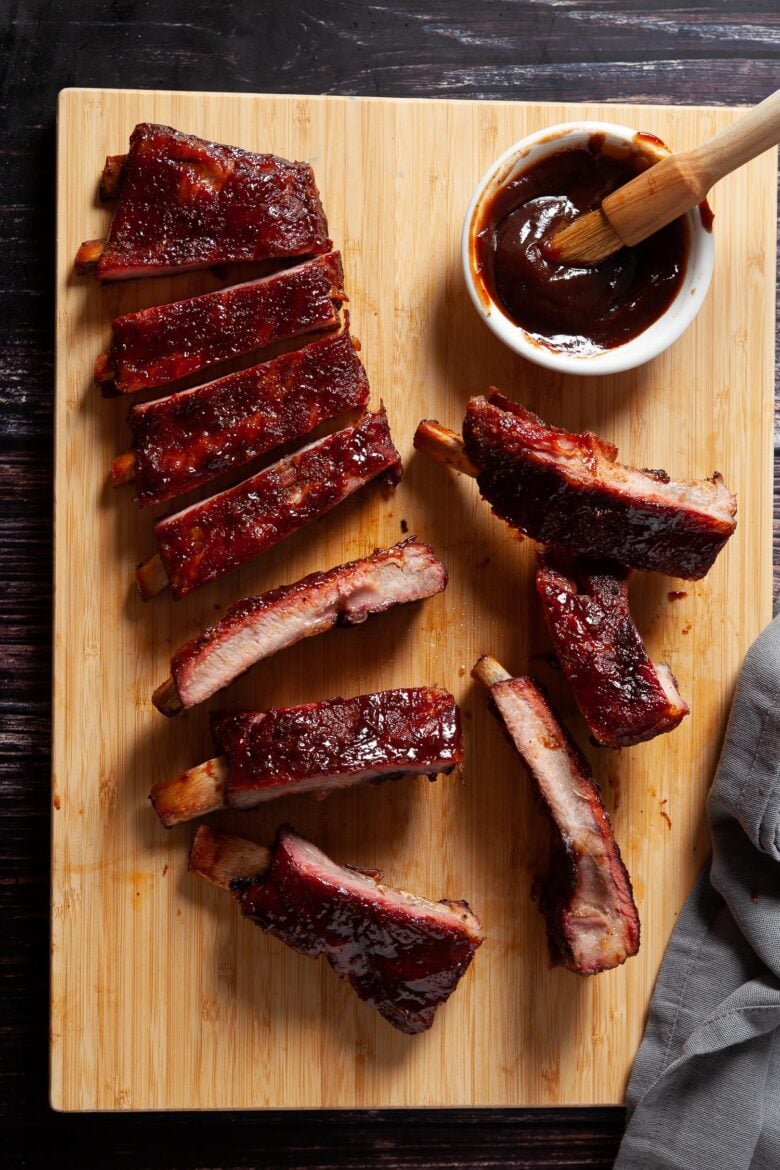 Video: Watch Us Make This Recipe
The Best Smoked Ribs
If you're looking for a mouth-watering barbeque dish to top off the summer, these Smoked Ribs may just be it. They're packed with sweet, smoky, and spicy flavors and are perfectly tender. It's the kind of dish we like to double for leftovers, because it's that good!
We love a good rack of ribs (the kind that leaves us sitting back in our seat blissfully, licking the sauce off our fingers, and loosening our belts.) However, making the perfect ribs at home can seem daunting. This recipe uses an easy method involving a rub, apple juice, and BBQ sauce to make juicy, flavorful ribs that turn out amazing every time.
Make it the star of your next barbeque or serve it as a weekend dinner. Smoked Ribs are perfect served with your favorite summer sides.
Why This Recipe Stands Out
This recipe combines the powers of a dry rub, apple juice, and barbeque sauce to create the most juicy, tender ribs.
Unlike some smoked rib recipes, we refrigerate the meat overnight after coating it with the dry rub. This gives the ingredients in the rub more time to infuse the meat with succulent flavor.
Although oven-baked ribs are absolutely delicious, using a smoker adds that depth of smoky flavor that works so well with the pork and the spices in the rub. Sometimes on hot summer days we like to leave the oven off and do the cooking outside to keep the house cool. This is the perfect recipe for such occasions.
The prep for this meal is super easy. Although smoked meats take hours in the smoker, there's only a small amount of prep time needed for this dish to mix the rub and prepare the meat.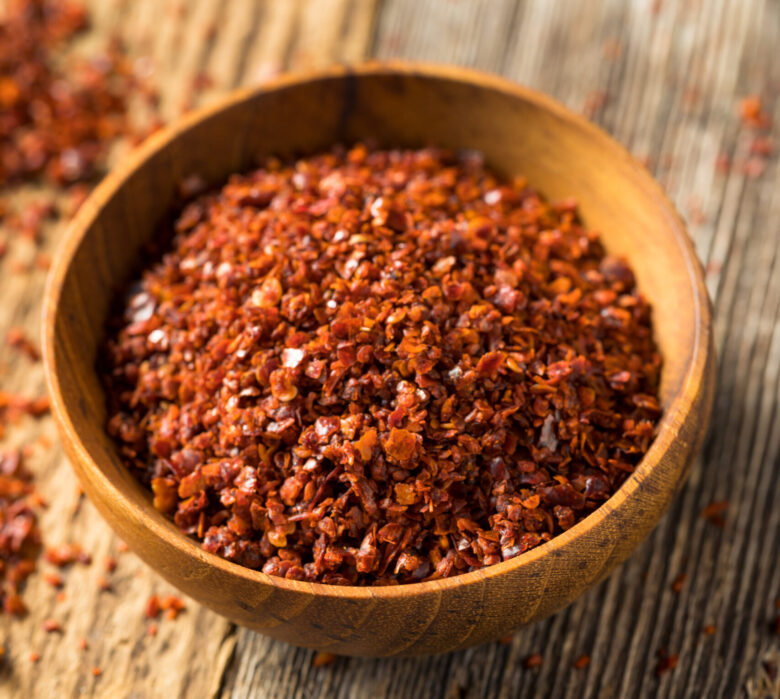 Key Ingredients
Brown Sugar – We love adding brown sugar to any smoked meat dish to add the perfect amount of sweetness and to help form a crust on the meat. Try using dark brown sugar for a deeper molasses flavor.
Smoked Paprika – Although any paprika will do just fine for this dish, we think smoked paprika compliments the smoky flavors. It also gives the dish that bold, earthy flavor that we love.
Salt – Not only does salt bring out the flavors of the ribs, it also helps lock in moisture to create those greatly coveted tender, juicy results. We like using kosher salt.
Black Pepper – Use freshly ground black pepper for a bolder flavor that goes perfectly with smoked dishes.
Cayenne Powder – Just a 1/2 teaspoon of this feisty spice is all that's needed to add the perfect kick to this dish.
Apple Juice – We add apple juice halfway through the cooking process to bring extra sweetness and juiciness to the ribs.
BBQ Sauce – The best part of any barbeque meal! Use your favorite BBQ sauce for this dish. It brings together all the flavors perfectly. Just make sure to check the ingredients for wheat if you are gluten free.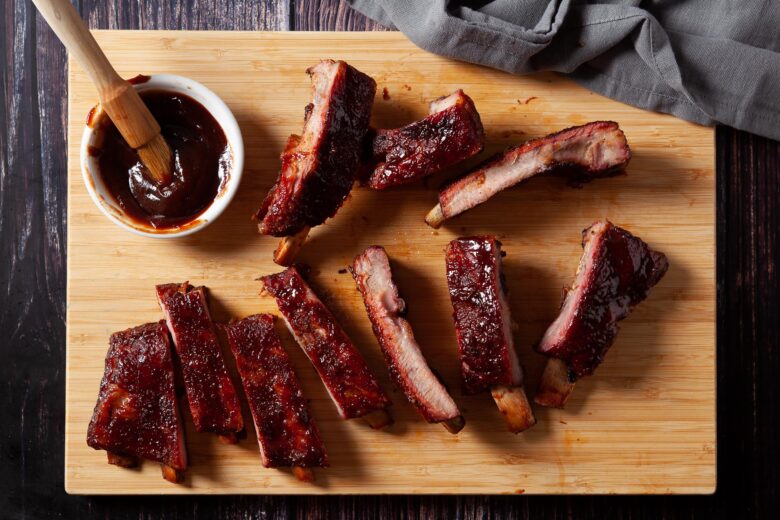 Key Tips For Success
Making the perfect ribs doesn't need to feel intimidating with the right arsenal of tips and tricks. Just take note of the strategies we recommend below for the perfect outcome every time.
Clean the ribs. Always rinse off your rack of ribs to ensure that they're clean. Then pat them dry so the rub sticks well.
Remove excess fat. We recommend removing the fatty membrane from the rack of ribs to allow the spices to infuse the meat more and to make the ribs easier to eat when they're done. Just use a knife to separate it from the rack.
Check your wood. Choose the right wood to smoke your meat. We like using hickory or oak, because they add a bold, smoky flavor that pairs well with ribs. Feel free to use sweeter woods like apple, cherry, or maple if you're looking for a milder flavor.
Let it rest. We know those smoked ribs smell irresistible straight out of the smoker, but wait 5-10 minutes before digging in to allow the juices to distribute for juicy, tender ribs.
Key Steps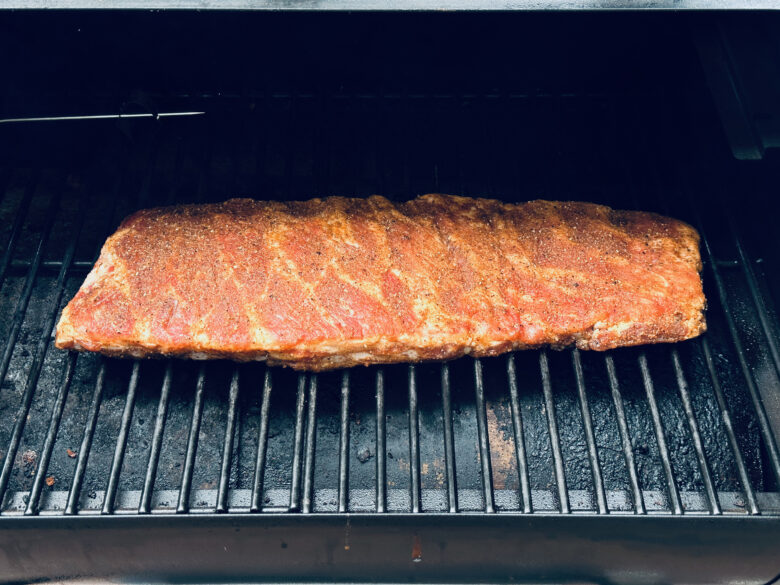 Baby Back Ribs Vs. Spare Ribs
The two varieties of ribs that work with this recipe are Baby Back and Spare ribs. They are both delicious options for any cookout, but do have a few differences. Baby back ribs are the smaller ribs on the upper part of the pig's rib cage. They tend to be leaner and super tender. Spare ribs are the larger ribs on the animal's side and belly. These are full of meat and fat, and are so flavorful. So, depending on what you're looking for, you may want to choose one over the other. Either one of these varieties goes wonderfully with this recipe.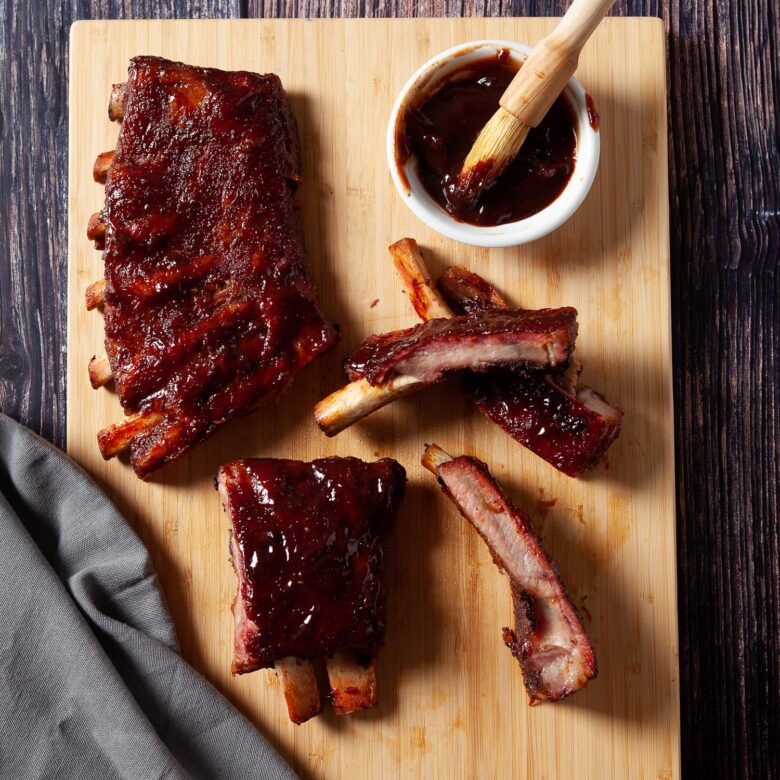 Commonly Asked Questions
How long do smoked ribs keep?
These ribs keep well in the fridge for up to 4 days. So, feel free to make extra for leftovers!
Where can I buy baby back or spare ribs?
You can find baby back and spare ribs at most grocery stores. If you have access to a local butcher, that is always a great option for the best quality meat. Otherwise, we like buying our ribs at Sam's club or Aldi.
How do I know that my smoked ribs are done?
There's a few different ways you can tell if your ribs are fully cooked. First, insert a toothpick into a few different areas of the meat. If it goes in easily with little resistance, your ribs are done. Second, grab one side of your rack of ribs with tongs and lift them up slightly. If the other end bends and you start to see cracks forming in the meat, it should be done. Third, keep an eye on the bones. As the ribs cook, the meat will recede from the bones. This is a good indicator that your meat is cooking.
Should I smoke my ribs bone-up or meat-up?
We use a combination of bone-up and meat-up for an evenly cooked rack of ribs that is tender, and juicy.
What To Serve With Smoked Ribs
Did you make this?
Please give us a rating and comment below. We love hearing from you!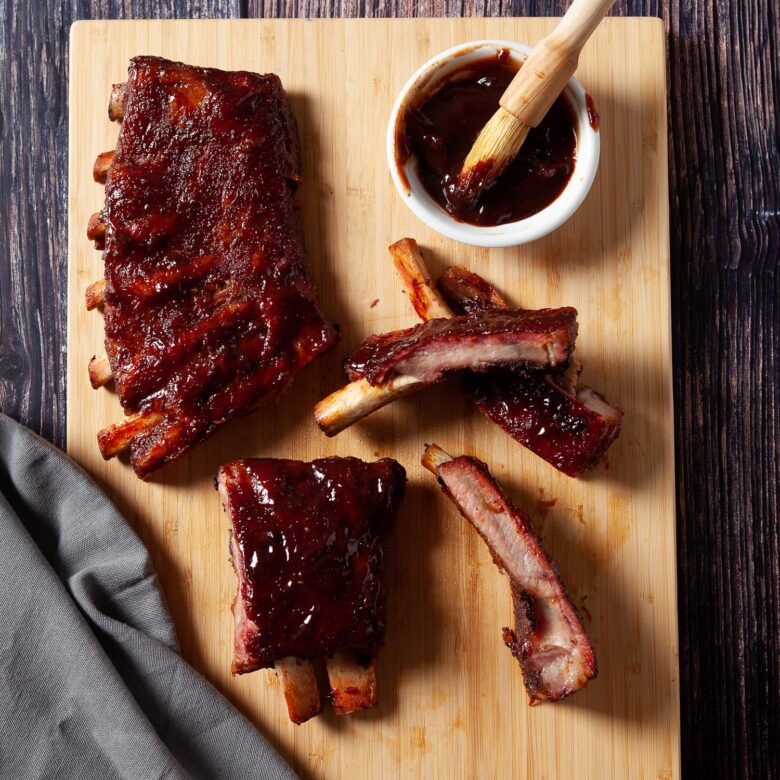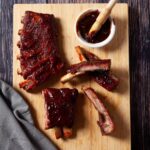 Smoked Ribs (Baby Back or Spare Ribs)
Tender, juicy, and perfectly delicious, these smoked ribs are a hit at any summer barbeque. An easy-to-make rub gives this dish a bold, spicy, sweetness that will have you coming back for seconds!
Ingredients
For Ribs
2

racks

pork ribs

,

3-4 lbs each baby back ribs or St. Louis Style spare ribs

½

cups

apple juice

,

100% juice

½

cups

BBQ sauce

,

your favorite brand
Instructions
Do Ahead
Combine Dry Rub ingredients in a small bowl. This can be done several days ahead of time and kept airtight until ready to use.
For the Ribs
Clean and dry ribs with paper towels. Trim off excess fat. Thoroughly apply seasoning mix to both sides of the ribs, pressing in firmly. Cover in foil and refrigerate overnight.

Preheat smoker to 225F. Remove ribs from foil and place cold ribs (meat side up) in smoker and smoke for 3 hours. Meanwhile, combine BBQ sauce with apple juice and set aside.

After 3 hrs, remove ribs from smoker and place onto a big piece of foil with the bone side facing up. Pull up sides of foil to create a little "tub" and pour BBQ sauce and apple juice mixture over the ribs. Cover ribs tightly with foil and ensure juice does not leak. Place ribs back into the smoker (bone side up) and smoke for 1.5 hrs.

Remove ribs from smoker and discard foil and sauce/juice mixture. Generously brush both sides of ribs with BBQ sauce. Place ribs back into the smoker (meat side up) and smoke 30 min.

Remove from smoker and let rest on cutting board for 5-10 min before slicing. Serve with additional BBQ sauce on the side.
Nutrition (per serving)
Calories:
381
kcal
|
Carbohydrates:
19
g
|
Protein:
28
g
|
Fat:
43
g
|
Saturated Fat:
14
g
|
Polyunsaturated Fat:
7
g
|
Monounsaturated Fat:
16
g
|
Trans Fat:
0.4
g
|
Cholesterol:
87
mg
|
Sodium:
597
mg
|
Potassium:
525
mg
|
Fiber:
1
g
|
Sugar:
17
g
|
Vitamin A:
226
IU
|
Vitamin C:
0.3
mg
|
Calcium:
48
mg
|
Iron:
2
mg