Shrimp Ceviche
By Amy Dong
Published Oct. 5, 2022
Updated Sep. 8, 2023
This simple Shrimp Ceviche recipe is incredibly refreshing all summer long! Sweet and spicy, it comes together with minimal ingredients. A deliciously addictive appetizer for cookouts, picnics, and more!
Shrimp Ceviche: What Exactly Is It?
Ceviche, also known as cebiche, seviche, or cebiche, is a popular South American recipe that originated in Peru. In English, it is translated to mean, "a method of preparing raw fish by covering it in lemon or lime juice." Both a method of preparation and a dish, ceviche is made with either fish or shrimp but always features a base of simple ingredients.
Bright, refreshing, and zesty, it's no mystery why ceviche gained such immense popularity. To ensure that our shrimp ceviche is one hundred percent safe to eat, we went ahead and cooked the shrimp, but the flavor is still great!
Fun fact: ceviche is pronounced seh-vee-chay.
What You'll Love About Shrimp Ceviche
It requires no cooking so you can be in and out of the kitchen in no time.
With an abundance of fresh herbs and seasonings, there's no shortage of flavor.
You can serve it with a myriad of ingredients such as tortilla chips and corn tortillas for a crowd-pleasing appetizer.
It comes together with healthy fats and an abundance of high-quality protein for a nutritious lunch or dinner.
You can dress it up with your favorite veggies and condiments or keep it simple.
An incredibly fancy-looking dish, it's guaranteed to impress your guests.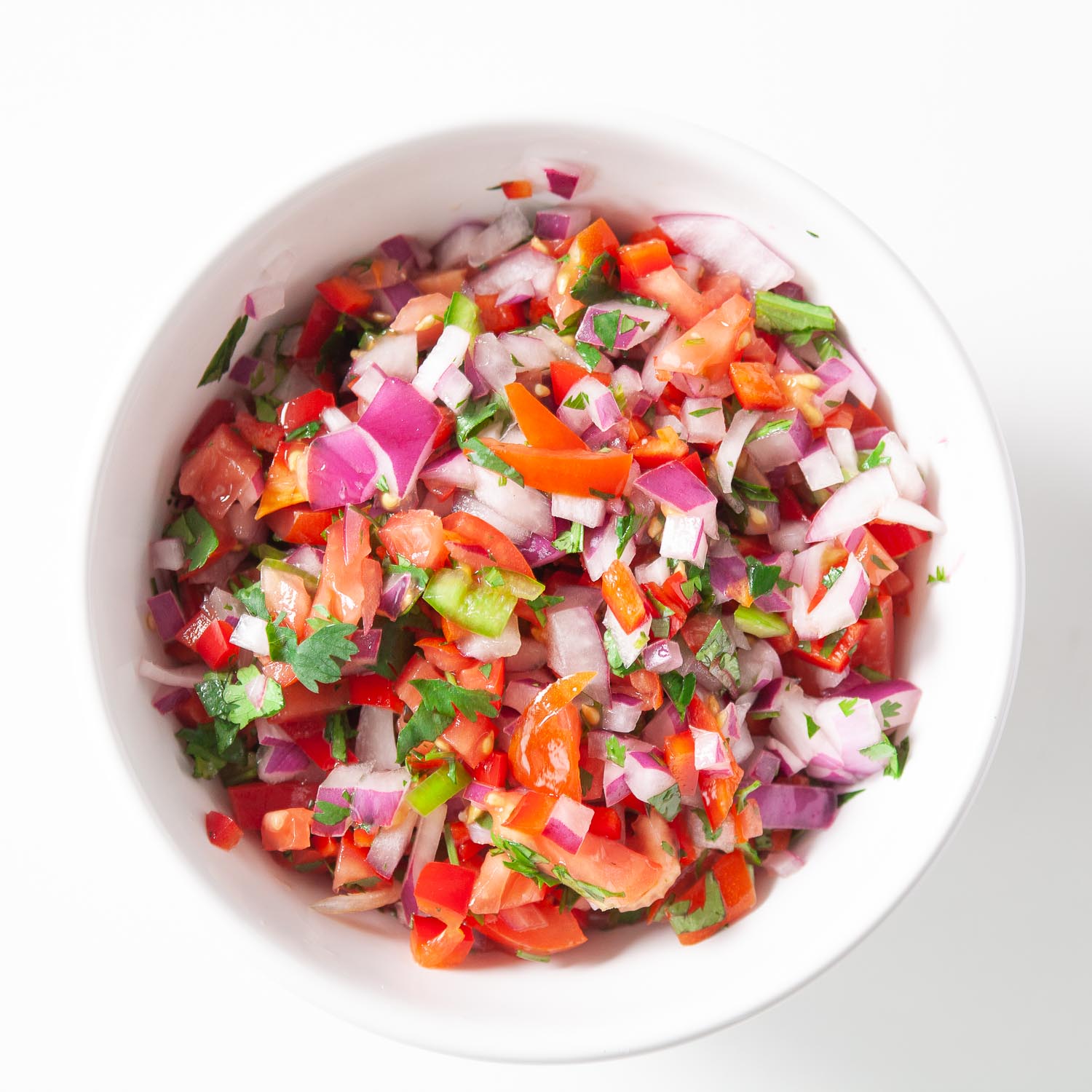 Ingredients for Shrimp Ceviche
Though there are many variations of this classic recipe, we stuck with the basics and gave it just a little twist. For the absolute best taste, be sure to use the freshest ingredients you can, and be sure not to overcook the shrimp.
Peeled and deveined shrimp form the base of the appetizer. Both raw and pre-cooked shrimp are great. However, you'll want to be sure to thaw and drain them first.
Plenty of spice belongs here! Red onion provides a mild heat that we elevate even further with diced jalapeño.
Fresh tomatoes and jicama are included for a pop of color, a bit of crunch, and just a little extra sweetness that balances out the intensity of the peppers.
A semi-firm avocado is ideal to counter the crunch of the veggies and boost the fat content for a creamy mouthfeel that keeps you full.
Simplicity is key around here! Lots and lots of flavor is achieved with just a handful of cilantro, salt, and pepper.
A bit of ketchup is optional, but we'd be remiss not to let you in on the option, as it gives ceviche a pop of sweet-tangy flavor that makes this recipe even livelier.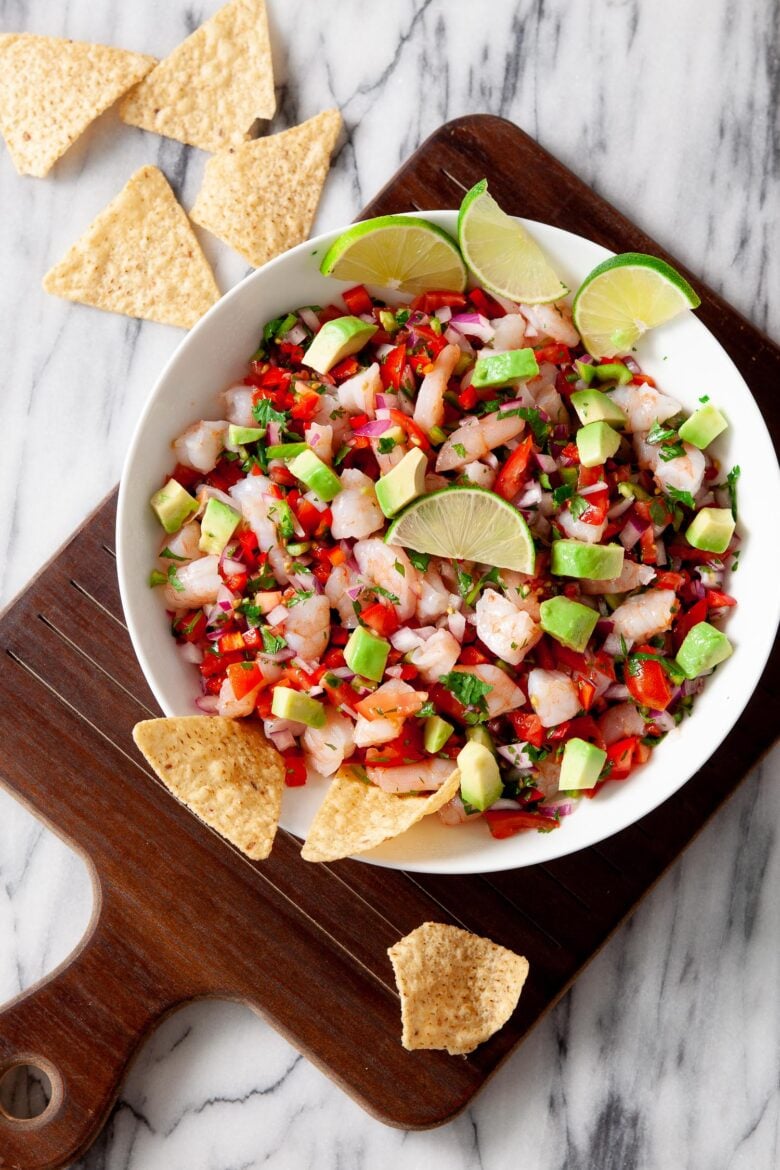 Shrimp Ceviche Commonly Asked Questions
Is it shrimp ceviche safe to eat?
Yes, to eliminate any risks, we cooked the shrimp. However, if you choose to follow a more traditional shrimp ceviche method, it's important to ensure the safety of your food by only using the freshest seafood and letting the protein marinate in the lime juice for at least fifteen minutes.
Can I make shrimp ceviche ahead of time?
For the best results, we recommend serving your shrimp ceviche right away. If needed, it can be stored in an airtight refrigerator in the fridge for up to 1 day.
Can leftovers be frozen?
Due to the high water content, shrimp ceviche will not freeze well and will become soggy and a bit rubbery if thawed.
What to serve with shrimp ceviche?
Shrimp ceviche is classically delicious when served with crispy tortilla chips. It's also great when paired with Mexican rice or used in a burrito bowl.
What other seafood can I use in ceviche?
While shrimp is quite popular, you can use any white fleshed, mild flavored, firm fish such as halibut, snapper, or flounder. Squid and octopus can also be used in ceviche.
---
More to Cook and Eat
---
---
Did you make this?
Please give us a rating and comment below. We love hearing from you!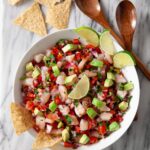 Shrimp Ceviche
This simple Shrimp Ceviche is incredibly refreshing all summer long! Sweet and spicy, it comes together with minimal ingredients. A deliciously addictive appetizer for cookouts, picnics, and more!
Ingredients
½

cup

+ 2 TB freshly squeezed lime juice

1

small red onion,

chopped

1

lb

raw shrimp,

41/50 count peeled and deveined

⅓

cup

chopped fresh cilantro

1

cup

grape or cherry tomatoes,

quartered

1

cup

peeled/diced jicama,

cucumber or sweet bell peppers can be subbed

1

jalapeño,

seeded and chopped

1

semi-firm avocado

½

tsp

kosher salt
Optional: 1-2 TB ketchup,

to taste

Other: Tortilla chips,

street taco corn tortillas, or lime slices for serving
Instructions
Mix and Chill: In a medium bowl, combine 1/2 cup fresh lime juice with the red onions. Mix well, cover, and chill at least 1 hour.

Cook Shrimp: In a large pot, bring well salted water to a boil. Add 2 TB lime juice. Cook shrimp for a few seconds only – just until they start turning opaque. Immediately remove with a slotted spoon and transfer to a colander. Rinse with cool water and drain well. Once drained shrimp is cool, use paper towels to pat-dry excess water from shrimp and cut into bite-size pieces. Set aside.

Combine: To the bowl with red onion/lime mixture, add cilantro, tomatoes, jicama or other veggies, and kosher salt. Toss gently to coat, and cover/chill until ready to serve.

Toss and Serve: When ready to serve, dice the avocado and sprinkle with fresh lime juice to coat. Toss avocado and shrimp into the red onion mixture. Toss gently to coat well. If needed, add kosher salt to taste. Add ketchup, if desired, for a bit of "cocktail shrimp" flavor. Serve immediately with lime slices and tortilla chips.
Notes
*If you'd like to use precooked frozen shrimp, thaw the shrimp and drain fully. Remove tail and slice shrimp into halves or thirds (depending on their size.) Add shrimp in at the end, so it doesn't get too "overcooked" in the lime juice.
*Grape/cherry tomatoes tend to be sweeter than the larger tomatoes found at grocery stores.
*Jicama lends an extra crispy, slightly sweet balance to this ceviche.
*If you enjoyed this dish, please come back and give it a rating 🙂
Nutrition (per serving)
Calories:
150
kcal
|
Carbohydrates:
8.6
g
|
Protein:
16.6
g
|
Fat:
6.4
g
|
Cholesterol:
121.6
mg
|
Sodium:
96.5
mg
|
Fiber:
3.7
g
|
Sugar:
2.7
g