This Shrimp Ceviche is the epitome of summer appetizers!  It's refreshing, zesty, cool, and perfect for summer gatherings.  It works wonderfully as an appetizer or even a side salad.  Give the lime enough time to do its job before serving.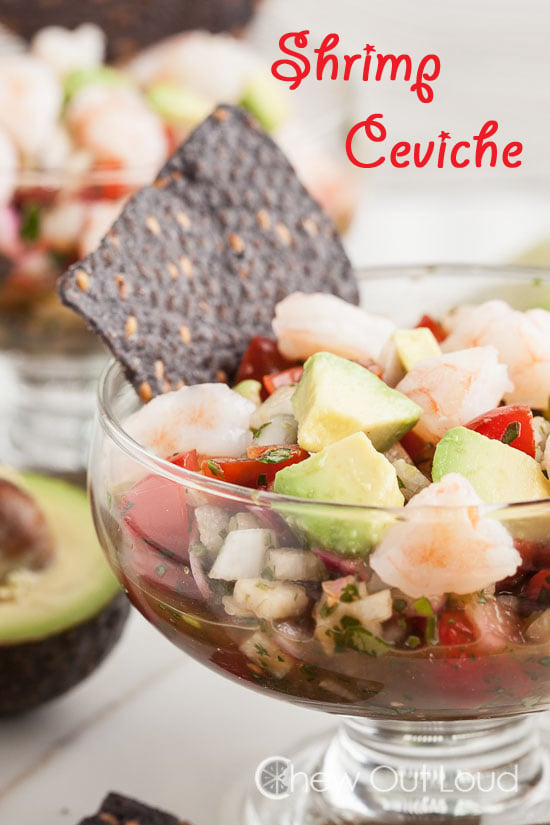 Shrimp Ceviche Recipe
Every single summer, the one appetizer I crave with all my hungry might is this one.  Shrimp Ceviche.
In fact, a Shrimp Ceviche is one of the very first recipes I published when I first started this blog.  It's one of those practically fail-proof, extremely forgiving recipes that you can play the "pinch and dash" game with.
I start out with the fresh and fabulous basics.  Plenty of limes, red onion, cilantro, seasonings, and shrimp. From there, the flexibility and fun begins.
Stick with the basics or twist it up a bit.  This time, I peppered my Shrimp Ceviche with a bit of Sriracha, avocado, and jicama.  I think this Ceviche is the best one I've ever made to date…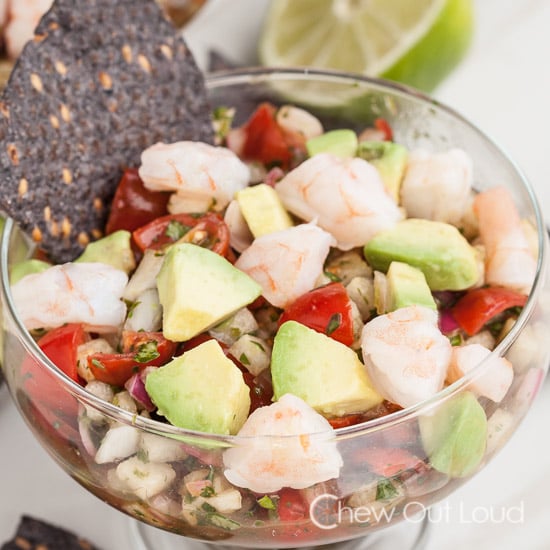 How to make shrimp ceviche
If you can find jicama, we highly recommend it, as it lends such a crispy and mildly sweet balance to this Ceviche.  It's an ingredients people will love crunching on, but may not necessarily recognize right away.  When they ask you what that delicious crunch is, you'll have a conversation starter.
An alternative to jicama is cucumber.  Cucumbers lack the sweetness, but they have a nice crunch to them, which also offsets the other ingredients quite well.
A semi-ripe, semi-firm avocado is the perfect touch to add in at the last minute.  Since avocados tend to turn color easily, we add it just before ready to serve.  The creaminess and rich flavor of the avocado counteracts the tangy burst of fresh lime and cilantro.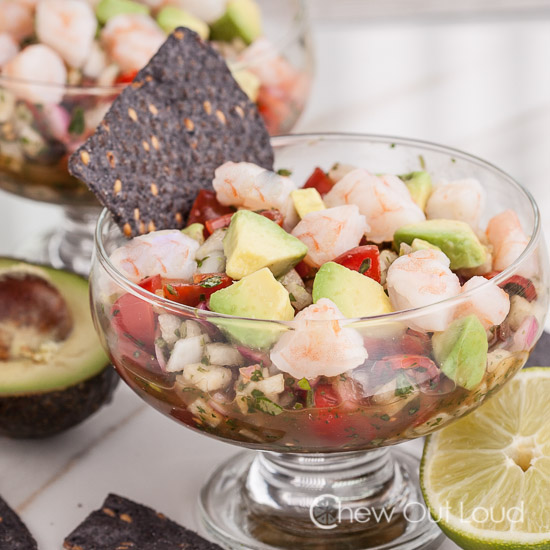 Shrimp Ceviche is a wonderful, absolutely delightful balancing act between tangy, savory, zesty, spicy, creamy, and crispy.  It is the most addictive yet healthy appetizer that was ever born.
I could eat Shrimp Ceviche every single day for probably the rest of my days.  But since that's highly unrealistic, we make a big batch of it and stuff ourselves with mountains of it as often as we can every summer.
Be sure to use the freshest ingredients you can get, and take care not to over cook the shrimp.
Here's to many more summer gatherings, opportunities for appetizers galore, and a generous supply of Shrimp Ceviche.  Enjoy!
Print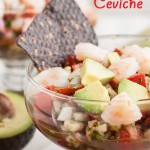 Shrimp Ceviche
---
Description
This Shrimp Ceviche is loaded with fresh and tender shrimp, avocados, limes, and cilantro. A bit of ketchup and Sriracha adds sweetness and zestyness to the dish. It could very well be the tastiest, most refreshing summer appetizer that was ever invented.
---
1/2 cup

+

2

TB freshly squeezed lime juice

1

lb raw shrimp (

41/50

count) peeled and deveined

1

small red onion, chopped

1/3 cup

chopped fresh cilantro

2

TB ketchup

2 tsp

Sriracha

2

TB extra virgin olive oil

1 cup

grape tomatoes, quartered

1 cup

diced and peeled jicama (cucumber or sweet bell peppers can be subbed)

1

semi-firm avocado
kosher salt to taste
Fresh lime slices for garnish
Tortilla chips for serving
---
Instructions
In a medium bowl, combine 1/2 cup fresh lime juice with the red onions. Mix well, cover, and chill at least 1 hour.
In a large pot, bring well salted water to a boil. Add 2 TB lime juice. Cook shrimp for a few seconds only – just until they start turning opaque. Remove and drain as soon as color begins to turn opaque. Transfer to a plate. Once shrimp is cool enough, cut each shrimp into thirds (bite size.) Set aside until ready to serve.
To the bowl with red onion/lime mixture, add: cilantro, ketchup, Sriracha, olive oil, tomatoes, jicama, and 1/2 tsp kosher salt. Toss gently to coat, and cover to chill until ready to serve.
When ready to serve, dice the avocado and sprinkle with fresh lime juice to coat. Toss avocado and shrimp into the red onion mixture. Toss gently to coat well. If needed, add kosher salt to taste. Serve immediately with lime slices and tortilla chips.
Notes
*If you'd like to use precooked frozen shrimp, thaw the shrimp and drain fully. Remove tail and slice shrimp into halves or thirds (depending on their size.) Add shrimp in at the end, so it doesn't get too "overcooked" in the lime juice.
Category:

appetizer, salad
Source:  Chew Out Loud
Favorite Appetizers
Here's another favorite appetizer.  The famous 7-layer Mexican Dip.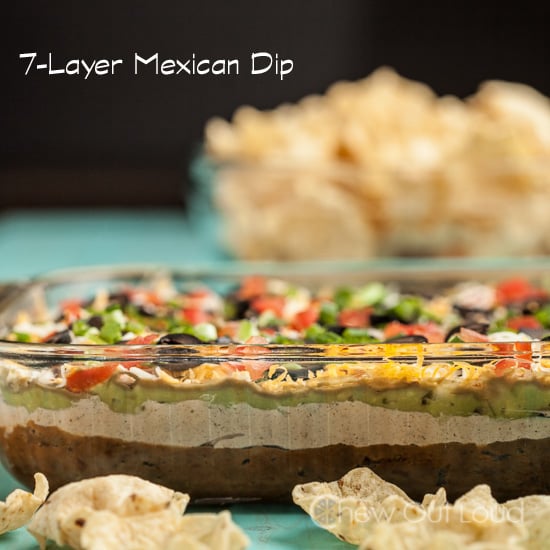 This Sun Dried Tomato Hummus is easily made ahead of time, leftovers are fab, and people love munching pita chips with it all party long!   Yeah, and it's totally healthy.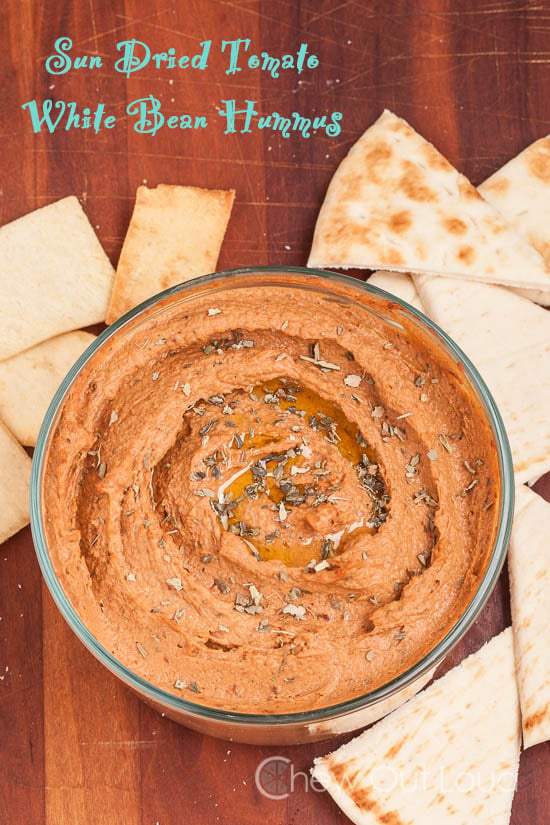 This Chunky 'n Fresh Guacamole  is what chips are made for.  It's packed with super foods, flavorful, and seriously dangerously addictive.  You've been warned.