Winning Apple Pie Bars
By Amy Dong
Published Oct. 17, 2022
Updated Aug. 26, 2023
These are the best apple pie bars you'll sink your teeth into this fall. These apple pie bars contain a buttery, flaky double-crust, with a cinnamony apple filling. The most irresistible salted caramel is drizzled over the dessert for a delicious finale.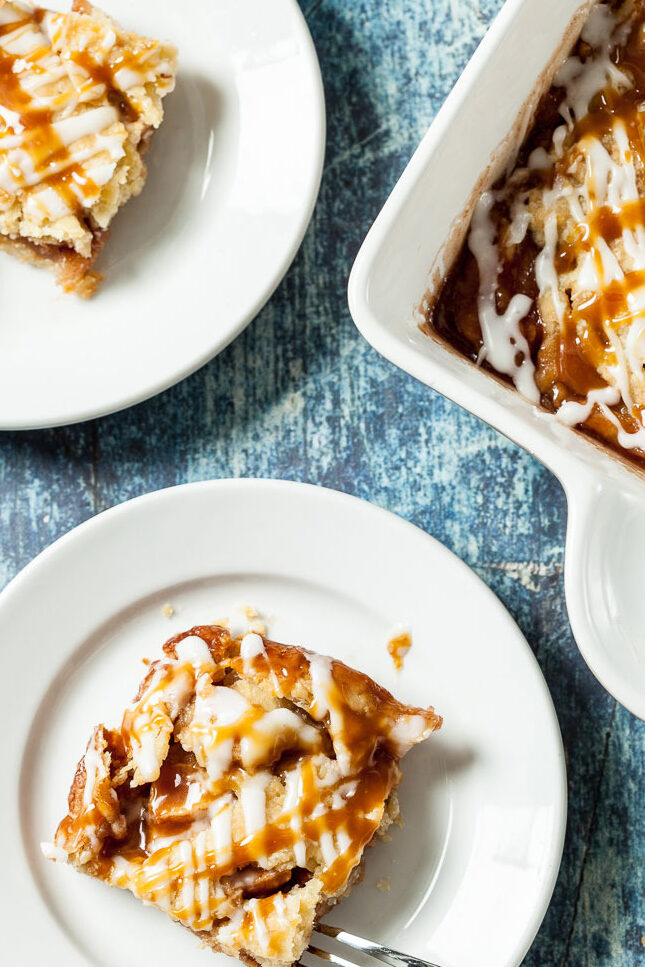 Winning Apple Pie Bars
I recently shared these Award-Winning Almond Dessert Bars here, and received tons of awesome feedback from so many of you. You'll be pumped to know I have another winner for you today. At the same baking contest where I discovered those grand-prize winning almond dessert bars, I also scored the first-runner-up recipe: Apple Pie Bars.
These tantalizing bars were beloved by tons of taste-testers and judges at the bake-off, including myself. You can tell I take my job as amateur judge at baking competitions extremely seriously. #bestjobever
Big shout out to Steve Bennet, who kindly agreed to share his winning apple pie bars recipe with me. Kudos to both Steve and Jim, guys who win bake-offs and then share their recipes with the world. Now onto these delectable Apple Pie Bars.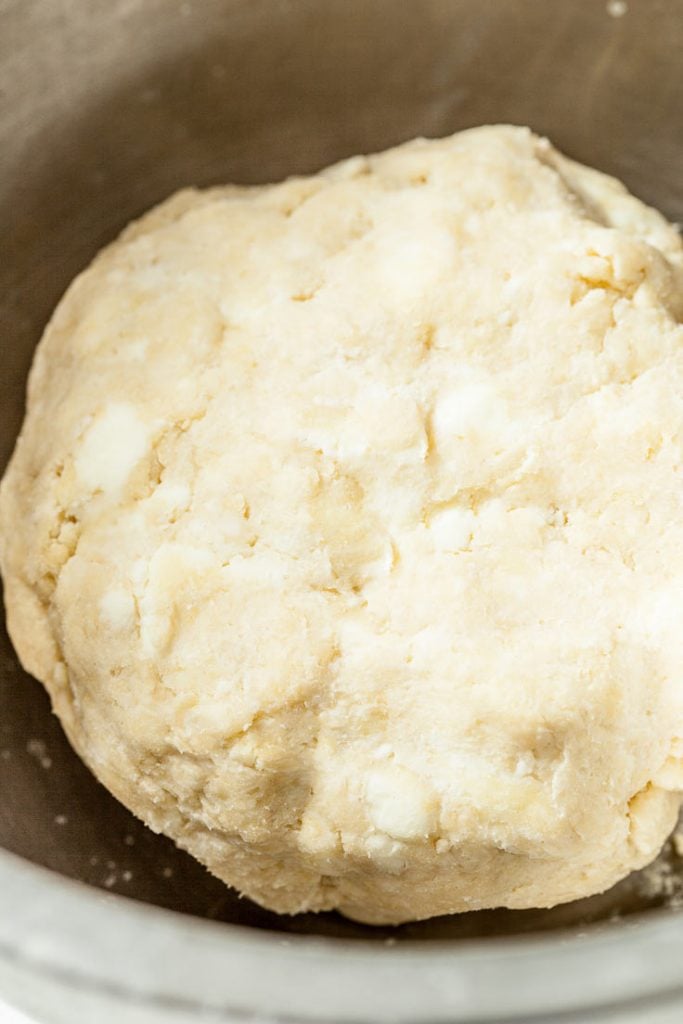 How to Make the Best Apple Pie Bars
My favorite baking apples for this recipe are granny smith. Granny apples have the tartness to offset the sweetness of the caramel topping. Granny smith apples also hold their shape well during baking.
The dough will be just enough for rolling into a double-crust for a 9×13 baking pan. You'll need to roll it out evenly and thinly, for there to be enough coverage.
Be sure your butter is cold and cut into small cubes or thin slices; that will help with incorporating the butter into the dough, while still leaving some pea-sized bits of butter intact (see above image.)
The salted caramel sauce can be made several days ahead of time. I usually have a container of it in my fridge, ready to warm up and use. Homemade salted caramel is simply unparalleled. Nothing store bought comes close.
The recipe includes a simple white icing, mainly for prettying up the apple dessert. It's fine to omit this if you're short on time or you'd like to use less sugar overall.
That said, don't skip the salted caramel.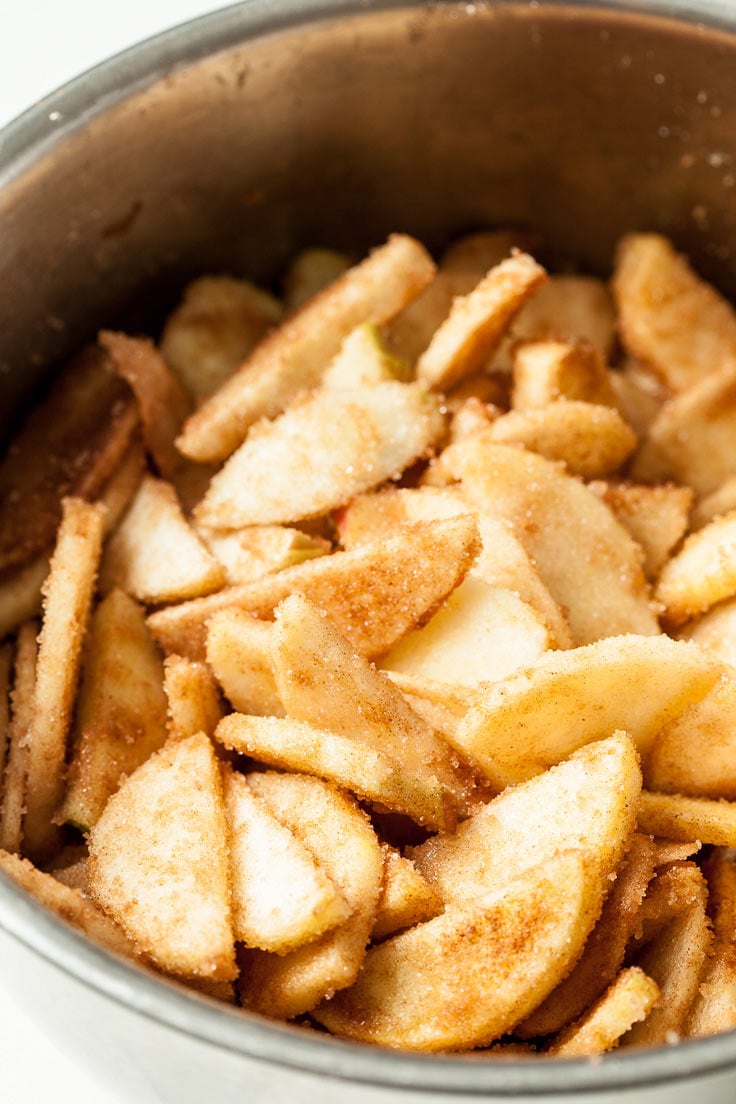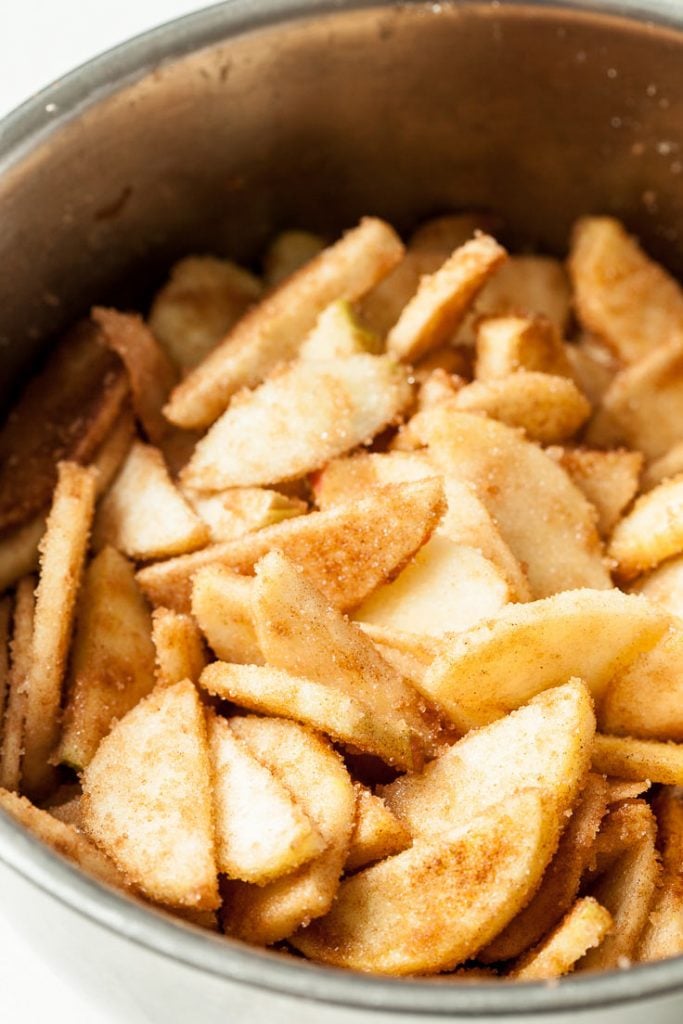 Why This Recipe Stands Out
The double crust is made with real butter, is flaky, and tastes amazing.
It's way easier to feed a crowd with a 9×13 pan, rather than the typical round pie pan.
It's a deliciously amazing way to eat a ton of good-for-you apples.
The homemade salted caramel is jaw-dropping delicious. You'll never go back to store bought jars again. The caramel is amazing for everything beyond this apple dessert
It's the perfect fall treat all season long, for weeknights and holidays alike. Perfect for gatherings.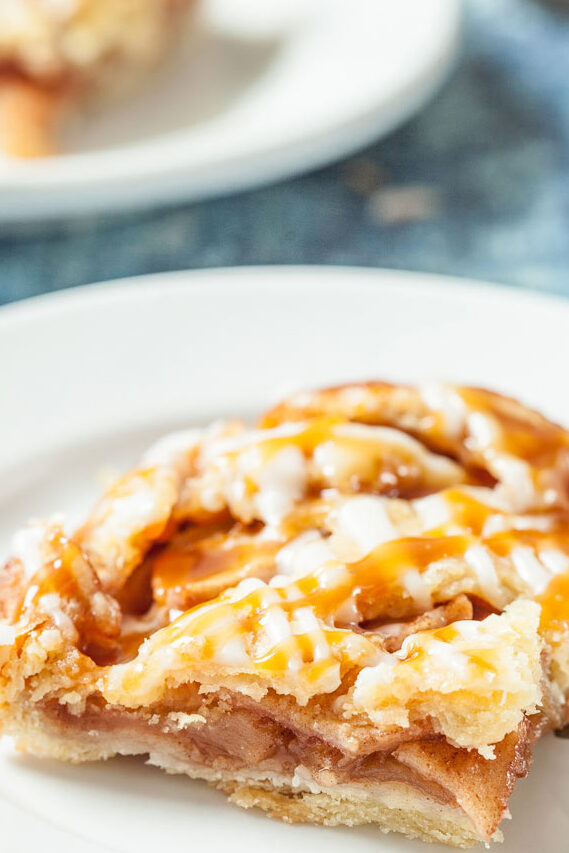 Commonly Asked Questions
What are the best apples to use for apple pie bars?
We recommend granny smith apples for all kinds of apple pie and apple desserts, as they keep their shape well after baking and provide a balance of tart-sweet flavors.
Why do you have to cool apple pie before serving?
The filling of even the best apple pie recipes needs time to set after cooking in a hot oven. When you allow your apple pie bars to cool completely, you're ensuring a non-runny apple pie.
Do you need to peel apples before using them in apple bars?
Some people do leave skin on their apples. It's a personal preference; we recommend peeling the apples in all our apple desserts, as it accommodates those who don't prefer eating the peel.
Can I make these apple bars in advance?
Yes, these apple pie bars can be made a day in advance, covered and stored at moderate room temperature. Any longer than a day, these apple bars should be covered and chilled.
More to Bake and Eat
Did you make this?
Please give us a rating and comment below. We love hearing from you!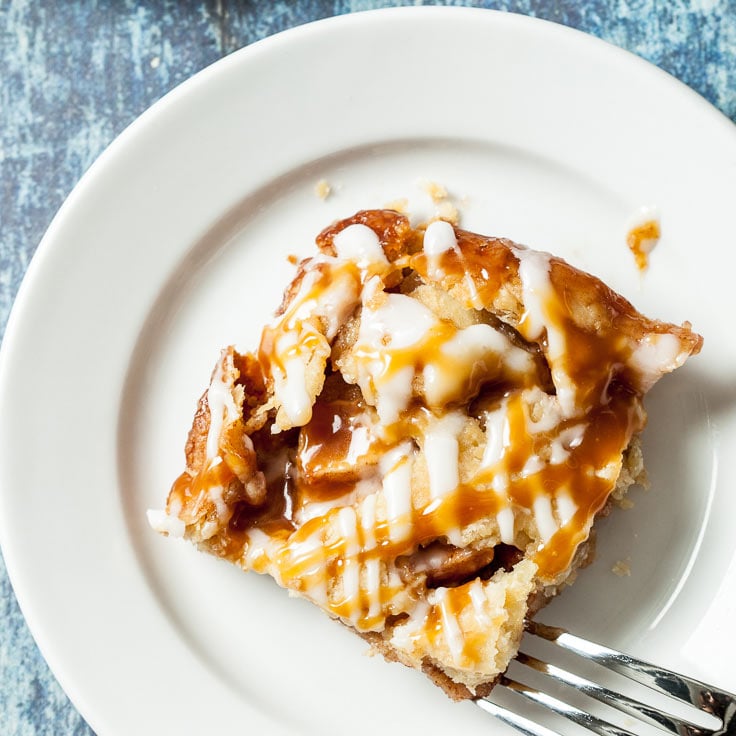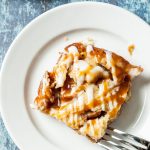 The Best Apple Pie Bars
These are the best apple pie bars you'll sink your teeth into this fall. These apple pie bars contain a buttery, flaky double-crust, with a cinnamony apple filling. The most irresistible salted caramel is drizzled over the dessert for a delicious finale.
Instructions
Preheat oven to 350F with rack on lower middle position. Grease a 9×13 pan and set aside.

Make the Dough: In a large bowl, combine all ingredients for dough except for the butter. Stir to combine well. Use clean hands or a pastry cutter to work in the cold pieces of butter, until dough comes together to form a ball (small bits of visible butter in the dough is good.) If is too dry, add 1-2 TB of ice cold water to dough so that it forms a ball.

Divide dough into 1 smaller half and 1 larger half. Wrap up smaller half and place in fridge. Lightly flour a large working surface and roll out the larger half as evenly as you can, to fit the bottom and up the sides of a 9×13 pan. Press dough into bottom and sides of pan.

Make the filling: combine the apple slices with sugar and cinnamon, tossing to incorporate. Evenly spread filling on top of bottom crust in pan. Roll out the smaller half of dough the same way as before, trying to roll it out as evenly and thinly as possible to fit the rectangular pan. Place top crust over the apple slices. Seal the bottom and top crust together by pinching the together edges all around. It's ok if it's not perfect; just try to seal it together as much as you can. Make 1″ long slits across top crust to allow steam to escape.

Bake 50-60 minutes or until top crust is golden brown and filling is bubbly. Let cool completely on wire rack, uncovered. When dessert is cool, drizzle with desired amount of salted caramel sauce. Save the rest of the sauce for future use. If desired, make icing and drizzle over top. Slice into squares and serve.
Notes
Apple pie bars can keep for up to 2 days at moderate room temp, covered.
Make the caramel days ahead of time; it keeps very well in airtight container in fridge.
If you enjoyed this recipe, please come back and give it a rating ♡
Nutrition (per serving)
Calories:
152
kcal
|
Carbohydrates:
28
g
|
Protein:
2
g
|
Fat:
7
g
|
Saturated Fat:
4
g
|
Polyunsaturated Fat:
0.4
g
|
Monounsaturated Fat:
2
g
|
Trans Fat:
0.2
g
|
Cholesterol:
33
mg
|
Sodium:
114
mg
|
Potassium:
63
mg
|
Fiber:
1
g
|
Sugar:
11
g
|
Vitamin A:
234
IU
|
Vitamin C:
2
mg
|
Calcium:
10
mg
|
Iron:
1
mg