Key Lime Pie Bars
These Key Lime Bars taste like lime cheesecake, with the exquisite refreshment of bright, tangy limes and a creamy filling. Your friends and family will adore these.
Key Lime Pie Bars
Spring envy is so rampant around here as everyone awaits completion of our final (please, let it be the last) dump of snow. Our ridiculously late spring is supposed to make an entrance this weekend, and the entire state will suddenly bust out walking, biking, playing, and dancing. Or just standing – outdoors. I recently posted one of my favorite spring treats here. It's time to break out my other favorite spring treat: key lime bars. They are unbelievably and unforgettably amazing.
What are key lime bars?
Key lime bars are a fabulous creation that was made popular in the Florida Keys region. They are a variation of the classic key lime pie, but instead of being served in a pie crust, they are prepared as dessert bars. The main ingredient in key lime bars is key lime juice, which gives them their distinctive tart and tangy edge. Key limes are smaller and more acidic than regular limes, and they have a unique aroma and taste. The juice is typically combined with sweetened condensed milk, eggs, and cream cheese for the most luscious pie filling. Note that if you can't find key limes, regular limes will work just fine.
Why This Recipe Stands Out
Key lime pie bars are essentially an easier way to make key lime pie, with all the flavor.
The filling creamy, sweet, and lightly tangy all at once- think lime cheesecake.
The crust is a super simple yet delicious graham cracker crust – it's a crispy textured, perfectly sweetened crust.
You can make these key lime bars in advance, cover, and chill until ready to serve.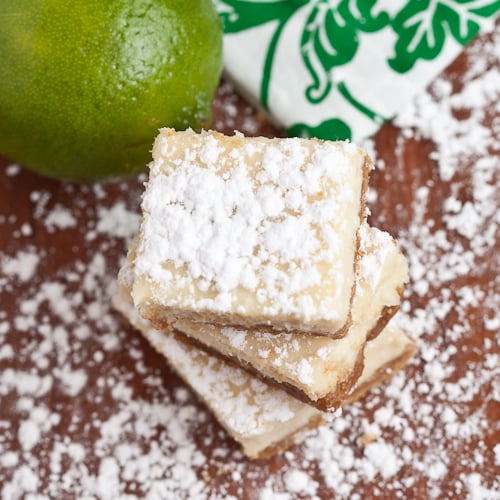 Key Ingredients
Graham Crackers – this is the foundation for the fabulous crust.
Brown Sugar and Salted Butter – these are mixed with the graham crackers to form a golden, buttery crust.
Cream Cheese – be sure to use whole cream cheese (not lowfat or nonfat) and let it come to room temperature before use.
Key Limes – you'll need them for the lime zest and juice. If you cannot find key limes, you can use regular limes. Note that key limes are smaller in size than regular limes, so buy accordingly.
Sweetened Condensed Milk – there is nothing like the thick, caramel-like flavor of this, which makes the filling absolutely irresistible.
Egg Yolks – these help bind the filling and give it a creamy, rich texture.
Powdered Sugar – this is (kind of) optional for a pretty dusting right before serving. Don't add it any earlier, as it will melt and disappear into the filling.
Stabilized Whipped Cream – feel free to pipe a dollop of this amazing whipped cream on top of each square; it won't become runny.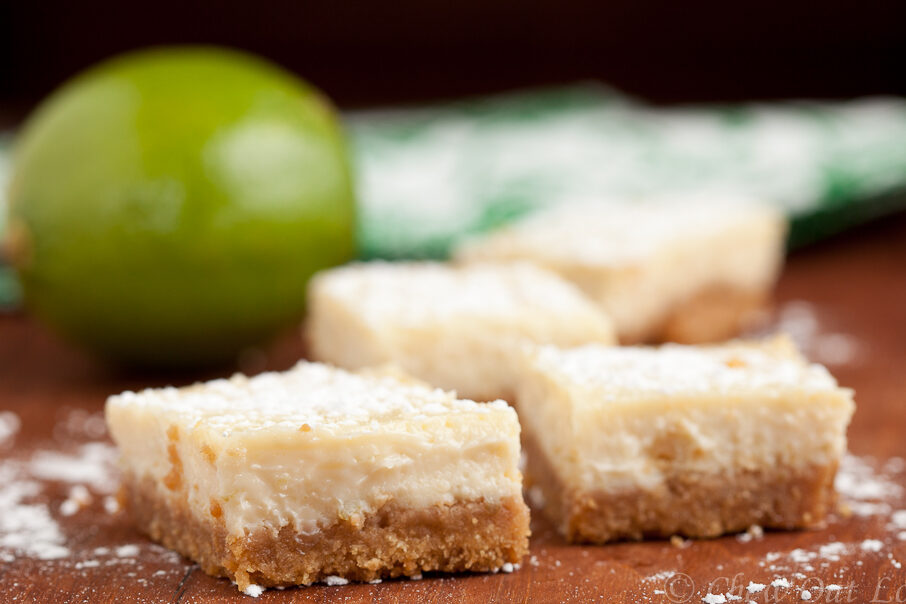 Key Tips for Success
Graham crackers can be pulsed ahead of time and kept in a Ziploc bag until ready to use.
Be sure to use room-temperature cream cheese. You can microwave it in 10-second increments until it is lukewarm, for perfect results.
Make sure no lumps remain after whisking the filling ingredients together. Again, lukewarm cream cheese will help greatly with ensuring a smooth filling.
Center will be slightly jiggly when lime bars are done baking – they will set upon cooling, so don't worry.
Do refrigerate key lime bars until they are fully chilled – overnight is best. This will ensure the dessert is set before you slice it into squares.
Commonly Asked Questions
What is the difference between key lime bars and key lime pie?
Key lime bars are made in a square or rectangular baking dish and cut into individual bars, while key lime pie is traditionally served in a pie crust and sliced into wedges. The ingredients and flavors are similar, with both desserts featuring a tangy lime filling made with key lime juice, sweetened condensed milk, and eggs.
Can I use regular limes instead of key limes for key lime bars?
Yes, you can use regular limes as a substitute for key limes in key lime bars. While the flavor may differ slightly, the bars will still be delicious. Key limes have a more intense and tangier taste compared to regular limes, but the overall result will be fantastic either way.
How long do key lime bars last?
Key lime bars can be stored in an airtight container in the refrigerator for up to 3-4 days. The crust may soften slightly over time, but the flavor will still be delicious. If you prefer a firmer crust, it's best to enjoy them within the first couple of days.
Can I freeze key lime bars?
Yes, you can freeze key lime bars. Wrap them tightly in plastic wrap or place them in an airtight container before freezing. They can be stored in the freezer for up to 2 months. When ready to serve, thaw them in the refrigerator overnight before enjoying.
Can I bake key lime bars in a 9″ pie pan instead?
Yes, you can divide the crust and filling into two 9″ pie pans instead of the original 9×13 pan, using the same bake time.
More to Bake and Eat
Did you make this?
Please give us a rating and comment below. We love hearing from you!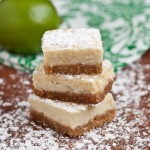 Key Lime Pie Bars
These key lime bars are creamy, sweet, and tangy with the perfect graham cracker crust.
Instructions
Preheat oven to 325F, with rack on middle position. Press a long sheet of heavy-duty foil into the corners and up sides of 13×9 pan, with enough foil hanging over edges of pan, for super easy removal later. Grease foil.

Pulse crackers in food processor until evenly fine. Add brown sugar and salt and process to combine. Drizzle butter over crumbs and pulse until crumbs are moistened with butter evenly. Press crumbs firmly and evenly into bottom of prepared pan. Bake until golden brown, 18-20 minutes. Cool while making the filling. Leave oven on.

In medium bowl, stir cream cheese, zest, and salt with a rubber spatula until soft and creamy and fully incorporated. Add sweetened condensed milk and whisk vigorously until combined and no lumps of cream cheese remain. Whisk in egg yolk. Add lime juice and gently whisk until fully combined. Mixture will thicken slightly.

Pour filing into crust. Spread to corners and smooth the surface. Bake until set and edges begin to pull slightly away from sides, 23-25 minutes. Center will still be a bit jiggly. Cool on wire rack to room temp.

Cover with foil and refrigerate until fully chilled. Remove bars from pan using foil. Cut into squares and sprinkle with powdered sugar right before serving. Keeps for several days in fridge.
Notes
You can use animal crackers in lieu of graham crackers.
To ensure a smooth filling with no lumps, you can microwave the cream cheese in 10-second increments until it's lukewarm, prior to mixing it into the filling.
Use key limes when available or in season; when they're not available, use regular limes.
For easy slicing, chill entire dessert overnight and use a super sharp knife. Clean knife in between each slice.
Rather than throwing out unused egg whites, I use them in an egg white scramble or combine them with whole eggs for regular scrambled eggs.
If you enjoyed this recipe, please come back and give it a rating ❤️
Nutrition (per serving)
Serving:
1
serving
|
Calories:
270
kcal
|
Carbohydrates:
37
g
|
Protein:
5
g
|
Fat:
12
g
|
Saturated Fat:
7
g
|
Polyunsaturated Fat:
1
g
|
Monounsaturated Fat:
3
g
|
Trans Fat:
0.2
g
|
Cholesterol:
50
mg
|
Sodium:
200
mg
|
Potassium:
203
mg
|
Fiber:
1
g
|
Sugar:
29
g
|
Vitamin A:
353
IU
|
Vitamin C:
5
mg
|
Calcium:
138
mg
|
Iron:
1
mg