Luscious Key Lime Bars
These Key Lime Bars are similar to lemon bars, but with the exquisite refreshment of bright, tangy limes instead. Your friends and family will adore these.
Spring envy is sooo rampant around here as everyone awaits completion of our final (please, let it be the last one) dump of snow. Our ridiculously late spring is supposed to make an entrance this weekend, and the entire state will suddenly bust out walking, biking, playing, and dancing. Or just standing. Outdoors.
I recently posted one of my favorite spring treats here. It's time to break out my other favorite spring treat. Key lime bars. Luscious, because they are unbelievably and unforgettably amazing.
Limes tempt your senses with their freshness and springy-ness. You already know of their cocktail virtues, but did you know the Lime stars in its own to-die-for dessert?
I was truly surprised at how fabulous these Lime Bars are. The batch I brought to a gathering left me nothing but crumbs to bring home. My kiddos and hubby inhaled every small bit they could get their hands on.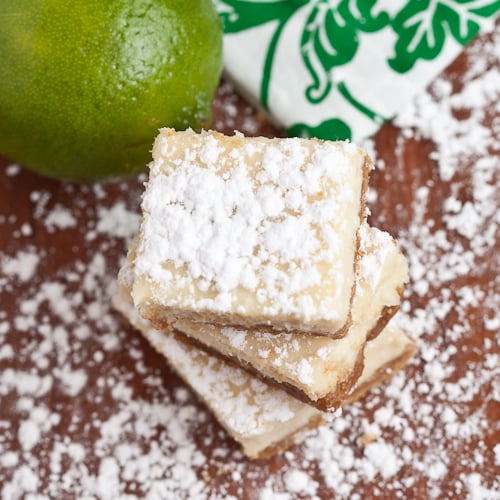 These Lime Bars are sweet and lightly tangy, rich and creamy, light and smooth… all at the same time. That decadent filling sits on top of a crisp textured, perfectly sweetened crust.
You will l-o-v-e this. Enjoy!
————————————————————————-
RECIPE: KEY LIME BARS (one 13×9 pan)
INGREDIENTS
For the Filling:
4 oz cream cheese, room temp
2 TB grated lime zest
1 cup fresh lime juice, from 6-8 limes
1/8 tsp salt
2 (14 oz each) cans sweetened condensed milk
2 large egg yolks
powdered sugar, for dusting
For the Crust:
10 oz graham crackers
6 TB packed brown sugar
8 TB salted butter, melted and slightly cooled
DIRECTIONS
Preheat oven to 325F, with rack on middle position. Press a long sheet of heavy-duty foil into the corners and up sides of 13×9 pan, with enough foil hanging over edges of pan, for super easy removal later. Grease foil.
Pulse crackers in food processor until evenly fine. Add brown sugar and salt and process to combine. Drizzle butter over crumbs and pulse until crumbs are moistened with butter evenly. Press crumbs firmly and evenly into bottom of prepared pan. Bake until golden brown, 18-20 minutes. Cool while making the filling. Leave oven on.
In medium bowl, stir cream cheese, zest, and salt with a rubber spatula until soft and creamy and fully incorporated. Add sweetened condensed milk and whisk vigorously until combined and no lumps of cream cheese remain. Whisk in egg yolk. Add lime juice and gently whisk until fully combined. Mixture will thicken slightly.
Pour filing into crust. Spread to corners and smooth the surface. Bake until set and edges begin to pull slightly away from sides, 23-25 minutes. Center will still be a bit jiggly. Cool on wire rack to room temp. Cover with foil and refrigerate until fully chilled. Remove bars from pan using foil. Cut into squares and sprinkle with powdered sugar right before serving. Keeps for days in fridge.
Notes: you can use animal crackers in lieu of graham crackers.