White Chocolate Chip Macadamia Nut Cookies
Chewy, soft White Chocolate Chip Macadamia Nut Cookies. The place first I fell for these cookies are forever etched in my mind. As a shiny, wide-eyed collegian, I frequently strolled the streets of L.A. I also frequently happened to wander into my absolute favorite cookie shop like every other day. Diddy Riese. I wasn't sure if Diddy Riese's little cookie shop was still around, but I found them online and I'm happy to say they're still doing their sweet thing.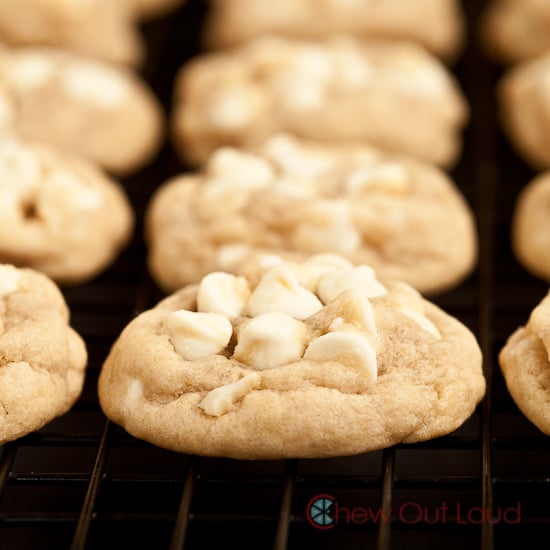 As I was saying, back in the day, I frequently meandered into my favorite cookie shop and happily skipped out with a little brown bag filled with big, decadent cookies. Thick, chewy cookies. I did indulge in chocolate chip cookies, like these. But my hands-down fave at Diddy's was their white chocolate chip macadamia nut cookie. Sometimes I shared with my roomies. Other times, I tucked them safely away. An infatuation with said cookie was born.
Back then, each big chewy cookie only set me back 25 cents. A budget-tight collegian could afford to splurge on those luscious white chocolate chip macadamia nut cookies very, very often. I'm quite shocked that it still costs pocket change for a hefty cookie today. Next time we're in L.A., Diddy's is totally on my agenda.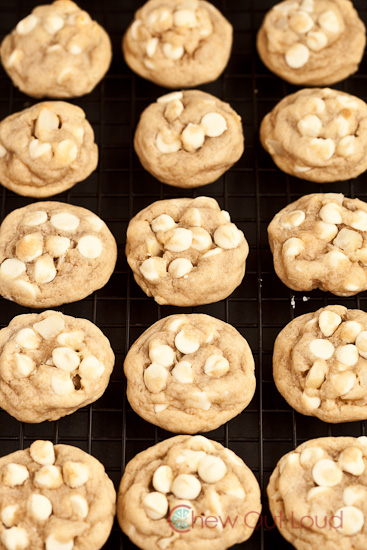 In the meantime, I share my love of white chocolate chip macadamia nut cookies via my little kitchen. This awesome recipe yields chewy and soft cookies. Just the way we like 'em. They stay chewy and soft for days, and have the fantastic texture and aroma of crisp macadamia nuts, enhanced with a touch of almond extract. These white chocolate chip macadamia nut cookies are full of real white chocolate, making the cookies deliciously sweet and creamy. I make my cookies smaller to fool myself into believing that I'm devouring less. But, well…the cookie jar doesn't lie.
Enjoy!
Print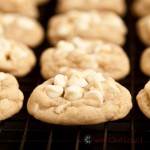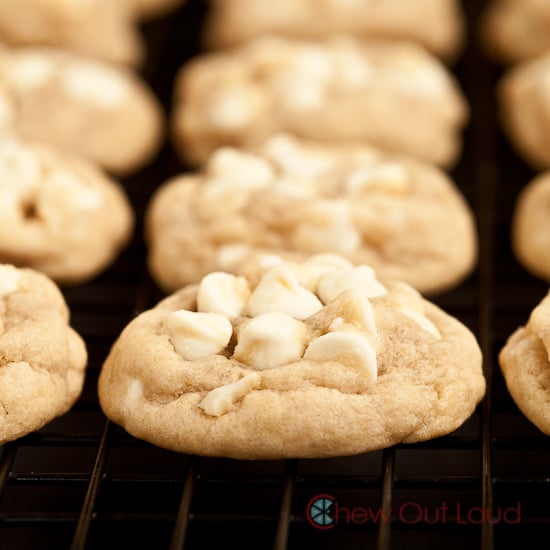 White Chocolate Macadamia Nut Cookies
These white chocolate chip macadamia nut cookies are chewy, soft, and simply irresistible. The almond extract adds so much aroma, so don't skip it!
Yield: makes about 4 dozen 1x
3 cups

all purpose flour

3/4 cup

granulated sugar

1 cup

packed light brown sugar

3/4 cup

unsalted butter, just softened to room temp (not melty)

2

large eggs

1

TB vanilla extract

1/2 tsp

almond extract

1 tsp

table salt

1/2 tsp

baking soda

12 ounces

real white chocolate chips

1/2 cup

chopped macadamia nuts
Instructions
Preheat oven to 350F, with rack on lower middle position. Line baking sheet with parchment paper.
In bowl of stand mixer using paddle attachment, cream together butter and sugar until smooth and fluffy, about 3-4 minutes on medium high. Add eggs 1 at a time and blend just until incorporated. Add vanilla and almond extracts, mixing just until incorporated.
In a separate bowl, whisk together the flour, salt, and baking soda. Gently combine together the flour mixture with the butter/sugar mixture until fully mixed.
Fold in white chocolate chips and macadamia nuts, until evenly mixed in.
Make walnut sized balls and flatten a bit (these cookies do not flatten too much during baking.)
Bake for 10 minutes, or just until bottoms of cookies are light golden brown. Cookies may seem soft and underdone, but they will set upon cooling.
Cool 5 minutes on baking sheet and use flat spatula to transfer them onto cooling rack.
Did you make this?
Leave a comment below and tag @chewoutloud on Instagram
Source: Chew Out Loud, adapted from food.com