Funfetti Pancakes (from scratch)
By Amy Dong
Published Jun. 10, 2014
Updated Aug. 17, 2022
These festive and celebratory funfetti pancakes are simple to make and are from scratch. No boxed cake mix in these! These pancakes are fluffy, moist, and taste like a party in your mouth. Perfect for someone's birthday breakfast or even breakfast-for-dinner.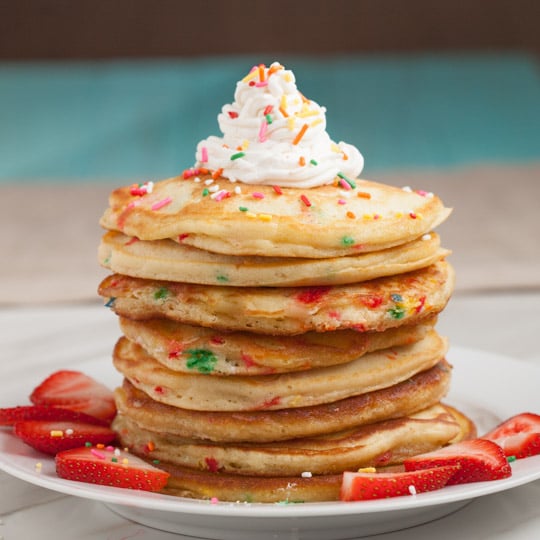 June is a month of celebrations in our home. From the appearance of car-jammed driveways and loud music in neighborhoods everywhere, we clearly aren't alone in the festivities of June.
This is the month of grad parties galore. Things have changed exponentially since we graduated high school, that's for sure. We didn't have the street-lined parties, buffet tables filled with fabulous food, and music ringing into the night.
Well, possibly we did have the latter. (Because 80's music was the best.) But our shindigs didn't resemble the scale of today's grad parties where families pull out all the stops to celebrate the completion of their kid's last summer before flying the coop.
What it might be like by the time my own Littles graduate from high school is something I am in total denial over…
June also happens to be a month of birthdays and anniversaries for our family. It's the month we do our traditional 5K walk/runs as a family, complete with post-run festivities. Cotton candy is always in order after a run/walk.
Plus, next weekend is Father's Day. (Has that crept up on anyone else besides me?)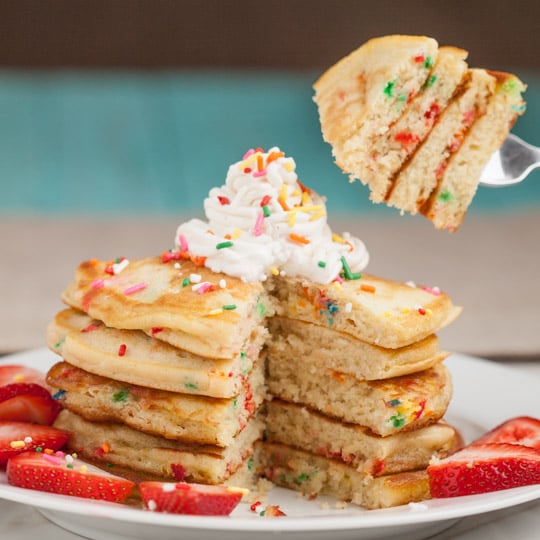 So yeah, that's where these celebration funfetti pancakes come in. There aren't many foods quite as festive, fun, and cheery as these pancakes. Except maybe a rainbow of soft batch M&M pudding cookies. Or possibly a DQ-like ice cream cake. But these funfetti pancakes absolutely rank in the Top 5 Most Festive Food category.
Not only do these funfetti pancakes look fun and appealing with their happy colors and sprinkles, but they taste every bit as yummy as you'd expect.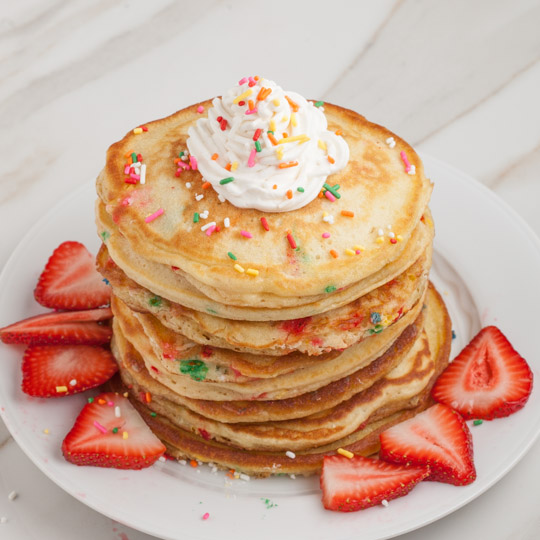 These are based on my all-time, fail-proof fluffy pancake recipe, which turn out the most deeelish pancakes ever. We make them regularly. Now, just add in the sprinkles, lay on some homemade whipped cream (cool whip isn't real, is it?) and you've got the best party food.
It's a well known fact that pancakes aren't just for breakfast anymore.
Sure, we whip these funfetti pancakes up for breakfast on birthdays. But breakfast-for-dinner gets a yes from me if that's what the birthday boy requests.
These pancakes are guaranteed to make your grad, dad, or birthday gal smile. Enjoy!
Did you make this?
Please give us a rating and comment below. We love hearing from you!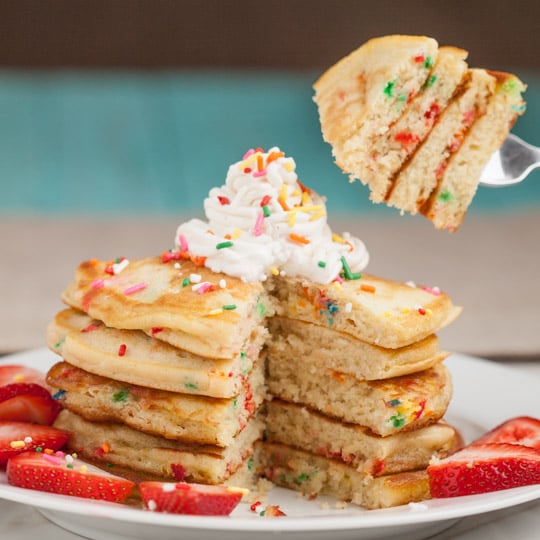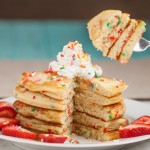 Funfetti Pancakes (from scratch)
Made from scratch and super easy, these Funfetti Pancakes are the perfect celebration food! No cake mixes. Fluffy, soft, and just the right amount of sweetness.
Instructions
In a bowl, combine milk and lemon juice and allow it to sit at room temp for 10 minutes (it will curdle while it sits.)

In a large bowl, combine flour, sugar, baking powder, baking soda, and salt; whisk to incorporate.

Gently whisk egg and melted butter into the milk mixture until incorporated. Fold milk mixture into the flour mixture, folding and stirring just until most of the lumps are gone (it's ok to have a little bit of small lumps left.) Don't over-mix.

Very gently fold sprinkles into batter right before cooking.

Heat 2-3 TB oil in a large frying pan or griddle over medium heat. When oil is moderately heated through, carefully pour batter by 1/4 cup rounds into skillet. Carefully monitor the pancakes, flipping them over with a large spatula once bubbles start to form over the top surface. Adjust the heat accordingly so as not to over-brown. Repeat until all batter is used up.

Serve with additional sprinkles, fresh whipped cream, and sliced fruit.
Nutrition (per serving)
Calories:
277
kcal
|
Carbohydrates:
45
g
|
Protein:
5
g
|
Fat:
8
g
|
Saturated Fat:
5
g
|
Polyunsaturated Fat:
0.4
g
|
Monounsaturated Fat:
2
g
|
Trans Fat:
0.2
g
|
Cholesterol:
21
mg
|
Sodium:
597
mg
|
Potassium:
115
mg
|
Fiber:
1
g
|
Sugar:
21
g
|
Vitamin A:
251
IU
|
Vitamin C:
3
mg
|
Calcium:
123
mg
|
Iron:
2
mg
Source: Chew Out Loud
Regardless of the time of year, these fluffy pancakes made with whole wheat and pumpkin are seriously going to hit the spot when you're craving pancakes. Fluffy and moist and soooo flavorful.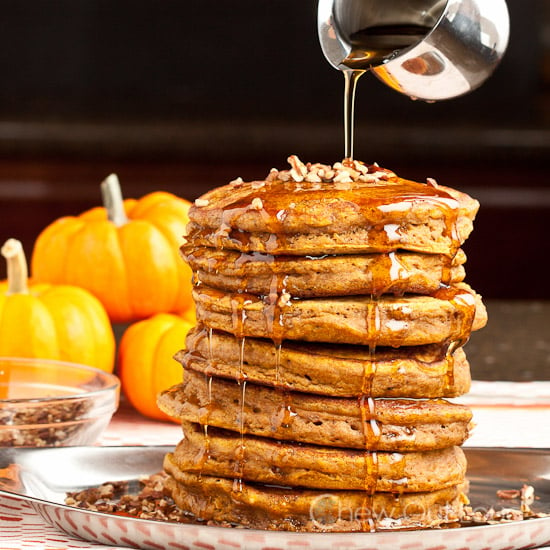 For a super easy and crowd-pleasing grad or dad or anytime treat, it's hard to beat these Chocolate Oatmeal Cupcakes. You can't taste the oats, but it's what makes these cakes so moist.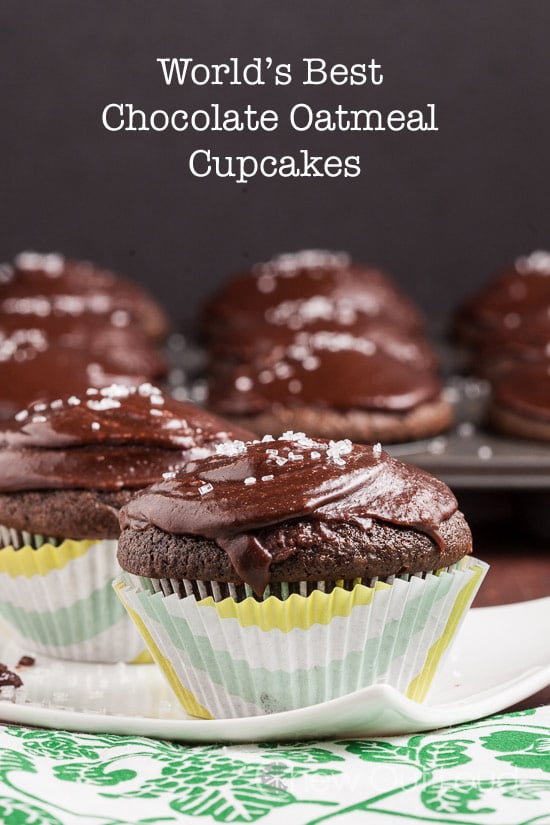 No party is complete without some Soft M&M Cookies. These are a hit with everyone of all ages.