Blueberry Coffee Cake
This easy blueberry coffee cake is super tender and moist, with a light crispy topping. Bursting with juicy blueberries and spices, this blueberry cake is a morning favorite.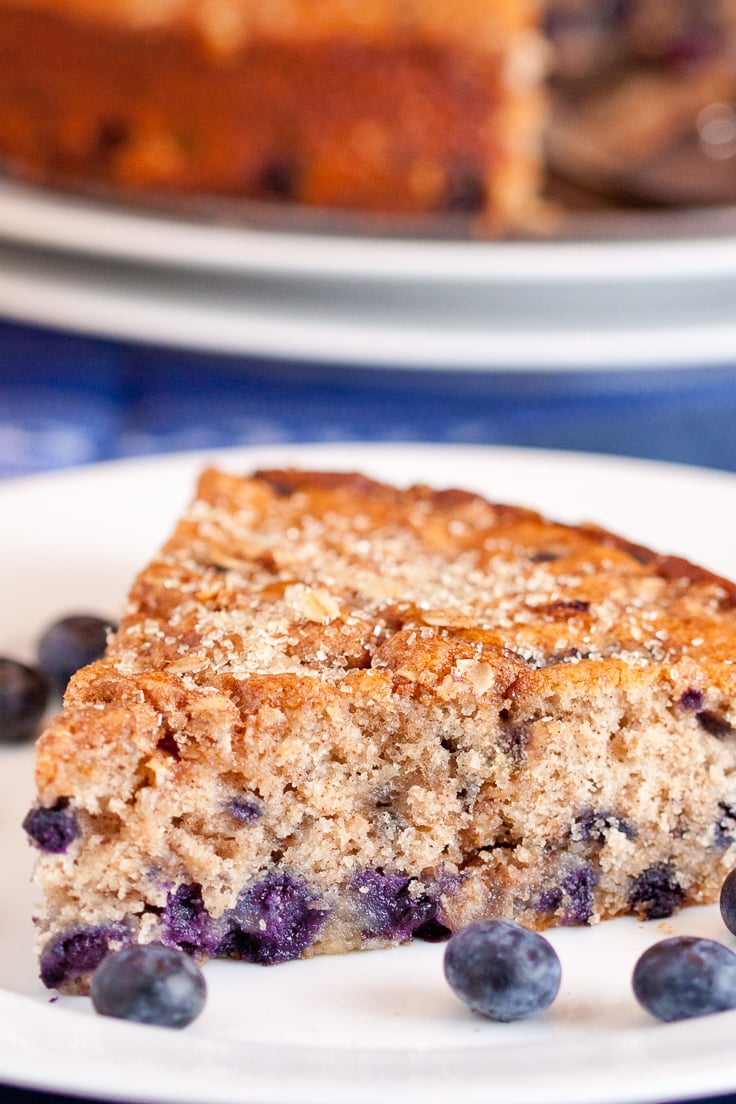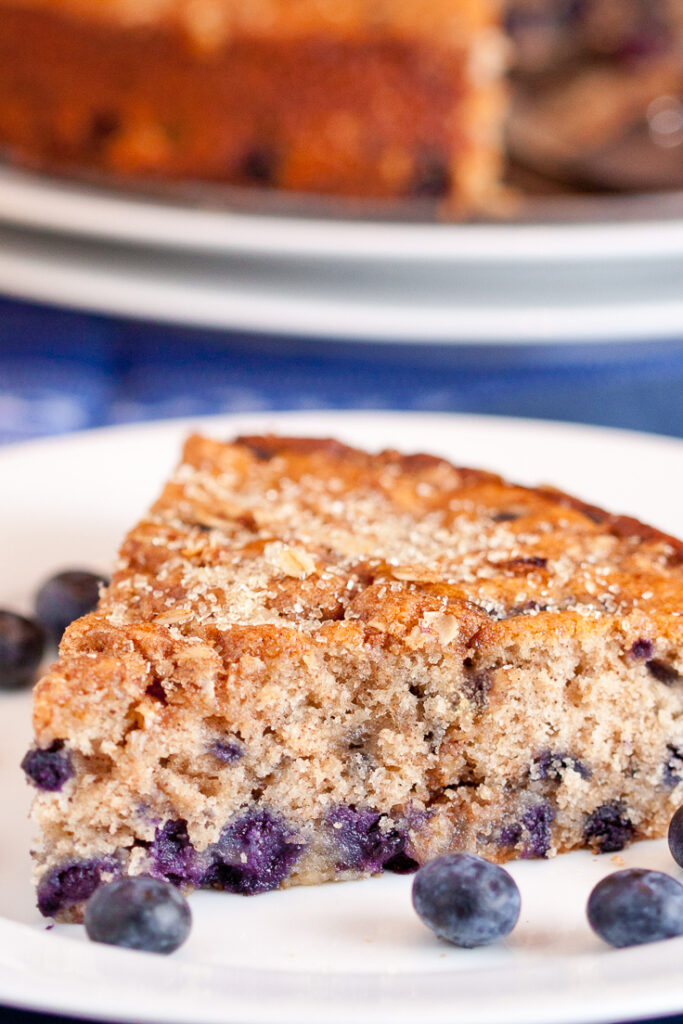 Blueberry Coffee Cake
Plump, juicy blueberries are the feature in this scrumptious breakfast cake. Add brown sugar and scrumptious spices…you just can't go wrong with this hearty morning treat.
This blueberry coffee cake isn't one of those light, fluffy varieties. No doubt, we love the delicately airy texture of this angel food cake and banana chiffon cake. Yet, there are times we crave more substantial cakes at'll satisfy hungry mornings, with coffee in one hand and fork in another.
Our blueberry cake answers that call. It's perfectly moist, tender, and hearty all at the same time. Plentiful lush blueberries make all the difference.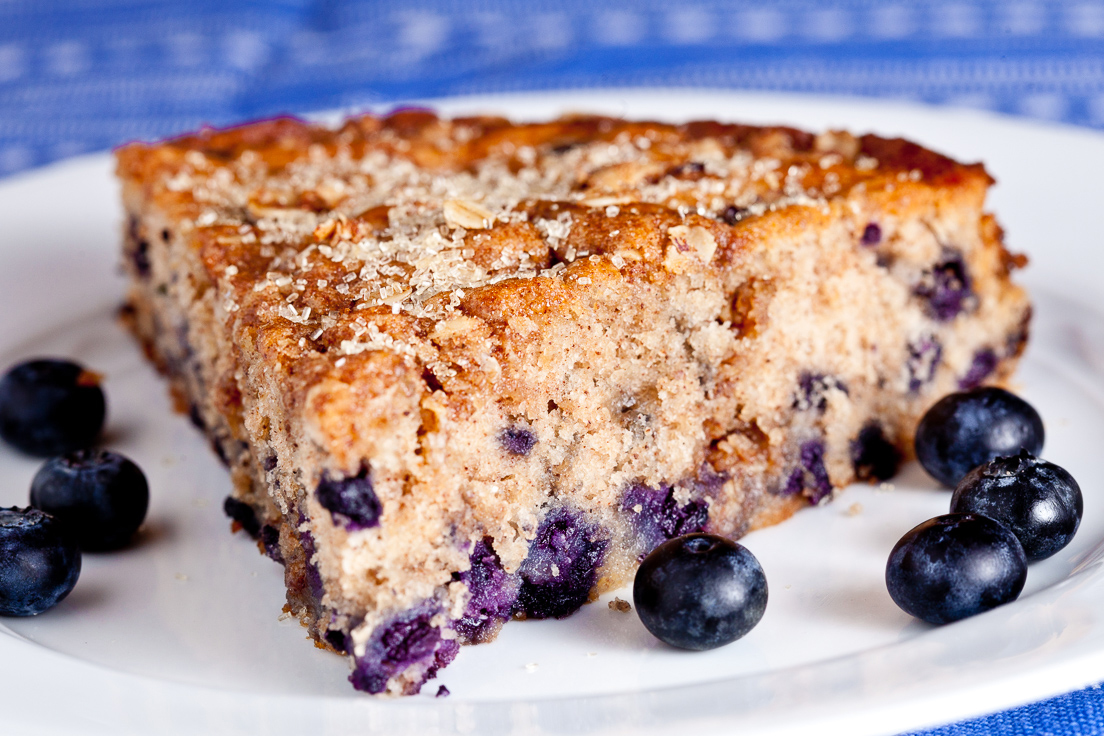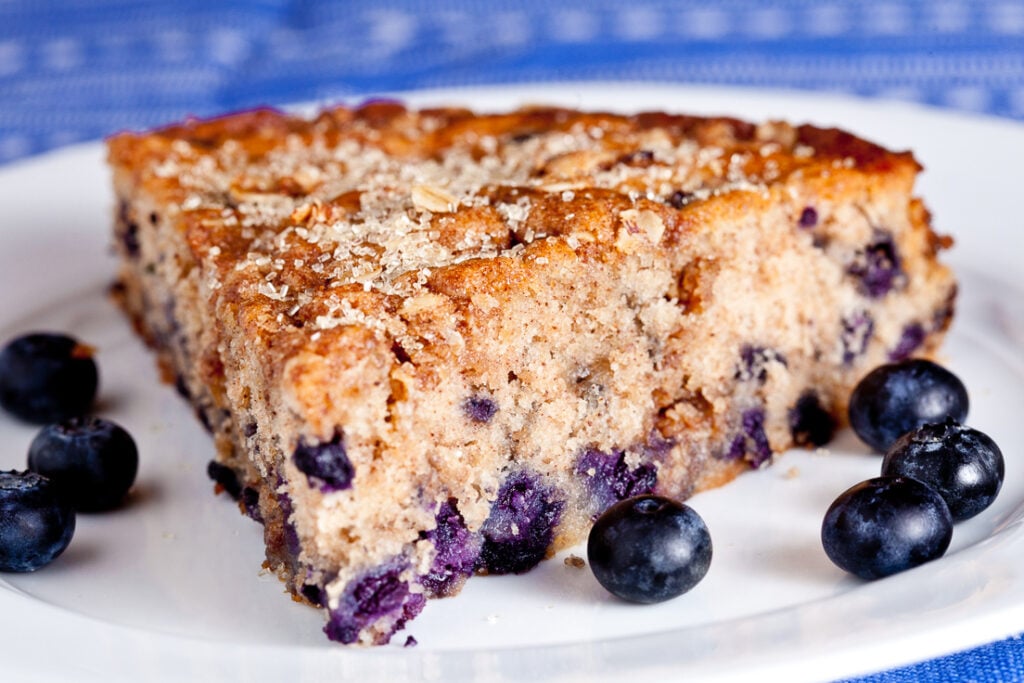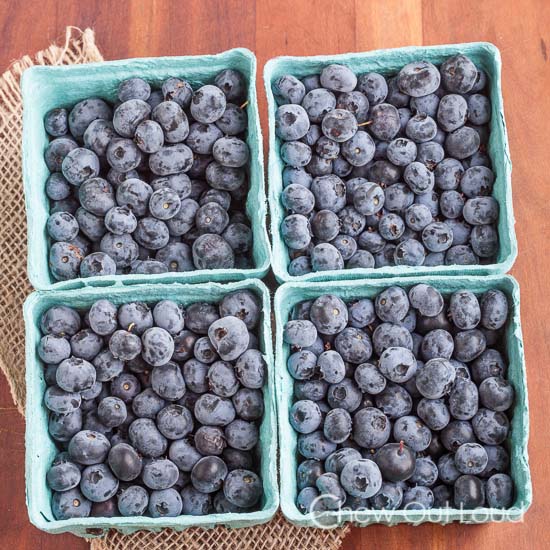 Buying and Storing Blueberries
When buying fresh blueberries, go for berries that are dry, plump, and smooth-looking. Wet berries can mean mold hidden underneath and slightly wrinkled berries are well past their peak.

Any blueberry juice that has stained the container or carton likely means there is smashed or burst fruit inside. Be sure container is clean and dry.
The more deep-purple/blue the color of the berries, the more sweet and ripe they are. Underripe blueberries tend to be somewhat reddish in hue. Size is not an accurate indicator of ripeness, as some smaller berries that have gained a dark blue color are sweeter than larger reddish berries.
Keep your blueberries fresh by placing them in a dry and covered container in the fridge, and wash them only when ready to use.
When buying frozen blueberries, be sure the berries don't seem clumped together inside the bag. The frozen blueberries should be separated and loose. Immediately place blueberries in freezer once you get them home; do not re-freeze blueberries that have thawed, as they will form an inseparable clump (if that ever does happen, you can still use them in smoothies.)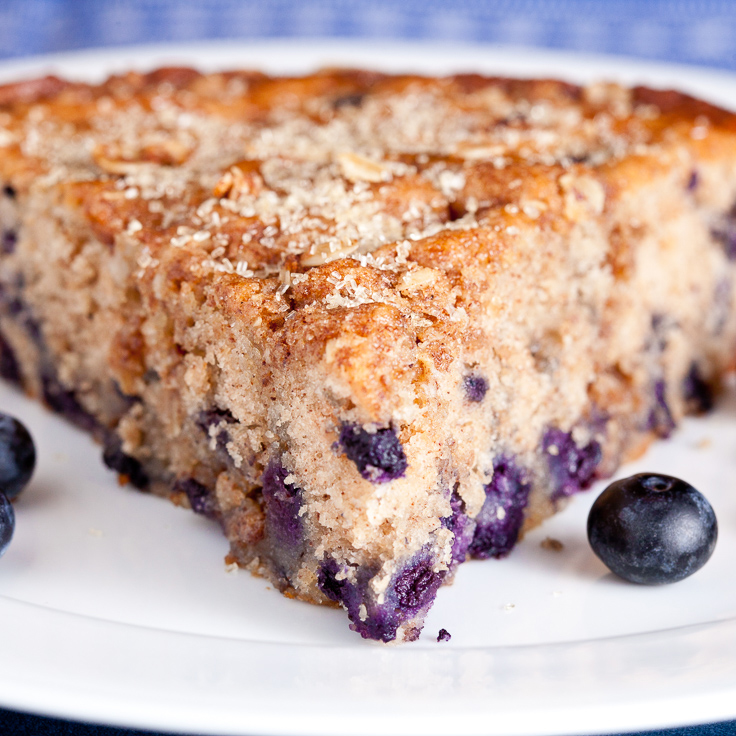 Baking with Blueberries
Plump, juicy blueberries are nature's treat all on their own. But sometimes we just want a big, bakery style blueberry muffin or a glorious slice of blueberry coffee cake.
If you've baked with berries, you know they tend to sink to the bottom of the batter. Because our blueberry cake here isn't tall, we didn't worry about berries on the bottom. If you're baking a tall cake or if you'd really like there to berries on the top portion of your baked goods, you can easily accomplish this by pouring about a third of the batter without berries on bottom of pan, prior to adding berries to the rest of the batter.
To prevent purple/blue streaking throughout the batter, fold in fresh or frozen berries towards the end, just before transferring to baking pan. Frozen berries should be added to batter while they're still very frozen and haven't thawed at all; place in oven immediately.
Lastly, a bit of lemon juice provides a touch of acid to keep your blueberries brightly colorful and can help prevent them from turning greenish-gray while baking.
Blueberry Coffee Cake
Commonly Asked Questions
Can I use frozen blueberries in this coffee cake?
Yes, you can use frozen blueberries; just be sure they are not clumped together and are nicely separated. Do not thaw them at all prior to using.
Can I make blueberry coffee cake in advance?
Yes, you can make this coffee cake the night before. In fact, it's even better the next day!
Can I freeze the baked blueberry coffee cake?
Absolutely. Be sure to cover it airtight and freeze up to several weeks.
Can I use whole grain flour or whole wheat flour instead of all purpose flour?
If you'd like to use whole grain flour, we recommend substituting half of the all purpose flour and using white whole wheat flour, as it is finer in texture and milder in flavor.
More to bake and eat
---
Did you make this?
Please give us a rating and comment below. We love hearing from you!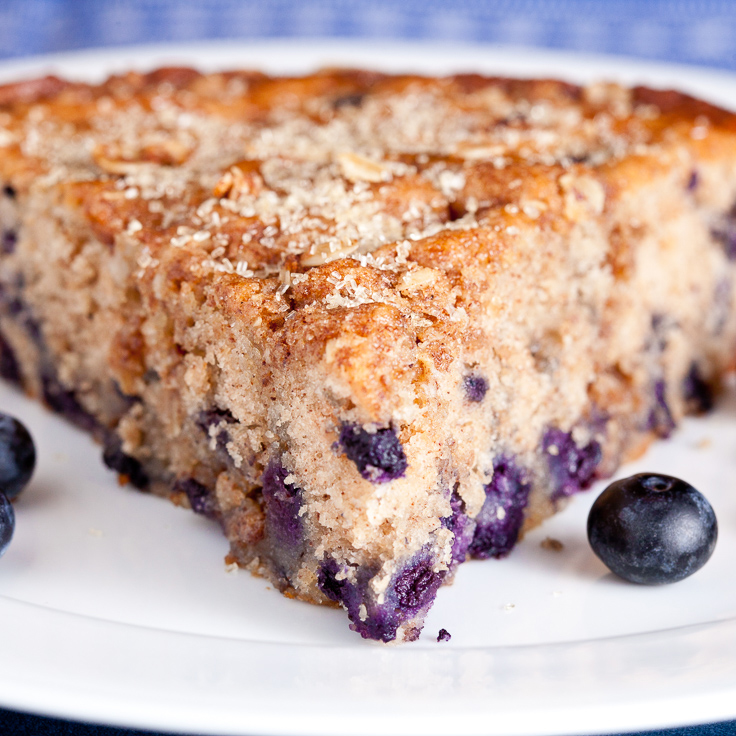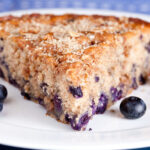 Blueberry Coffee Cake
This super easy blueberry coffee cake is moist and fabulous for breakfast or brunch.
Instructions
Make Topping: In a small bowl, add all topping ingredients and mix together by hand until fully incorporated and crumbly. Cover and chill until ready to use.

Prepare: Preheat oven to 350F, with baking rack on lower middle position. Grease a 10-inch Springform pan and set aside.

Mix: In the bowl of a stand mixer fitted with paddle attachment on medium-high speed, cream butter and sugar until fluffy and very pale yellow, about 3 minutes. Add cinnamon, nutmeg, vanilla, lemon juice, and eggs. Mix on medium speed just until smooth, about 1 minute. Add the yogurt and mix another minute.

More Mixing: Add flour, baking soda, salt, and flax meal if using. Mix on medium-low speed just until incorporated, scraping down sides as needed; do not over-mix (over-mixing causes a tougher texture.)

Fold, Transfer, and Bake: Remove bowl from stand mixer. Use rubber spatula to very gently fold blueberries into the batter. Transfer batter into greased Springform pan, spreading evenly. Sprinkle chilled topping evenly over batter. Place baking pan onto a large sheet pan and bake 45 minutes or until toothpick inserted in center comes out with a few tender crumbs attached.

Garnish: Sprinkle warm cake with Turbinado sugar on top. Allow cake to fully cool in pan on wire rack; gently remove sides of Springform pan to release cake.
Notes
Feel free to substitute half of the AP flour with whole wheat flour or white whole wheat flour.
If you only have a 9 inch Springform pan, plan to adjust for a few extra minutes of bake time.
If you want to keep berries from sinking to bottom, transfer half the batter without berries to the baking pan first, and fold berries into the remaining batter.
Cake can be made the night before; allow it to cool in the pan at room temp, covered with foil, until ready to serve. To serve warm, reheat at 300F for about 12 minutes.
If you enjoyed this recipe, please come back and give it a rating ♡
Nutrition (per serving)
Serving:
1
g
|
Calories:
371
kcal
|
Carbohydrates:
47.8
g
|
Protein:
5.2
g
|
Fat:
17.9
g
|
Saturated Fat:
10.8
g
|
Cholesterol:
82
mg
|
Sodium:
262.5
mg
|
Fiber:
2.4
g
|
Sugar:
26
g