4-Ingredient Nutella Shortbread Thumbprint Cookies
These buttery Nutella Shortbread Thumbprint Cookies are melt-in-your-mouth delicious! Bite-sized buttery shortbread cookies are filled to the brim with Nutella, and topped with sprinkles to fit any occasion.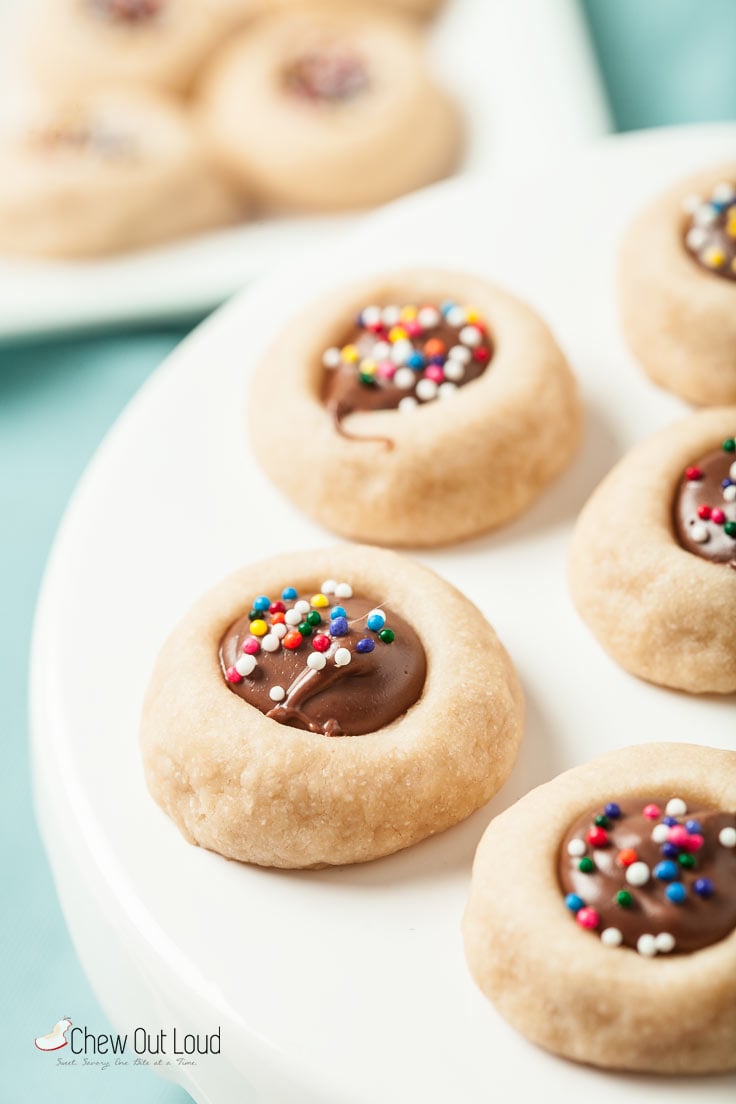 Hope you all had a lovely Valentine's Day. Or Galentines Day [which I had to look up on urban dictionary because I'm clearly not hip like that]
Valentines can be somewhat of a Hallmark holiday, but I fully embrace it. I wear pink socks while hanging up heart-garlands because it's February in Minnesota and we need us some mid-winter happy.
Some of my friends celebrated with their special someone over candlelight dinners. Others rounded up their kiddos over heart shaped pizzas. Still others gathered with friends. The rest simply relaxed at home, hopefully with something chocolate.
For us, it's all the above. It's kind of a weeklong celebration because when the next holiday isn't until April, ya gotta make the most of it. Especially the something chocolate part.
Introducing Nutella Shortbread Thumbprint Cookies. These buttery cookies are melt-in-your-mouth delicious and loaded with happy. 💓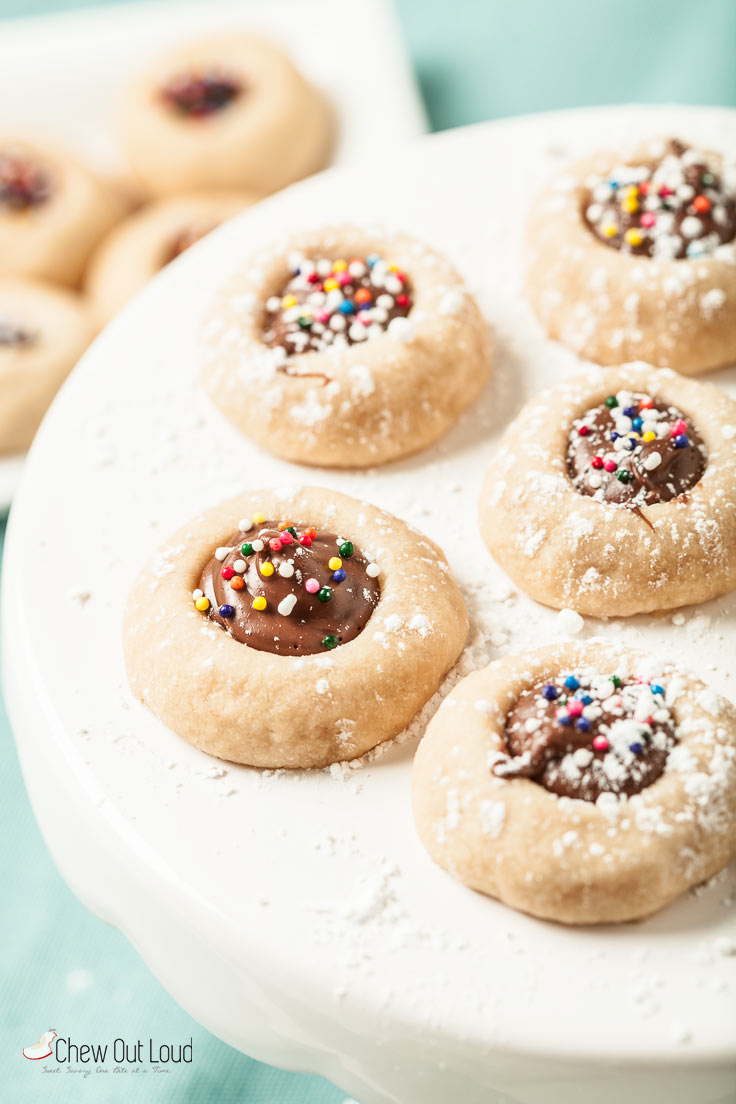 Sprinkle according to your occasion, as these are irresistible all year round.
Here's to big love…with cookies to share.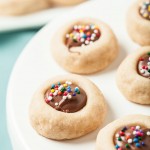 Nutella Shortbread Thumbprint Cookies
Ingredients
2

cups

salted butter

,

cold and cut into pieces

1

cup

packed light brown sugar

4½

cups

all purpose flour,

divided

Jar of Nutella

,

I use the smaller jar

Optional: Your favorite sprinkles
Instructions
In the bowl of a stand mixer, add butter and brown sugar. Using paddle attachment on medium-high speed, mix until fluffy and light, several minutes. Add 3½ cups of the flour and mix on medium-low speed until combined.

On a large board, sprinkle ½ cup flour. Knead dough by hand for 5 minutes, adding as much of the remaining ½ cup flour as needed to make a soft dough. The dough should end up soft and pliable, similar to play-dough, not sticky. (You may not end up using all the flour, depending on how your dough feels.) Divide dough in half, wrap tightly, and chill for at least 30 minutes or until firm enough to roll.

Meanwhile, preheat oven to 325F, with rack on lower middle position. Line baking sheets with parchment paper or silicone mats; set aside. Place enough Nutella in a sandwich-size Ziploc bag to fill it about halfway. Carefully snip a tiny bit off the corner, making a piping bag. Set aside.

Working in 2 batches, form dough balls with the chilled dough, about 1-inch each. Form a deep well in the center using the back of a wooden spoon or index finger (you want it deep, but not too wide.) Place 2 inches apart on lined baking sheet and bake 8-10 minutes (these won't brown on top much, but the bottoms should be golden brown.) If needed, very gently depress the centers of baked cookies again. Fill centers to the brim with Nutella, using your Ziploc piping bag. Top with sprinkles, and return to oven for another 3 minutes. Let cool completely on baking sheet. Cookies keep well when sealed airtight, at room temp.
Notes
Don't worry about the center well seeming not wide enough - they will spread out a bit after baking and after the Nutella is piped in. You can also widen the center well a bit right before piping in the Nutella. I've found that the back of my wooden spoon works very well for a deep center well.
Unused dough can be wrapped airtight and stored in freezer up to a month.
Did you make this?
Leave a comment below and tag @chewoutloud on Instagram
Source: Chew Out Loud
Nothin' Like Nutella…