Fresh Orange Bundt Cake
This orange bundt cake gifts eaters with a huge burst of fresh orange flavor, and is the perfect brunch addition. Of course, people also love this cake topped with ice cream for dessert.

Fresh Orange Bundt Cake (Cake for breakfast = yes)
There's rarely a lack of citrus fruits at our grocery stores, whether it's 81F or -18F outside. I totally did write -18F, not a typo. Try not to be jealous of me, come January.
Because of the all-season abundance of citrus fruits pretty much everywhere I've lived, my sometimes distracted brain starts wondering why oranges are especially trendy in winter. I know it's technically a winter fruit. And the December orange rage probably has to do with the absence of other fresh fruits. [Giving you the side eye, Watermelon.]
Anyways, we joyfully oblige the orange splendor every winter and make most of it all. Hello, The Best Mimosa Recipe and 30-Minute Asian Orange Beef — these recipes turn out extra fabulous due to freshly squeezed oranges. You can't beat freshly squeezed.
That's why we've loaded this Fresh Orange Bundt Cake with freshly squeezed orange juice and zest. Both inside the cake and drizzled all over. If someone in your life is a fan of oranges, make this cake for them. A forkful of this fresh orange cake is a burst of sweet sunshine on the tastebuds…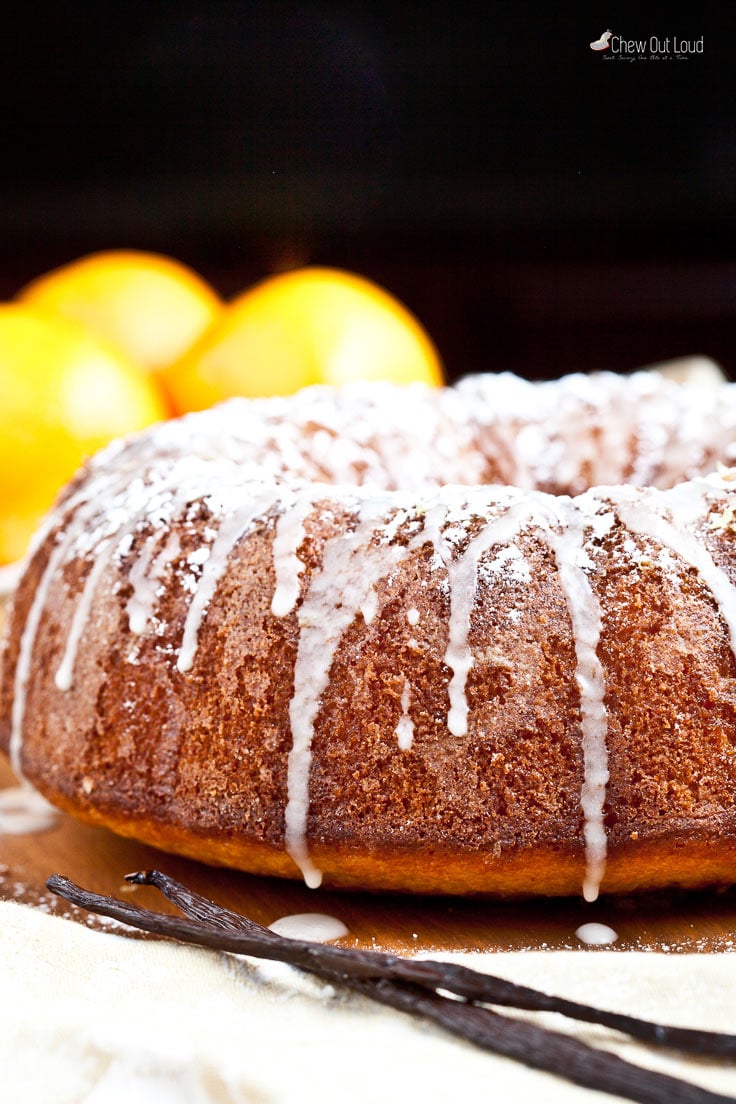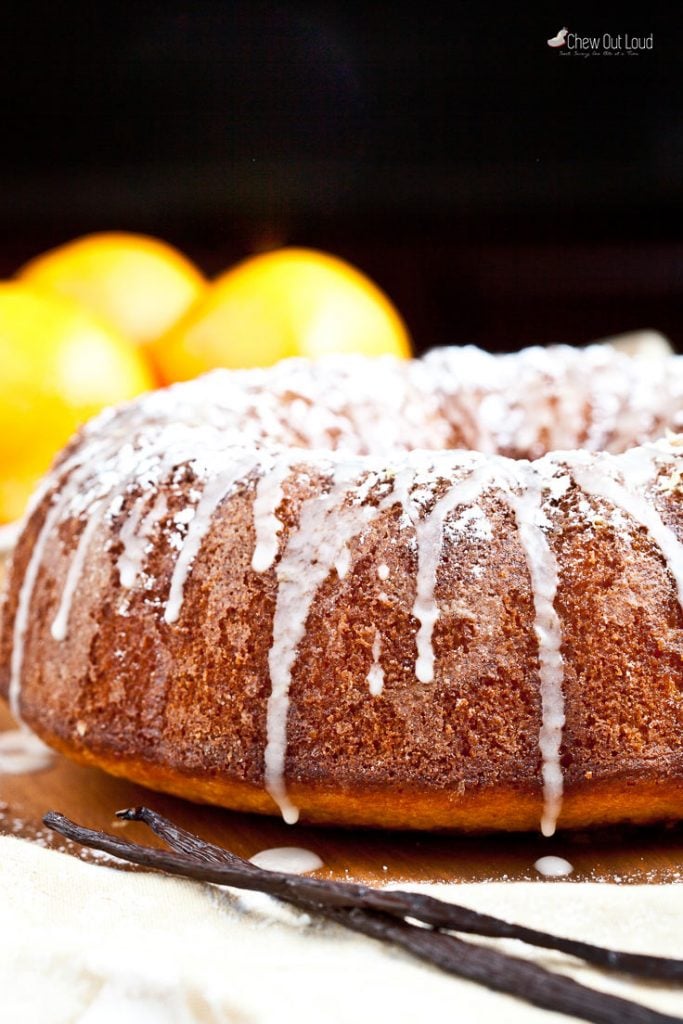 How to make fresh orange bundt cake
You'll need about 6 large oranges: three for the freshly squeezed juice, a bit more for the glaze, and all six oranges for freshly grated zest. If you've got a sidekick in the house, hand them the zester. Zesting is rather fun and cathartic. And actually, it doesn't take long if you've got a good zester. A good zester is less than 20 bucks and So. Worth. It. You'll use it on everything from zesting citrus to chocolate to cheese.
Use real buttermilk, room temp. I sometimes make my own buttermilk with milk and lemon, but if you can get buttermilk at the store, it's easy and ideal for this recipe.
Use a whole tablespoon of pure vanilla extract. That can sound like a bit much, but it's totally not. Vanilla extract brings such amazing flavor to this cake.
Go XL when it comes to the eggs. Four extra large eggs go into this orange beauty. You can do five large eggs, if that's what you have.
Be sure your baking soda and powder are fresh. I replace mine every few months to ensure the correct texture and rise of baked goods. You can always recycle the old baking soda into the fridge to keep your fridge fresh. But just say no to using old baking soda or powder in any baked goods.
Why we love this orange breakfast cake
This orange bundt cake is, once again, a burst of sweet sunshine in your mouth
It's dense, moist, and delicious with your favorite cuppa in the morning
It's also irresistible with a scoop of vanilla bean ice cream in the evening
It's a hit at brunch potlucks and holiday gatherings
You can make it ahead of time, freeze it, and serve it when you're ready
The orange glaze is SUPER awesome and uses only 2 ingredients
Bonus: you can eat this cake all year round.
---
Try our 3-ingredient buttery shortbread:
---
Did you make this?
Please give us a rating and comment below. We love hearing from you!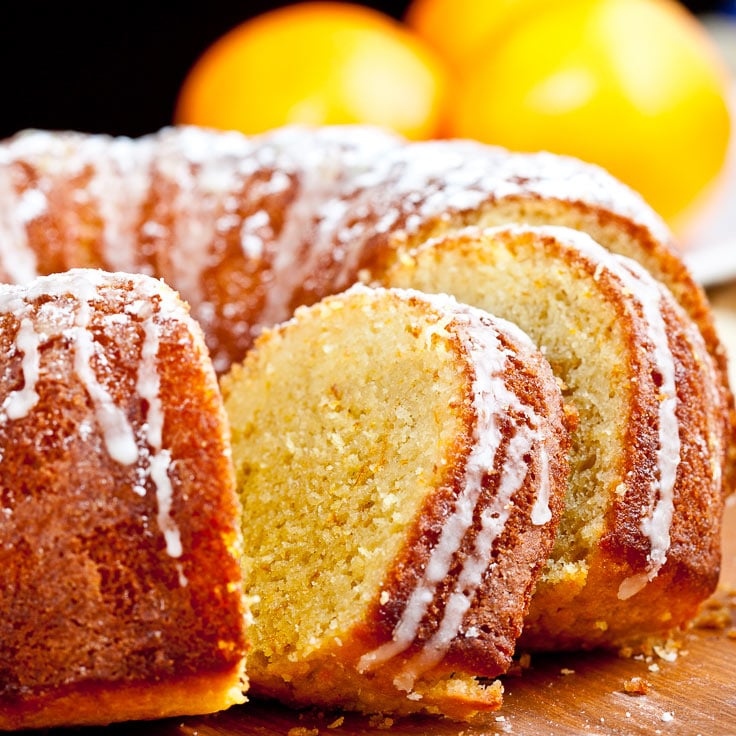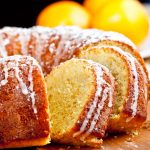 Fresh Orange Breakfast Bundt Cake
Cake before noon? Absolutely. Especially when it's loaded with fresh orange juice, orange zest, and buttermilk. This orange bundt cake gifts eaters with a huge burst of fresh orange flavor, and is the perfect brunch addition. Of course, people also love this cake topped with ice cream for dessert.
Ingredients
For Orange Glaze Topping:
Instructions
Preheat oven to 350F with rack on lower middle position. Grease a standard bundt pan and set aside.

In a large bowl, use a hand whisk to thoroughly combine the flour, baking powder, baking soda, and salt. Set aside.

In bowl of stand mixer fitted with paddle attachment, cream the butter and 2 cups of granulated sugar on medium speed, 5 min or until light and fluffy. Beat in eggs one at a time until each is combined. Add orange zest, beating just until well incorporated; scrape down sides as needed.

In a bowl, combine 1/4 cup of fresh orange juice, buttermilk, and vanilla extract. Gently fold buttermilk half of buttermilk mixture into the egg mixture, followed by half of the flour mixture; repeat with other half of buttermilk and flour mixtures, until all batter is gently folded together. Batter should be just combined but not over mixed; be sure to fold by hand with rubber spatula.

Scrape all of batter into greased bundt pan and smooth top evenly. Bake 40-43 min or just until toothpick inserted in center comes out almost clean, with few tender crumbs attached. Let cake cool at least 15-30 minutes before removing.

While the cake is baking, heat remaining 1/2 cup sugar with remaining 1/2 cup orange juice in microwaveable bowl and microwave 1 min or so, until sugar dissolves. Gently remove cake from bundt pan and invert onto a serving plate (I use a super sharp knife to gently loosen sides, before inverting. Then I give the pan a few strong pats, upside down, to pop the cake out.) Slowly drizzle sugar/orange mixture over cake and allow entire cake to cool completely.

For Orange Glaze Topping: combine glaze ingredients and whisk until smooth (if needed, add another drop or two of orange juice for desired consistency.) Drizzle over top of cake. Finished cake can be kept airtight at moderate room temp for 1-2 days.
Notes
This recipe goes a lot quicker if you juice and zest the oranges before starting with the recipe.
For best results, make cake the night before, so it has time to cool overnight and set up nicely.
Cake can be kept airtight in fridge for several days; let come to room temp before serving.
If you enjoyed this recipe, please come back and give it a rating ♡
Nutrition (per serving)
Calories:
545
kcal
|
Carbohydrates:
67.5
g
|
Protein:
5.7
g
|
Fat:
28.8
g
|
Saturated Fat:
17.3
g
|
Cholesterol:
133.2
mg
|
Sodium:
184.7
mg
|
Fiber:
0.9
g
|
Sugar:
43.1
g
---
Cakes for Breakfast or Dessert: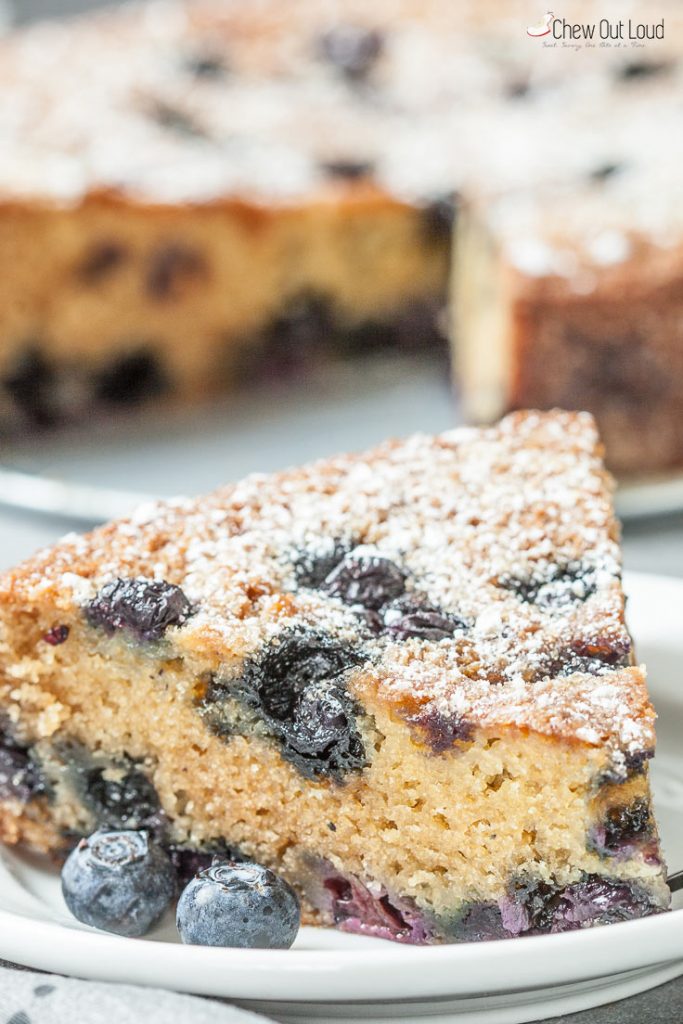 2 Honey Pear Cake Recipe (No Refined Sugar)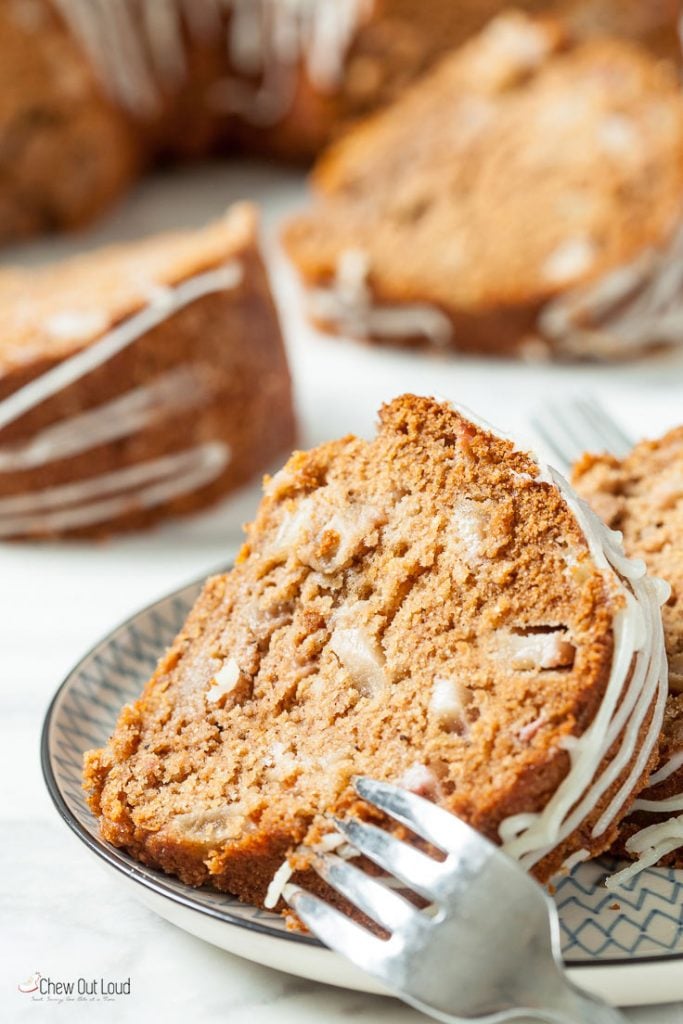 3. Easy One-Bowl Apple Cake Recipe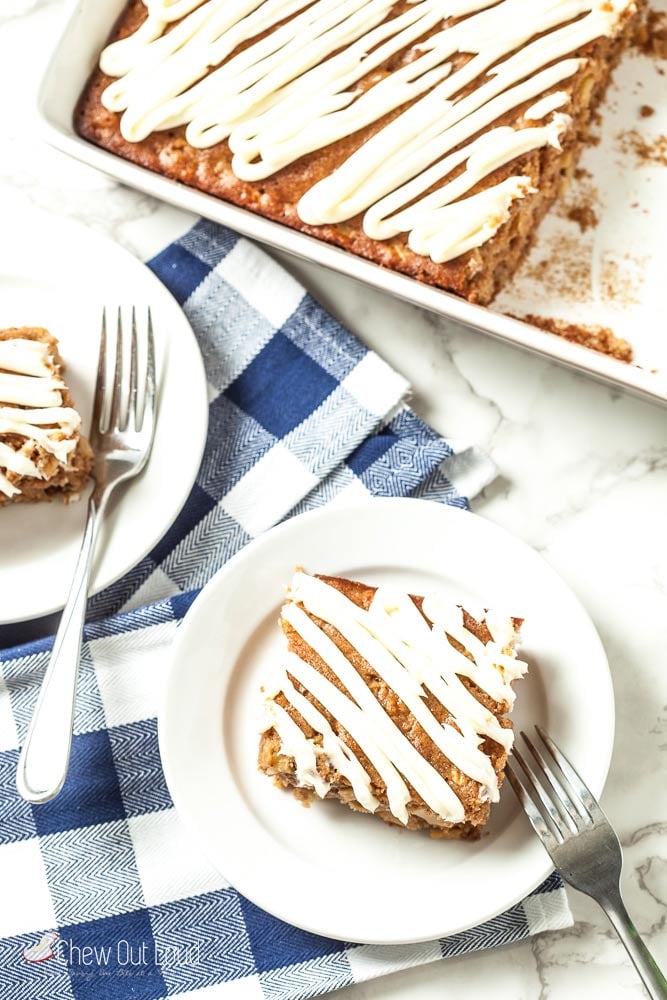 4. Lemon Olive Oil Yogurt Cake