Cinnamon Sugar Tortilla Chips
Crisp, sugary, and perfectly crunchy. These cinnamon sugar tortilla chips are easy to make and the best chips for scooping up your favorite dip or fruit salsa.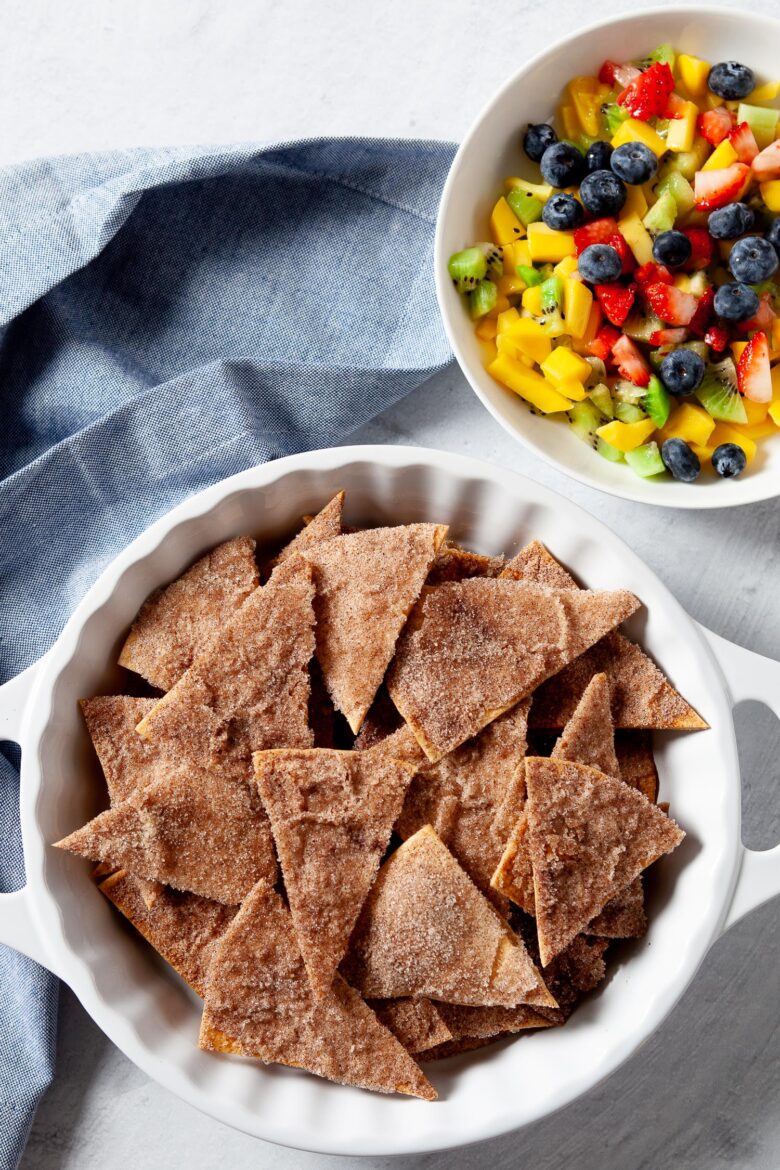 Homemade Cinnamon Sugar Chips
This recipe transforms regular tortillas into a sweet scooping snack. Cinnamon sugar tortilla chips are crunchy and dusted with cinnamon and sugar. When it comes to dipping, there are so many fun options, but these chips are a perfect choice when you have something sweet to scoop and enjoy.
The cinnamon and sugar complement any fruity, creamy, or dessert-type dip. Plus, they can be made ahead of time, waiting for the perfect moment to dive in. Pull this recipe out for an after-school snack for the kids or an impressive appetizer for the adults. Everyone is going to be ranting and raving over these mouth-watering cinnamon sugar tortilla chips.
Why This Recipe Stands Out
These chips easily make the list of 10 ingredients or less recipes. You only need 4 Pantry Staples ingredients to pull these together.
Add this to your next plan ahead snack by making these a few hours or even up to a day ahead of time.
Cinnamon sugar tortilla chips are a versatile dipping tool. They pair well with multiple types of dips and can even be enjoyed individually.
This recipe is easy. Get the kids together and teach them some kitchen basics, or whip these together yourselves with little to no effort.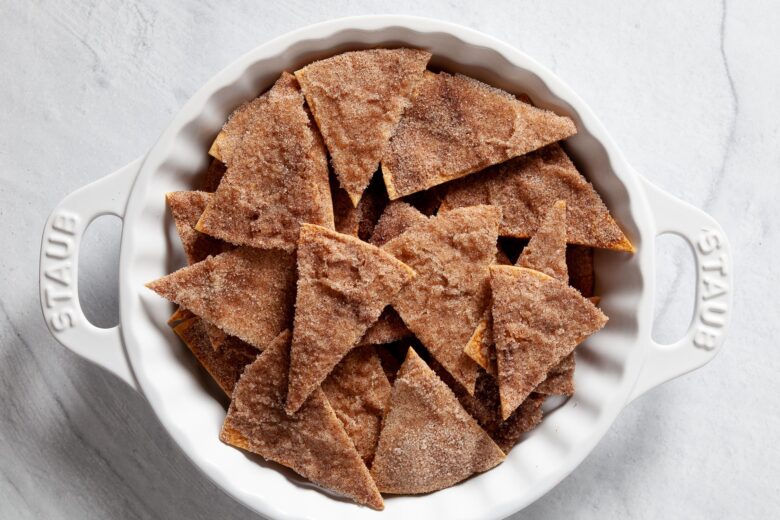 Key Ingredients
These cinnamon sugar chips only use 4 ingredients – that's right, just four! Here is all you'll need:
Tortillas – Flour tortillas shine brightly in this recipe. We recommend the 10-inch variation.
Sugar – Used to make the cinnamon sugar sprinkle; white granulated sugar is best for this recipe.
Cinnamon – Cinnamon offers fragrant flavors to the cinnamon sugar sprinkle.
Cooking spray – A critical ingredient to help the cinnamon and sugar stick to the tortillas while baking.
How to Make Cinnamon Sugar Tortilla Chips
The directions to make cinnamon sugar tortilla chips could not be any simpler. It almost feels like cheating to be able to make something as delicious as these chips so easily. Here's all you'll need to do: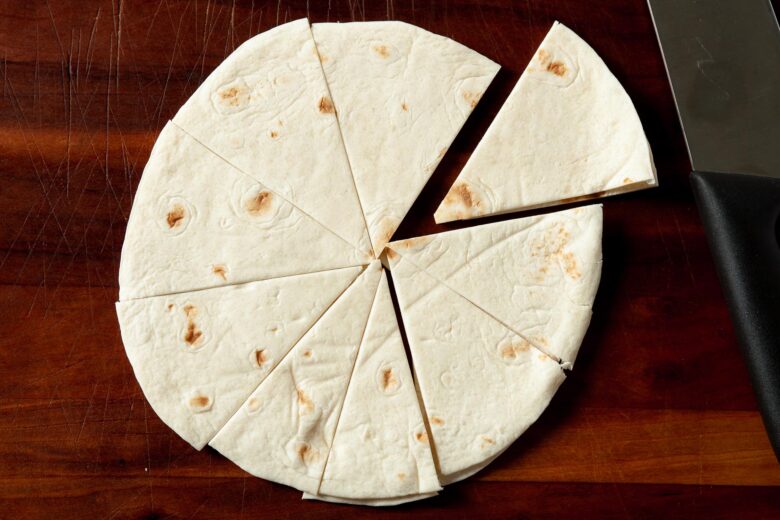 Ways to Serve
Cinnamon sugar tortilla chips are just dying to be used for a sweet, delicious dip. We might be biased, but our favorite sweet treat to scoop with these chips is fruit salsa. The fresh, juicy fruit pieces even out the sweet sprinkle of cinnamon in sugar in an irresistible combo.
You could also try it with dips like Carmel Apple Cheesecake Dip or Honey Yogurt Fruit Dip. Or, get even more creative and crumble these chips up into small pieces to use as ice cream or yogurt topping. However you choose to enjoy these, we bet you'll be craving a second batch soon!
Tips for the Best Results
Cut multiple tortillas at a time. Lay the tortillas flat on a cutting surface and stack 2-3 on top of each other. Cutting the tortillas this way reduces the work by half. Another tip, use a pizza cutter for effortless cutting.
Move your oven rack to the top-middle position. Tortilla chips need heat to crisp up, and this is the best position for them to get perfectly crispy.
Don't overcrowd the chips on the baking sheet. Cinnamon sugar tortilla chips need a bit of room to breathe while cooking. To avoid overcrowding, you can either bake them in multiple batches using the same pan or use two baking pans at once.
Store leftover chips in an airtight container for up to 3-5 days. Your chips may begin to soften. If this happens, toss them back in the oven for a few minutes to re-crisp.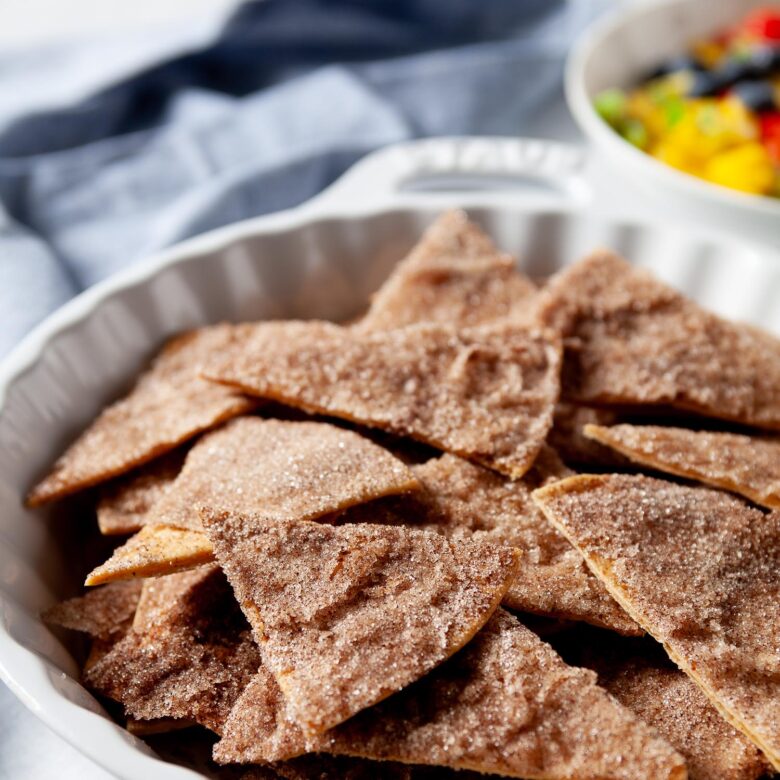 Commonly Asked Questions
Can I use corn tortillas instead?
Corn tortillas work best for salty chips, but flour tortillas are the better pick for these because they mesh best with the sweet flavor. We recommend using flour tortillas for a lighter, crisper texture.
Can I deep fry cinnamon sugar tortilla chips?
There are recipes that involve deep frying tortillas to make a sweet chip. However, this recipe turns out reliably amazing when baked. Baking uses less oil, and oil can sometimes leave a pronounced taste that clashes with sweet flavors. If you are interested in deep-fried desserts, check out this recipe for Mini Pumpkin Churros.
How long will these last?
These chips last 3-5 days. Baked chips contain less oil than their fried counterparts, so they tend to stay crunchier longer which makes them a great option to leave out on the counter in an airtight container for when the sweet tooth hits.
What can I serve with cinnamon sugar tortilla chips?
Cinnamon sugar tortilla chips are often enjoyed on their own as a sweet snack, but you can also serve them with various dips and sauces. Some popular options include fruit salsa, chocolate dip, caramel dip, or even a simple cream cheese frosting for dipping.
More to Bake and Eat
Did you make this?
Please give us a rating and comment below. We love hearing from you!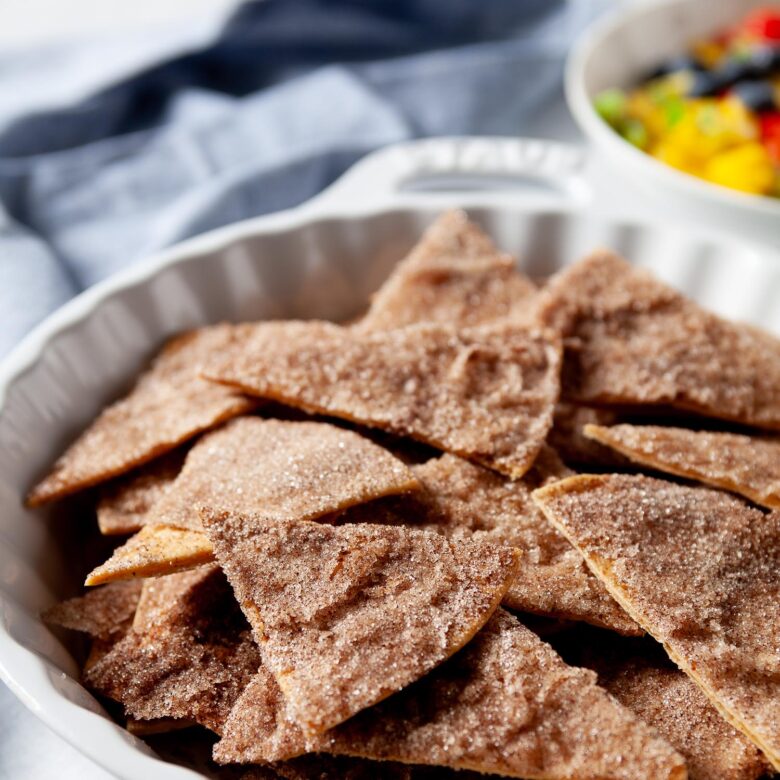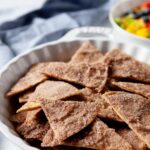 Cinnamon Sugar Tortilla Chips
Crisp, sugary, and perfectly crunchy. These cinnamon sugar tortilla chips are easy to make and the best to scoop up your favorite sweet dip.
Instructions
Preheat oven to 350F and generously spray a large cookie sheet with oil. Set Aside.

Lay tortillas flat and cut into wedges. Cut 2-3 at a time to save time.

Mix cinnamon and sugar together in a bowl.

Place tortilla wedges on the cookie sheet in single layer, about 1/2 inch apart. Generously spray oil on top of these wedges.

Sprinkle cinnamon sugar over the oiled tortilla wedges. Finish by spraying sugared wedges one more time with oil.

Place in oven to bake 15-16 minutes on middle-top rack. Remove from oven; chips will crisp up as they cool. Bake in batches as needed.

Serve with fresh fruit salsa.
Notes
These chips can keep well when kept in an airtight container at moderate room temperature for several days.
Serve these crispy cinnamon chips with this stunning fruit salsa. See original article for more delicious serving ideas.
If you enjoyed this recipe, please come back and give it a rating ❤️
Nutrition (per serving)
Serving:
1
g
|
Calories:
170
kcal
|
Carbohydrates:
35
g
|
Protein:
2
g
|
Fat:
2
g
|
Saturated Fat:
1
g
|
Polyunsaturated Fat:
1
g
|
Monounsaturated Fat:
1
g
|
Sodium:
221
mg
|
Potassium:
40
mg
|
Fiber:
1
g
|
Sugar:
21
g
|
Vitamin A:
1
IU
|
Vitamin C:
0.01
mg
|
Calcium:
48
mg
|
Iron:
1
mg