Prime Rib with Au Jus
This Prime Rib Recipe with Au Jus is an incredibly impressive meal that's so easy to make! Featuring tender melt-in-your-mouth beef and a savory sauce, it's a stunning recipe that will leave your guests raving.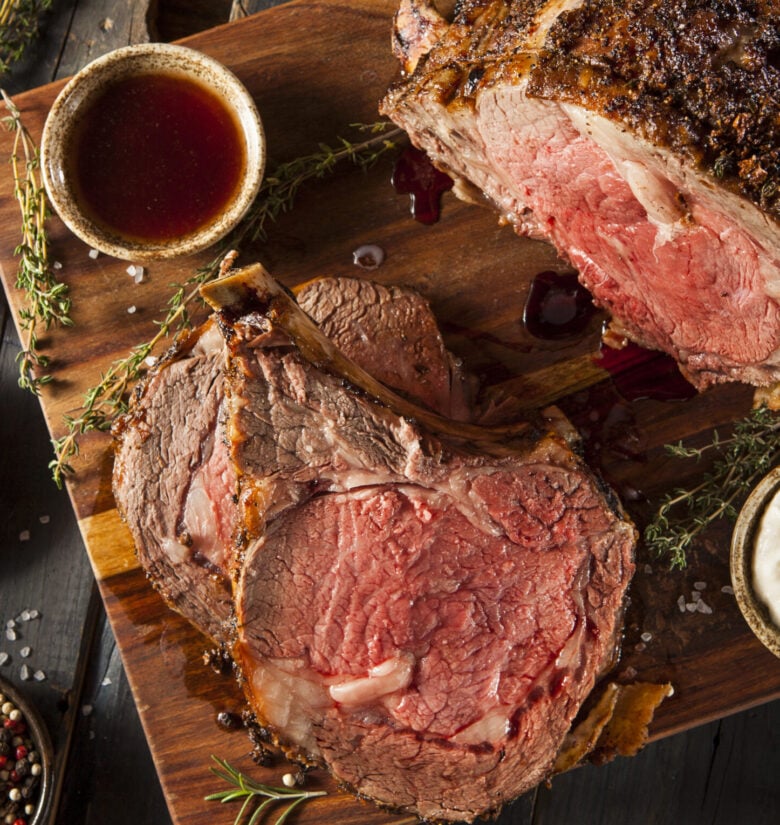 Prime Rib with Au Jus:
What You'll Love
It looks and tastes like it came straight from the kitchen of a high-end restaurant but is easy to whip up right from your own home.
Made with 5-6 pounds of prime rib, it's perfect for a special gathering.
The dry brining method infuses flavor and moisture into the prime rib, meaning every bite you take is unbelievably tender; when paired with rich, savory au jus it's a combination that can't be beat!
Hearty and full of protein, prime rib au jus can be dressed up with fancy sides and appetizers or kept simple, making it perfect for every occasion.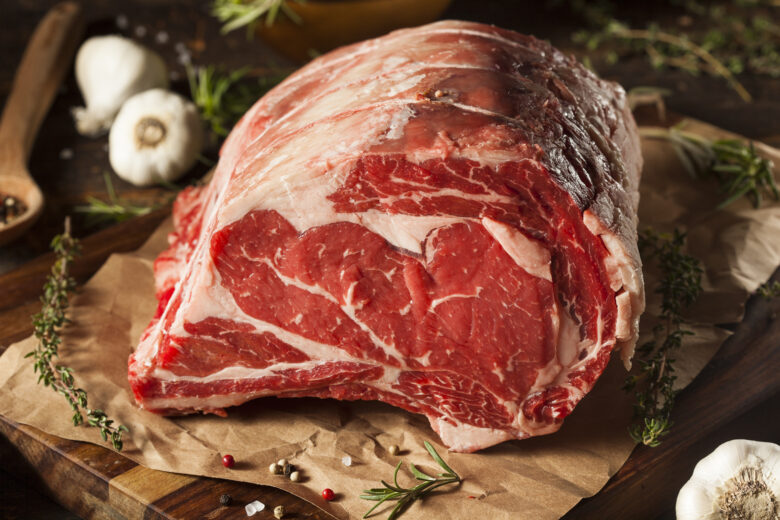 What Is Au Jus?
Au jus, pronounced "ah-zhoo," is a French culinary term meaning "with juice." It is a light broth or gravy made from the juices secreted from cooked meat. In traditional French recipes, au jus is used to bring out the flavor in main courses containing beef, chicken, or lamb. Au jus is meant to be less thick than gravy, yet perfect for drizzling over special cuts of meat, such as beef tenderloin or prime rib.
Key Ingredients
Due to its impressive depth of flavor, it is often assumed that perfect prime rib is difficult to make and requires a vast array of ingredients. However, you'll be pleased to know that making a tender prime rib recipe is actually really simple and comes together with just a handful of common ingredients!
Here's what you'll need:
For the Prime Rib
Prime Rib Roast – Feel free to use either bone-in or boneless prime rib roast with lots of marbling for a tender texture and irresistible flavor. Because cook time entirely depends on internal temperature reading from your meat thermometer, any size prime rib roast will work.
Seasonings – Salt, black pepper, and garlic powder are used to enhance the natural savoriness of the dish while also acting as a dry brine to keep the beef tender as it cooks.
For the Beef Au Jus Sauce
Butter – Unsalted butter helps thicken the au jus sauce and makes it absolutely mouthwatering.
Aromatics – Onion, garlic, thyme, and rosemary add extra savory, fragrant flavor.
Better Than Bouillon Beef Base – Our secret weapon when it comes to easy recipes, this is a concentrated beef base that enhances the taste and texture of any sauce or gravy.
Cornstarch – Dissolve cornstarch completely in water to form a slurry that thickens the au jus.
Beef Stock – This recreates the flavor we would get from beef drippings without the need to wait on the beef to cook.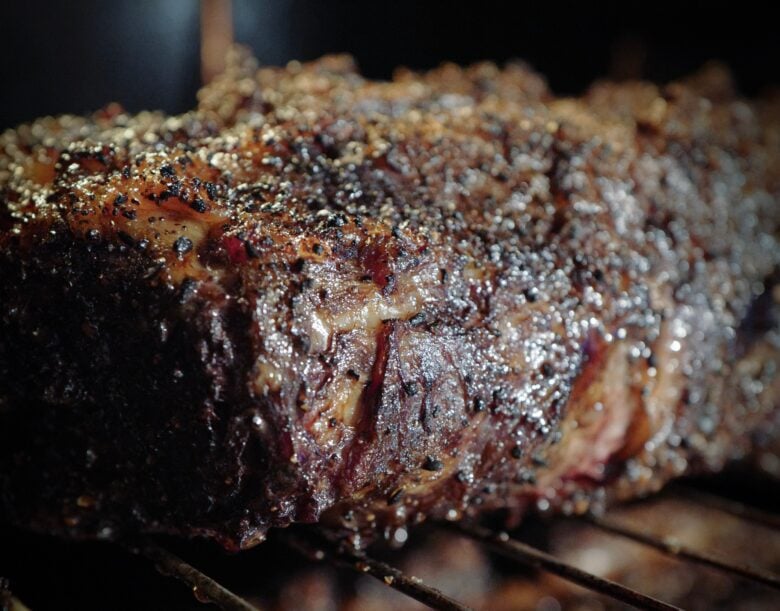 Pro-Tips for Tender, Succulent Prime Rib with Au Jus
Over the years, we've perfected this prime rib recipe to ensure it's absolutely perfect for you. Along the way, we've gathered a few tips and tricks to make the cooking process a breeze.
Don't trim the roast. You want a nice layer of fat all around your meat. This will help lock in the beef's flavor and prevent it from overcooking during the final broiling step. If you trim the fat off, you'll risk a drier, tougher roast.
Keep an eye on the thermometer. Depending on the size of your roast and whether or not it has bones, the cooking time will vary. Plan for at least a couple of hours cook time, but keep in mind you'll be going by internal temperature vs. cook time. The prime rib is is done when your oven-safe meat thermometer registers 120ºF (for medium-rare), as the meat temperature will continue to rise while it rests on the cutting board.
Type of Thermometer. Use an oven-safe meat thermometer with a probe you'll insert into the center of the roast prior to putting it into the oven; the probe will stay in the center of the roast throughout cook time. Do not use the kind of thermometer that requires poking the roast in the midst of cooking.
Rest the roast. Once cooked, you'll want to be sure to let your roast rest for at least 30 minutes on a cutting board, loosely tented with foil and undisturbed. This will help redistribute its juices, keeping your prime rib juicy and moist.
Adjust the au jus for prime rib. Au jus sauce is meant to be thinner than gravy. However, if you prefer a thicker dip, add a bit more fully-dissolved cornstarch.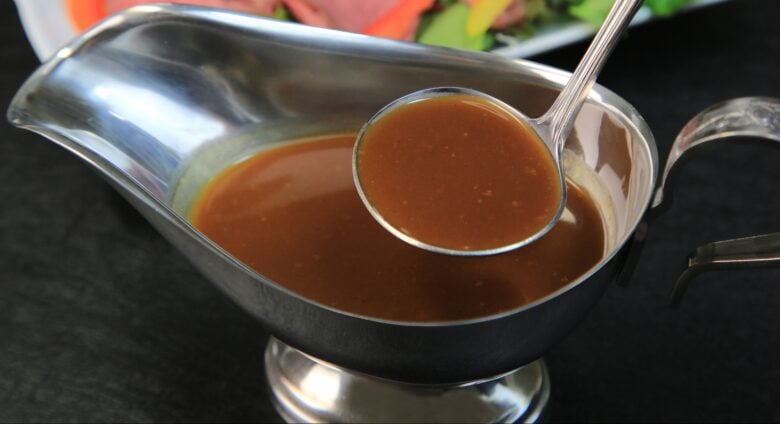 Serving Suggestions
A beautiful prime rib roast is perfectly paired with any of the below side dishes:
How to Store Leftover Prime Rib
If you have leftovers, this prime rib recipe keeps well in the fridge. For the best results, store the meat and au jus sauce separately.
To Store the Prime Rib Roast
To keep your roast tender, store it unsliced and wrapped it tightly with aluminum foil, and place it in the refrigerator for up 3 days.
When you're ready to eat, take it out of the fridge early so it reaches close to room temperature. Place it in a pan covered with foil, and warm it in the oven at the lowest setting just until it is heated through. Take care not to let it overcook.
To Store the Au Jus
Any leftover sauce can be transferred to an airtight container and stored in the refrigerator for up to 3 days or in the freezer for up to 2 months.
To reheat, thaw au jus in the fridge overnight. Then, warm it in a saucepan over medium heat. Or, just pop it in the microwave in 30-second intervals until your desired temperature has been reached. If your sauce has dried up or becomes a bit too thick, add a splash of broth to liven it back up.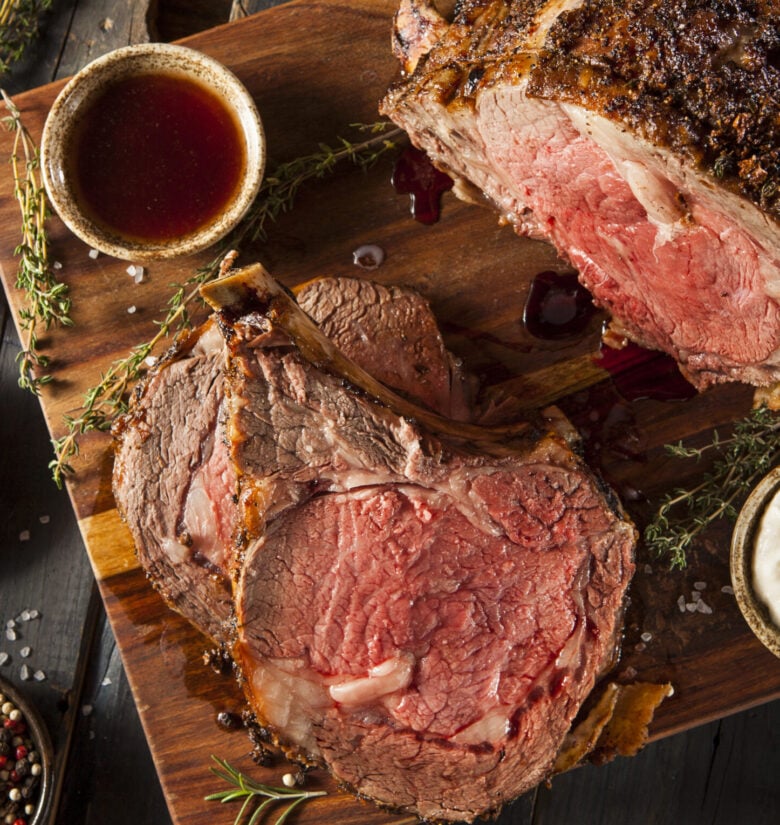 Prime Rib with Au Jus:
Common Questions
Can I
make au jus ahead of time?
Au jus can easily be made at least a day in advance. Keep it in an airtight container in the fridge until almost ready to serve. For best results, warm it up over the stovetop.
Does au jus for prime rib require wine?
Some chefs like to include red wine in their au jus for prime rib, but it's not necessary! Here is our red wine sauce recipe for beef tenderloin, if you'd like to include red wine.
Are au jus and beef gravy the same thing?
Although similar, beef gravy and au jus sauce are not quite the same. Both are made with drippings from cooked meat. However, gravy is made with flour for a thick texture. Meanwhile, au jus is simmered and reduced to create a more saucy and liquid consistency.
Does it matter if I use bone-in or boneless prime rib roast?
You can use either, with excellent results. Whether you choose to use bone-in or boneless prime rib roast, the method is the same – watch internal temperature carefully for a perfectly tender and juicy prime rib. You'll be cooking by the meat thermometer, and not by time.
---
---
More to Cook and Eat
---
Did you make this?
Please give us a rating and comment below. We love hearing from you!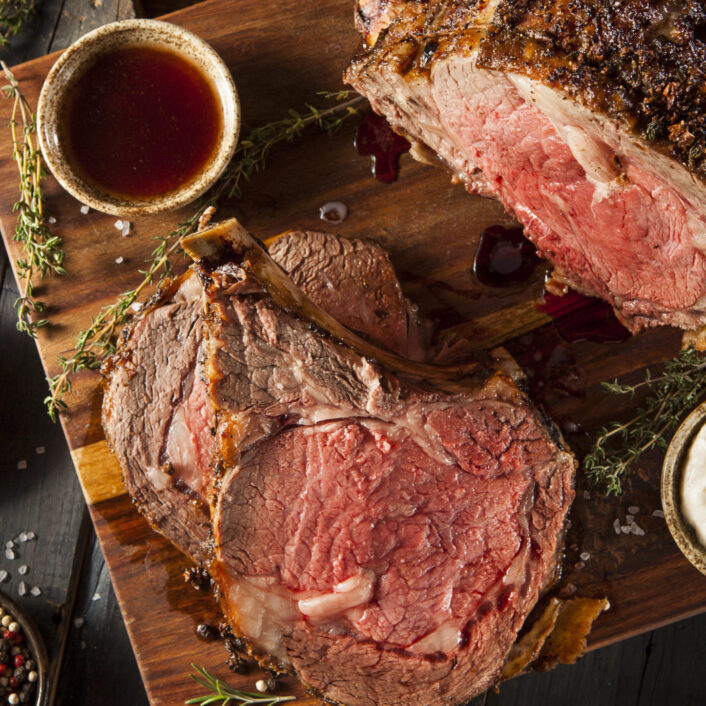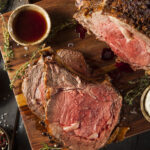 Prime Rib Au Jus
This Prime Rib Au Jus recipe is an incredibly impressive meal that's so easy to make! Featuring tender, melt-in-your-mouth delicious beef and a savory dipping sauce, it's a stunning recipe that will leave your guests raving.
Ingredients
For the Au Jus
¼

cup

unsalted butter

¼

cup

onion,

finely chopped

4

cloves

garlic,

minced

1

sprig of thyme

1

sprig of rosemary

1

tsp

Better Than Bouillon beef base,

or beef bouillon powder

2

cups

beef stock,

regular strength

1

TB

cornstarch,

fully dissolved in 2 TB water*
Instructions
For the Prime Rib
Combine salt, pepper, and garlic powder in a small bowl. Set aside.

Pat dry prime rib roast thoroughly with paper towels. Generously coat with salt mixture evenly on all sides, pressing to adhere. Place roast on a plate, cover, and chill in fridge overnight.

Remove roast from fridge about 6-8 hours before serving time and allow it to come to room temperature.

Set oven to 200F. Insert meat thermometer probe into center of roast and place roast on middle rack of oven. Cook until internal temperature is 10 degrees lower than desired doneness. For medium rare (130F), remove from oven when internal temperature reaches 120F.

Remove roast from oven, loosely tent with foil, and allow roast to rest at least 30 minutes. Do not remove thermometer probe, nor slice into the roast at all, or juices will escape.
For the Au Jus
In a saucepan set over medium-high heat, melt the butter. Add onion and stir 2 min. Add garlic and stir 1 min. Add thyme, rosemary, bouillon, black pepper, and broth. Stir well to combine.

Bring to a boil and continue to boil until liquid is reduced by half of its original volume.

Reduce heat to a low boil, and add a little bit of the dissolved cornstarch at a time, stirring constantly – use only as much as is needed for sauce to reach desired thickness. Remove sprigs of herbs. If desired, au jus can be drained for a smooth sauce.

Just before serving, set oven to broil and brown all sides of roast, rotating as needed. Slice and serve with warm au jus.
Notes
* The roast does not need to be trimmed of fat before roasting. Rather, leaving it in place provides the benefit of preventing the meat from cooking more during the final broiling step.
* Cook time will vary based on the temperature of the meat when placed in the oven. Generally, a 5-6 lb boneless roast will take about 2-3 hours to cook to rare. A bone-in roast will take longer. Though a rough time estimate is provided, please keep in mind that you'll be cooking by the internal temperature reading, and not by time.
* Be sure to rest the roast for a minimum of 30 minutes. This not only allows the juices to redistribute back into the meat, but it will also prevent the roast from cooking past the desired doneness when broiling. Use this time to make au jus, so you can broil and slice the roast immediately before serving.
*It's super important to ensure cornstarch is 100% dissolved in water, with no streaks of white left prior to using in sauce. Otherwise, it will result in a lumpy texture.
*Au jus is meant to be sauce-like in nature and less thick than regular gravy. If you'd like it thicker, add a bit more fully-dissolved cornstarch.
*If you enjoyed this recipe, please come back and give it a rating ♡
Nutrition (per serving)
Serving:
1
serving
|
Calories:
368
kcal
|
Carbohydrates:
3
g
|
Protein:
17
g
|
Fat:
32
g
|
Saturated Fat:
13
g
|
Polyunsaturated Fat:
2
g
|
Monounsaturated Fat:
14
g
|
Cholesterol:
69
mg
|
Sodium:
821
mg
|
Potassium:
337
mg
|
Fiber:
0.5
g
|
Sugar:
1
g
|
Vitamin A:
6
IU
|
Vitamin C:
0.4
mg
|
Calcium:
18
mg
|
Iron:
2
mg