15-Minute Honey Glazed Carrots
This 15-minute Honey Glazed Carrots recipe is a great way to get your family to enjoy their veggies! Perfect for both holiday feasts and busy weeknight dinners, these carrots are quick and easy to prepare, yet they pack a punch of flavor!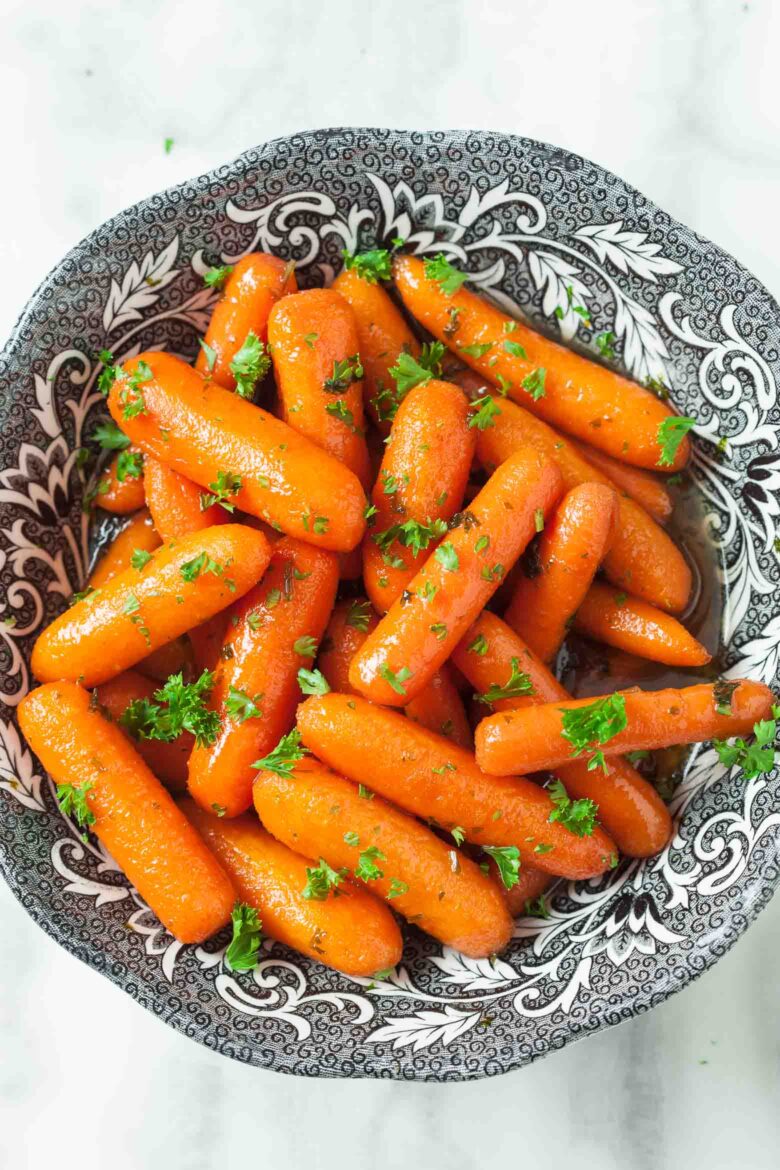 Why This Recipe Stands Out
We believe that the best recipes are the ones that are simple, delicious, and healthy. These Glazed Baby Carrots are savory and so easy to make you'll wonder why you haven't been making them all along. Here's why this recipe is a must-try:
Simple: This recipe only requires a handful of ingredients, most of which you probably already have in your pantry.
Quick: In just 15 minutes, you'll have a delicious side dish ready to serve and goes great with all holiday classics such as Instant Pot Turkey Breast with Gravy and Instant Pot Whole Chicken.
Versatile: These glazed baby carrots are perfect for a holiday side dish, but they're also quick and easy enough for a weeknight dinner.
Great Texture: These carrots are cooked just right, making them tender yet still slightly crunchy just like our Easy Roasted Vegetables.
Customizable: Feel free to add your favorite herbs or spices to the glaze to make it your own.
Key Recipe Ingredients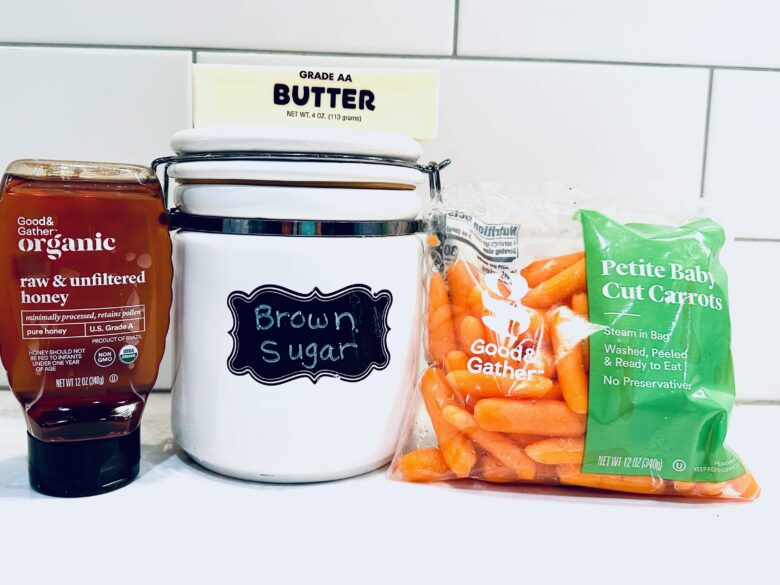 Baby Carrots – We use about a pound of baby carrots in this recipe. The smaller and thinner your carrots are, the faster they will cook. You can also use regular carrots, peeled and sliced to half an inch thick coins.
Butter – Using salted butter adds a rich, creamy flavor to the carrots. It also helps the sugar and honey glaze stick to the carrots.
Honey – Pure honey is used to sweeten the carrots and create a sticky, delicious glaze. It adds a natural sweetness that complements the flavor of the carrots perfectly.
Light Brown Sugar – It adds a sweet, caramel-like flavor to the carrots. It also helps to create a beautiful glaze when combined with the honey.
Substitutions And Variations
These Easy Honey Glazed Carrots are absolutely delicious as is. But don't feel limited to the recipe as is; there are plenty of ways to switch it up and make it your own. Here are some of our favorite variations:
Different Sweeteners: If you're looking to switch up the sweetness, try using maple syrup or agave nectar instead of honey. You could also experiment with different types of sugar, like coconut sugar or granulated sugar, instead of brown sugar.
Add Spices: Don't be afraid to play around with the spices. A pinch of cinnamon or nutmeg could add a warm, comforting flavor to these glazed carrots as it does in our Cinnamon Roasted Butternut Squash.
Other Garnishes: While chopped parsley is a classic garnish, why not try something different? A sprinkle of sesame seeds or chopped nuts could add a nice crunch. Or, for a pop of color and freshness, try garnishing with chopped cilantro or mint.
Dairy-Free: If you're looking to make this recipe dairy-free, you can substitute the butter with a dairy-free alternative like coconut oil or olive oil.
Step-By-Step Recipe Instructions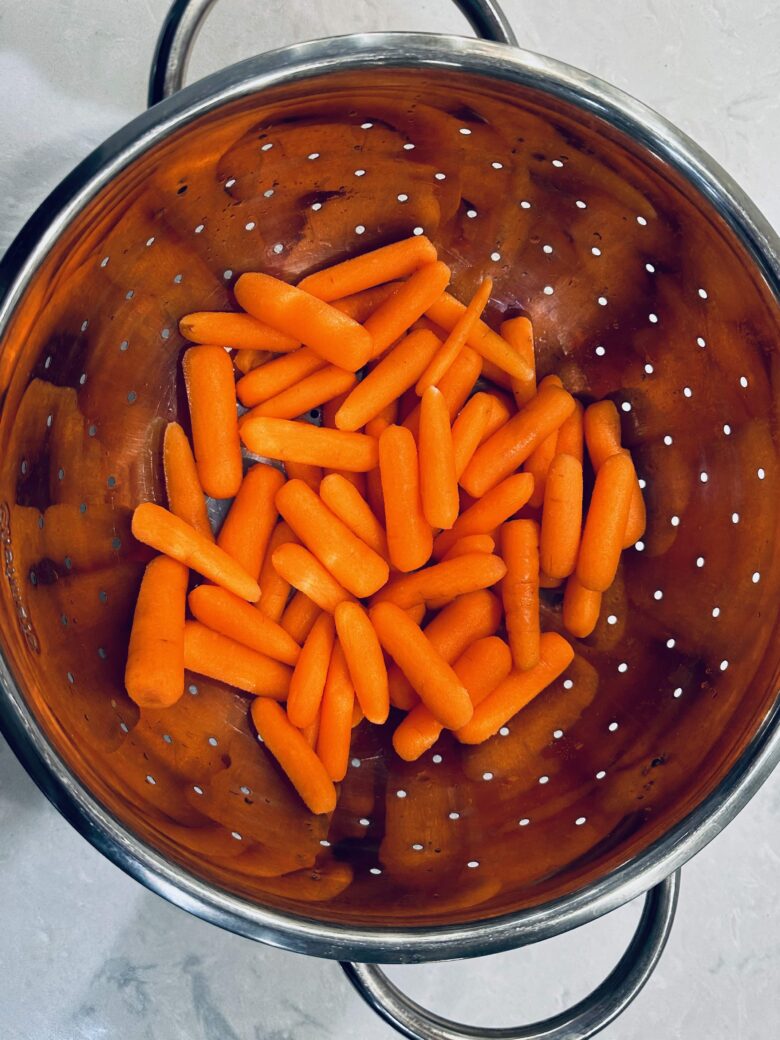 Thoroughly drain carrots and dry them with paper towels to remove all excess moisture. Once done, set them aside.
Add the butter, brown sugar, honey, salt, and pepper to the pan.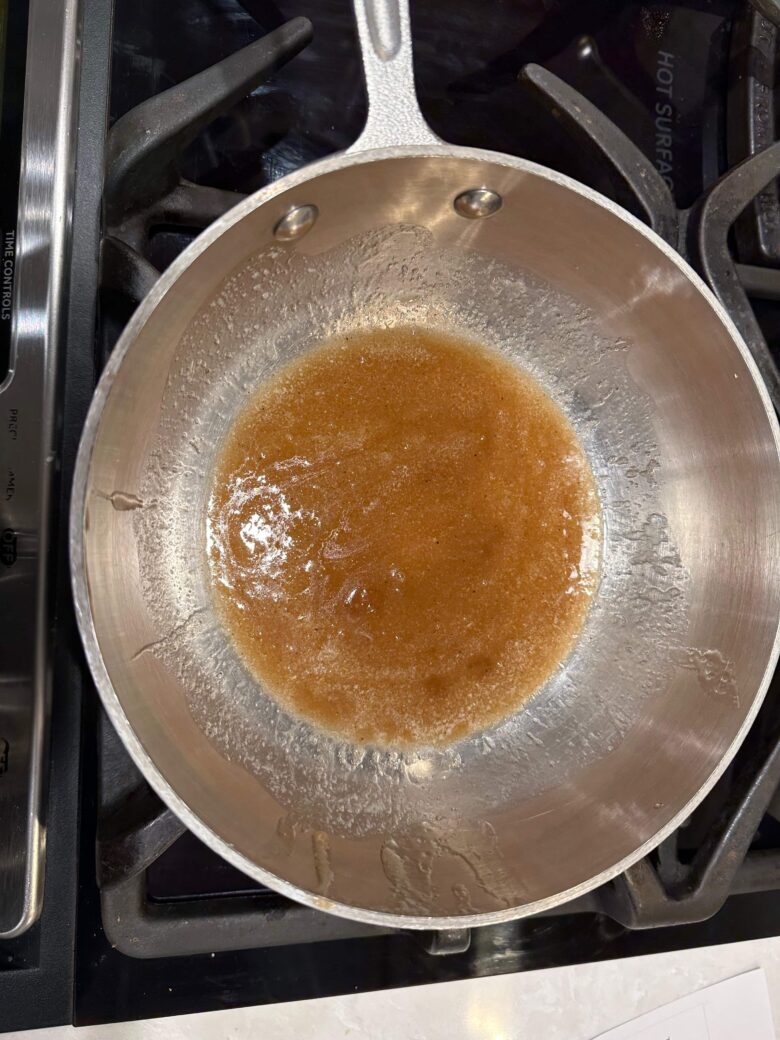 Proceed to melt your butter in a large, heavy skillet over medium heat, ensuring it doesn't burn.
Add your prepped carrots to the skillet and toss to coat them evenly. Cook for about fifteen minutes or until the carrots become tender to your liking. Garnish with parsley and serve immediately.
For full list of ingredients and instructions, see recipe card below.
How To Prep Ahead
This recipe is almost as easy as it gets, but there are a few ways to make it even simpler. Take a look at our favorite prep-ahead tips for this recipe:
Carrot Prep: You can wash and thoroughly dry your baby carrots ahead of time. If you're using thicker carrots, consider slicing them into thinner pieces to reduce cooking time. Store them in a sealed container in the fridge until you're ready to cook.
Make the Glaze: Combine the butter, brown sugar, honey, salt, and pepper in a bowl. This glaze can be made in advance and stored in the fridge for up to a week. When you're ready to cook, simply melt the mixture in a skillet before adding the carrots.
Be Ready: This recipe comes together in just about fifteen minutes. To make things go smoothly, we recommend having all ingredients measured and ready-to-go before you start the cooking process. Remember, these carrots are best served immediately for the best texture and flavor.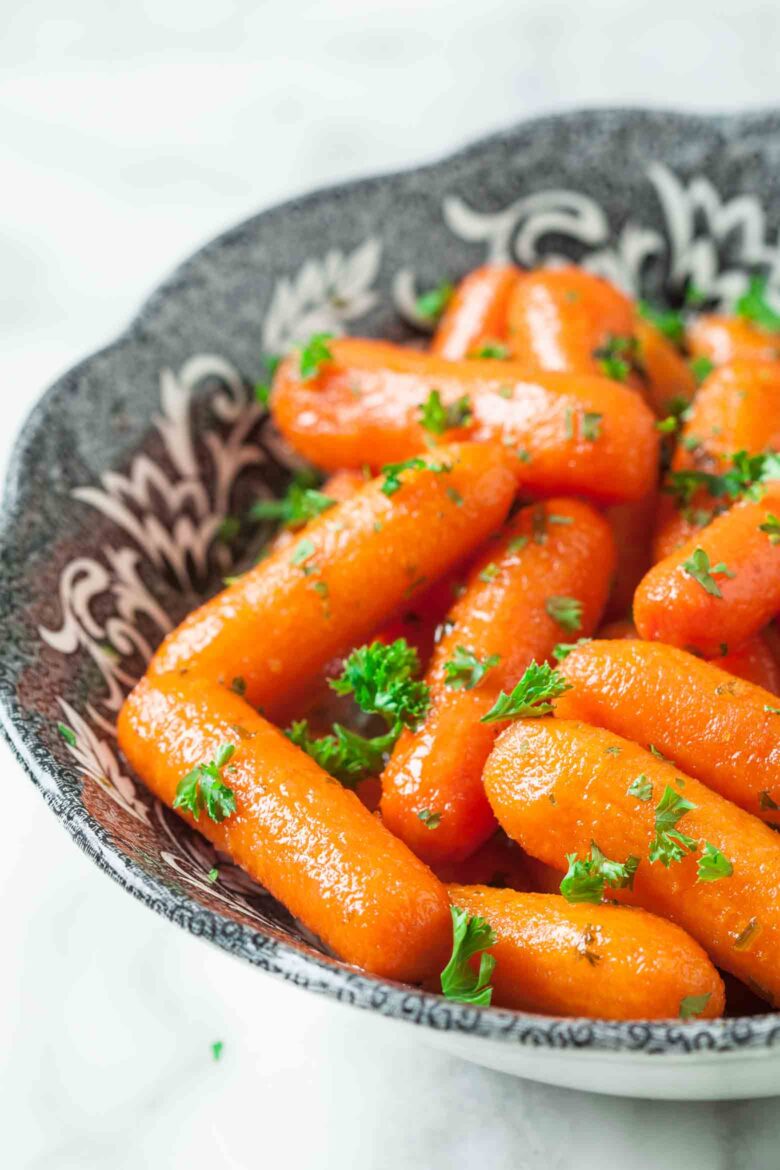 What To Serve With Honey Glazed Carrots
Protein
Holiday Mains
Vegetables
Commonly Asked Questions
Can I omit the honey in this recipe?
The honey in this recipe helps to create a sweet glaze for the carrots. If you prefer less sweetness, you can reduce the amount, but we wouldn't recommend omitting it entirely. For a vegan alternative, you can go with agave syrup, but keep in mind the flavor will change slightly.
Can I add other seasonings to this recipe?
Absolutely! While this recipe calls for a pinch of salt and pepper, feel free to add other seasonings to taste. Just remember to balance the flavors so as not to overpower the natural sweetness of the carrots.
What if my carrots are not tender after cooking for the recommended time?
The cooking time can vary depending on the size and thickness of your carrots. If they're not tender after the recommended time, continue cooking and stirring frequently until they reach your desired tenderness.
How long do these glazed baby carrots keep?
can be stored in an airtight container in the refrigerator for up to three days. Just keep in mind that the texture may change slightly after refrigeration.
Did you make this?
Please give us a rating and comment below. We love hearing from you!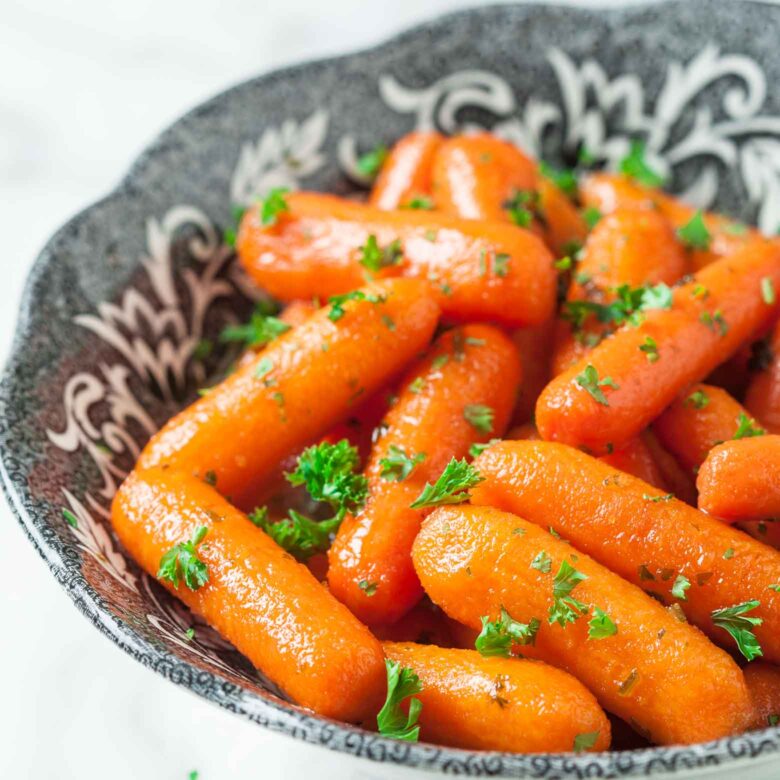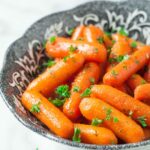 15-Minute Honey Glazed Carrots
These 15-Minute Honey Glazed Carrots are a delicious way for the family to love their veggies! Perfect as a holiday side dish, as well as any busy weeknight.
Ingredients
2

TB

salted butter

3 ½

TB

light brown sugar,

packed

2

TB

pure honey

⅛

tsp

table salt

16

oz

baby carrots

,

petite – the smaller/thinner, the better; thicker ones need longer cook time

Optional: chopped parsley for garnish
Instructions
Thoroughly drain carrots and dry them with paper towels to remove all excess moisture. Set aside.

In a large, heavy skillet over medium heat, add butter, brown sugar, honey, salt, and pepper, stirring until butter is melted.

Add carrots and cook uncovered, stirring frequently for about 15 minutes or until your carrots are tender. Sprinkle with parsley for garnish and serve immediately.
Notes
Always remember to thoroughly drain and dry your baby carrots before starting the recipe. This ensures that the honey glaze sticks well to the carrots and also not be too watery.
Be mindful of the size of your carrots. Smaller, thinner carrots will cook faster, while thicker ones will need more time. Adjust your cooking time accordingly to avoid over or under-cooking.
If you're using regular carrots instead of baby ones, make sure to peel them and slice them into 1/2 inch thick coins. This will help them cook evenly and absorb the honey glaze better.
When melting the butter, keep a close eye on the skillet to prevent it from burning. Burnt butter can give your dish a bitter taste.
Don't forget to toss your carrots well in the butter, brown sugar, honey, salt, and pepper mixture. This ensures that every carrot is well-coated and flavorful.
Stir your carrots frequently while they're cooking. This helps them cook evenly and prevents them from sticking to the skillet.
Serve your honey glazed carrots immediately for the best taste and texture. They go beautifully with some Instant Pot Turkey Breast with Gravy and Roasted Brussels Sprouts and Butternut Squash.
Sprinkle some chopped parsley on top of your carrots for garnish. Not only does it add a pop of color, but it also gives a fresh, herby contrast to the sweet and buttery carrots.
If you tried this recipe and loved it, please come back and give it a rating. We ❤️ hearing from you!
Nutrition (per serving)
Calories:
108
kcal
|
Carbohydrates:
19
g
|
Protein:
1
g
|
Fat:
4
g
|
Saturated Fat:
2
g
|
Polyunsaturated Fat:
0.2
g
|
Monounsaturated Fat:
1
g
|
Trans Fat:
0.2
g
|
Cholesterol:
10
mg
|
Sodium:
98
mg
|
Potassium:
193
mg
|
Fiber:
2
g
|
Sugar:
16
g
|
Vitamin A:
10542
IU
|
Vitamin C:
2
mg
|
Calcium:
32
mg
|
Iron:
1
mg
More to cook and eat
Fresh Corn Avocado Salad – This salad features sweet, crispy corn and creamy, rich avocado for a healthy and light lunch that'll work great as part of a Tex-Mex dinner any night of the week!
Creamed Corn Au Gratin – Here's a side that's always an instant crowd-pleaser. This creamed corn au gratin is easy to make and perfect for gatherings any time of the year!
Spinach Tomato Quiche – This versatile breakfast quiche with a flaky, golden crust is a crowd-pleaser, no matter what you decide to fill it with. Plus, it's always an instant hit with the whole crowd.
Easy Roasted Vegetables – Try this recipe to get the best easy roasted vegetables you've ever tasted. What's best is that it's quick and easy to make too!