Roasted Beet Hummus
This is genius! Who knew beets would be such a scrumptious way to do hummus? This Roasted Beet Hummus is just so dang good. Easy, healthy, and crazy addictive.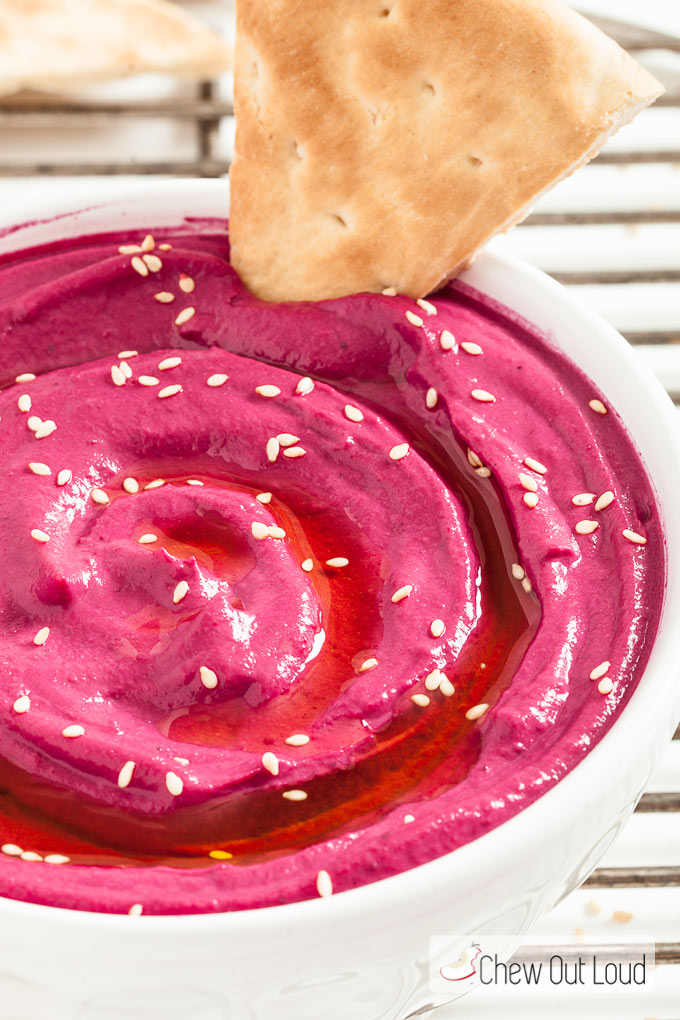 If there was ever a genius food, it's gotta be beets. I think there's a beet bandwagon going 'round. I wouldn't be surprised if beets hit the foodie scene the way avocados and chia seeds have.
I regret to inform anyone who's listening that I've sadly neglected this humble purple root for years. Though beets were always stacked high at local farmer's markets and in grocery stores, I never knew what I could do with them.
Until a couple years ago, when I started roasting those beautiful tubers. Stunning eats like Roasted Beet Salad with Blue were born. I realized roasted beets are waaayy better than canned beets. No comparison.
Then emerged this ridiculously moist 'n yummy Chocolate Beet Cake (hello, Deliciousness.)
And now…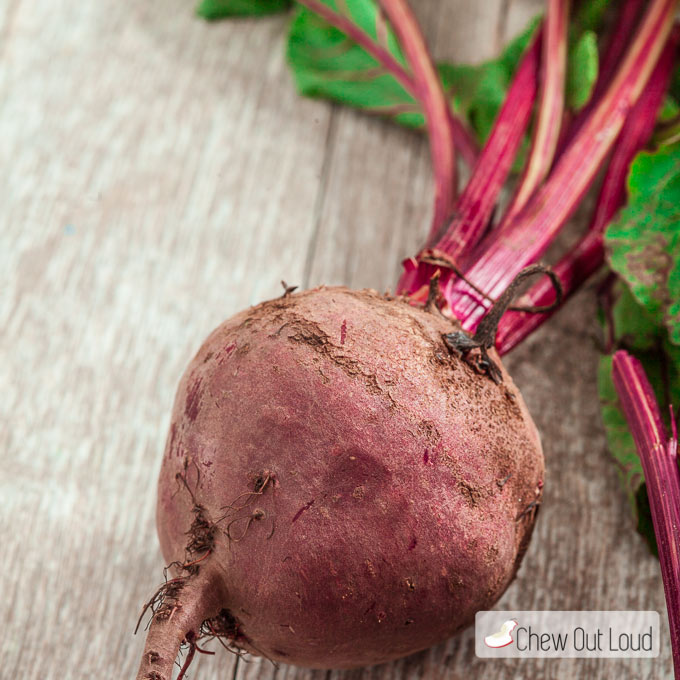 Now I think I've landed on the most breathtaking dip that exists – it's not only spectacularly gorgeous to look at (have you ever seen such bright and vivid color without fake food coloring?)…it's also astonishingly delicious.
This Roasted Beet Hummus is creamy, smooth, slightly sweet from beets, slightly tangy from lemons, and savory all at the same time. It boasts a primo nutty flavor from the tahini, aka sesame paste. Great for those who can't have nuts, by the way.
And then there's the garlic – the more the merrier.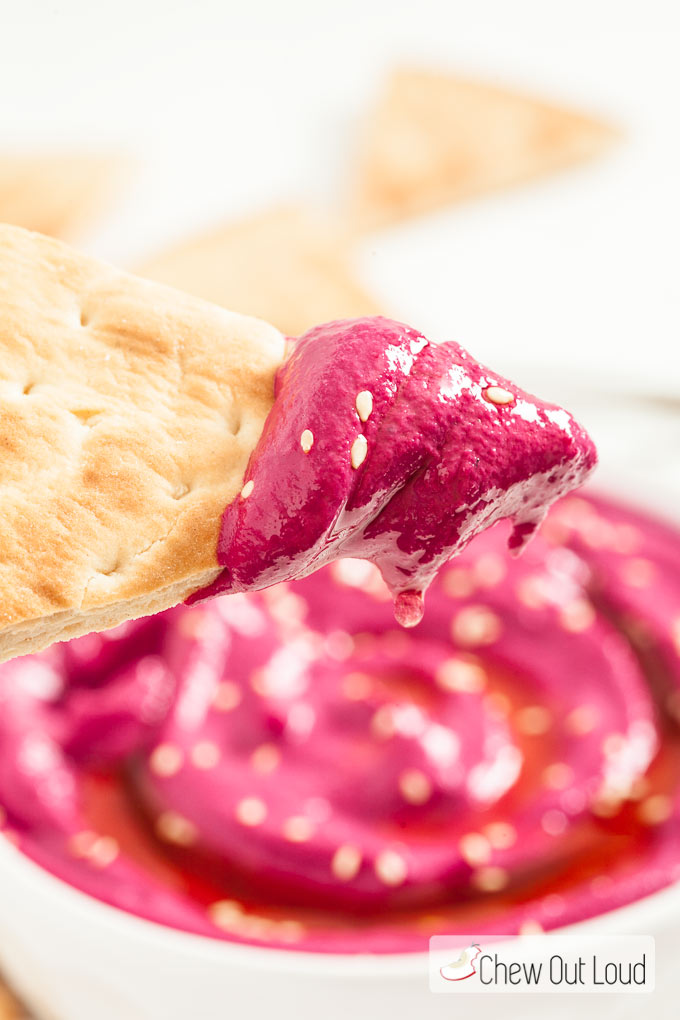 The sweet, tangy, salty, and nutty flavors merge into a delectable dip that's almost too good to be called a dip.
I mean, I've long been a hummus fan, as you will see from the mini roundup below.
But this Roasted Beet Hummus takes things to a sky-scraping new level.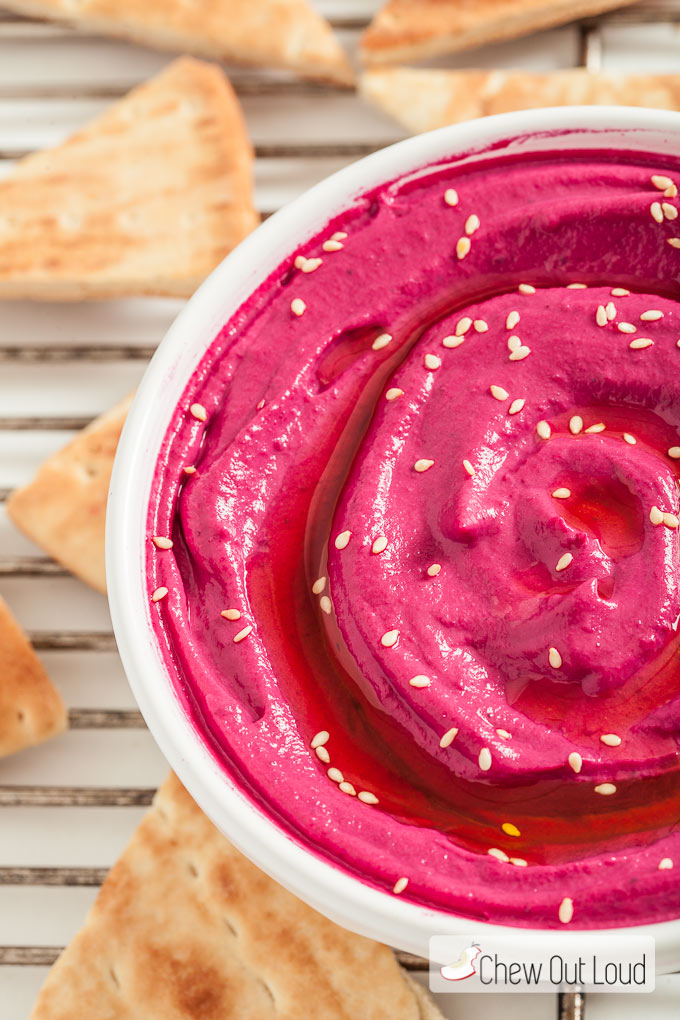 Even our Littlest Little has been dipping like crazy into this Beet Hummus. The telltale giveaway is his bright magenta-purple lips 🙂
Who can blame the little guy for munching away at his pita 'n beets?
After all, I've been walking around with magenta magic on the corners of my own lips lately. Guiltlessly.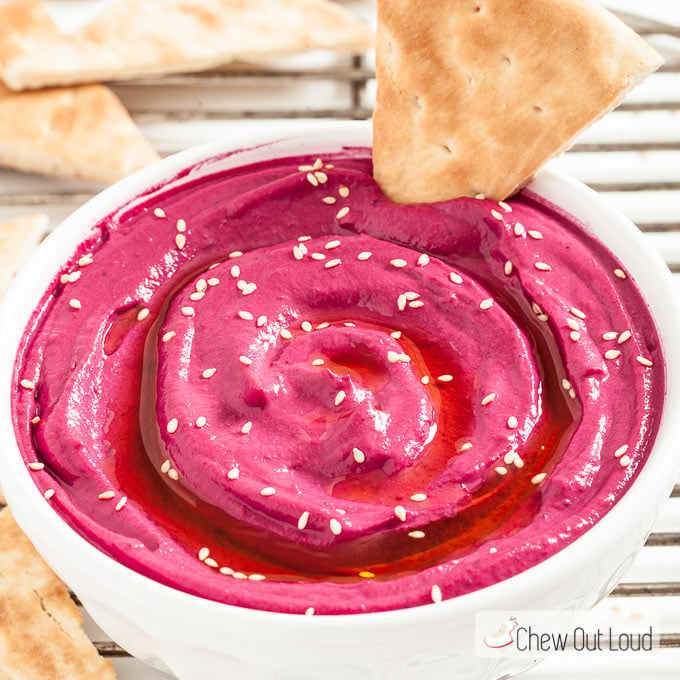 Go ahead. Get on the beet bandwagon. It's nutritious, healthy, and crazy delicious.
You won't regret it.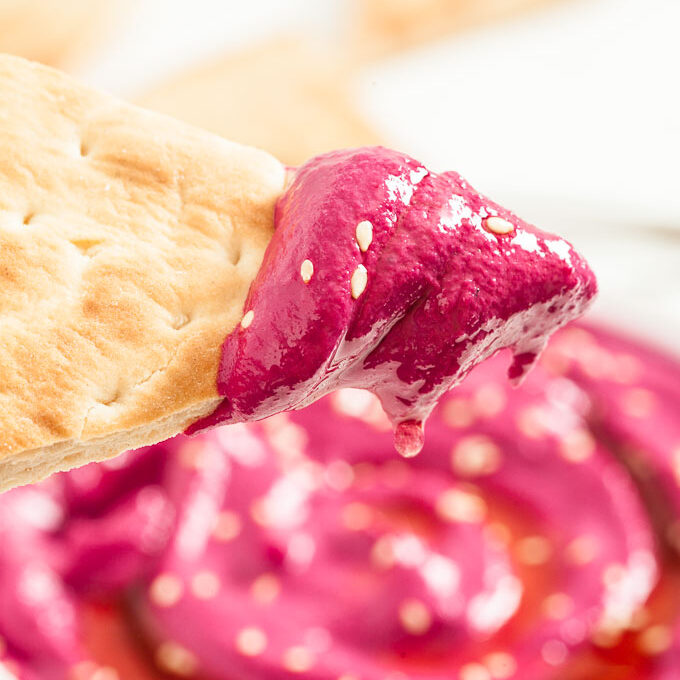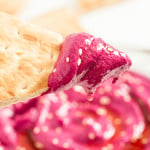 Roasted Beet Hummus
This Roasted Beet Hummus is striking in color and flavor. With only a handful of real, natural ingredients, it's healthy and delicious. Great for guilt-free snacking and party appetizer!
Ingredients
3

medium

,

about 3 inches in diameter beets, stems/leaves removed

½

cup

Tahini

,

pure sesame paste

3

TB

freshly squeezed lemon juice

4

cloves

fresh garlic

1

tsp

kosher salt,

plus more to taste

½

tsp

freshly ground black pepper,

plus more to taste

extra virgin olive oil for drizzling

toasted sesame seeds for garnish

Pita chips or tortilla chips for serving
Instructions
Do Ahead: Preheat toaster oven or regular oven to 400F. Wrap beets individually in foil. Roast in oven about 1 to 1 1/2 hours or until tender when pierced with fork. Carefully remove foil and let cool completely. Remove skin once cool (will be very easy.)

In a heavy duty blender or food processor, combine roasted beets, Tahini, lemon juice, garlic, kosher salt, and freshly ground black pepper. Blend or process on medium high until smooth. Using a rubber spatula, scrape hummus into serving bowl. Drizzle with desired amount of olive oil (I use about 2-3 TB.) If desired, sprinkle with toasted sesame seeds.

Serve with soft pita bread, crispy pita chips, or tortilla chips. Can be kept chilled, in airtight container, for several days.
Did you make this?
Leave a comment below and tag @chewoutloud on Instagram
Source: Chew Out Loud, inspired by Saveur Magazine, July 2015
We think you'll find every single one of these hummus flavors deliciously addictive:
Edamame Hummus. Creamy, healthy, delish!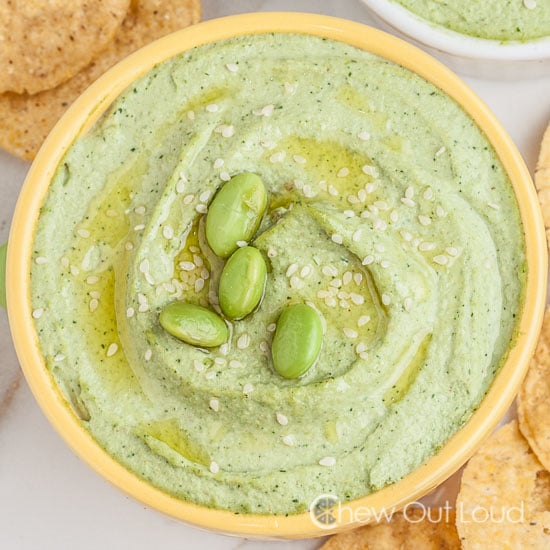 Sun Dried Tomato Hummus. We love the flavor sun dried tomatoes brings in!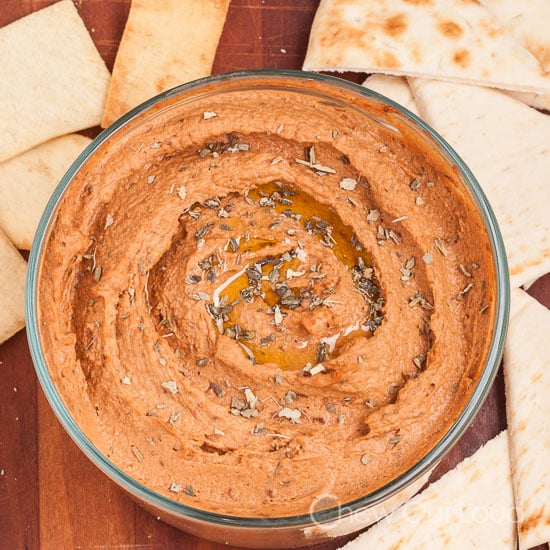 Avocado Hummus. Great way to use up those ripe avocados!