Sun Dried Tomato Hummus
Hummus is one of the most nutritious and tasty appetizers/snacks around! This particular recipe is phenomenal, with the robust favors of sun dried tomatoes and garlic. White beans lend a wonderful creaminess, making this one of our favorite party foods!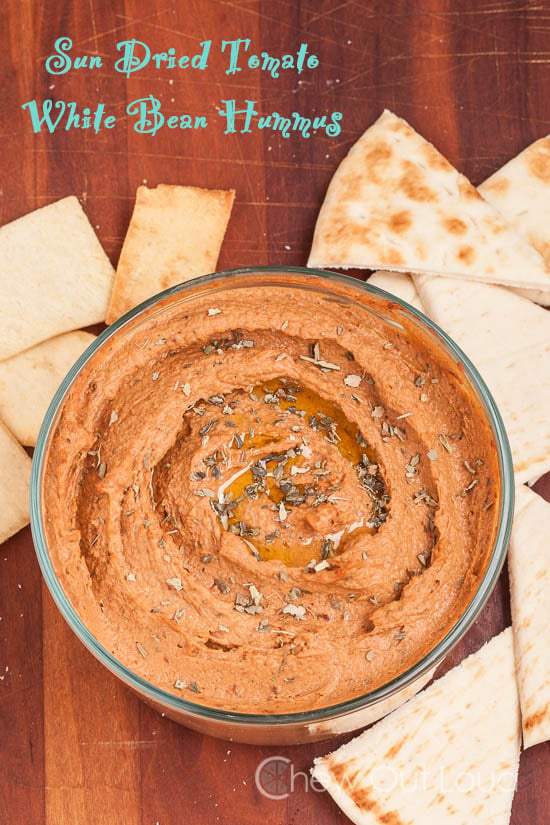 It's crazy that I didn't jump on the hummus bandwagon until just a few years ago. Hubby's hummus obsession was my catalyst for change. He started coming home with tiny containers of hummus that he'd inhale when the munchies struck.
Two things happened. I discovered how much I adored hummus, and started battling with Hubby over those little store bought hummus portions. I also realized how expensive it was, considering each container lasted us maybe…a day?!
That's when I started going wild with my own hummus making. Big batch after big batch, we've been snacking on this nutritious dip for the past several years, and have never looked back…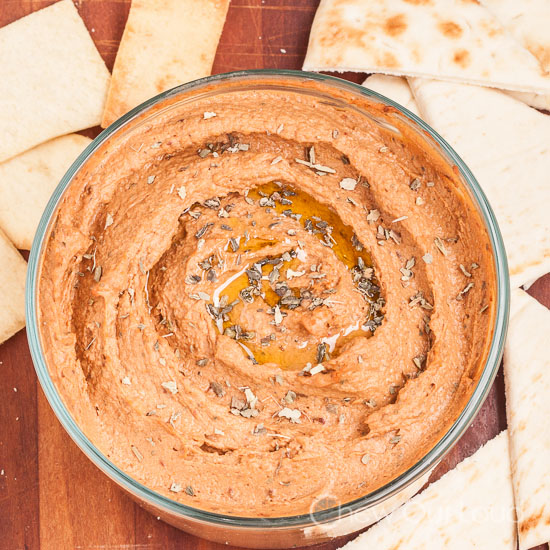 I have been making plenty of basic hummus, which consists of chickpeas or garbanzo beans and tahini, among other things. Olive oil and plenty of garlic are always a must. We are far from garlic shy around here. (Roast your own garlic?)
I suppose I could post my basic hummus recipe, which we devour frequently… but I have such fun twisting things up! Prior to this sun-dried tomato version, there was plenty of oohing and aahing over this Creamy Avocado Hummus.
For a recent party, I decided to twist up the hummus and make good use of some sun-dried tomatoes and white beans that were waiting in my pantry.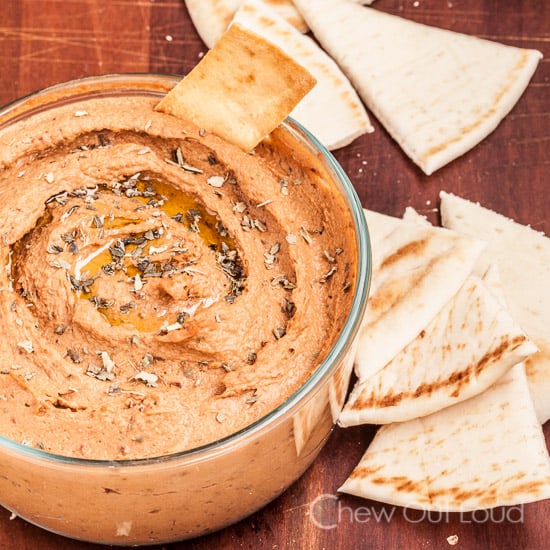 The result was something quite spectacular in the hummus world. The sun dried tomatoes lend such a rich, deep flavor to this hummus. White beans contribute to the thick creaminess of the dip. Fresh lemon juice gives it a bit of tangy zing. And garlic. Always garlic.
With its great marriage of flavors, this sun dried tomato hummus is a perfect dip for hearty pita chips, pita bread, or a super yummy sandwich spread. Seriously great stuff.
My big bowl of sun dried tomato hummus was nearly gone by the end of the party, and I'm soooo glad I stashed away a little bowl of it in the fridge for later. It was just enough for Hubby and I to battle over.
Enjoy!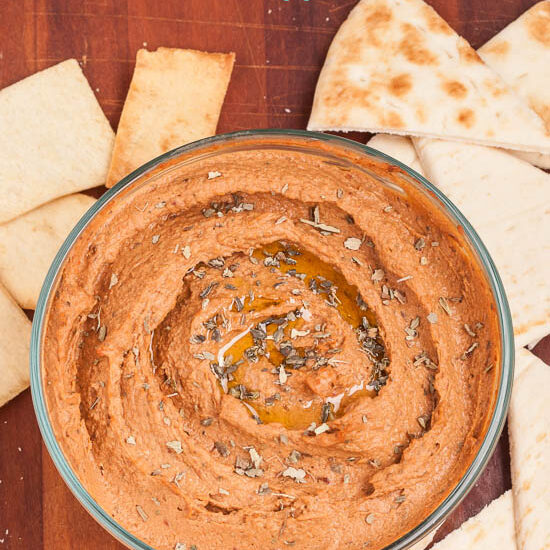 Sun Dried Tomato White Bean Hummus
This sun-dried tomato hummus is creamy, rich, and healthy! The flavors are fantastic. Perfect with pita chips, pita bread, or as a sandwich spread. This one will go fast at parties!
Ingredients
1

15 oz can white beans, drained (reserve the liquid)

¼

cup

sun-dried tomatoes in oil

,

drained (reserve oil)

¼

cup

tahini

,

thick sesame paste

2

cloves

fresh garlic

2

TB

fresh lemon juice

2

TB

oil from the sun dried tomatoes

1

TB

dried basil

1

tsp

paprika

1

tsp

kosher salt,

plus more to taste

½

tsp

cayenne,

plus more to taste
Instructions
In a food processor, combine all ingredients. Puree until mixture is smooth and creamy. Add some of the liquid from the can of white beans, if additional liquid is needed to reach desired consistency. Add a bit more kosher salt or cayenne to taste, if needed.
Did you make this?
Leave a comment below and tag @chewoutloud on Instagram
Source: Chew Out Loud, adapted from Closet Cooking
If avocados are your thing, you'll go nutty for this Creamy Avocado Hummus!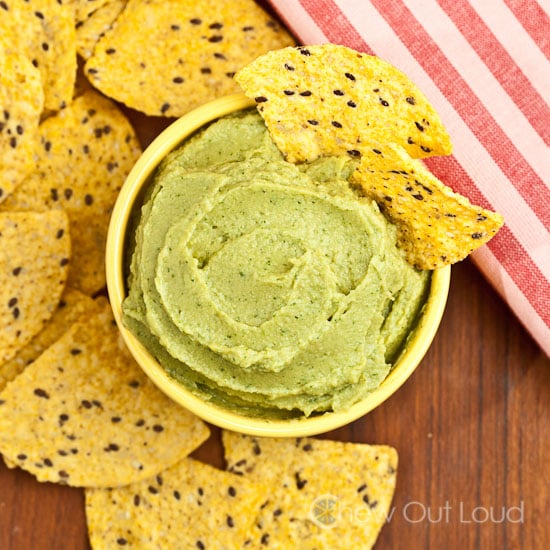 My friends absolutely love our Avocado Black Bean Salad Dip, and we agree…it could win a salsa/dip award, if there was such an award to be given.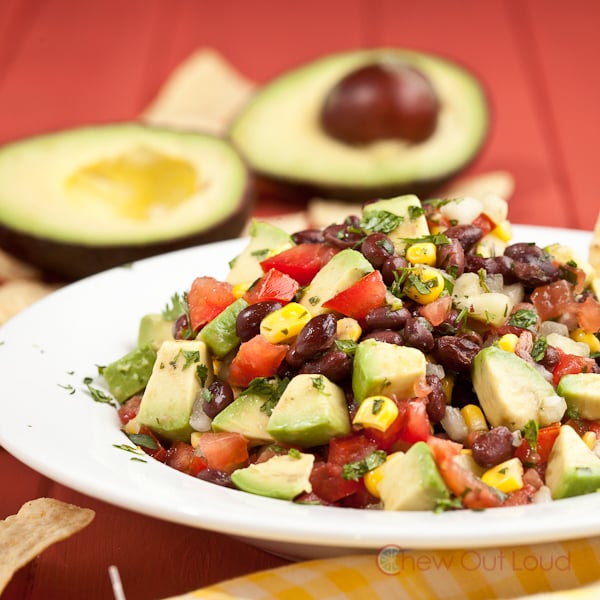 Our fool-proof, most favorite ever, delicious, ridiculous Chunky Guacamole. So amazingly good, but be forewarned: highly addictive. Highly!