Watermelon Salad (and how to pick watermelons)
This amazing watermelon salad recipe is supremely refreshing all summer long! It's a crazy-easy and fun spin on summer fruit salad. Perfect for all those picnics and cookouts, coming right up.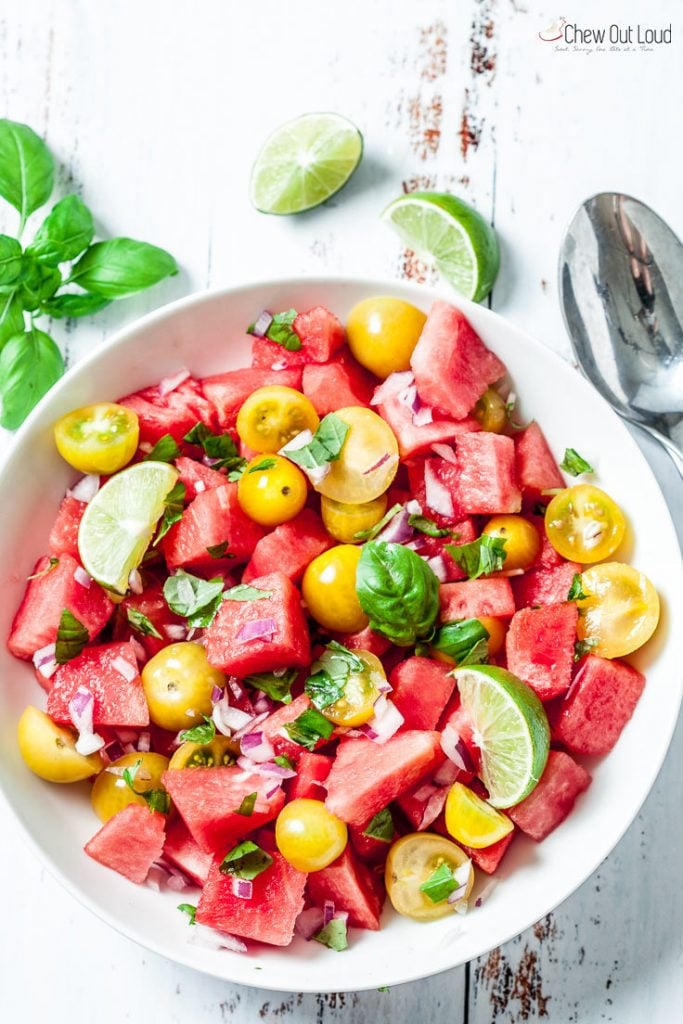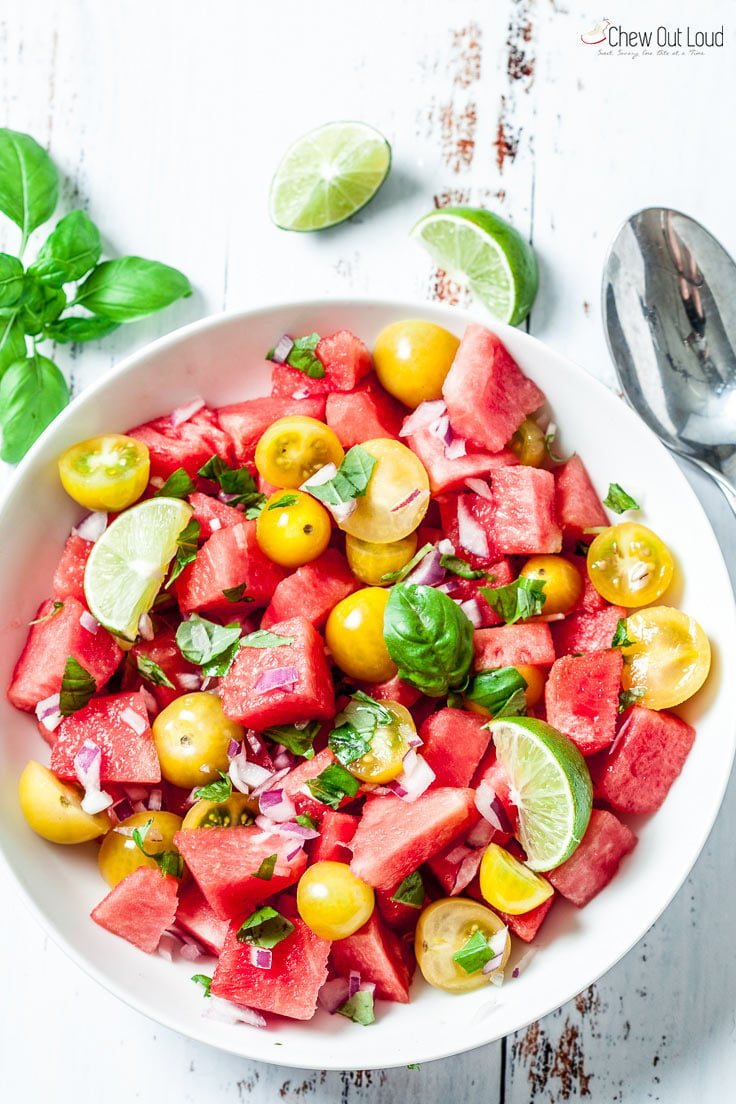 How to use watermelon in a salad
Calling all self-proclaimed watermelon fanatics: we've got the boss of all fruit salads for you today.
If you love all things watermelon, you'll be all in with this refreshing summer watermelon salad recipe.
If you've enjoyed watermelon salad before, you already know all about its tempting virtues. If you've yet to try it, tarry no longer. Watermelon salad is a big burst of summer goodness in every bite – sweet, juicy, tangy, and crispy. Plus just enough zing to liven up your plate and bring you back for more.
Serve this refreshing watermelon salad at your next cookout, along with a batch of yummy Watermelon Margaritas for the best summer gathering pretty much ever…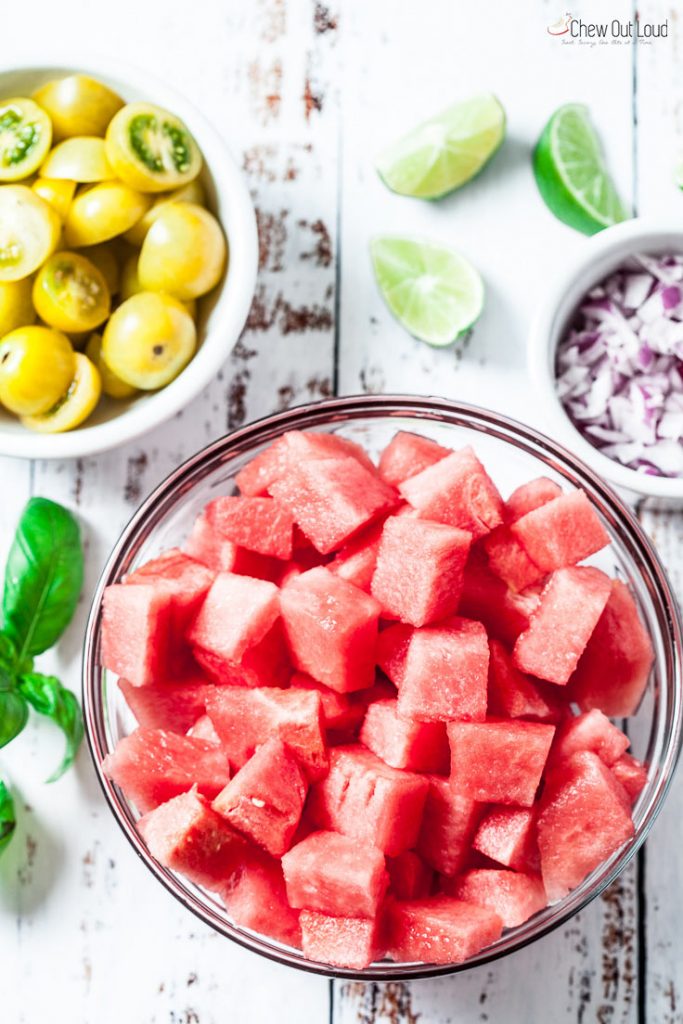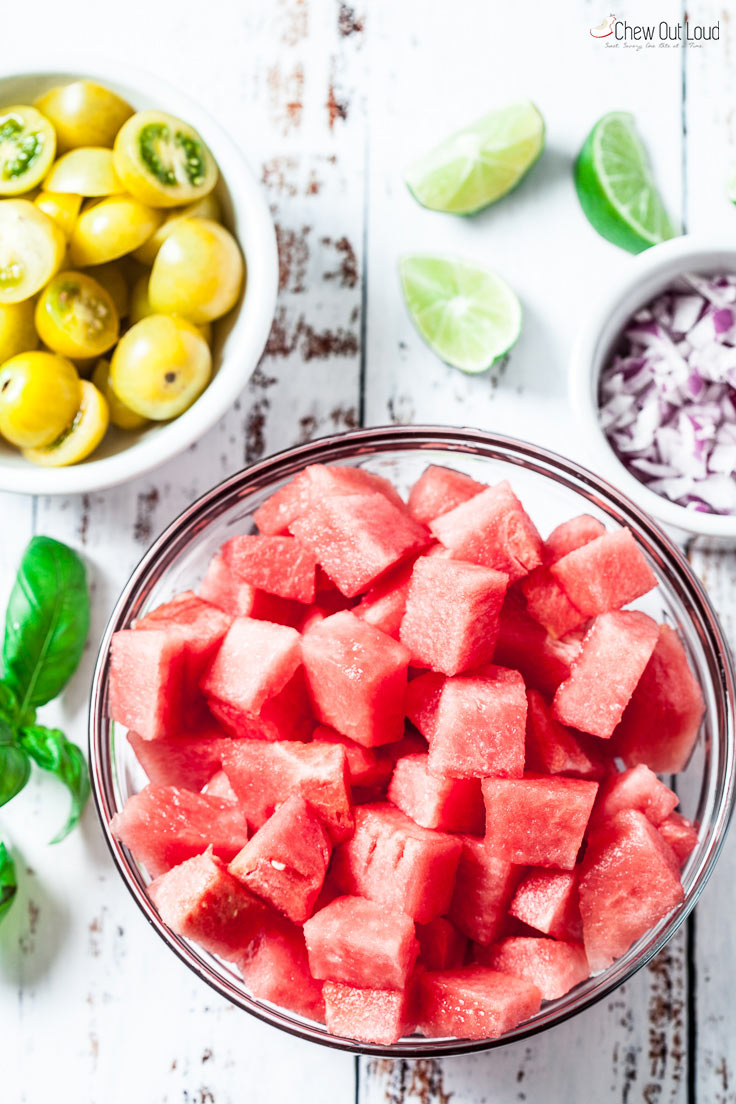 How to make watermelon salad:
Start off with the sweetest, crispiest, ripe watermelon you can get your hands on. This is the trickiest part of entire watermelon salad recipe, because the salad itself is super easy. Picking the best watermelon is some kind of mystical art that often evokes an elated woo hoo! or a disappointed aww, darn.
So we'll give a few tips on how to pick the best watermelon in a sec. But first, a call out to the fact that since there are only a few ingredients in this watermelon salad, ever ingredient counts. Make sure your yellow tomatoes are fresh and sweet. Get only the freshest basil. And most definitely freshly squeezed lime juice. No bottled lime juice here.
How to pick the best watermelon:
Make sure to pick up the watermelon and turn it around. I don't know how many times I've found a hole or cut or whatever that shouldn't be there. Just make sure it's looking good. Now that you've picked it up, the watermelon should also feel quite heavy for its size. This indicates juiciness within.
Make sure there's a definitive yellow spot on the underside of the melon, called the "field spot," which indicates ripeness.
The watermelon's surface color should be dark green and dull, not shiny. This also indicates ripeness.
You've seen people knock on a watermelon like it's a door, right? It might look like they've gone mad, but there's a method to this madness. If the melon sounds hollow (vs. dull) when you knock on it, it's a good sign. It means the watermelon is ripe. Say goodbye to any dull-sounding melons.
This is totally my own anecdotal advice, but I cross my heart that I always do this and it works: use your fingers to press into the watermelon as hard as you can. The harder it feels, the crisper it usually is. If there's noticeable give when you press into it, it's probably not as crisp as you want it.
Lastly, if there are dots in a line or black spots, those indicate sugar spots or pollination, which are both very good things.
Okay, so you might be mistaken for a watermelon snob if you stand over the watermelon bin and do all these steps. But for reals, you won't even care when you cut open your perfectly sweet, crispy, and juicy watermelon the minute you get home. You'll pat yourself on the back for your melon-picking skills.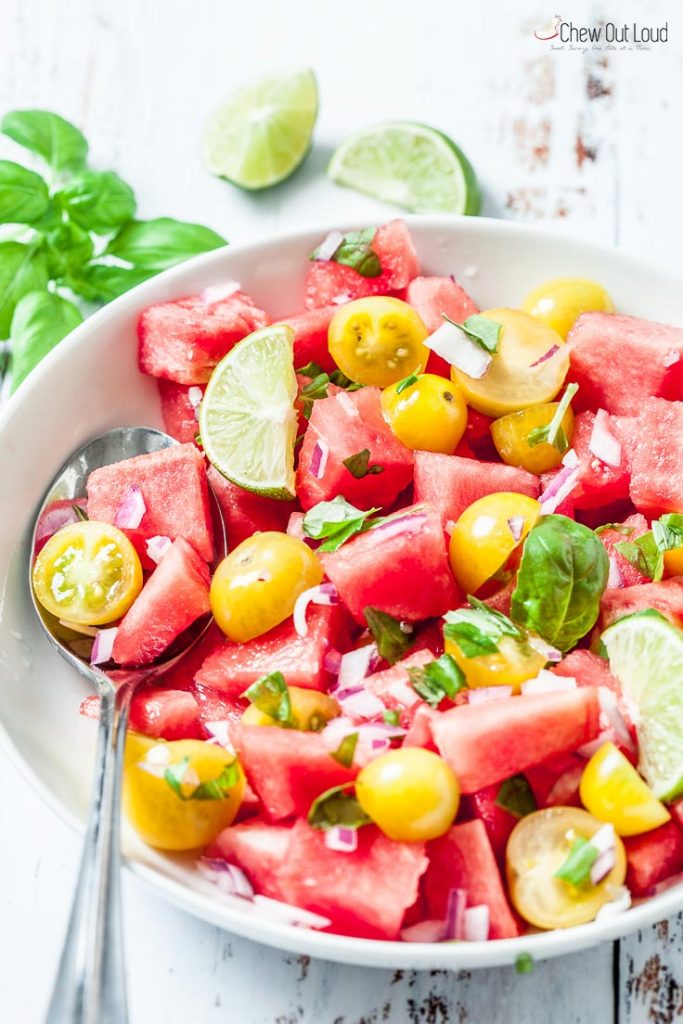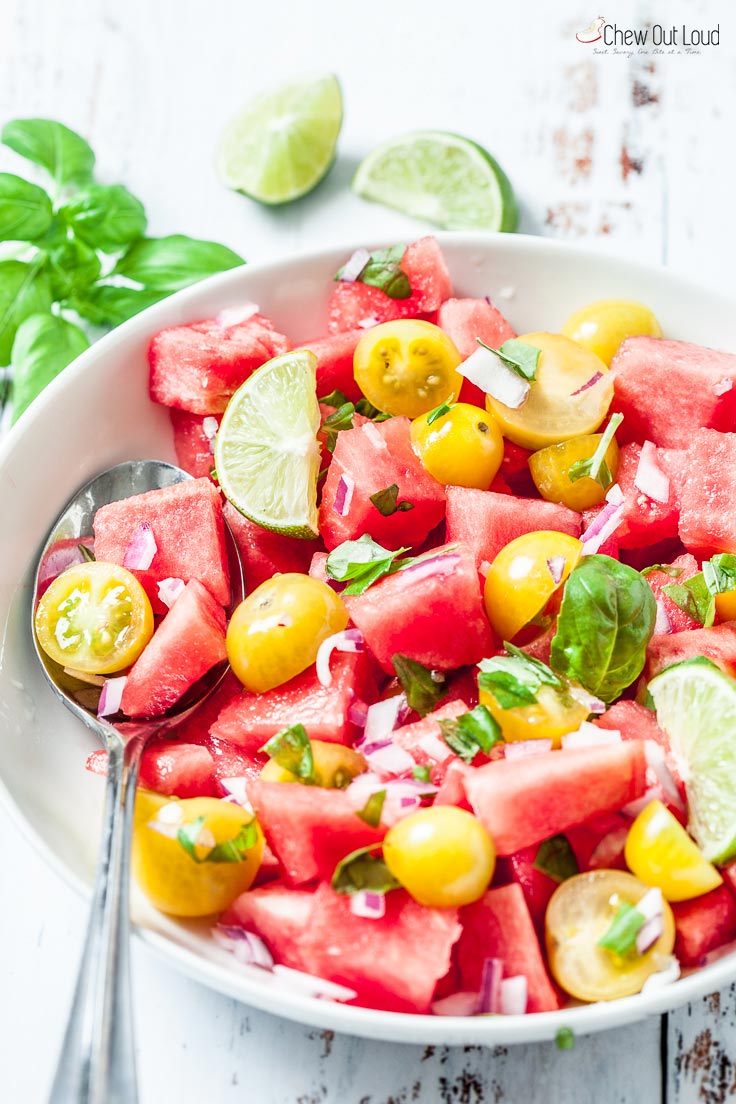 When to serve watermelon salad:
Watermelon salad is amazing at any summer gathering you can dream up. It's perfect next to BLT Burger with Roasted Garlic Mayo or your favorite burgers 'n brats scenario. It's a stunning accompaniment to Garlic Marinated Ribeye Steaks plus all the steaks in the world. You get the idea…anytime it's grill time, it's watermelon salad time.
This watermelon salad is also a deliciously cooling and healthy snack on a warm afternoon.
Chill out and munch on. Enjoy 😋
You might really like this, too:
Print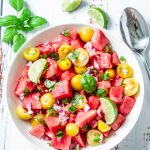 Watermelon Salad Recipe
This amazing watermelon salad recipe is supremely refreshing all summer long! It's a crazy-easy and fun spin on summer fruit salad. Perfect for all those picnics and cookouts, coming right up.
5 cups

watermelon, cubed

1 1/2 cups

yellow grape or cherry tomatoes, halved

1

small red onion, chopped

1/2 cup

freshly torn basil leaves

1/4 cup

freshly squeezed lime juice

2

TB pure (liquid) honey
freshly ground black pepper to taste
Instructions
In a large bowl, combine all ingredients. Use rubber spatula to gently fold together until well combined. Cover and chill no more than 1 hour before serving (watermelon salad is best served immediately.)
Notes
Watermelon salad will produce excess liquid if it sits too long; it's best served right away. If you must chill for awhile before serving, be sure to lightly toss again before serving.
Author:
Category:

side, salad

Cuisine:

American
Fruity Favorites: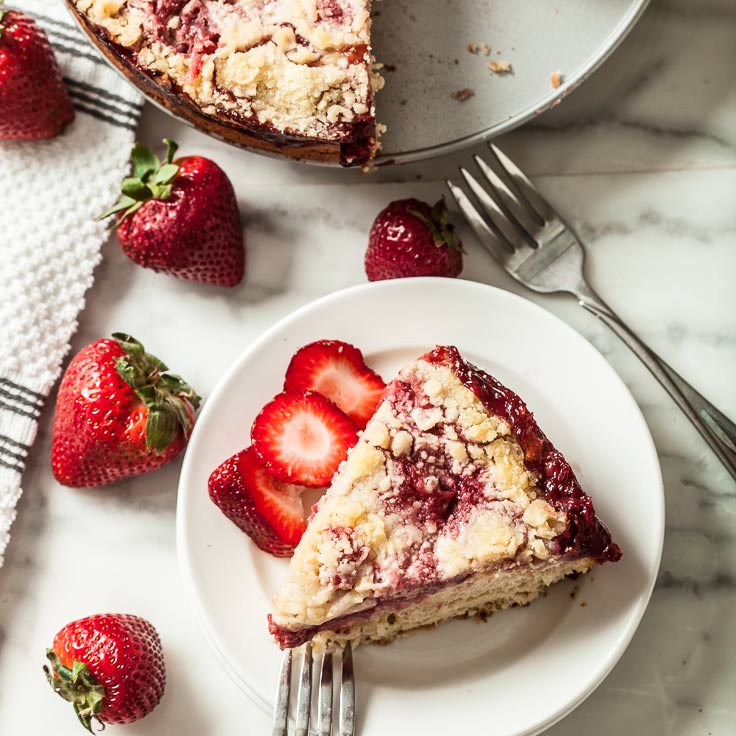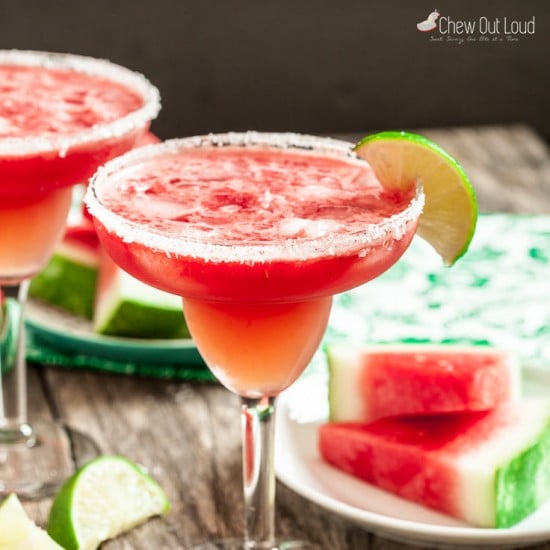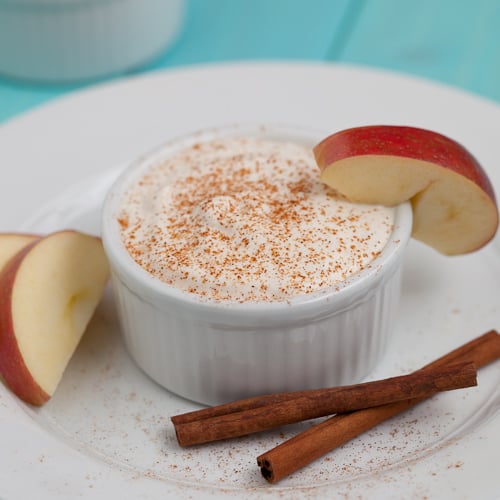 Fresh Fruit Salsa and Cinnamon Sugar Chips!