Tiramisu Recipe | Tiramisu Cake
By Amy Dong
Published Sep. 19, 2022
Updated Nov. 29, 2023
Rich and creamy, this easy tiramisu recipe is one of the best desserts we've ever had the privilege of devouring. A showstopping no-bake treat, Tiramisu Cake is guaranteed to impress your guests.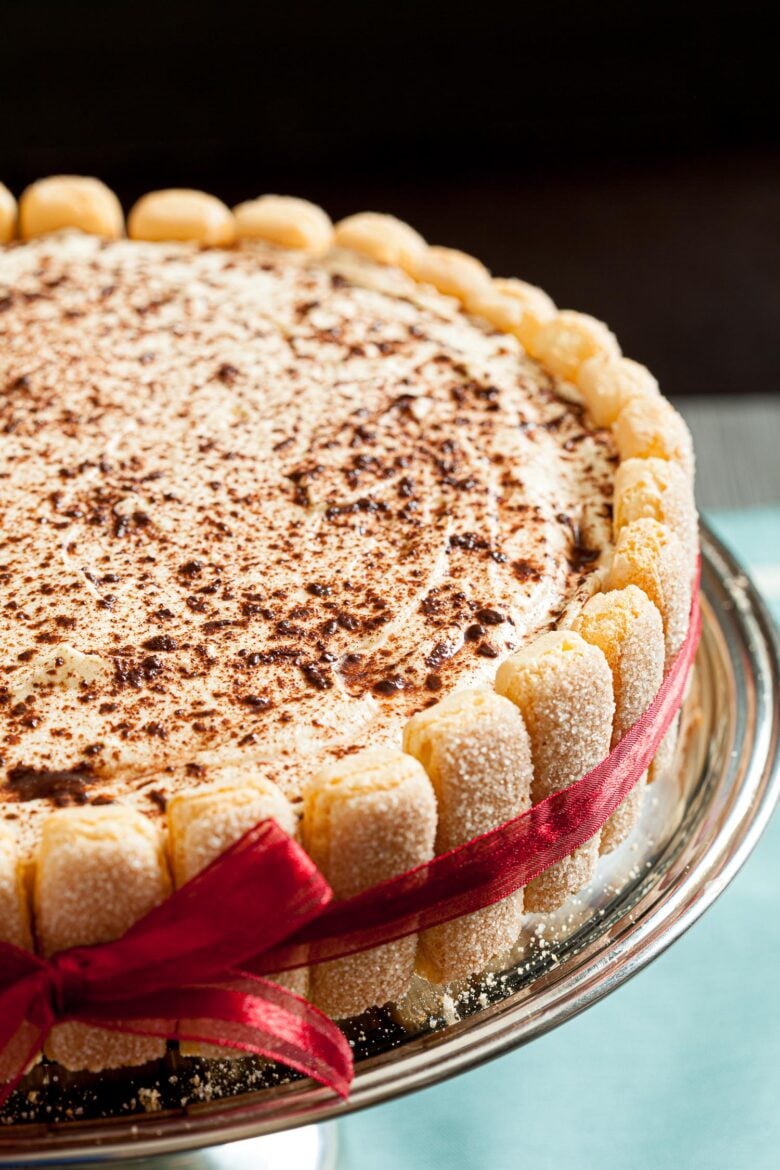 Tiramisu Recipe: What Exactly Is It?
If you've never had a classic tiramisu cake, prepare for your mind to be blown. We've traveled the globe taste-testing this scrumptious dessert, and our no-bake recipe still remains our favorite version to this day. Truly indulgent, it is a type of Italian cake that is made with ladyfinger cookies that have been dipped in coffee and are often soaked in alcohol. They are then layered with a decadent whipped mixture consisting of eggs, sugar, mascarpone cheese, and cocoa. The end result is a beautiful fluffy cake with a rich coffee and chocolate taste.
What Is In Tiramisu Cake?
The ingredients used in this tiramisu recipe are simple and few yet so rich in taste. Here's what you'll need:
Coffee, sugar, Kahlua, and rum are melted together to form the base of flavors in this tiramisu recipe.
Egg yolks, Marsala wine, and more sugar are whisked together to form a fluffy cream especially when you beat mascarpone in, and we do.
Ladyfingers (Savoiardi biscuits) are dipped in the coffee mixture and used to form the "crust" or base of this tiramisu recipe.
A dusting of cocoa powder and a sprinkle of semi-sweet chocolate shavings are used to top off the cake and create a beautiful presentation that will have you positively drooling.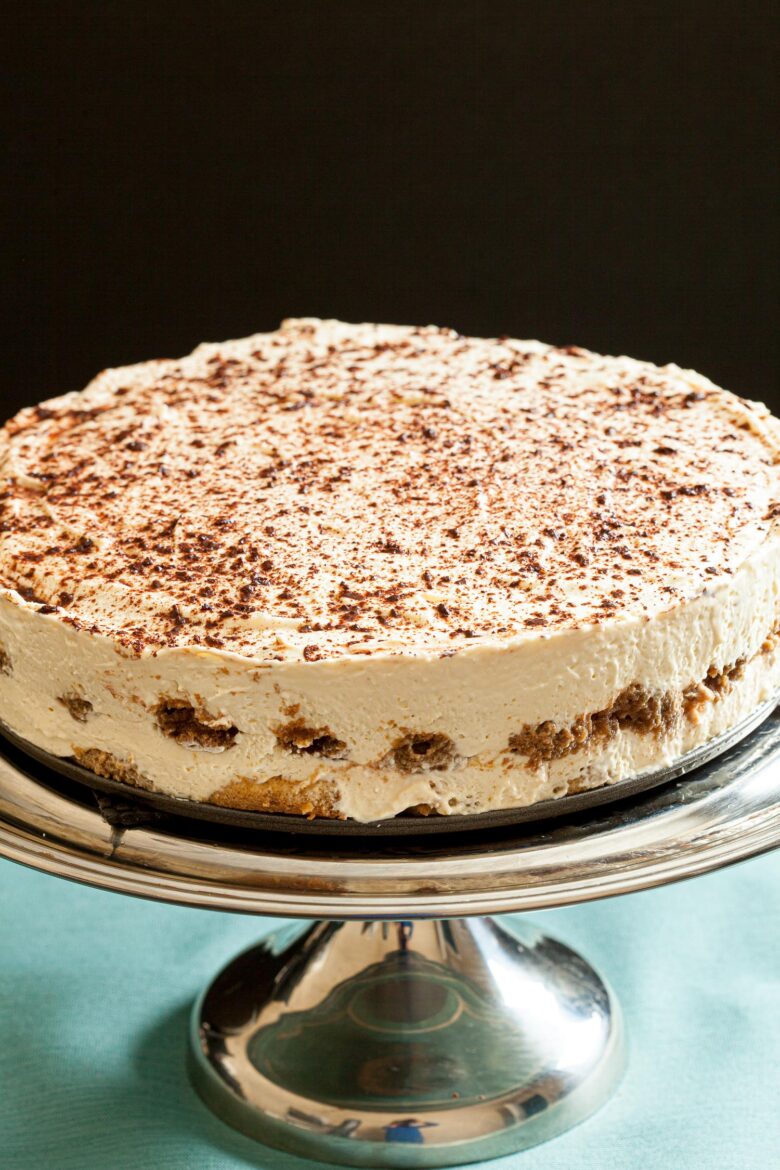 Pro-Tips: How to Make Tiramisu
Although it looks complicated, tiramisu cake is actually quite simple to make. To ensure it comes out perfectly every time, we're giving you our best tips and tricks. Here they are:
Work Fast. Delicate and sponge-like, ladyfinger cookies will absorb the coffee mixture quickly. So be sure to work quickly to prevent them from becoming soggy.
Separate the Eggy Yolks and Egg Whites. Take extra care to completely separate the egg yolks from the egg whites before adding them to the whipped mix. Otherwise, it will collapse, and you won't achieve the thick, fluffy peaks we're looking to create.
Take Note of Your Pan Size. Depending on whether you use a 9 or 10-inch springform pan, you may need to add more or less ladyfingers around the edge.
Prepare Your Tiramisu Ahead of Time. Believe it or not, this tiramisu recipe is even tastier when served the next day! Trust us, it's worth the wait.
Storage Options
It's hard not to eat your cake all at once. However, if you've got the willpower to save it for later, it can easily be wrapped with cling wrap and stored in the refrigerator for up to 3 days.
Or, keep it in the freezer for up to 3 months. To do so, leave off the cocoa powder and chocolate shavings. Then, place a layer of cling wrap on top of the tiramisu. Tightly wrap the cake in tin foil, and transfer it to the freezer. When you're ready to eat, let it thaw in the fridge overnight, and add the toppings just before serving.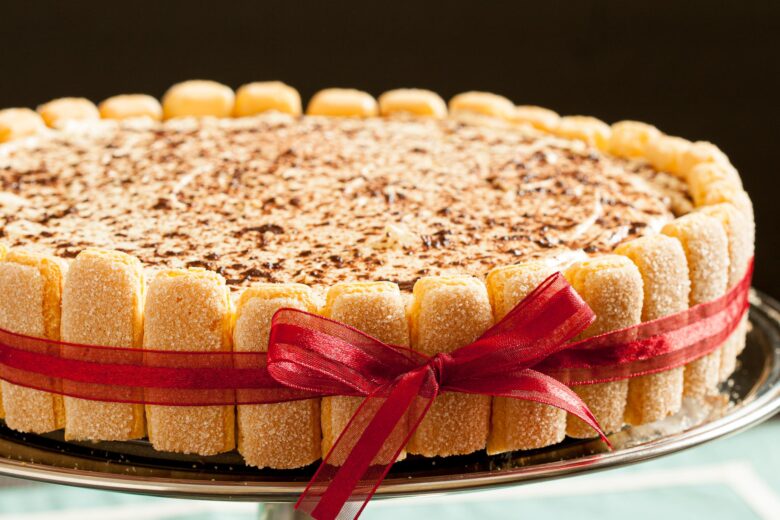 Common Questions About This Tiramisu Recipe
What if I can't find ladyfingers?
Don't worry! You can easily replace the ladyfinger cookies with a similar alternative such as Margherite cookies or panettone.
Can I use decaf coffee?
Yes. For a tiramisu recipe that won't keep you up all night long, feel free to replace the coffee with decaf instead. For best results, brew strong decaf for using in the recipe.
Can I use a different type of alcohol?
Sure! In fact, if you'd rather, you can leave the alcohol out altogether. Or replace it with coffee liqueur, dark rum, brandy, or Amaretto instead.
---
More to Bake and Eat
---
---
Did you make this?
Please give us a rating and comment below. We love hearing from you!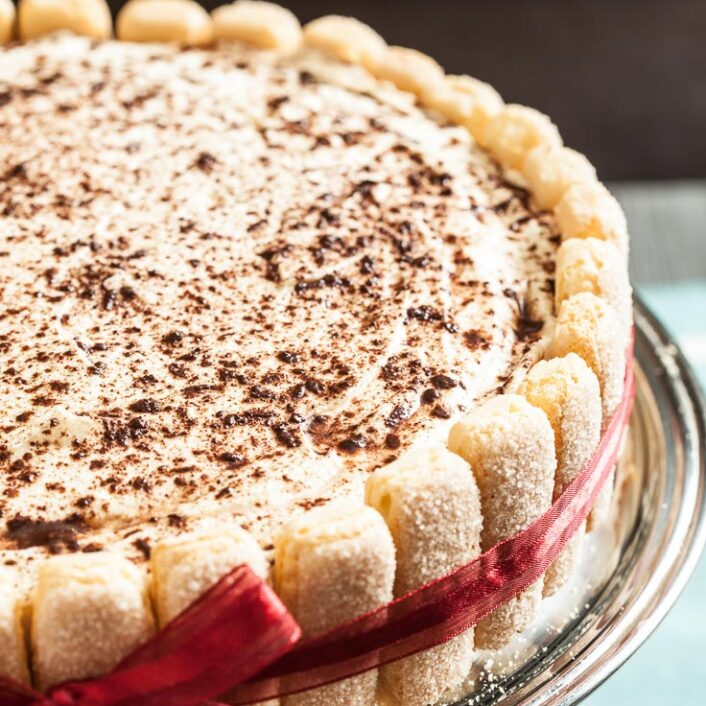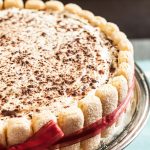 Tiramisu Recipe
Rich and creamy, this easy tiramisu recipe is one of the best desserts we've ever had the privilege of devouring. A showstopping no-bake treat, it's guaranteed to impress your guests.
Instructions
Stir strong coffee, 1 TB sugar, Kahlua, and rum until sugar is dissolved. Set aside to cool.

In a large metal bowl, beat egg yolks, Marsala, and 1/2 cup sugar. Set bowl over a saucepan of barely simmering water.

Using a handheld electric mixer or whisk, mix until tripled in volume. This takes about 8 min. Remove from heat and beat mascarpone in until just combined.

Put heavy cream in a chilled bowl with chilled beaters. Beat until stiff peaks. Fold whipped cream in mascarpone mixture gently, taking time to fully incorporate it.

One at a time, very gently dip both sides of each ladyfinger into the coffee mixture, lining bottom of a 9-10 inch Springform pan (I use a 9 inch). Dip and line as you go. The ladyfingers can break apart, so don't dip them too long; just until mostly soaked through, about a 2-second dip on each side. Trim any ladyfingers as needed so that it fits comfortably in pan.

Split mascarpone filling in half. Spread half of the filling on top of ladyfingers. Repeat dipping and lining for second layer of ladyfingers. Spread remaining mascarpone filling on top. Dust with cocoa. Sprinkle with chocolate shavings. Chill overnight in springform pan to set.

Carefully release sides of springform. If your sides are slightly haphazard, no worries. Take leftover ladyfingers, slice them in half, and use them to wrap around your Tiramisu.
Notes
Entire dessert can be made up to a day ahead of time; cover and chill until ready to serve.
If you enjoyed this recipe, please come back and give it a rating ♡
Nutrition (per serving)
Calories:
559
kcal
|
Carbohydrates:
24
g
|
Protein:
8
g
|
Fat:
45
g
|
Saturated Fat:
27
g
|
Polyunsaturated Fat:
1
g
|
Monounsaturated Fat:
4
g
|
Cholesterol:
207
mg
|
Sodium:
70
mg
|
Potassium:
98
mg
|
Fiber:
0.03
g
|
Sugar:
21
g
|
Vitamin A:
1567
IU
|
Vitamin C:
0.2
mg
|
Calcium:
135
mg
|
Iron:
1
mg