Créme Brûlée
This easy créme brûlée recipe is rich, creamy, and even tastier than any version you'll find in a restaurant! Top it with fresh berries for a dessert that will leave your guests raving.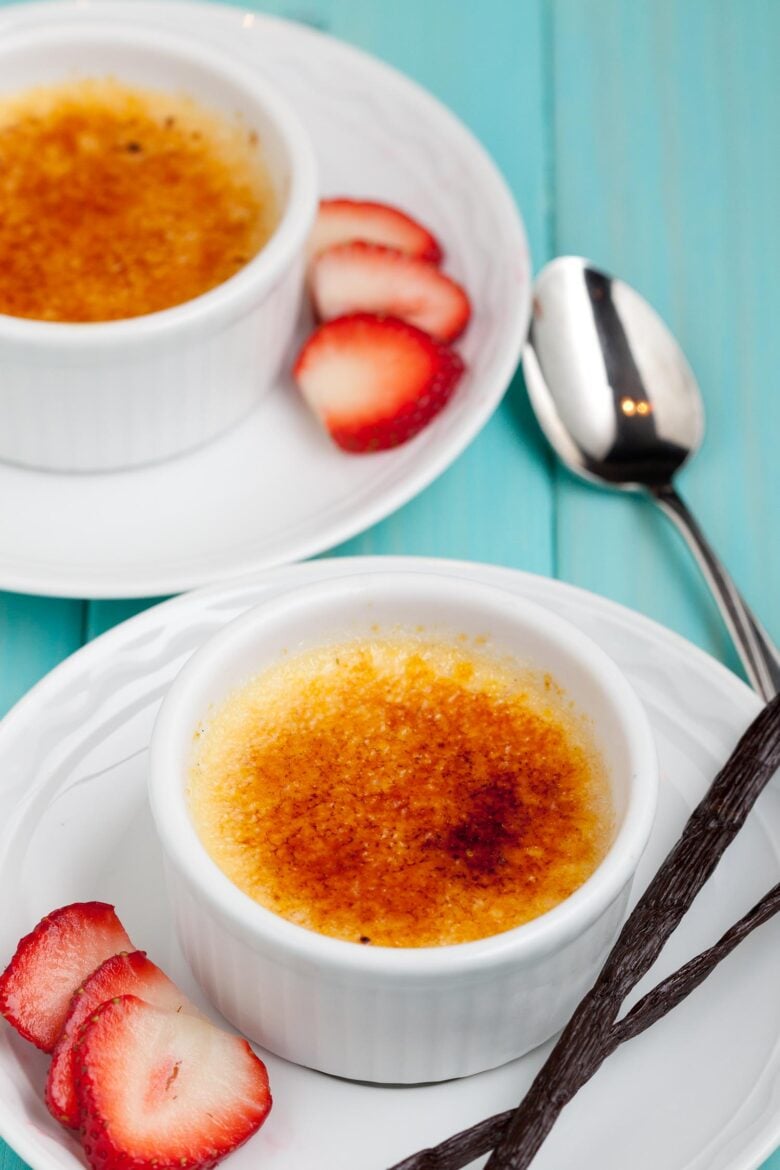 What Is Créme Brûlée?
Also known as burnt cream or Trinity cream, Créme brûlée is a decadent French dessert that is made with a rich pudding-like custard base and a sweet caramelized sugar crust.
Finished off with a chef's blow torch – so fun! – the sugar topping hardens to form a thin, crunchy layer that provides a crisp contrast to the smooth and creamy custard underneath.
Often thought of as a delicacy reserved for fancy restaurants, we discovered that créme brûlée is actually EASY to make from the comfort of your own home. This créme brûlée recipe is SO much better than restaurant versions; you'll simply have to try it to know it.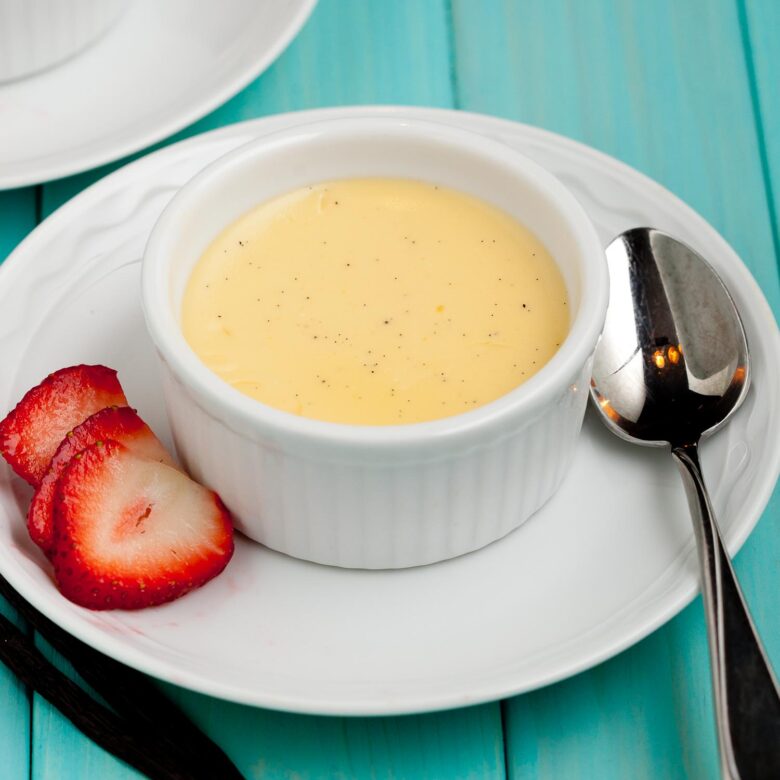 Watch us Make Créme Brûlée
Simple Ingredients For This Easy Créme Brûlée Recipe
Heavy whipping cream and granulated sugar combine to form the smooth custard base. Then, more sugar is added on top and cooked until it hardens for the finishing touch.
A whole Madagascar vanilla bean is added to the mixture for the ultimate vanilla flavor. Whole vanilla beans make all the difference, so avoid substituting with vanilla extract.
Plenty of creamy egg yolks are included to enhance the smooth texture and rich custard filling.
Boiling water is crucial to help the custard bake evenly and prevent the egg yolks from curdling in the oven.
A handful of fresh berries add a pop of color for the prettiest presentation.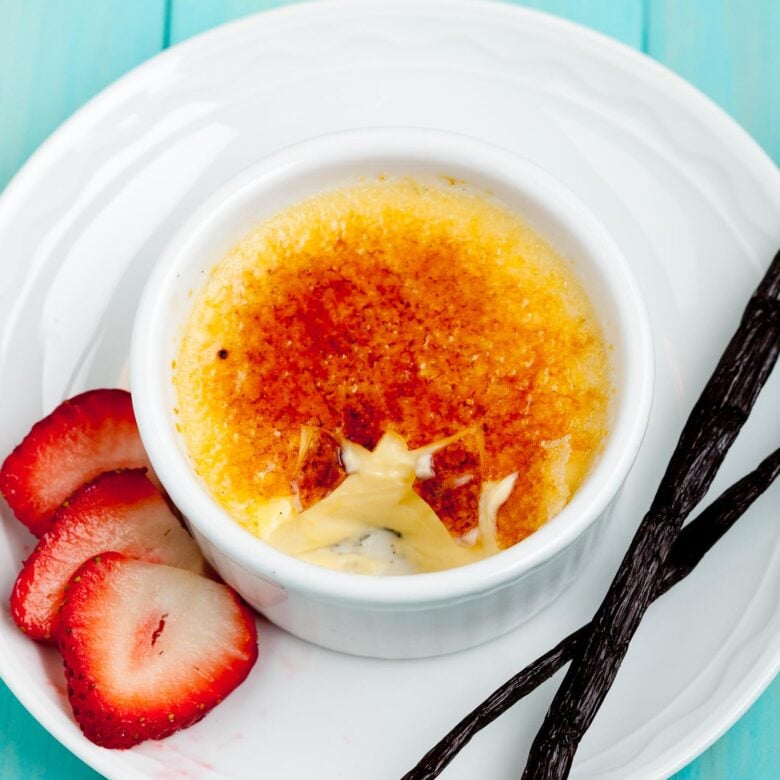 Tips for how to make the Best Créme Brûlée
Use high-quality ingredients. Given that there are so few items used to make créme brûlée, it's important to make sure they're high-quality. For this reason, we recommend using whole vanilla beans instead of imitation vanilla extract.
Temper the eggs. Tempering means adding small amounts of hot water, or in this case cream, to the egg yolks slowly while stirring constantly. This allows the eggs to warm without cooking and turning into scrambled eggs.
Don't overcook the custard. You'll want to pull the custard out of the oven before it looks fully done. When removed from the oven, it should still be slightly jiggly like a cheesecake, the top should look glossy, and the center should be springy or slightly spongey to the touch.
Torch the sugar. The easiest way to create the sugary coating for the top of your créme brûlée is to use a kitchen torch and work quickly moving it in small circles. Holding the flame in one spot for too long will cause the sugar to burn!
Cool to room temperature. For the best results, we recommend chilling the baked custard in the fridge overnight. This allows for a smooth top and helps create the caramelized crust.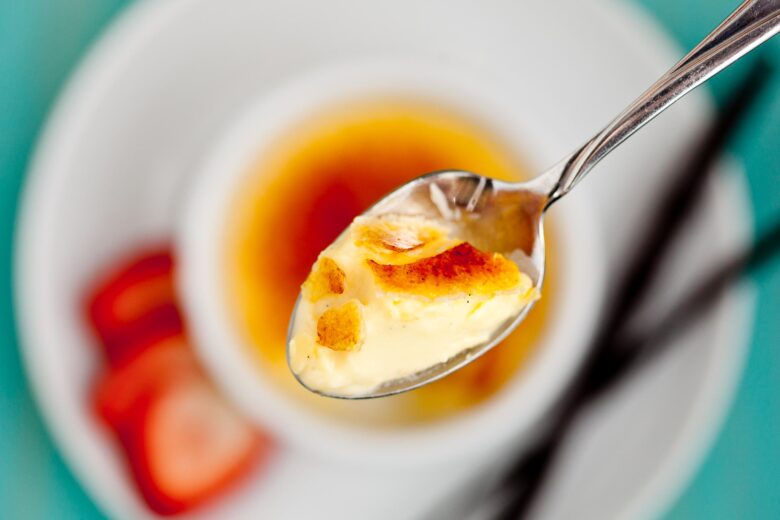 Common Questions About Easy Créme Brûlée
Is créme brûlée eaten hot or cold?
Traditionally, créme brûlée recipes are served cold. However, the caramelized sugar topping is warm from the heat of the chef's blow torch, providing the perfect contrast.
Can I make easy créme brûlée ahead of time?
Yes! In fact, we recommend doing so to allow the custard time to cool. Feel free to prepare the custard filling up to 2 days in advance, and keep it covered in the fridge. When you're ready to serve, add the sugar on top and give it a torch.
Is créme brûlée just flan?
Although similar, créme brûlée and flan are not quite the same. Both are comprised of a pudding-like custard filling. However, the primary difference lies within the topping. Flan is made with a soft liquid caramel layer while créme brûlée is famous for its crispy caramelized sugar layer.
Is this créme brûlée recipe healthy?
This French dessert is indulgent, but because they're enjoyed in individual 4oz ramekins, they're perfect in moderation. We also recommend serving it with plenty of fresh, ripe berries for a big pop of color and goodness.
How do you torch créme brûlée?
First, a good quality créme brûlée torch is essential and so worth having. You'll turn the torch on and hold it several inches from the sugared top of crème brûlée and slowly rotate the flame, keeping constant motion so it doesn't burn. Once the caramelized sugar is a lovely toffee color, turn torch off and let the dessert cool a bit so the caramelized sugar hardens into a crispy thin topping.
---
More to Bake and Eat
---
Did you make this?
Please give us a rating and comment below. We love hearing from you!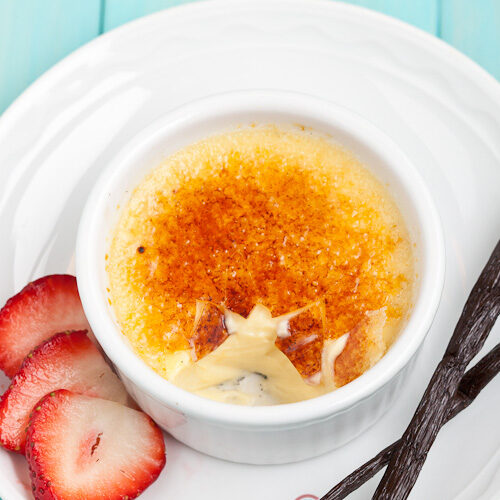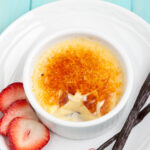 Créme Brûlée
This easy créme brûlée recipe is rich, creamy, and tastier than any version you'll find in a restaurant! Custards can be made up to 2 days in advance. Note: Recipe is for six (6) individual 4-oz ramekins.
Ingredients
2

cups

heavy whipping cream

½

cup

granulated sugar,

plus more for topping

1

whole

Madagascar vanilla bean,

split lengthwise

5

egg yolks,

large, take care that no bits of whites are included

Kettle of boiling water
fresh berries for serving
Instructions
Preheat oven to 325F, with rack on lower middle position. In medium saucepan, combine cream and sugar, mixing well. Use a small knife to scrape all seeds from vanilla bean, into the saucepan. Once all seeds have been added to saucepan, add the empty vanilla bean into saucepan.

Over medium heat, stir until sugar completely dissolves and the creamy mixture comes to a simmer. Cover pan and reduce heat to lowest setting. Simmer gently for 10 minutes. Remove from heat, uncover, and remove the empty bean and any other pieces of the bean. Set aside to let cool about 10 minutes.

In medium bowl, whisk yolks until well blended. Very carefully and in a very slow stream, drizzle egg yolks into the cream mixture while whisking constantly, until all egg yolks are added (a mini silicone spatula really helps with getting all the egg yolks in there.)

Place ramekins in a 9×13 pan/baking dish. Gently pour enough boiling water directly into the pan – not into the ramekins themselves – so that the hot water reaches halfway up the outsides of ramekins. This step is important for even-cooking and prevents edges of custards from cooking too fast.

Using a ladle, evenly divide custard into ramekins. Place entire pan in oven and bake about 35 minutes. Custards should be almost set in the center when pan is gently shaken.

Remove ramekins from baking pan and let cool to room temp – we use these silicone gloves, extremely helpful here. Chill custards in fridge for several hours, until cold throughout. This can be done up to 2 days in advance.

When ready to serve, dab off excess moisture from top of custards. Sprinkle 1 tsp sugar over first custard, rotating it so that sugar evenly coats top. Tap excess sugar out onto second custard. Repeat until all custards have a thin, even layer of sugar on top.

Turn blowtorch on and move flame constantly in circles over the sugar topping until golden caramel-colored bubbles appear – start with flame about 6 inches away, to get a feel for it. Place finished custards back in the fridge as you work, to allow caramelized sugar to harden. Serve chilled créme brûlée with fresh berries.
Notes
*Whole vanilla bean is highly recommended. We don't recommend substituting with vanilla extract, as the vanilla bean pods make ALL the difference. That said, you may try 1 TB real vanilla extract if you must. If using extract, reduce the simmer time to 5 minutes and only add extract at the end.
*We've tried the broiler method (no-torch method) for caramelizing the sugar topping, but found that a torch is far superior. It's too easy to burn the topping unevenly under the broiler, and the custard underneath tends to melt under the intense heat of the broiler.
*If you enjoyed this recipe, please come back and give it a rating ♡
Nutrition (per serving)
Serving:
1
ramekin
|
Calories:
375
kcal
|
Carbohydrates:
27
g
|
Protein:
5
g
|
Fat:
33
g
|
Saturated Fat:
20
g
|
Polyunsaturated Fat:
2
g
|
Monounsaturated Fat:
9
g
|
Cholesterol:
252
mg
|
Sodium:
29
mg
|
Potassium:
92
mg
|
Sugar:
27
g
|
Vitamin A:
1383
IU
|
Vitamin C:
0.5
mg
|
Calcium:
72
mg
|
Iron:
1
mg