White Chocolate Raspberry Muffins
These White Chocolate Raspberry Muffins are even better than coffee shop muffins. Slightly crispy at the edges and ever-moist at the center, with fresh berries and white chocolate throughout. Perfect for any morning or snack.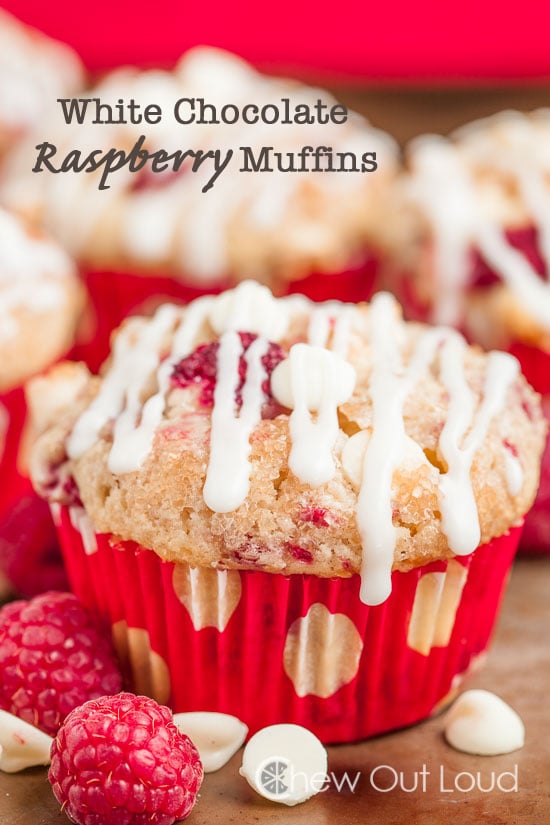 'Tis the season of baking and more baking.
Yeah, I know Christmas isn't all about food, and we're definitely aiming for more presence over presents.
But it's a little bit about the food, too…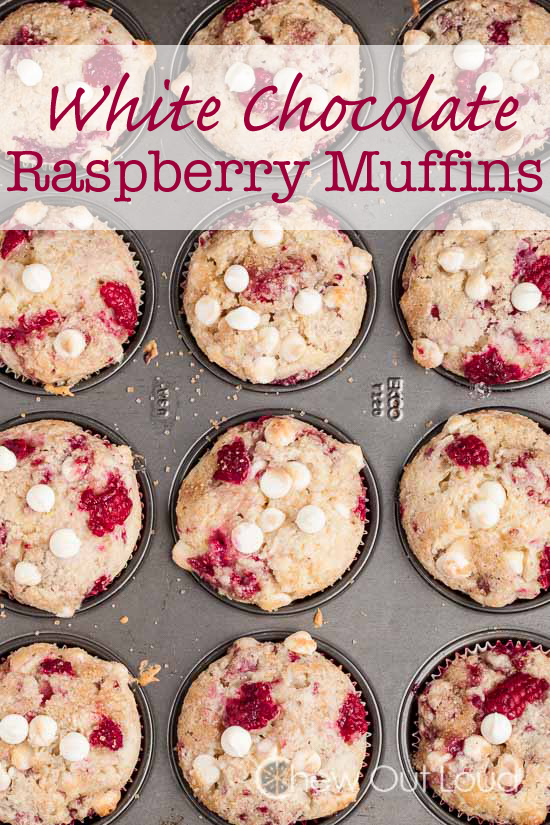 Everything red, white, green, silver, and gold just makes the season brighter, especially if you live in an area where the polar vortex seems to be on steroids and continues for months.
That's my excuse for baking excessively. It's cold. Therefore we bake.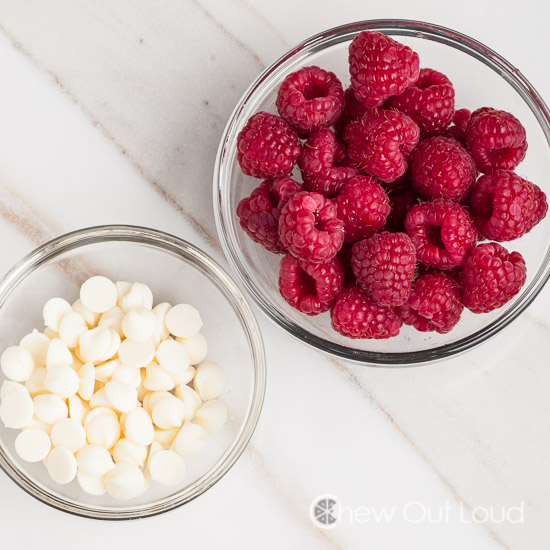 Despite the calendar, I'm super thankful that there are plump berries still available at the supermarkets.
One of my Littles is suddenly into white-chocolate-raspberry anything.
So these festive muffins were the result of my boy's newfound penchant.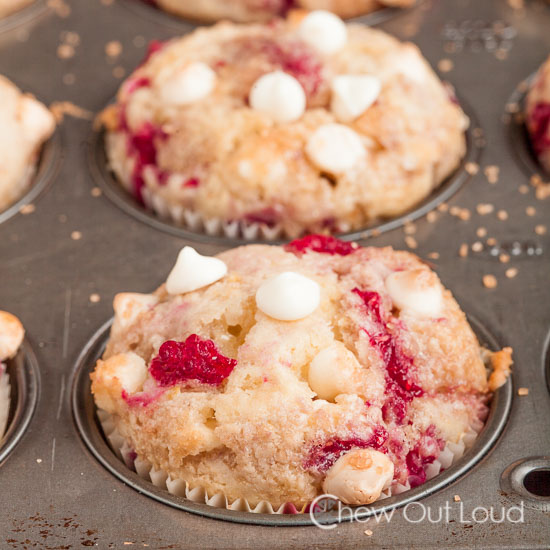 Sorry, no green (nor silver nor gold) appears in these White Chocolate Raspberry Muffins.
But I'm not really that sorry because these are splendid. Magnificent muffins.
We really think you will love these.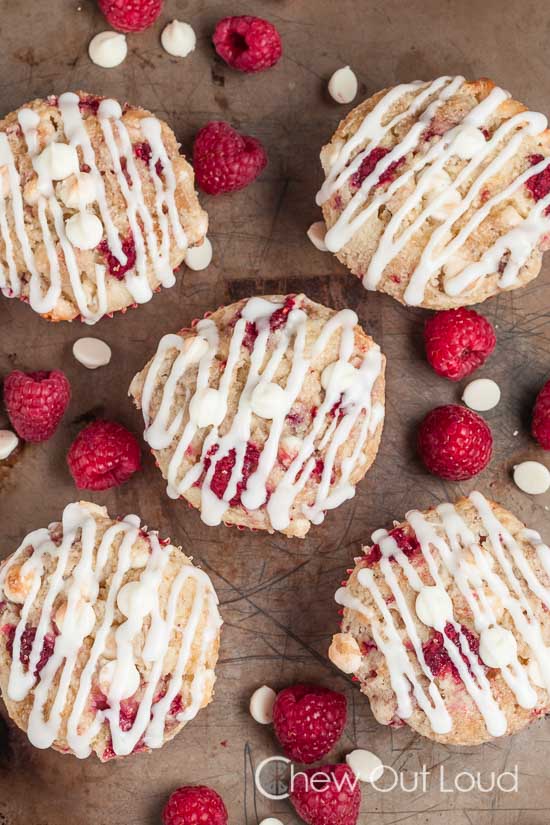 These scrumptious dumptious muffins are loaded with fresh raspberries, white chocolate, and drizzled with more of the same.
Plus a sprinkle of crunchy coarse sugar on top for extra toothsome measure.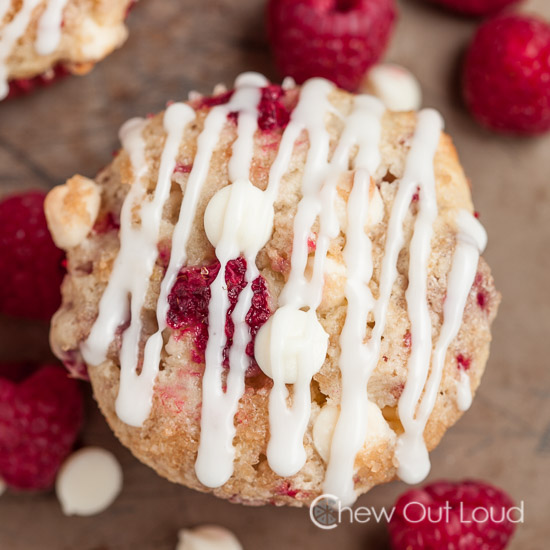 These are just slightly crisp at the edges and simply dreamy-tender in the center. Tender in the center.
The muffin top is like the best ever. Slightly crisp and uber moist. The rest of the muffin isn't bad either.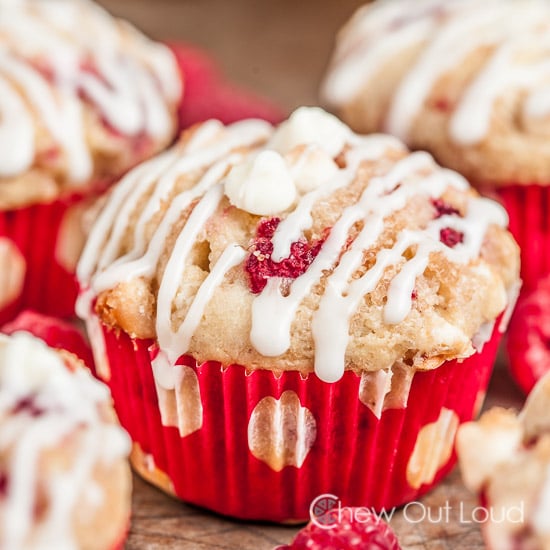 Muffins for breakfast.
Muffins for snack.
If you give a mom a muffin, she'll never give it back.
Enjoy!
Did you make this?
Please give us a rating and comment below. We love hearing from you!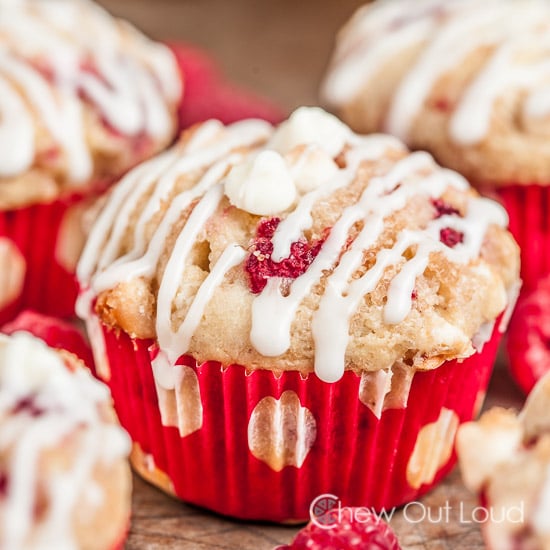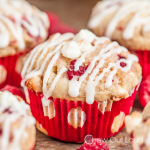 White Chocolate Raspberry Muffins
These muffins are bakery-style delicious! Slightly crispy edges, moist and tender throughout, and chock full of fresh berries.
Instructions
Preheat oven to 400F with rack on lower middle position. Line a 12-cup muffin pan with liners.

In a bowl, whisk together the egg, vanilla, butter, milk, and lemon zest until incorporated. In a separate bowl, whisk together the flour, sugar, baking powder, and salt. Using a rubber spatula, gently fold together the wet and dry ingredients just until combined. A few little streaks of flour is fine. Gently fold in the white chocolate chips and raspberries. If some berries break apart, it is fine.

Divide batter evenly between the lined muffin cups. Sprinkle tops with coarse sugar as desired.

Bake 19-20 minutes or until toothpick comes out mostly clean. A few tender crumbs attached is good.

Let muffins cool completely to room temp.

Melt 1/2 cup white chocolate chips in microwave at 30-second intervals until smooth and creamy. Drizzle over tops of cooled muffins. Muffins will keep 2-3 days at room temp in airtight container.
Nutrition (per serving)
Calories:
260
kcal
|
Carbohydrates:
36
g
|
Protein:
4
g
|
Fat:
11
g
|
Saturated Fat:
7
g
|
Polyunsaturated Fat:
0.5
g
|
Monounsaturated Fat:
3
g
|
Trans Fat:
0.1
g
|
Cholesterol:
15
mg
|
Sodium:
254
mg
|
Potassium:
142
mg
|
Fiber:
2
g
|
Sugar:
19
g
|
Vitamin A:
133
IU
|
Vitamin C:
4
mg
|
Calcium:
137
mg
|
Iron:
1
mg
Source: Chew Out Loud
Here are a few of our tried and true scrumpdelicious muffins. We are pretty sure you'll love 'em!
Bakery Style Blueberry Muffins. These are standout amazing. Better than bakery.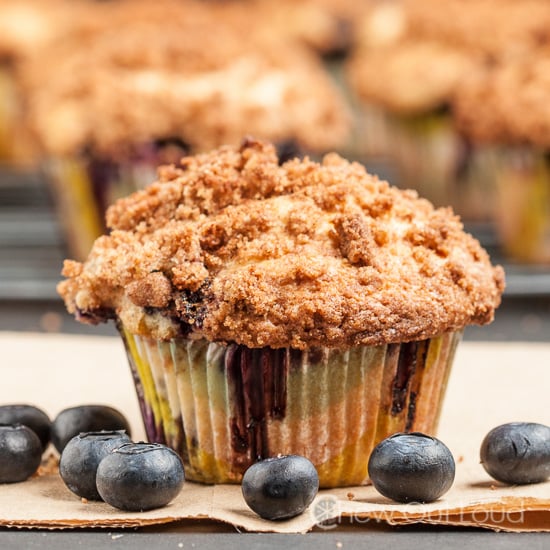 Peanut Butter and Jelly Muffins. Yeah, we went there. If you like PBJ, you'll adore these delish muffins. Moist and chock full of PBJ. Grab 'n Go for a yummy breakfast on the run.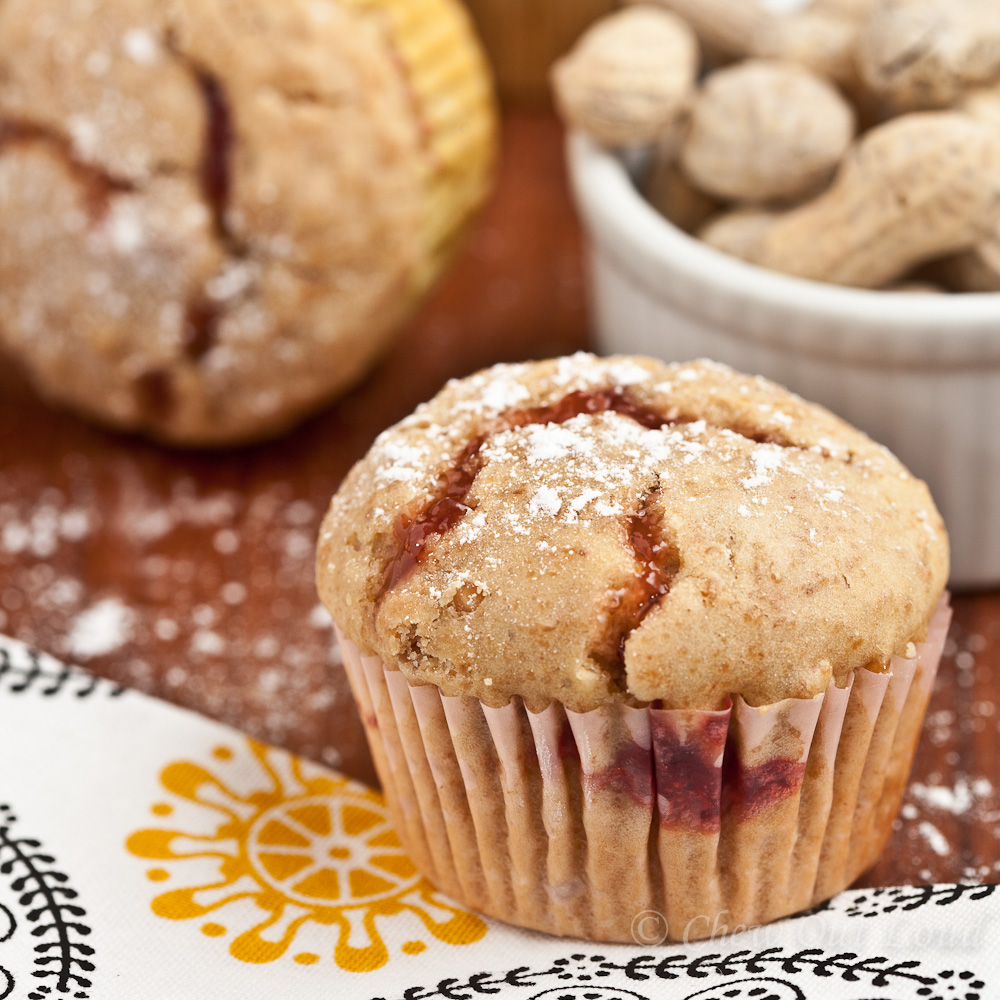 Sweet Potato Cinnamon Brown Sugar Muffins. These are oh-my-stars kind of delicious. They are superbly moist, thanks to sweet potatoes, and pack a nutritional punch.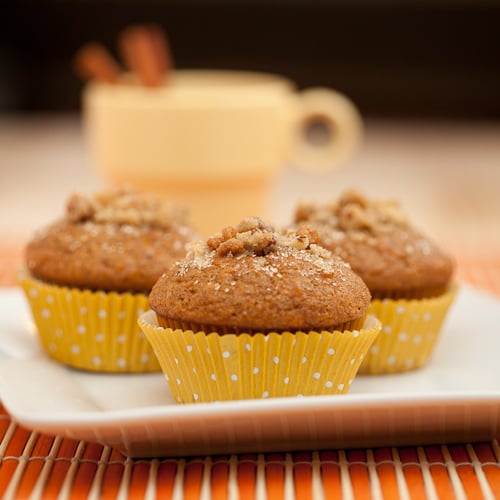 Steel Cut Blueberry Muffins. Have your oatmeal and berries too. On-the-go style. These will make your morning deliciously enjoyable.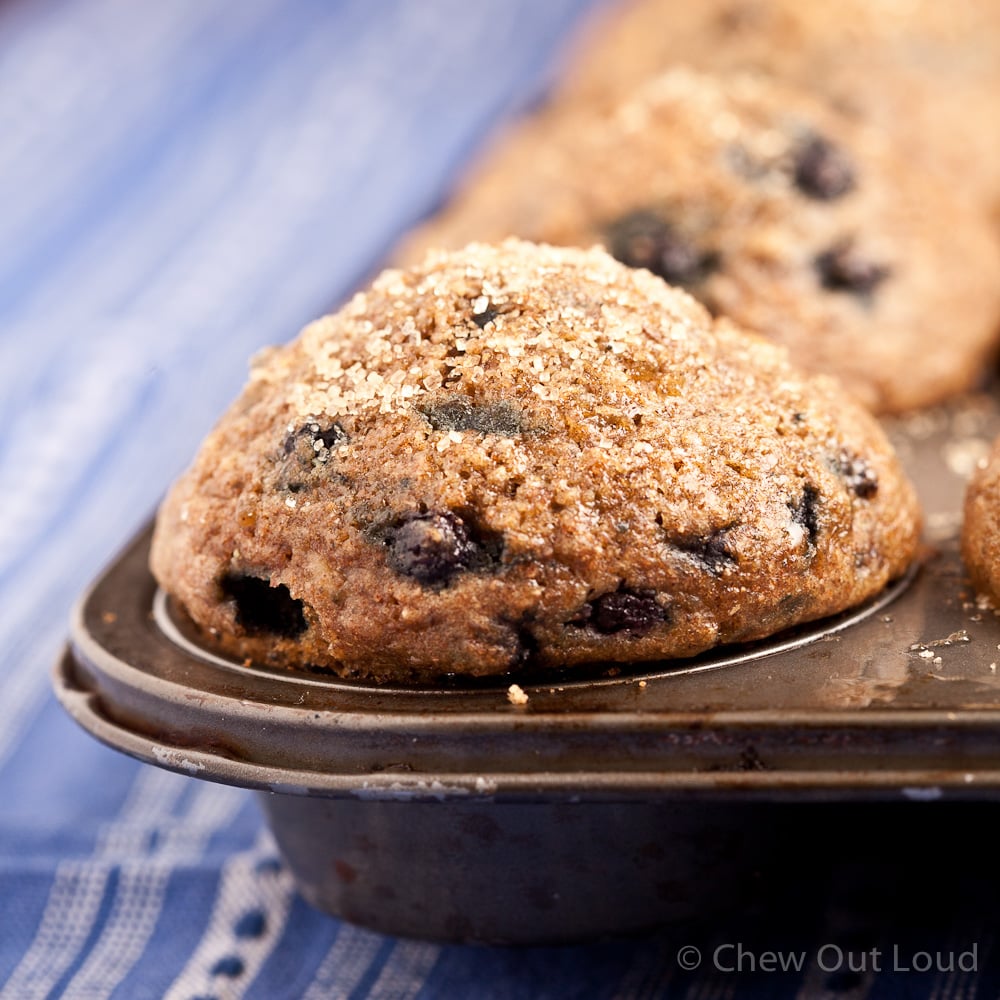 We'd love to have you follow us on Pinterest, where we regularly pin the best stuff 🙂
Follow us on Facebook and Twitter for the newest recipes and giveaway prizes (here's our current giveaway.)
Hang with us on Instagram for behind-the-scenes shots of the food we make… and happy things 🙂
We're honored you came over today!