Cilantro Lime Rice
This Cilantro Lime Rice is fresh, vibrant, and perfect for summer! Serve it with your favorite Mexican and Tex-Mex dishes or enjoy it on its own. It's super easy to make and perfect for meal prep.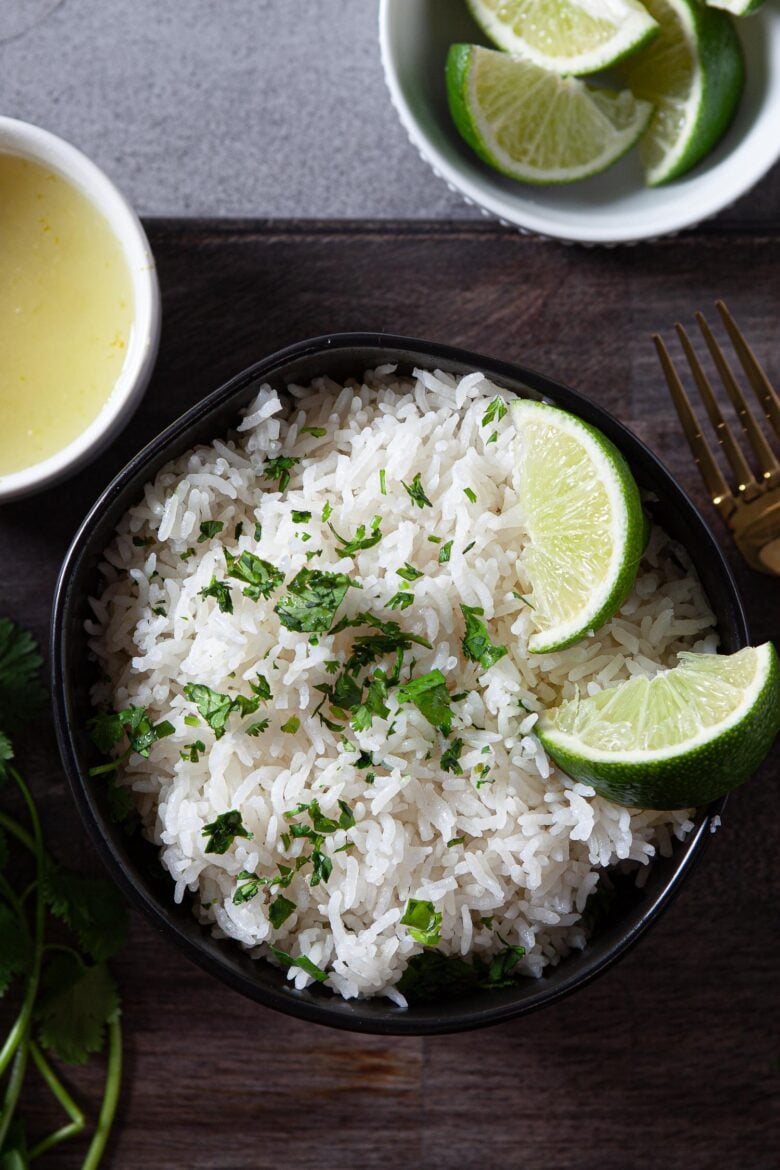 Cilantro Lime Rice
We love rice as an easy, healthy starch to add to quick weeknight meals, but sometimes you want a bit of extra flavor in your rice. That's why we can't get enough of dishes like Mexican Rice and Rice Pilaf that still use this delicious kitchen staple, but amps up the flavors.
Cilantro Lime Rice is one of these simple variations that make it impossible to get bored with rice. The lime and cilantro make this dish super flavorful and bring a light summer freshness. It's the perfect opportunity to put your herb garden to use!
This dish is perfect served with Mexican and Tex-Mex dishes, but also could be added to any weeknight dinner, because it's so easy to make.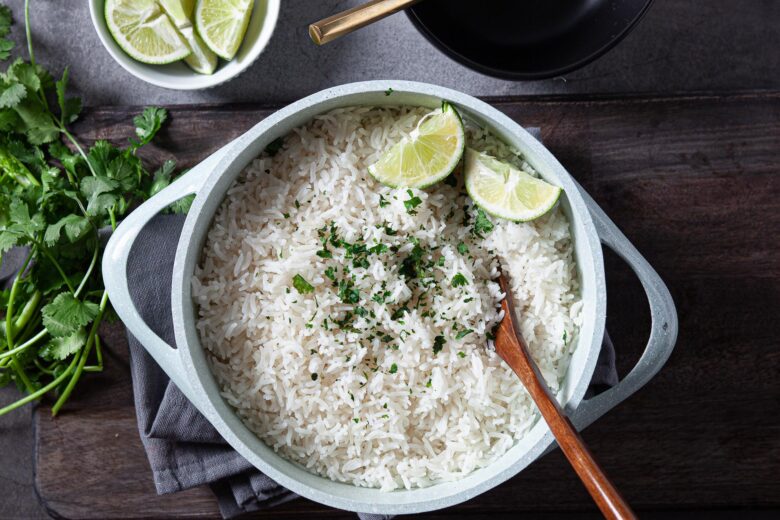 Why This Recipe Stands Out
For those of us that have a serious Chipotle habit, this dish is just as delicious as their cilantro lime rice (I would say even better). It's a great way to enjoy those Tex-Mex flavors while saving money on eating out.
Cilantro Lime Rice is quick to throw together with just 10 minutes of prep time needed.
It's perfect for meal prep. Make a big batch of it and store it in the fridge for the perfect side to any lunch!
This dish is garnished with healthy ingredients. Cilantro is packed full of health benefits and lime boasts high vitamin C. It's a great way to add more nutritional value to your rice.
It's packed with flavor! Not only is the rice garnished with bold, fresh ingredients, but it's also toasted beforehand in butter, garlic, and onion making it an absolutely mouthwatering side.
Key Ingredients
Cilantro – This bold herb boasts a flavor that is unmistakable. It works with the lime to bring those light, summer flavors to this dish while also adding numerous health benefits.
Lime – This vibrant citrus is packed with vitamin C and offers the perfect sour, tart flavor to make this rice stand out.
Salted Butter – Butter truly takes everything to the next level. If you've never toasted your rice before cooking it, you'll be in for a pleasant surprise! Toasting your rice helps give it a more nutty, deep flavor. It will also add that perfect buttery flavor that blends all the ingredients together into one amazing dish.
Garlic – Garlic offers its signature fragrant flavor that complements the cilantro and lime's boldness.
Onion – Sweet and aromatic, sautéed onions balance out the flavors in this dish perfectly.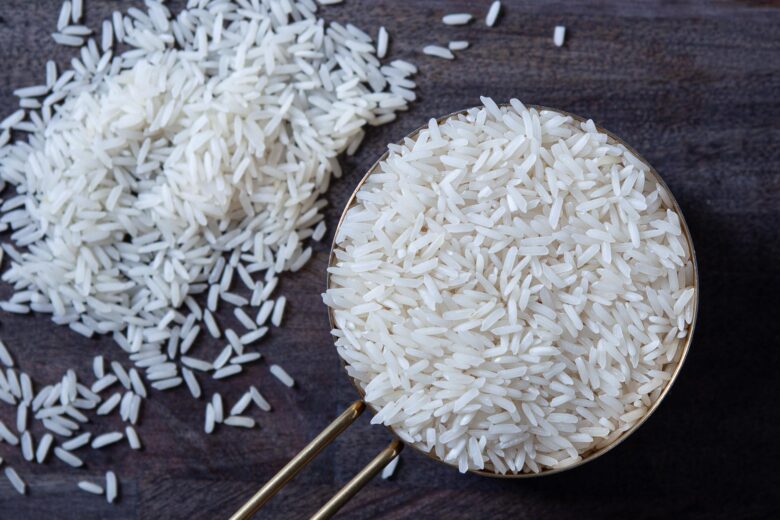 Key Tips For Success
There are a few tips and tricks to help give this rice that coveted better-than-Chipotle status. Take note of these, and you'll have a consistent outcome that you can enjoy any night of the week.
Pay attention to rice. We like using Jasmine rice for this recipe, because of its soft, fluffy texture and quick cooking time. Jasmine rice uses a 1:1 1/2 ratio of rice to water. If you choose to use another variety of rice, the cooking time may be longer and you may need more water, as some varieties of rice use a 1:2 ratio.
Rinse your rice. Always make sure to rinse your rice thoroughly before cooking to clean it and remove excess starch. Just make sure to fully drain and pat it dry before toasting it.
Swap the water with broth. Although this isn't a required step for delicious rice, swapping your water with vegetable, chicken, or bone broth can add extra flavor and boost the health benefits of this rice. Just omit the salt if you choose to do this.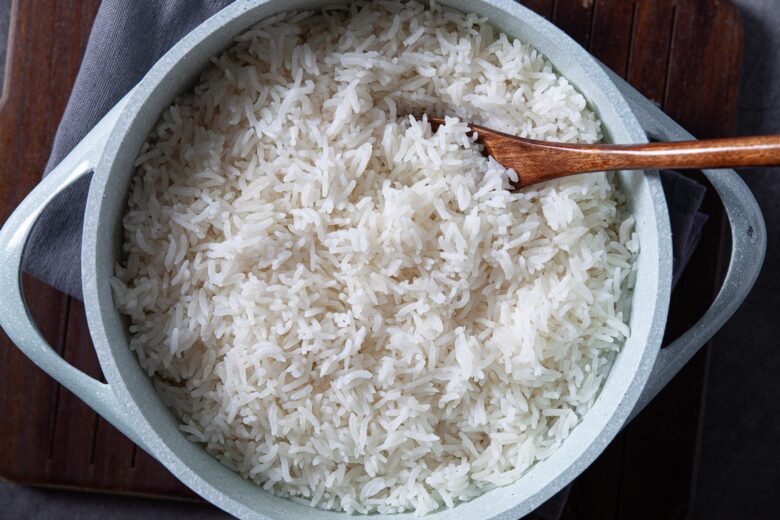 Commonly Asked Questions
Can I use brown rice for this recipe?
You absolutely can! Just note that brown rice will most likely take longer to cook. Follow the package instructions for your rice to determine the amount of water you need and best cooking time.
How long can I keep cilantro lime rice?
You can store this rice in an airtight container in the refrigerator for up to five days. Just try to cool the rice as quickly as possible to prevent bacteria growth. If you want to keep it longer, you can freeze it as well.
Can I use oil instead of butter to toast my rice?
Yes! Although we love the flavor the butter adds to the rice, you can definitely substitute oil if you don't like it or are looking for a vegan option. It still turns out delicious.
Can I adjust the level of lime and cilantro in the rice?
Absolutely. The amount of lime and cilantro can be adjusted according to your taste preferences. If you prefer a stronger citrus flavor, add more lime juice or even some lime zest. Increase or decrease the amount of chopped cilantro, based on your preference.

Can I make cilantro lime rice ahead of time for a party or gathering?
Yes, you can prepare cilantro lime rice a few hours ahead of time, though we recommend no more than 2-3 hours in advance. That way, your rice stays warm and you'll only need to gently reheat it before serving. We do not recommend making this rice the night before, as large portions of rice that has been chilled in the fridge is harder to reheat.
What To Serve With Cilantro Lime Rice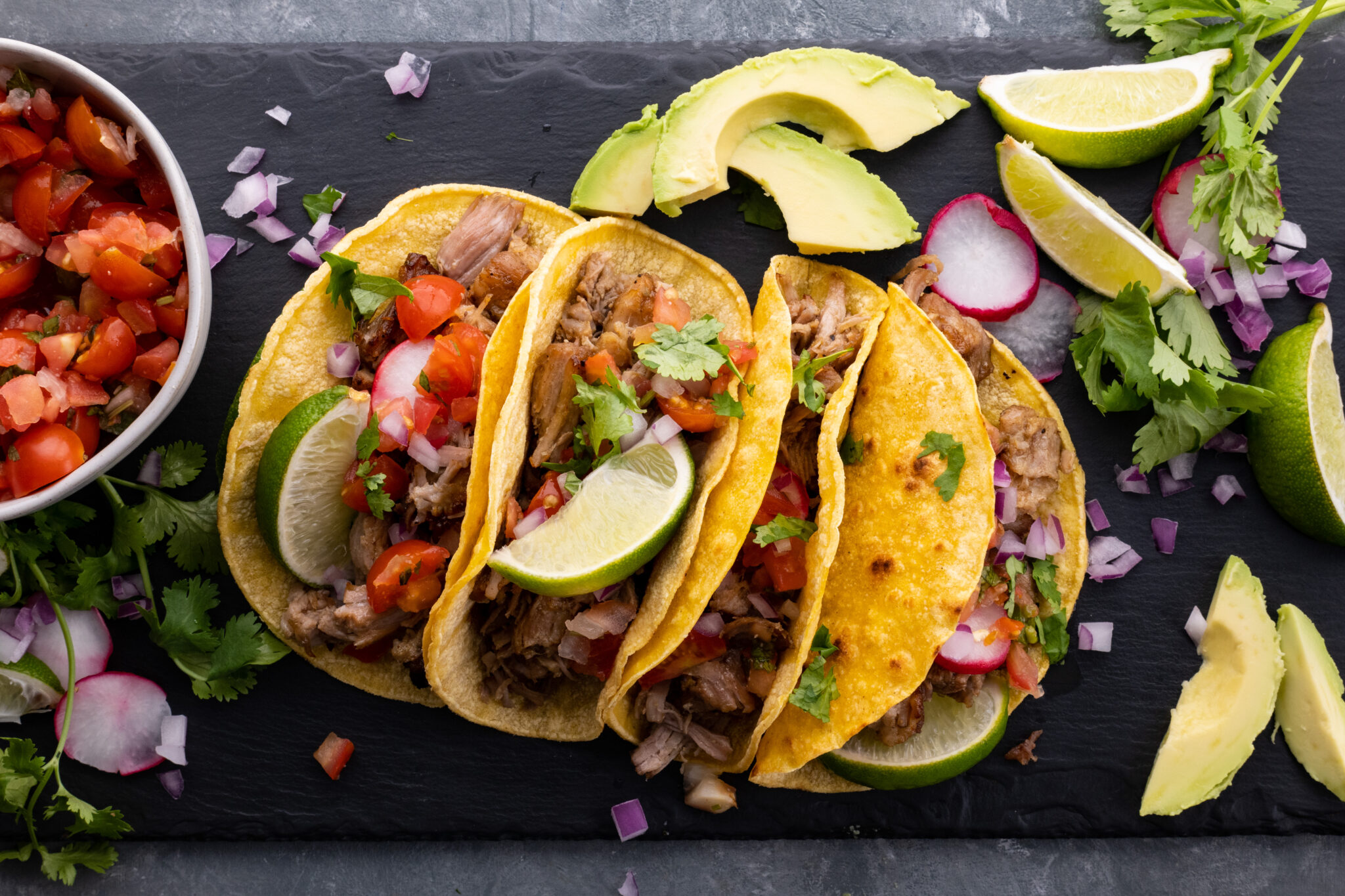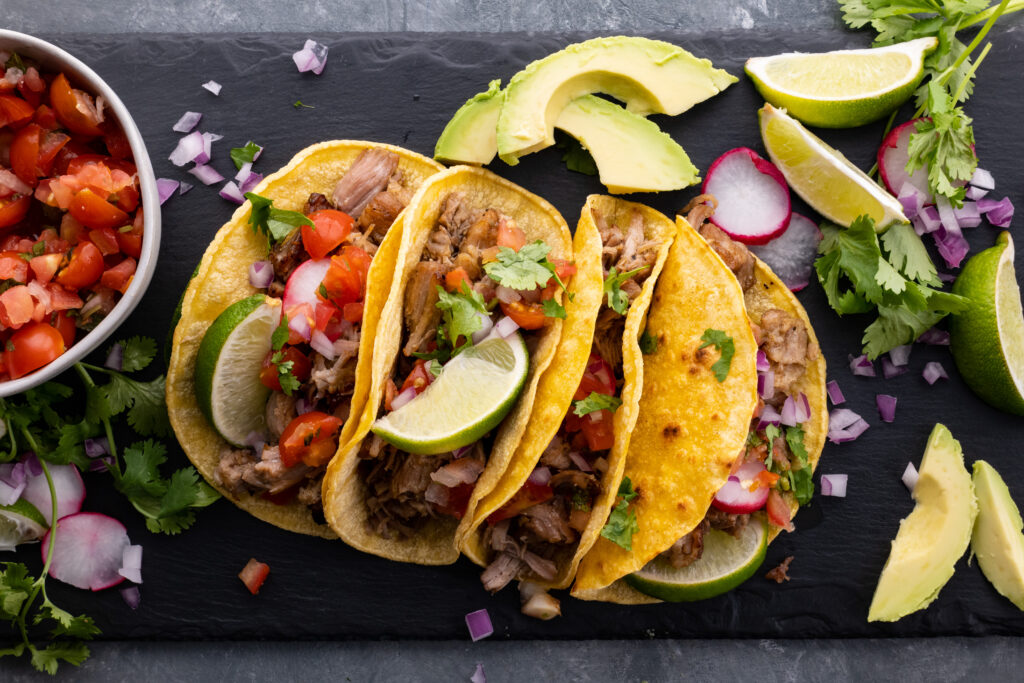 Did you make this?
Please give us a rating and comment below. We love hearing from you!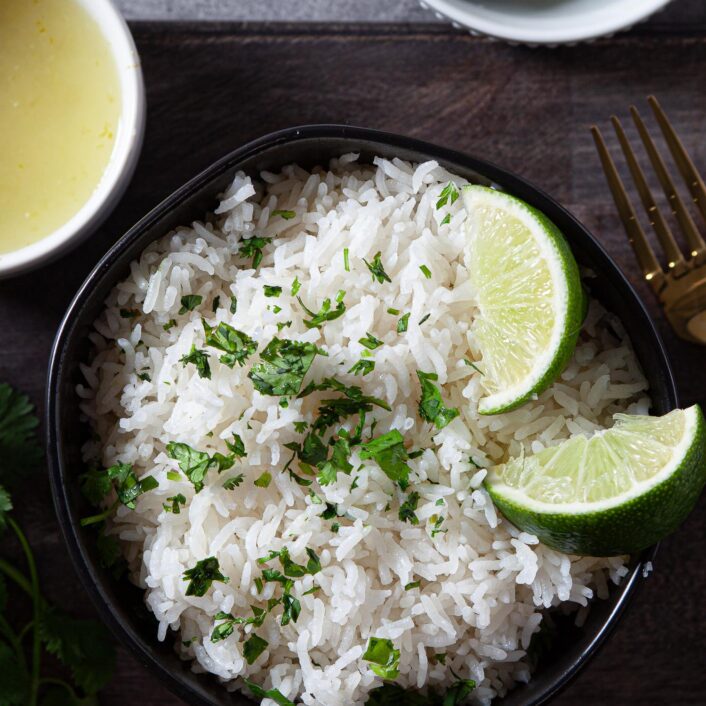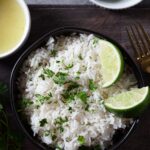 Cilantro Lime Rice
This Cilantro Lime Rice is fresh, vibrant, and perfect for summer! Serve it with your favorite Mexican and Tex-Mex dishes or enjoy it on its own.
Ingredients
For Garnish
Juice of one medium sized lime

⅔

cups

freshly chopped cilantro
Instructions
Heat butter in a large, deep saucepan until bubbly. Add onion and garlic, stirring for 2 minutes.

Add rice and stir 3 minutes. Add appropriate amount of water – check your rice package labeling for specific water to rice ratio for your brand/type of rice.

Bring to a boil and immediately reduce to a simmer. Cover and cook 15 minutes. Without opening lid, turn heat off. Let rest an additional 5 minutes covered.

Fluff rice with fork and sprinkle with lime juice and cilantro. Serve warm.
Notes
We like jasmine rice, which is a 1:1 ½ ratio of rice to water. However, you can use any long grain rice; follow package instructions for rice to water ratio.
You can use vegetable, chicken, or beef broth instead of rice. If you do this, skip the added salt.
Check out our favorite Mexican and Tex-Mex dishes to serve this rice with.
If you enjoyed this recipe, please come back and give it a rating ❤️
Nutrition (per serving)
Serving:
1
serving
|
Calories:
264
kcal
|
Carbohydrates:
51
g
|
Protein:
5
g
|
Fat:
4
g
|
Saturated Fat:
3
g
|
Polyunsaturated Fat:
0.3
g
|
Monounsaturated Fat:
1
g
|
Trans Fat:
0.2
g
|
Cholesterol:
10
mg
|
Sodium:
518
mg
|
Potassium:
90
mg
|
Fiber:
1
g
|
Sugar:
0.4
g
|
Vitamin A:
117
IU
|
Vitamin C:
1
mg
|
Calcium:
24
mg
|
Iron:
1
mg