Healthy Creamy Lemon Dill Chicken Recipe
By Amy Dong
Published May. 29, 2018
Updated Aug. 17, 2022
You can have this Healthy Creamy Lemon Dill Chicken on the dinner table in 30 minutes. The tasty lemon dill sauce brings deliciously bright flavors to this light chicken recipe!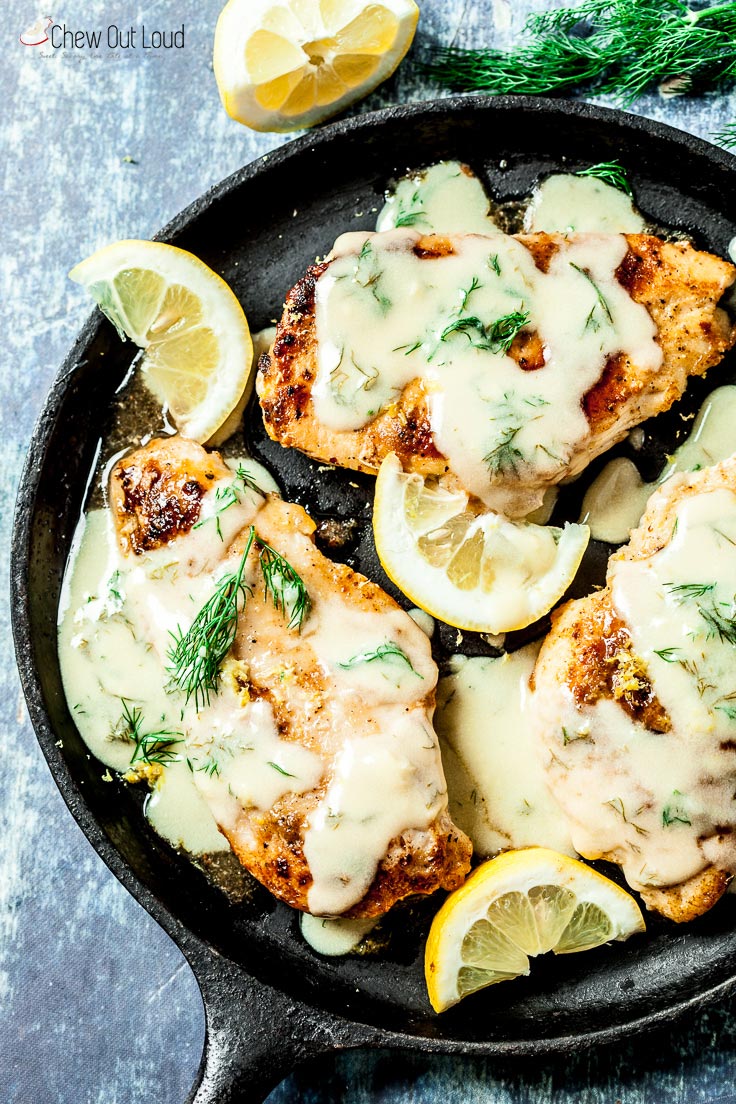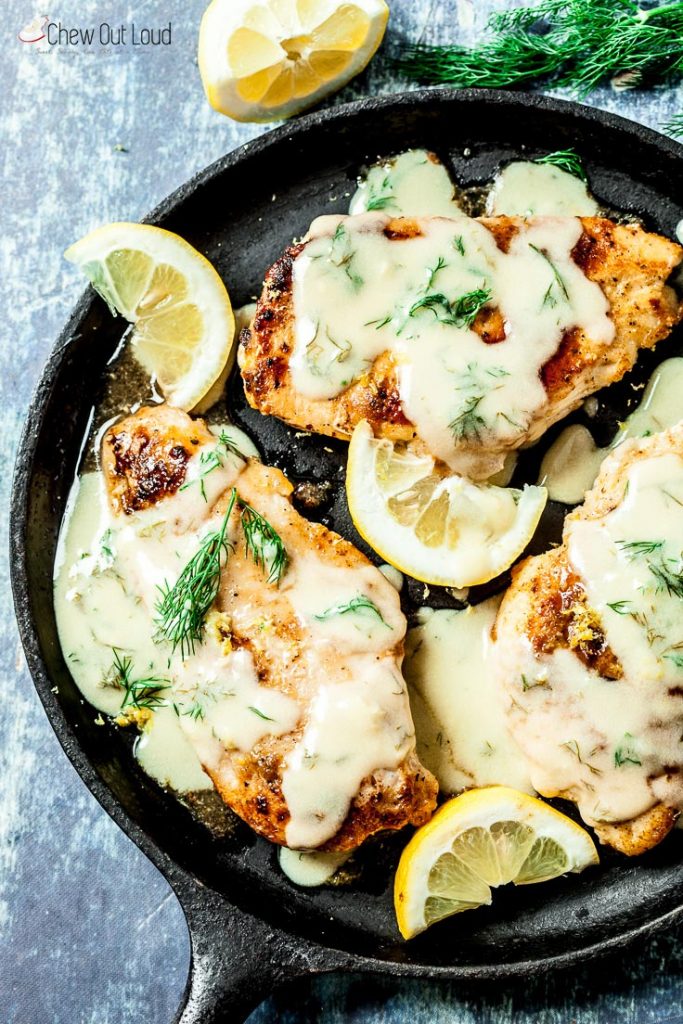 Skillet Chicken Done Right
It's no secret. If there's one faithful, trusty dish that can be counted on all year round, it's skillet chicken done right.
Well-seasoned, tender chicken breasts cooked in a pan to golden brown perfection is bona fide legit. It's one of my favorite weeknight dinner scenes, as it's healthy and delish and can be served in a myriad of ways.
Shining example: this Healthy Creamy Lemon Dill Chicken recipe is an incredibly easy, quick way to add intense yumminess to your skillet chicken.
This creamy yet healthy lemon dill sauce is perfect for spring/summer months, but since we can get both lemon and dill at most stores throughout the year, we don't put borders around this delectable sauce. This lemon dill chicken recipe is one of those allegiant meals that quickly goes into dinner rotation.
You may be astonished that this creamy lemon dill sauce requires no cream at all…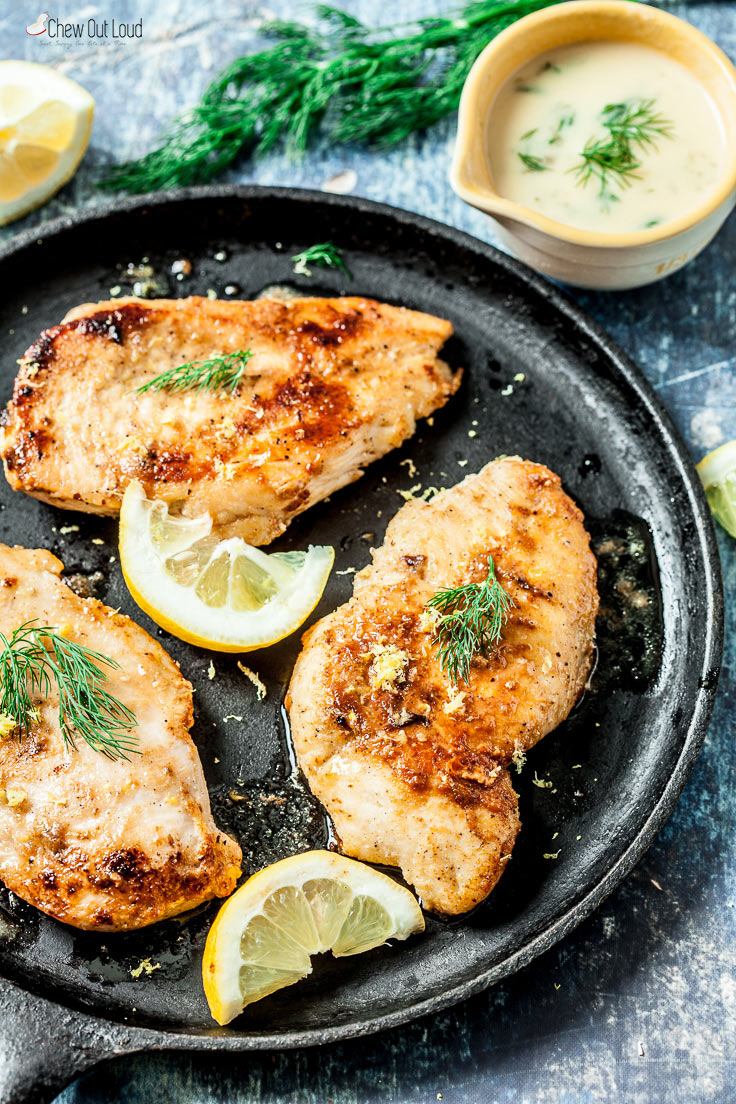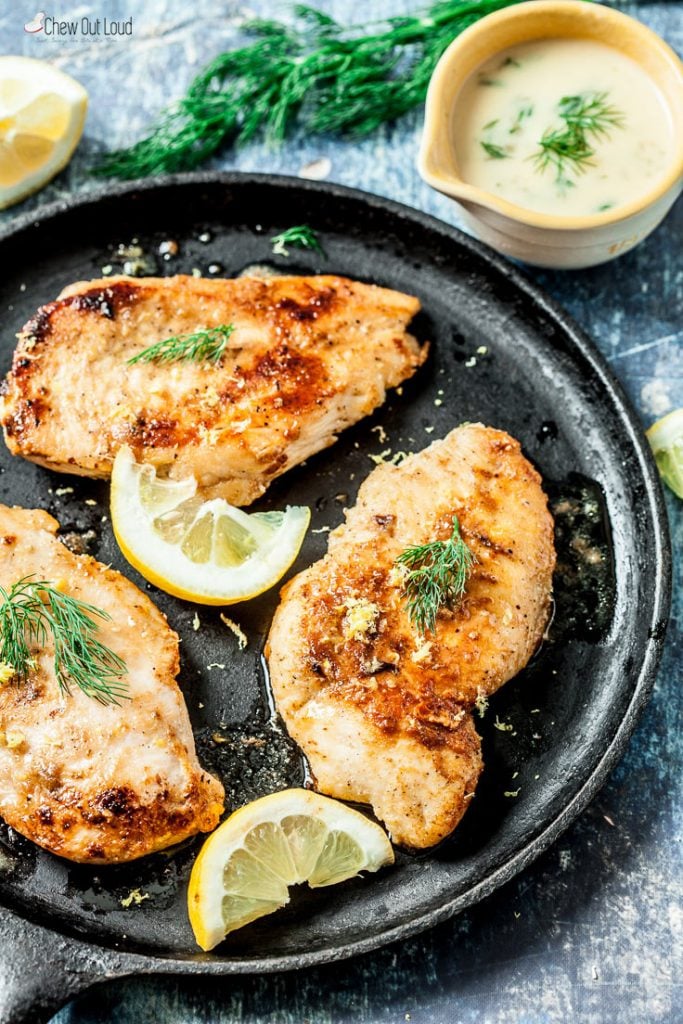 How to cook chicken in a pan perfectly:
Always thoroughly dry the chicken pieces. Even if it makes you use up several paper towels, please do this. The excess moisture on raw chicken is what often prevents it from gaining that golden brown exterior that everyone loves. So be sure to start off with towel-dried chicken pieces.
Generously season both sides of chicken. Sometimes home cooks are afraid to season much prior to cooking, but a nice sprinkling of kosher salt, freshly ground black pepper, and garlic powder will do wonders for your pan cooked chicken.
And the biggest taboo: overcooking the chicken. The goal is to brown the chicken on both sides, without overcooking to the point of losing tenderness in the chicken breasts. Chicken breasts can easily overcook; it definitely shouldn't reach over 165F at the thickest center.
I usually keep the heat at medium-high, with a lid that's covering about 3/4 of the pan (leave lid slightly open to allow steam to escape.) Typically, I pan fry my chicken breasts 3-4 minutes per side. The thickness and temp of your chicken will determine how long it needs to cook.
P.S. If you choose to use boneless, skinless chicken thighs instead, it's much more forgiving in terms of cook time.

healthy creamy lemon dill sauce (Without Cream)
Lemon dill sauce sounds way more involved than it really is. It's actually super easy and comes together in mere minutes.
We simply combine the sauce ingredients and let it boil until reduced by half. That's it. Really and truly it. Now all that's left is to drizzle, dribble, and pour that luscious sauce over the chicken.
This whole situation is amazing with Instant Pot Parmesan Lemon Risotto and 20-Minute Lemon Spinach Orzo Salad.
You'll Probably Like This Recipe, Too:
Did you make this?
Please give us a rating and comment below. We love hearing from you!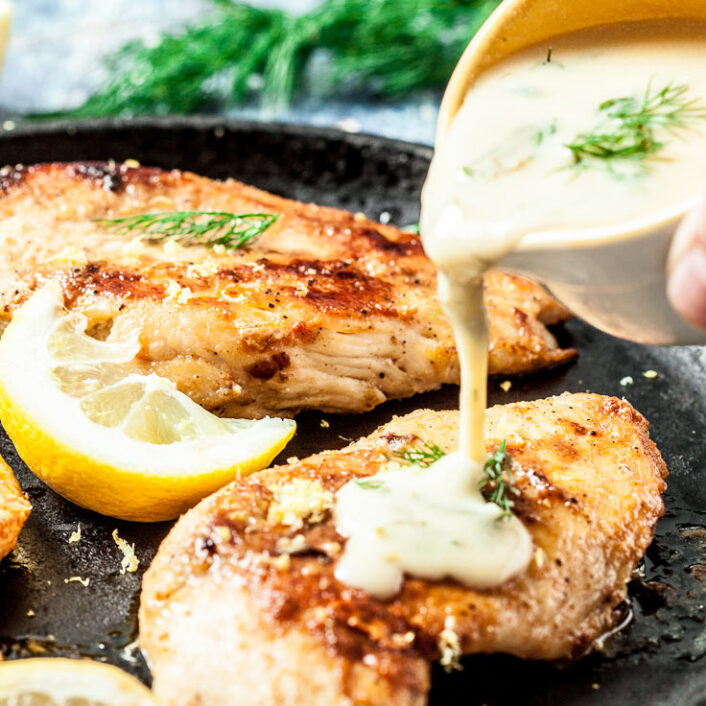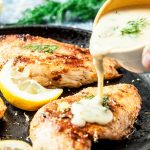 Healthy Creamy Lemon Dill Chicken Recipe
You can have this Healthy Creamy Lemon Dill Chicken on the dinner table in 20 minutes. The tasty lemon dill sauce brings deliciously bright flavors to this light chicken recipe!
Ingredients
For Lemon Dill Sauce:
1

cup

regular chicken broth

1

cup

milk

,

whole or 2%

2

TB

freshly squeezed lemon juice

1

TB

flour

1

TB

salted butter

3

TB

freshly cut dill leaves

Garnish: lemon zest and lemon slices
Instructions
Use paper towels to thoroughly dry chicken pieces, ensuring all excess moisture is removed. Set aside.

In a small bowl, combine kosher salt, garlic powder, onion powder, and black pepper to form seasoning mixture. Evenly sprinkle seasoning over both sides of each chicken breast, pressing in to adhere mixture.

Heat olive oil in a large skillet over medium high heat. When oil is hot, add chicken, taking care not to overcrowd. Cover skillet, leaving about a quarter of pan uncovered, to allow steam to escape. Cook until chicken is browned on both sides and center is no longer pink, no more than 165F internal temp for thickest center portions (approx 3-4 min per side, depending on thickness and starting temp of your chicken) Transfer cooked chicken to separate plate and keep warm.

In a bowl, gently whisk together the lemon dill sauce ingredients until well incorporated. Pour sauce into same skillet (now empty) and constantly stir over medium-high heat, uncovered, until reduced by half (about 5 min.) You should end up with about 1 cup of sauce.

Pour sauce over chicken and serve with garnish, if desired.
Nutrition (per serving)
Calories:
274
kcal
|
Carbohydrates:
7
g
|
Protein:
27
g
|
Fat:
15
g
|
Saturated Fat:
5
g
|
Polyunsaturated Fat:
1
g
|
Monounsaturated Fat:
7
g
|
Trans Fat:
0.1
g
|
Cholesterol:
88
mg
|
Sodium:
1005
mg
|
Potassium:
553
mg
|
Fiber:
0.4
g
|
Sugar:
4
g
|
Vitamin A:
246
IU
|
Vitamin C:
5
mg
|
Calcium:
94
mg
|
Iron:
1
mg
Kitchen Stuff We Love:
Savory Lemon Dishes: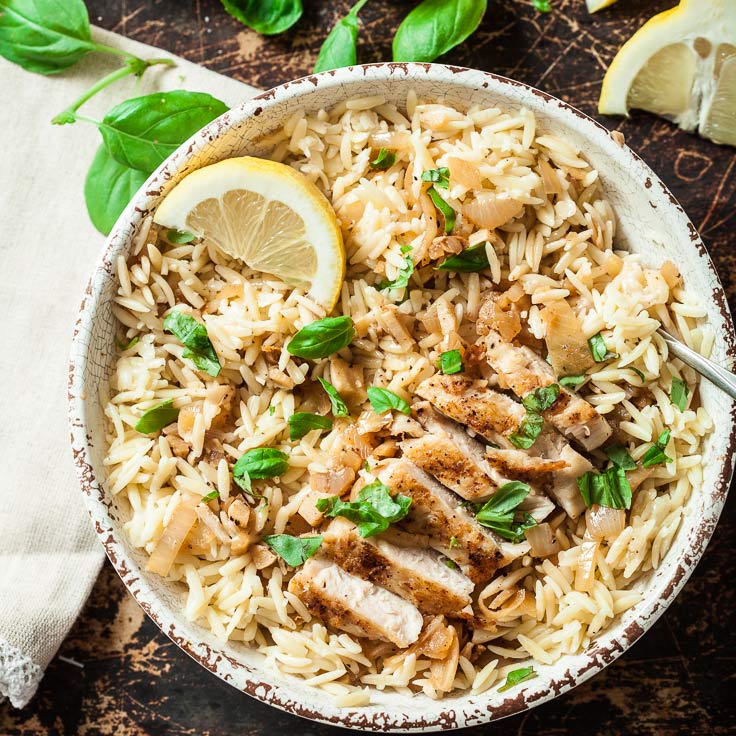 Skillet Shrimp Scampi Pasta with Lemon and Basil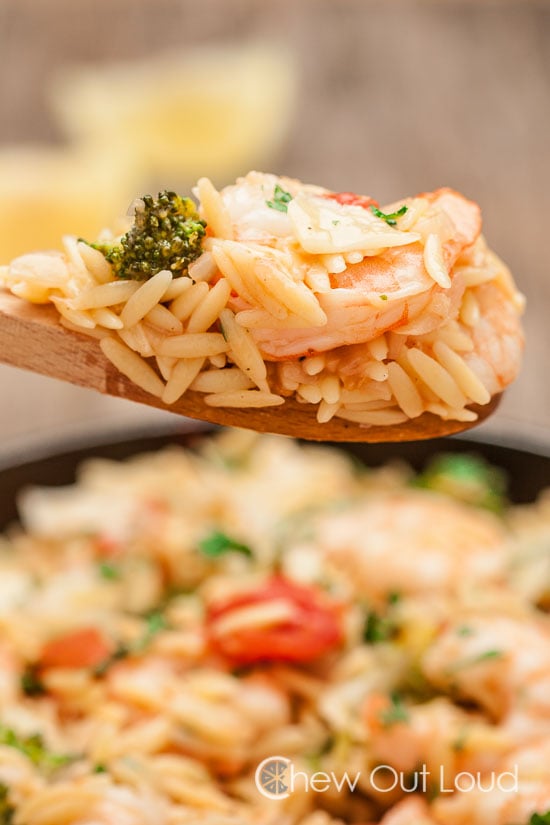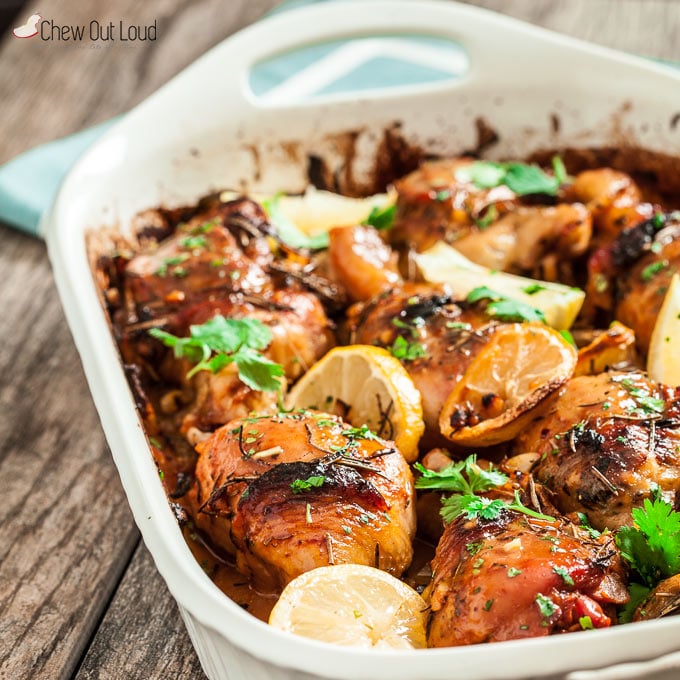 Mussels in Lemon Butter Wine Sauce