Roasted Brussels Sprouts with Honey Sriracha
By Amy Dong
Published Jan. 15, 2019
Updated Aug. 17, 2022
Honey Sriracha Roasted Brussels Sprouts are unbelievably easy, healthy, and packed with yummy flavor. Whenever these roasted Brussels Sprouts are on the dinner table, they disappear fast.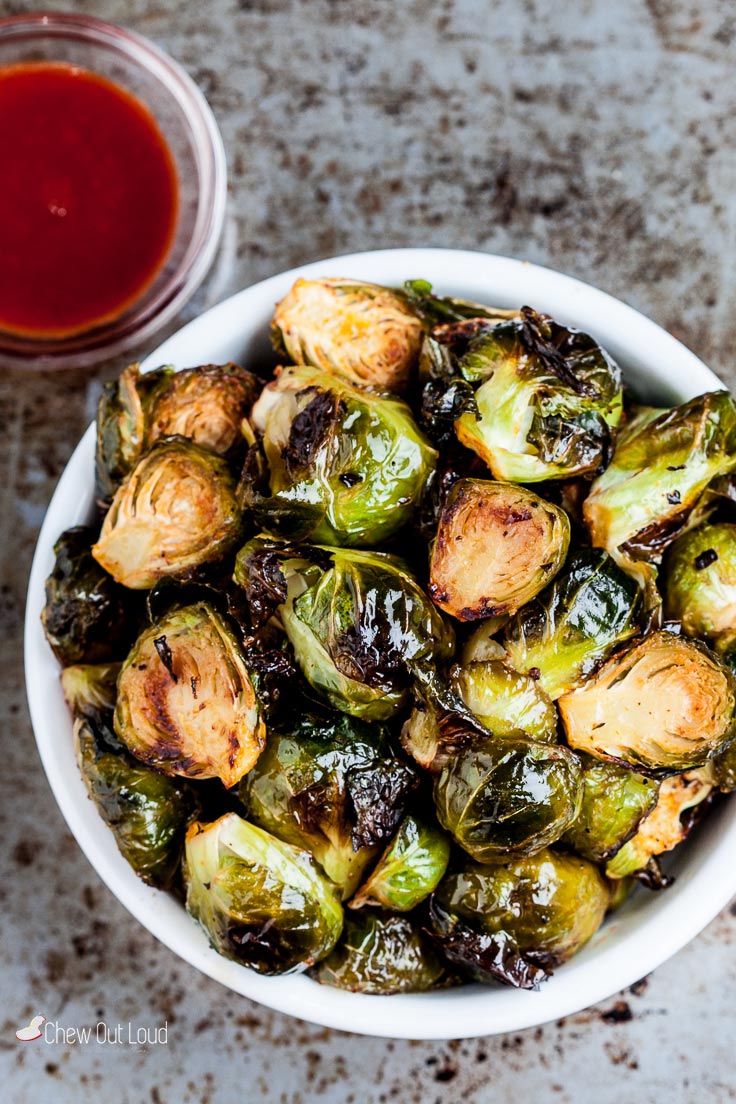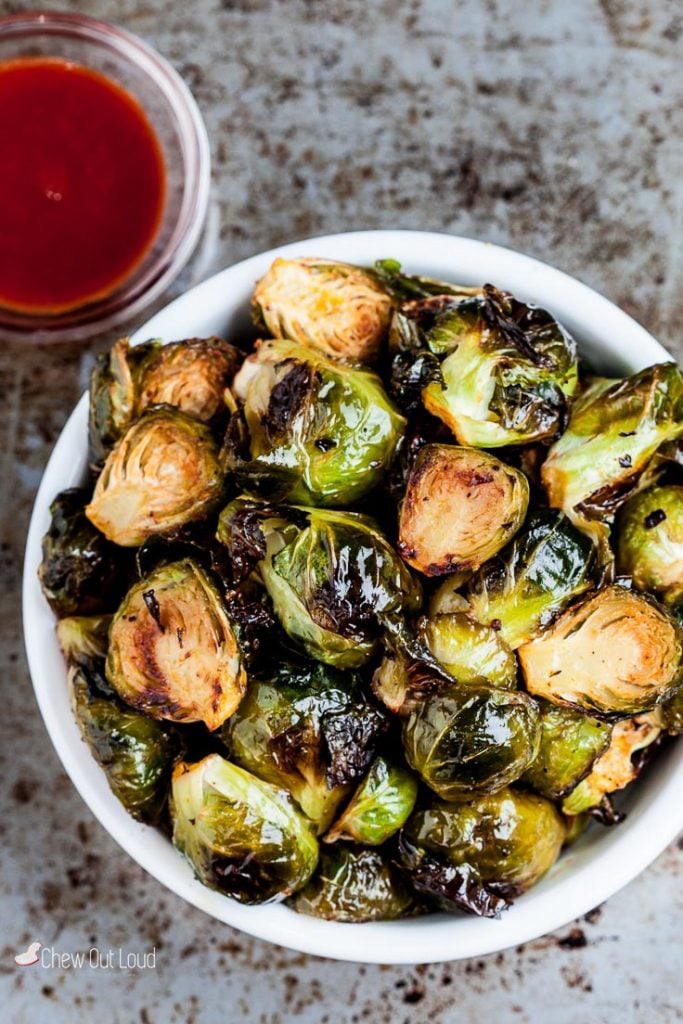 Brussels Sprouts that are actually delicious
Brussels sprouts. So, they may not be the first thing that comes to your mind when you're asked about something tempting or tantalizing. Admittedly, that space might be ruled by these tempting chewy fudge-y brownies.
But when roasted Brussels sprouts comes in to the picture, it changes the scenario a bit. Once you add both honey and Sriracha into the roasted Brussels sprout deal, it evens out the playing field.
At the very least, we can enjoy a chewy brownie after a plate of sweet 'n spicy Brussels sprouts. That would be like the epitome of balance in my mind. The combination of honey and Sriracha makes this roasted vegetable almost as irresistible as chocolate. Anyone who digs sweet 'n spicy flavors will likely agree.
Even the kids can't stop popping these sprouts into their mouths, and I'm not about to interfere with that…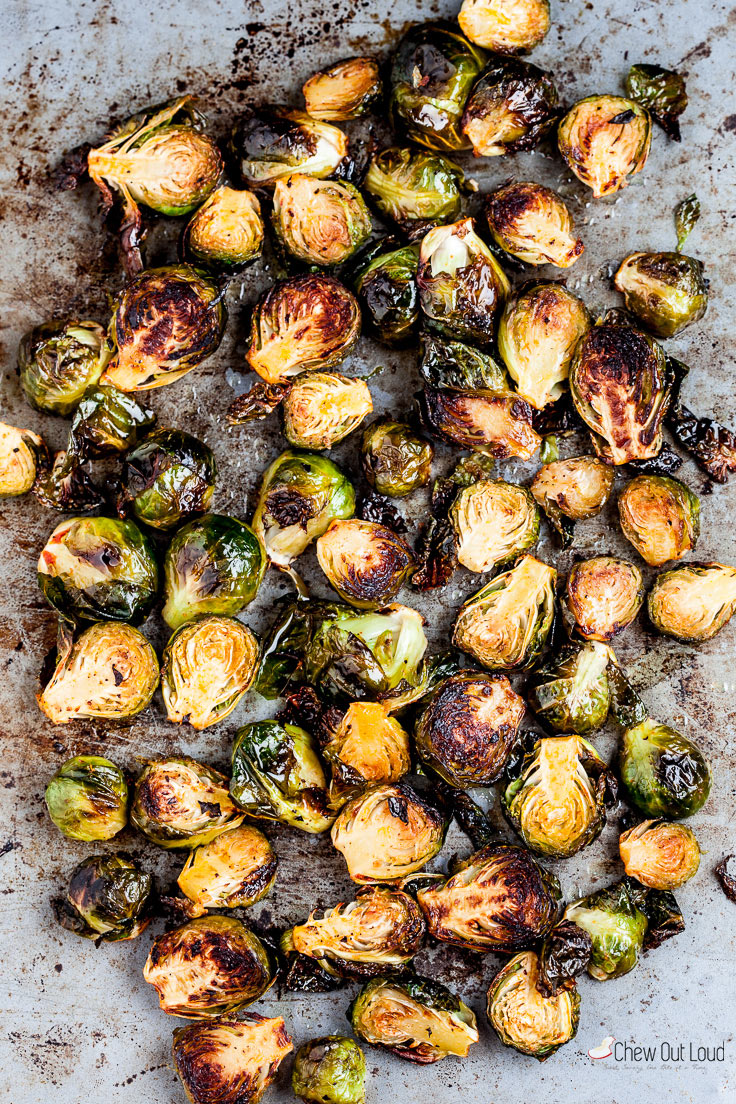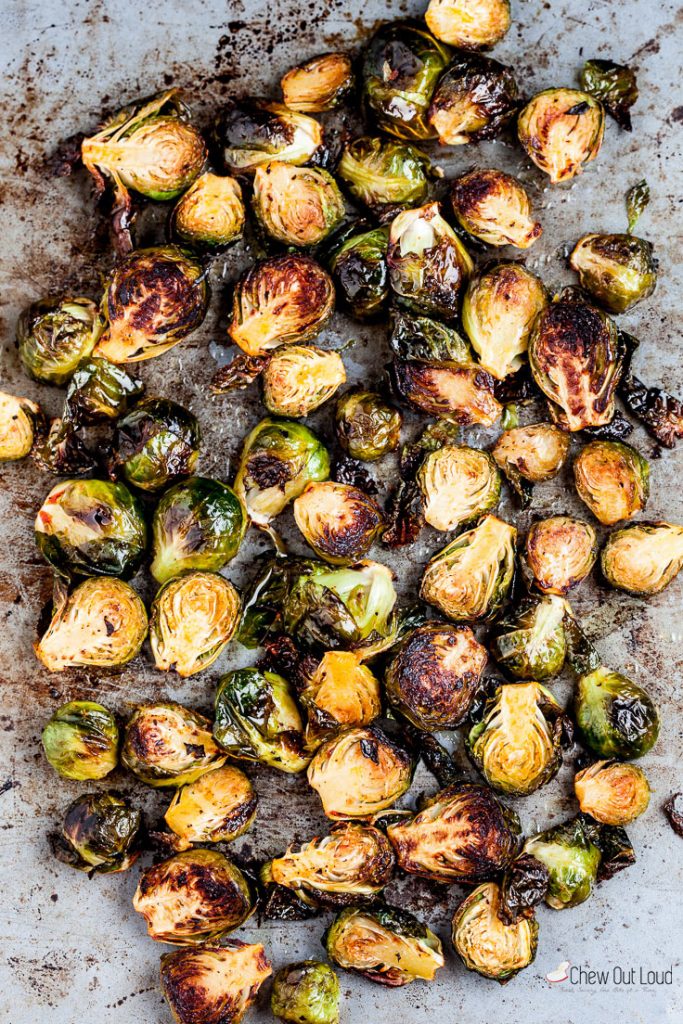 Ingredients for Honey Sriracha Roasted Brussels Sprouts
Brussels Sprouts: Get the freshest sprouts you can find. The super fresh ones that are still on a stalk are always fun to use. For ease, I often use the fresh pre-bagged sprouts. Slice them in half for ultimate flavor absorption and less cooking time.
Olive Oil: Don't be shy here. You'll want a good 4 TB of olive oil to prevent the veggies from drying out during roasting.
Pure Honey: Use your favorite honey. I use pure raw honey. We use 2 TB honey to give roasted Brussels sprouts a golden sweetness that's irresistible.
Sriracha: This is the boss of all sauces for many reasons, including these roasted brussels sprouts. Just 1-2 tsp Sriracha lends just the right amount of tang and kick to this dish. We clearly love Sriracha in Honey Sriracha Buffalo Chicken Wings (Crispy Baked!) and Healthy Poke Bowls (with Sriracha Mayo).
Fresh Lime: Don't go the bottled lime route, if you can help it. You'll get a delicious, aromatic tang with 1 TB of freshly squeezed lime juice.
Garlic: We opt for garlic powder in lieu of minced fresh garlic, as minced/chopped garlic tends to burn easily during roasting. You won't have to worry about that with garlic powder.
How to Roast Brussels Sprouts
Generally, we roast hearty vegetables at 400F in the oven, on upper middle rack. That allows our Brussels sprouts to roast up nicely, with those little charred bits everyone loves.
Line your baking sheet with foil. This makes clean up a breeze. Toss your sprouts with the seasonings and bake for 20-25 minutes, just until edges start to get that crispy roasted look.
Feel free to have extra Sriracha on hand for the die hards. It seems everyone knows someone who is massively crazy about Sriracha.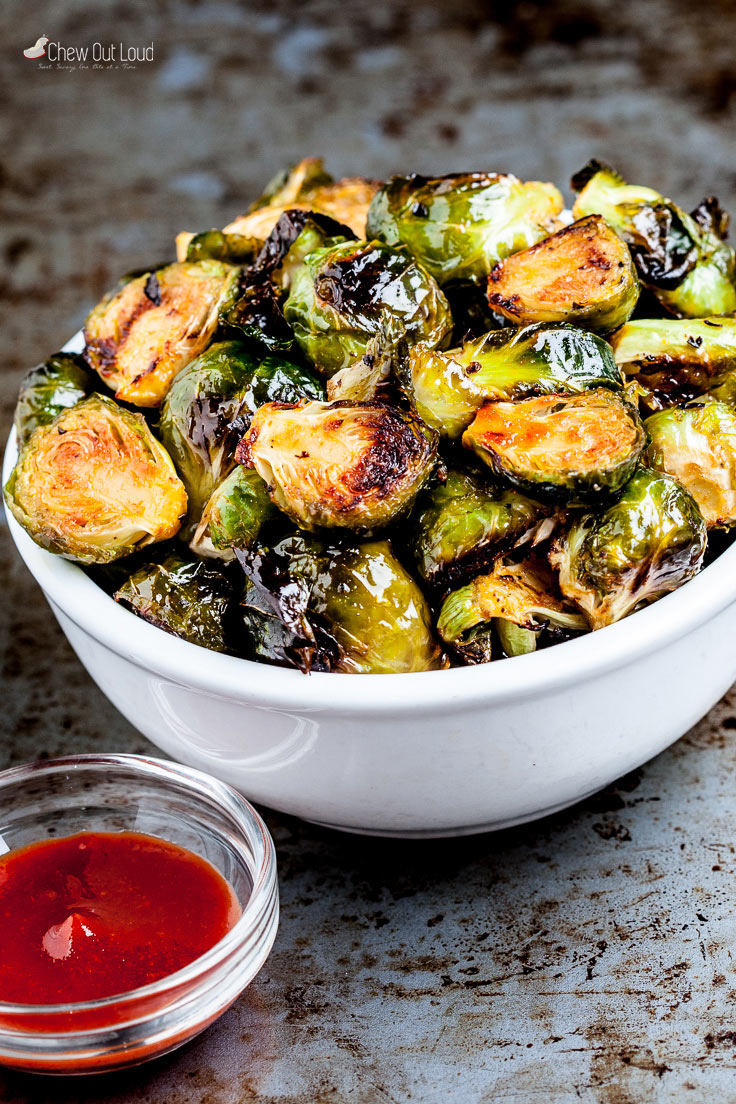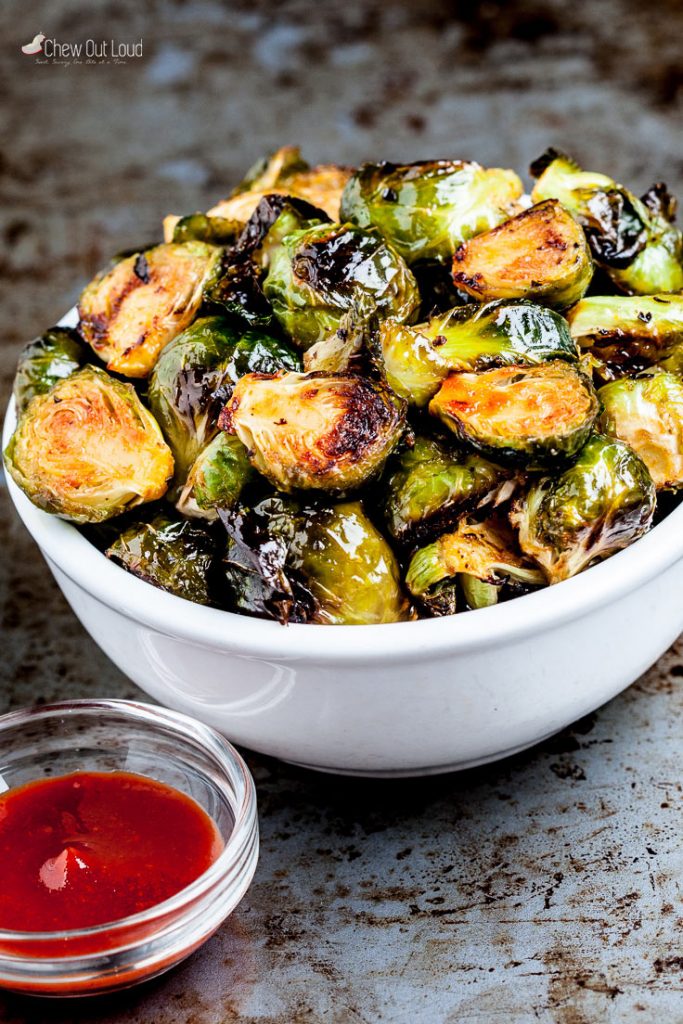 Why we Love Honey Sriracha Brussels Sprouts
They're loaded with the deliciousness of sweet honey, tangy lime, and kicky Sriracha
They make you feel like a health rockstar
It takes mere minutes to have roasted brussels sprouts roasted and ready to eat
These sprouts go well with almost any main dish
Sriracha. That's all.
Did you make this?
Please give us a rating and comment below. We love hearing from you!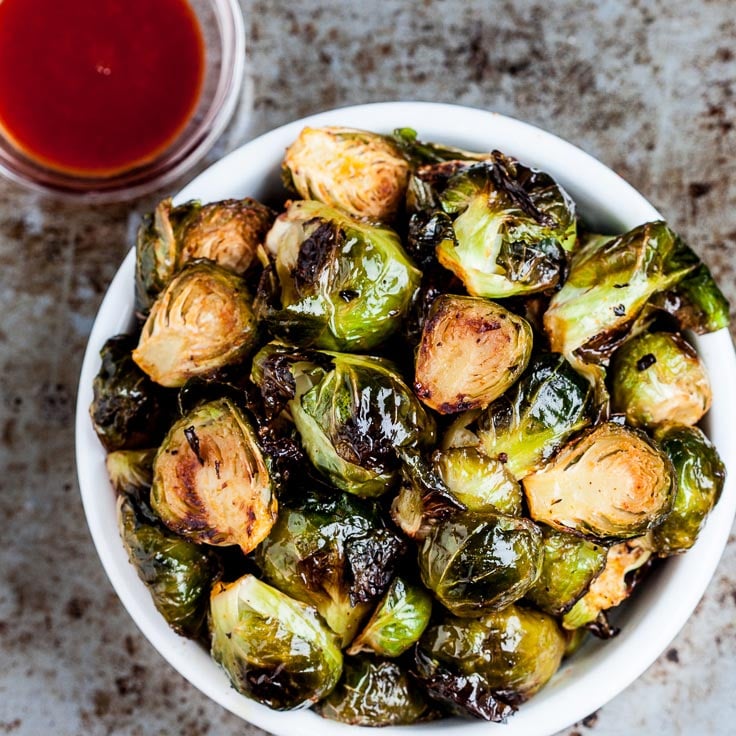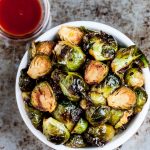 Roasted Brussels Sprouts Recipe (Honey Sriracha)
Honey Sriracha Roasted Brussels Sprouts are unbelievably easy, healthy, and packed with yummy flavor. Whenever these roasted Brussel Sprouts are on the dinner table, they disappear fast.
Instructions
Preheat: Preheat oven to 400F, with rack on upper middle position. Line a large rimmed baking sheet with foil. Set aside.

Combine: In a large bowl, combine all ingredients except for Brussels sprouts. Add Brussels sprouts and thoroughly coat well. Use rubber spatula to transfer veggies and scrape all sauce mixture onto foil lined baking sheet. Arrange Brussels sprouts in single layer; do not overcrowd, as they need a bit of room to ensure even roasting.

Cook: Bake 20-25 minutes or just until edges start getting darkened and crisp; watch carefully those last couple of minutes so your veggies don't burn. Serve immediately, with extra Sriracha on the side.
Notes
If you enjoyed this recipe, please come back and give it a rating
Nutrition (per serving)
Calories:
136
kcal
|
Carbohydrates:
13.2
g
|
Protein:
2.6
g
|
Fat:
9.6
g
|
Saturated Fat:
1.4
g
|
Sodium:
345.3
mg
|
Fiber:
2.9
g
|
Sugar:
7.6
g
Sheet Pan Recipes to Try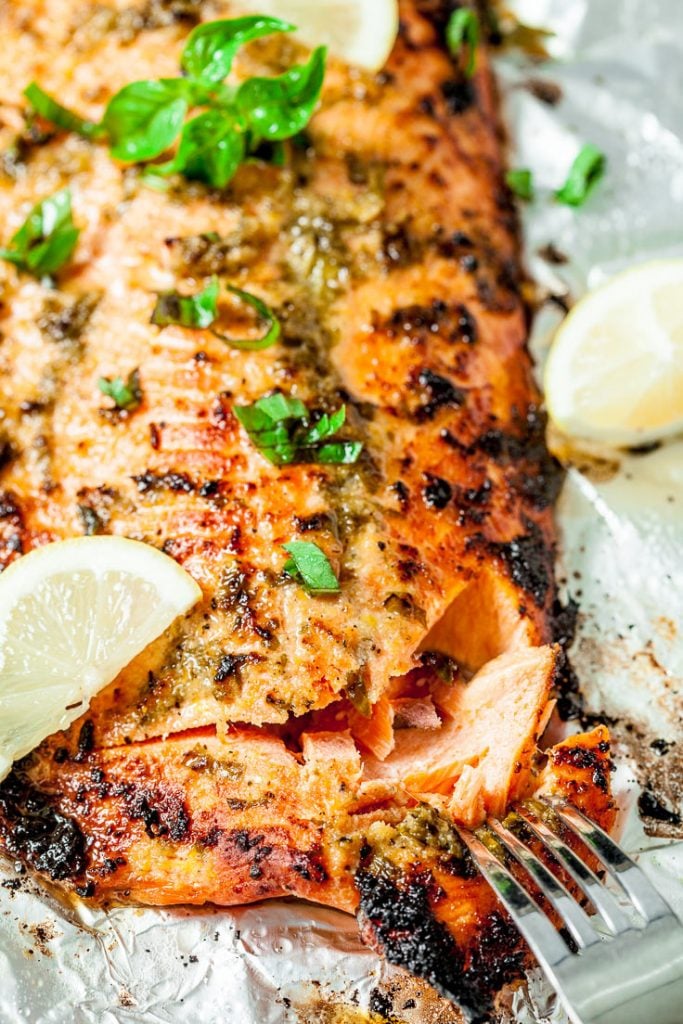 Sheet Pan Roasted Greek Chicken with Garlic Potatoes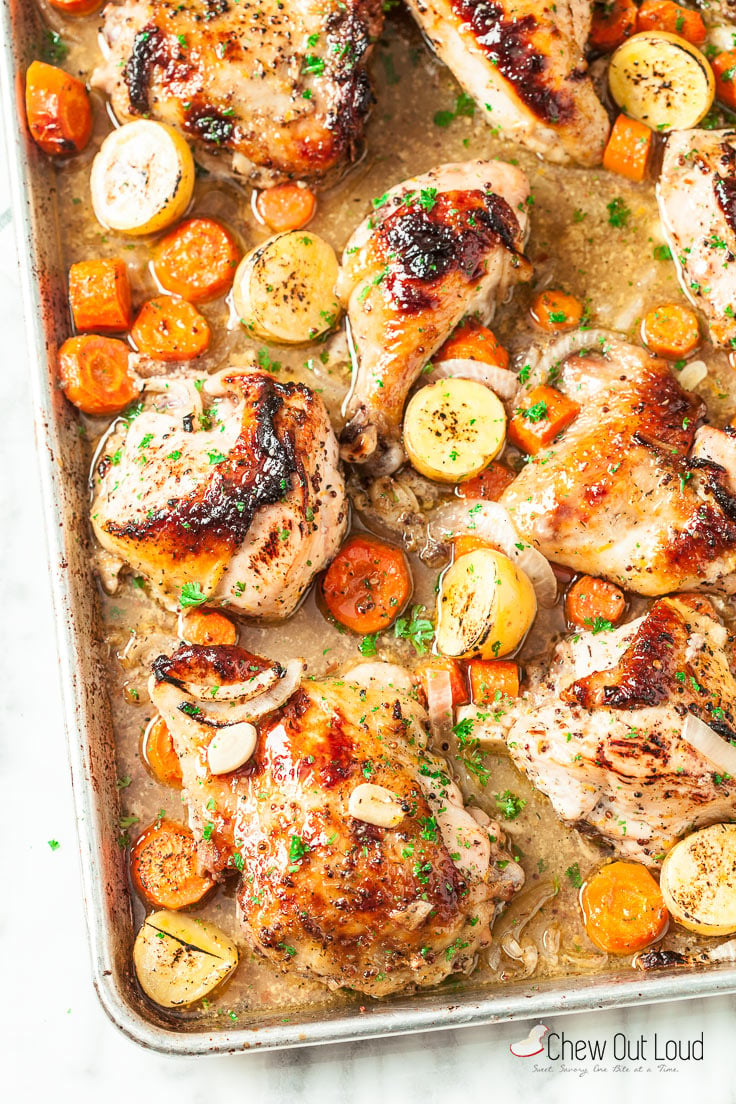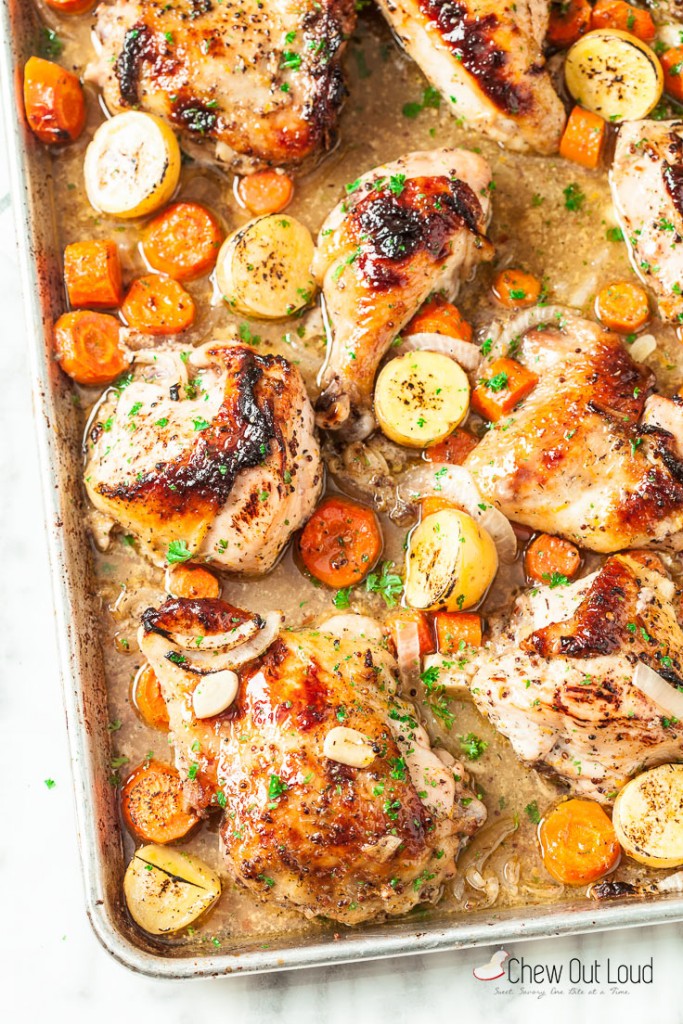 Sheet Pan Roast Pork Tenderloin with Potatoes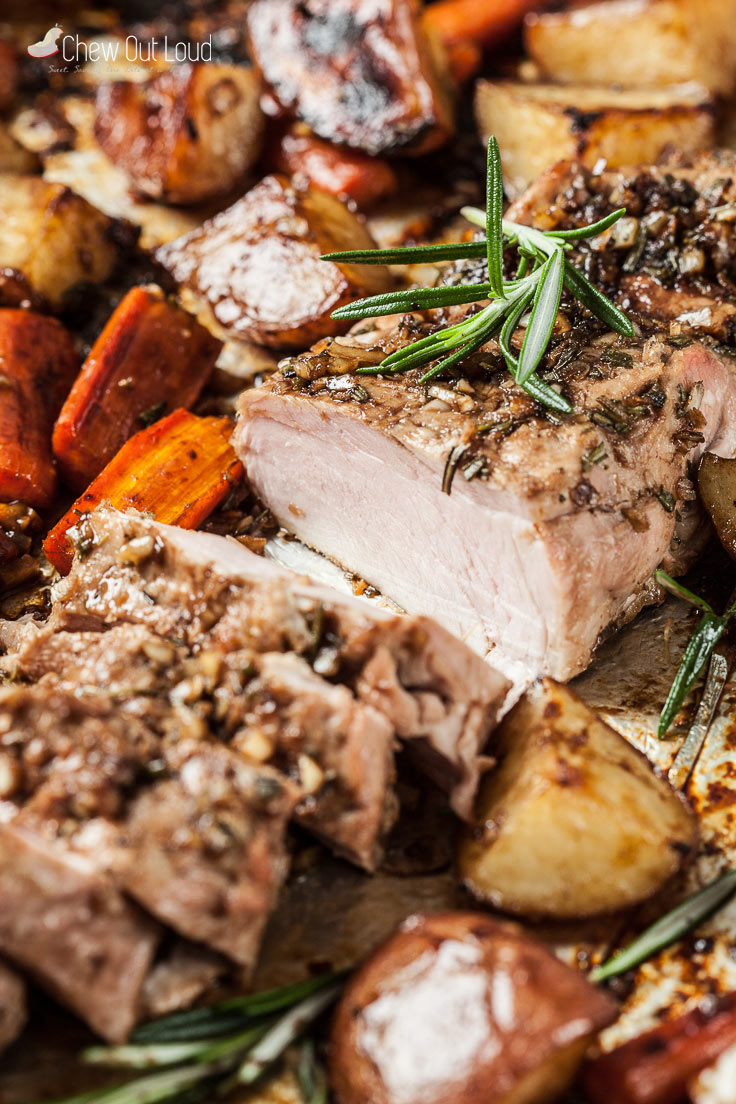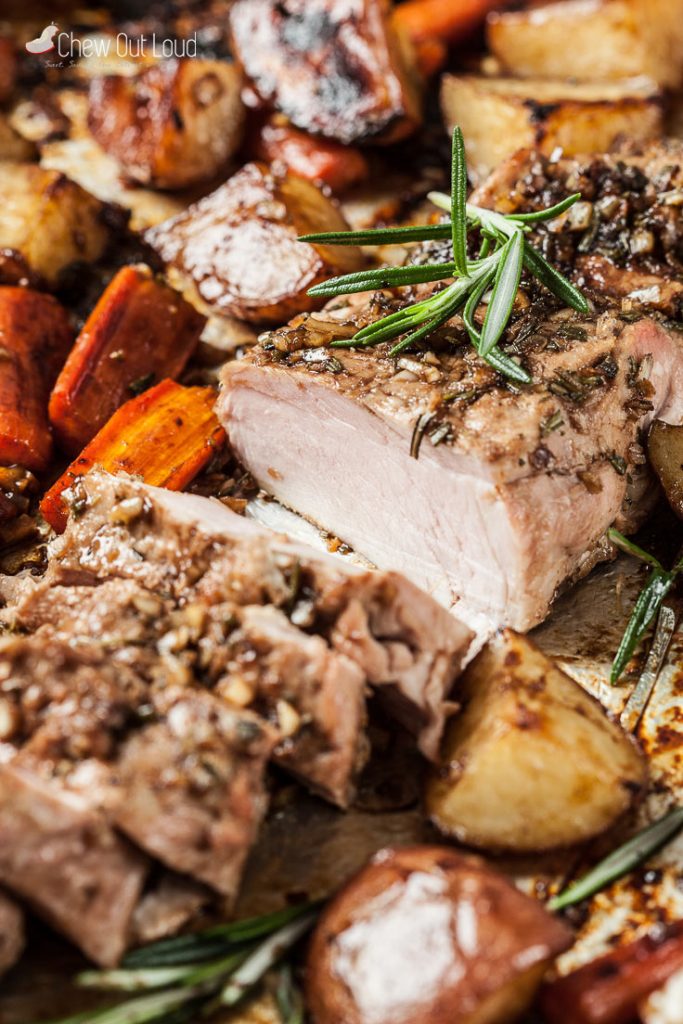 Best Easy Roasted Vegetables Recipe