The wild winters of Minnesota have toughened me up like no other place I've ever lived.
Then again, I've only lived in Southern California all my life prior to this, so I guess I had it coming.
I would never have imagined being elated at the anticipation of the great outdoors climbing above zero degrees. I feel quite hardy after making it through several winters (around here, it's normal to count how many winters one has survived.)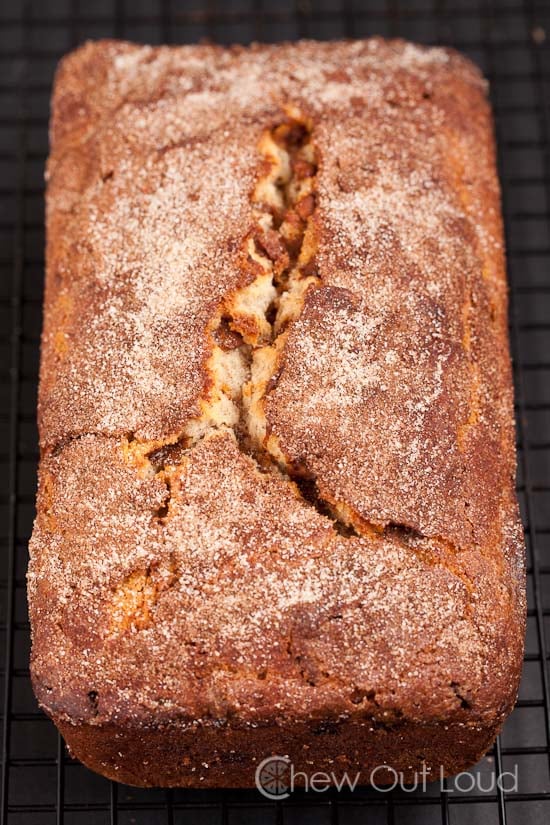 Despite my aversion to cold weather, I do love the opportunities it affords me to stay in and bake to my heart's content.
When the boys and Hubby come home to the smell of cinnamon, spices, and sweetness… they know it's gotta be something really good.
It's gotta be something really worth throwing off their coats and boots (where I'll later find strewn all over floor) and running into the kitchen, begging for a taste of what's not even finished baking yet.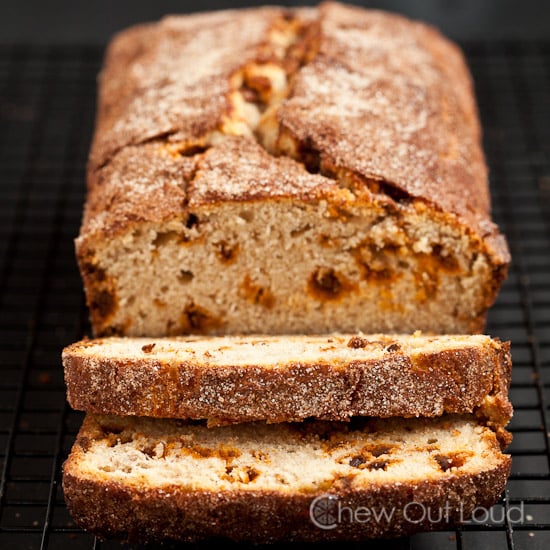 Snickerdoodle bread. A quick bread that is cinnamon-loaded, perfectly spiced, and dense yet moist.
This is not a light, cakey deal. No, this is a satisfying, rich, moist bread that is perfect for breakfast and a cup of coffee. This snickerdoodle bread is something worth waking up for.
Or, you know, one could also plop a big scoop of vanilla bean ice cream on top of a slice of this…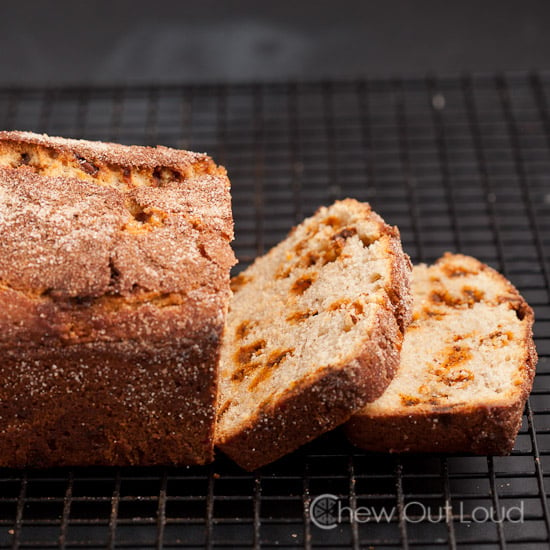 A slice of this cinnamony snickerdoodle bread in the afternoon is the best way to pick up one's mood if one is needing a pick-me-up. I am a one 🙂
Made with wholesome yogurt, this snickerdoodle bread has a perfect balance of sweetness and slight tang, with a crispy, crackly cinnamon-sugar top.
This recipe makes a bit of leftover batter after filling up a loaf pan, so I like making a few extra mini-loaves or muffins to enjoy on the side. (Nobody else needs to know about those.)
Happy baking. Enjoy!
Did you make this?
Please give us a rating and comment below. We love hearing from you!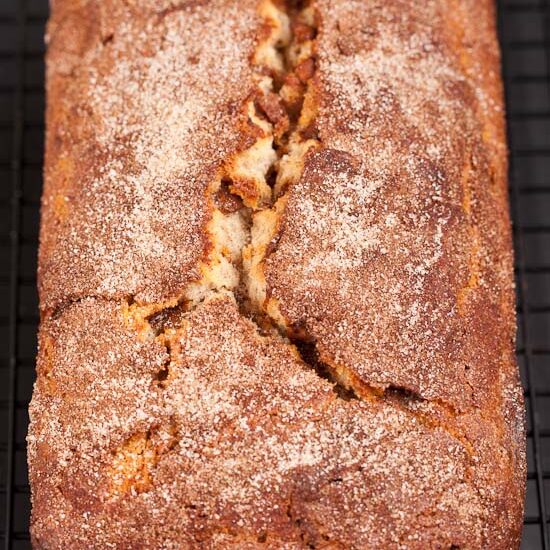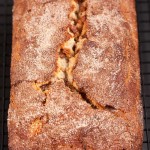 Snickerdoodle Bread
This snickerdoodle bread is rich, dense, moist, and perfectly spiced with cinnamon and fall spices. While the inside is tender, the outside is crispy with cinnamon sugar. Perfect fall/winter quick bread.
Instructions
Preheat oven to 350F. Grease a 9x5 loaf pan for a large loaf, or two 9x5 loaf pans for two smaller loaves.

In a large bowl, whisk together the flour, baking powder, salt, and dry spices. Set aside.

In the bowl of a stand mixer, cream together the butter and sugar until light and fluffy, 2-3 min. Add eggs, and mix well. Add vanilla and yogurt, mixing to incorporated fully. Gradually add dry flour mixture into the batter, folding with rubber spatula until just combined, taking care not to overmix. Gently stir cinnamon chips into the batter.

Grease a 9x5 loaf pan(s). Combine sugar and cinnamon for the topping.

If doing single large loaf, fill with batter leaving 1 inch at the top. Sprinkle evenly with cinnamon-sugar mixture. Bake 60-70 minutes or until toothpick comes out with few tender crumbs attached. There will probably be a bit of leftover batter; you can make muffins (bake about 20 min.) or a few mini loaves and adjust your baking time.

If doing two smaller 9x5 loaves, divide batter between both pans, and adjust bake time (approx. 35-45 min, or until toothpick comes out with tender crumbs attached.)

Allow bread to cool in pans for awhile, and carefully transfer to wire rack to finish cooling.
Nutrition (per serving)
Calories:
632
kcal
|
Carbohydrates:
83
g
|
Protein:
9
g
|
Fat:
30
g
|
Saturated Fat:
18
g
|
Polyunsaturated Fat:
2
g
|
Monounsaturated Fat:
8
g
|
Trans Fat:
1
g
|
Cholesterol:
132
mg
|
Sodium:
354
mg
|
Potassium:
195
mg
|
Fiber:
2
g
|
Sugar:
53
g
|
Vitamin A:
711
IU
|
Vitamin C:
0.3
mg
|
Calcium:
162
mg
|
Iron:
2
mg
Source: Chew Out Loud, adapted from Barbara Bakes
Here's my favorite Chewy Soft Snickerdoodle Cookes: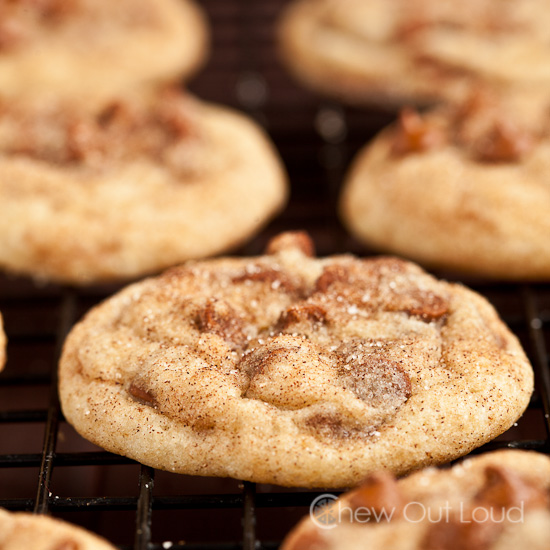 This Honey Pear Bread is what seriously soft, tender, amazing baking is all about…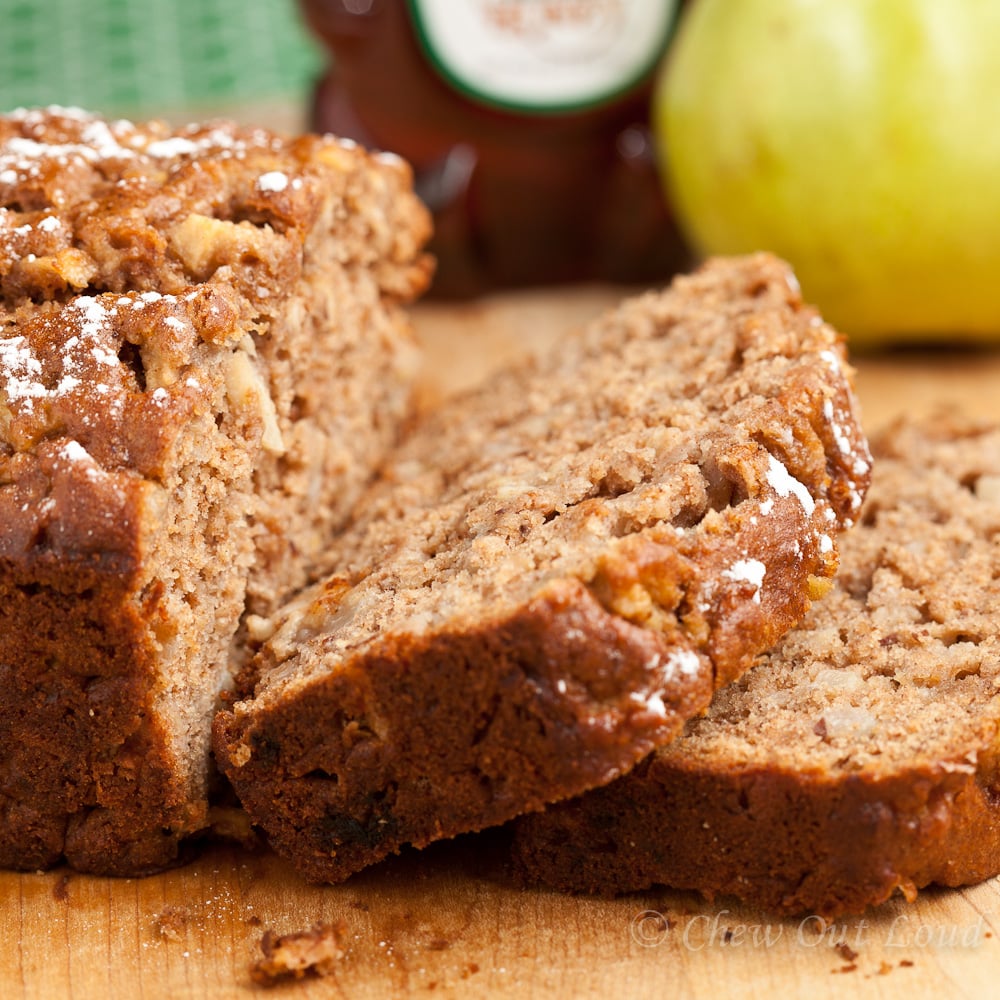 This Buttery, Moist PoppySeed Bread is the quick bread that people will fight over.