Bread just might be one of the very best edible creations ever. Around here, we find nearly impossible to refuse soft, chewy, yummy bread. When I've got a bit of time to spare, I work out my issues by making all kinds of bread from scratch. Kneading and punching down dough is like therapy, but cheaper. Our all-time favorites include rosemary garlic bread and those "famous" breadsticks.
Ok, but what if one is short on time? Something's gotta give when I'm in a time crunch and my beloved peeps are hungry for a hearty bread to go with their pasta.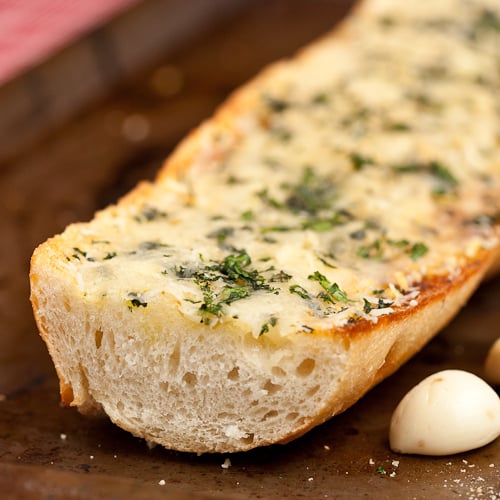 Enter this super easy, cheesy, garlicky bread. Cheese + garlic + crusty bread = Scrumptious. How can that trio not be perfect together? This cheesy garlic bread is chock full of savory garlic, butter, and cheese. It's tender and soft on the inside, and crisp on the outside. This garlic cheese bread comes together in a pinch, so you can easily pop it in the oven at the last minute for tempting oven-fresh bread.
Try to use a large, thick, and crusty bread loaf, which will provide that hearty texture. And, though eight cloves of crushed garlic may sound like a typo, rest assured that it's correct. Once it's all thrown together, the garlic flavor actually tends to get lost, so the herb formula here is: the more, the merrier.
Y-U-M. Serve up your cheesy garlic bread with any pasta, soup, or salad dish. It's fabulous to use for soaking up broth, if you're making a dish with savory broth to spare. This bread is definitely best served warm, right out of the oven, so enjoy it immediately.
——————————————————————————————————————————-
RECIPE (1 large loaf)
INGREDIENTS
1 large, thick loaf of crusty bread (i.e., a rustic Italian or French loaf)
8 cloves of crushed garlic
1/2 tsp garlic powder
4 TB regular butter
4 TB good olive oil
1 cup shredded Italian blend cheese
fresh parsley, finely chopped
DIRECTIONS
Preheat oven to 400F.
Combine the crushed garlic, garlic powder, butter, and oil in a saucepan and heat over low for several minutes, until incorporated. Set aside.
Split loaf in half, lengthwise, and place on foil-lined baking sheet. Brush bread generously with garlic butter mixture. Bake bread 5-10 minutes, or until lightly golden. Remove bread and sprinkle evenly with cheese and parsley. Adjust oven to broil, and broil bread about 1 minute, or just until desired level of golden brown is achieved and cheese is melted. Watch carefully and remove bread as soon as it looks done.
Cut into thick slices, wrap in clean cloth, and serve immediately.
By Chewoutloud