Honey Mustard Grilled Pork Chops
These Honey Mustard Grilled Pork Chops are superbly tender, savory, tangy, with a touch of honey sweetness. It's the perfect pork chops recipe for grilling season!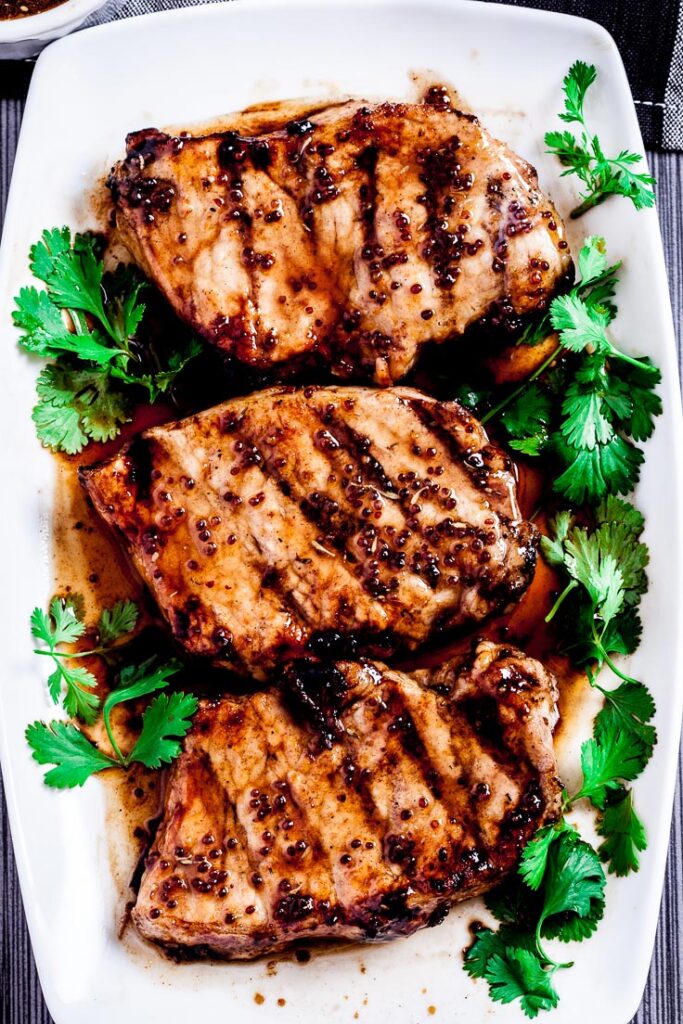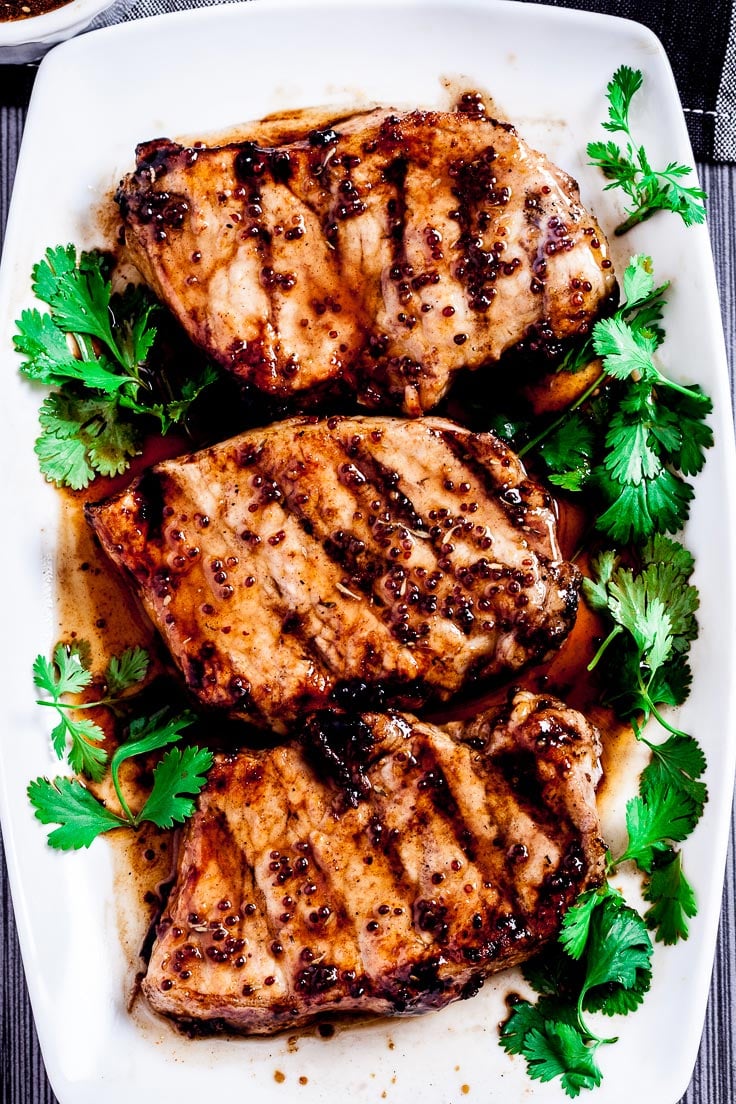 Honey Mustard Grilled Pork Chops
My mama makes the best pork chops on the skillet ever. But when it's just too hot to stand over the indoor skillet, grilled pork chops are just the ticket.
We've been embracing every opportunity to enjoy the great outdoors, which includes the grill. From Lemon Grilled Chicken to Thai Grilled Shrimp to Asian Sriracha Burgers, we're taking advantage of all the summer days. .
This tantalizing pork chop recipe results in flavors that are tangy, sweet, and savory. Basic pantry spices and coarse ground mustard provide the mouthwatering zest. These grilled pork chops turn out tender yet wonderfully smoky, thanks to its time on the grill.
The honey mustard glaze is absolutely glorious and the entire dish is in the 10-ingredients-or-less category…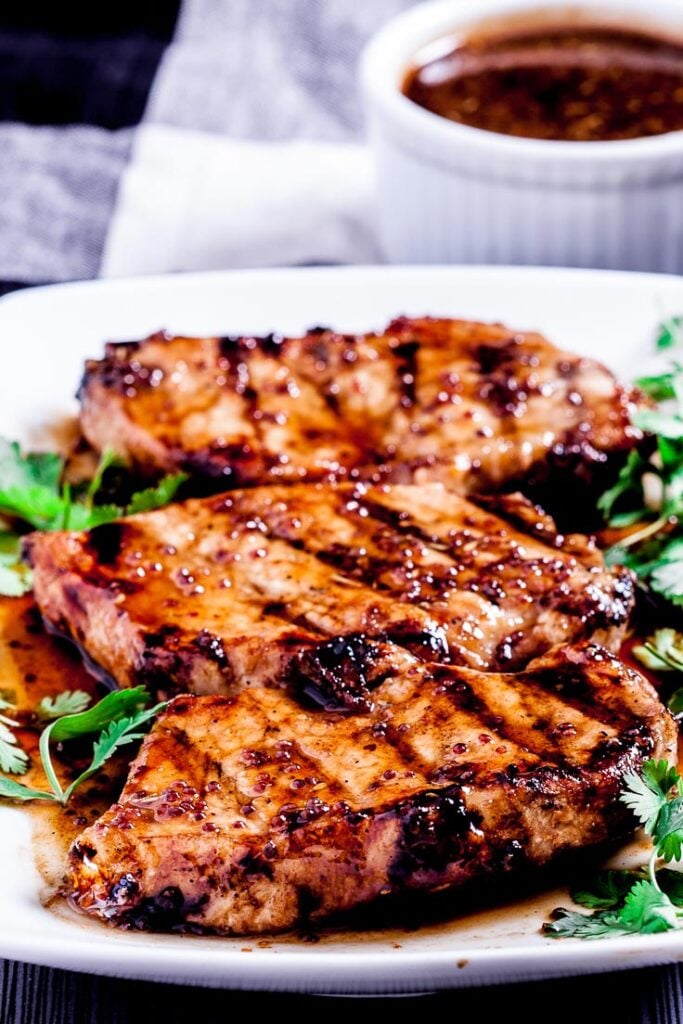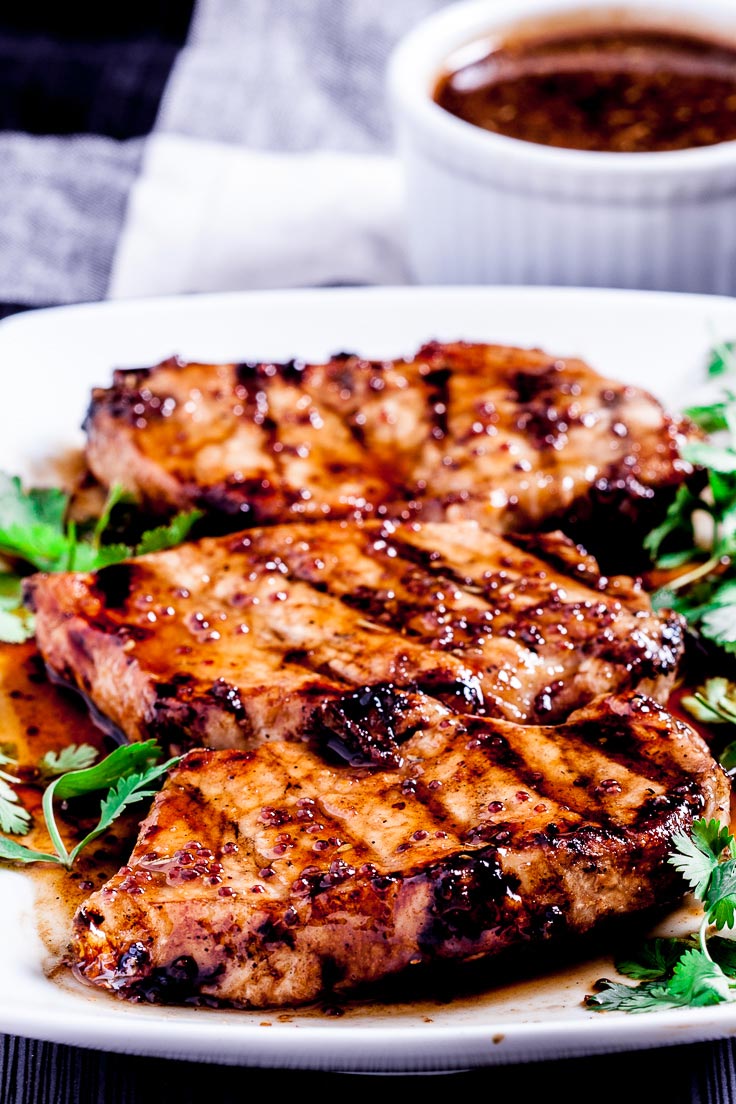 Cooking with Mustard
We all recognize that mustard and ketchup go hand in hand with summer cookouts and picnics. Someone in the party is usually put in charge of the condiments, and a big bottle of mustard is always on the must-have list. Mustard is famous for bringing in the zesty flavors when it comes to burgers, hot dogs, and sandwiches.
That humble jar of mustard in your pantry is also a staple that's amazing to cook with. Around here, we cook with coarse ground mustard on the regular. When combined with basic salty and sweet seasonings, mustard does a stunning job of rounding out the flavors by providing zip and zest.
Add a spoonful or two of mustard to amp up marinades and dressings.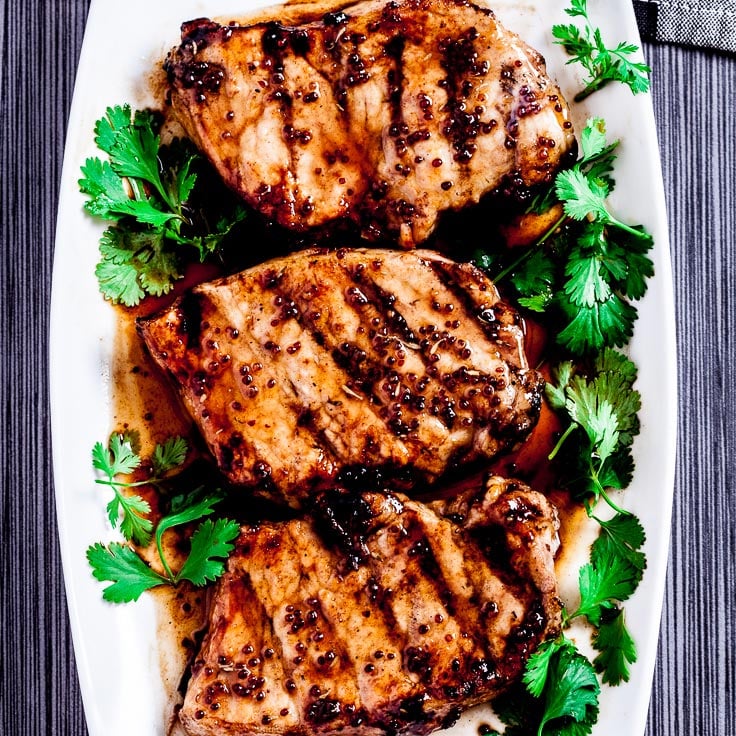 Buying Mustard
When it comes to your typical picnic menu of burgers, hot dogs, and sandwiches, go with your favorite flavor profile.
Basic yellow mustard is the most mild, yet imparts tart and tangy flavors. When you've got a cookout gathering, basic yellow mustard will suit most palates.
Dijon mustard is richer in flavor and typically lends more zip for those who love some spiciness; it's a favorite in creamy sandwich spreads and dressings.
If you like a more pronounced kick and stronger flavor, try spicy brown mustard, which is what many delis use in their pastrami and corned beef offerings.
When it comes to cooking, we are partial to whole grain mustard, or coarse ground mustard. These jars are sometimes labeled country style or stone ground. You'll see plentiful chunky mustard seeds in the mustard, making it easy to differentiate. It boasts depth of flavor, zest, and great texture. We use this mustard in our Best Broccoli Apple Salad and Potato Salad with Honey Mustard Vinaigrette.
Try This Magic Mustard Sauce: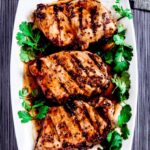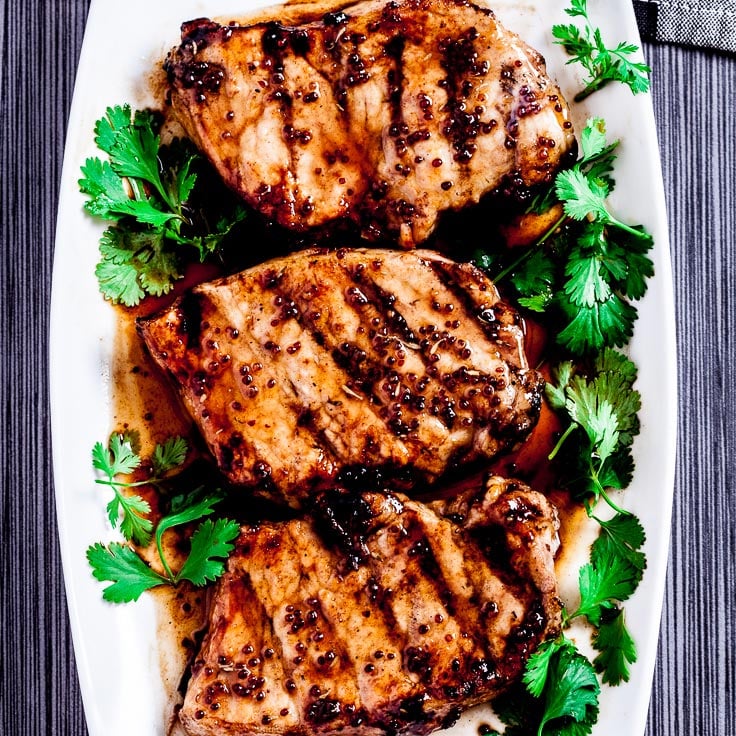 Honey Mustard Grilled Pork Chops
These Honey Mustard Grilled Pork Chops are tender, tangy, sweet, and savory all at once. Grilled to tender perfection, topped with a tangy sweet sauce that's perfect for grilling season.
Ingredients
2

TB

apple cider vinegar

½

tsp

cornstarch

½

cup

pure honey

3

TB

whole grain mustard,

with seeds in it

1

tsp

onion powder

¼

tsp

cayenne pepper

¼

cup

brown sugar,

packed

kosher salt and freshly ground black pepper

4

8-10 oz each bone-in pork chops, about 1 inch thickness
Instructions
In a saucepan, whisk together the vinegar and cornstarch until fully dissolved and no white bits of cornstarch remain. Add honey, mustard, onion powder, cayenne, and brown sugar. Whisk to combine, simmer over medium heat and continue whisking until glaze is reduced a bit, 5 minutes. Divide and reserve half of the glaze for serving. Keep other half of glaze for basting.

Pat chops dry with paper towels. In a small bowl, combine 1/2 tsp kosher salt with 1/2 tsp freshly ground black pepper. Sprinkle chops evenly with salt/pepper combination.

Grease grill and preheat on medium-high. Grill chops about 3-4 min per side, or just until center is cooked. Don't over cook. Brush chops with glaze that was reserved for basting and grill another minute per side.

Serve with reserved glaze drizzled over cooked chops.
Nutrition
Calories:
233
kcal
|
Carbohydrates:
50.1
g
|
Protein:
7
g
|
Fat:
1.7
g
|
Saturated Fat:
0.4
g
|
Cholesterol:
17.9
mg
|
Sodium:
24.6
mg
|
Fiber:
0.5
g
|
Sugar:
48.3
g
Did you make this?
Leave a comment below and tag @chewoutloud on Instagram
Easy Ways to Cook Pork:
1. Cuban Braised Pork with Mojo. Crazy good. Fork tender. Perfect for serving guests (and getting compliments.)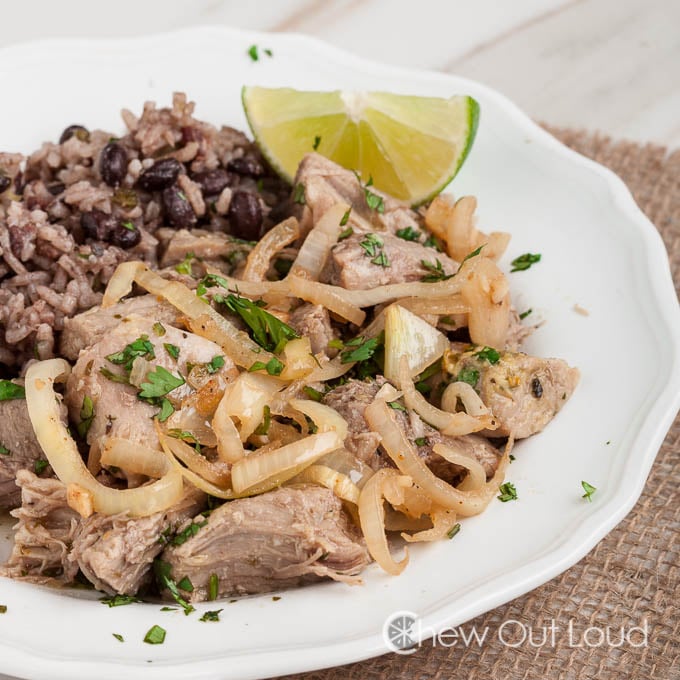 2. Quick 'n Easy Maple Glazed Pork Chops. Delicious pork chops on a Monday night? Totally.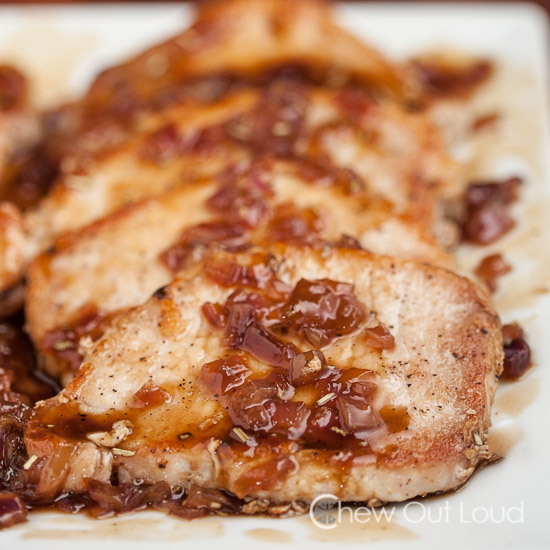 3. Carnitas – Mexican Pulled Pork. If you haven't had a great carnitas, you haven't had a great taco. Not kidding. This is a must-eat.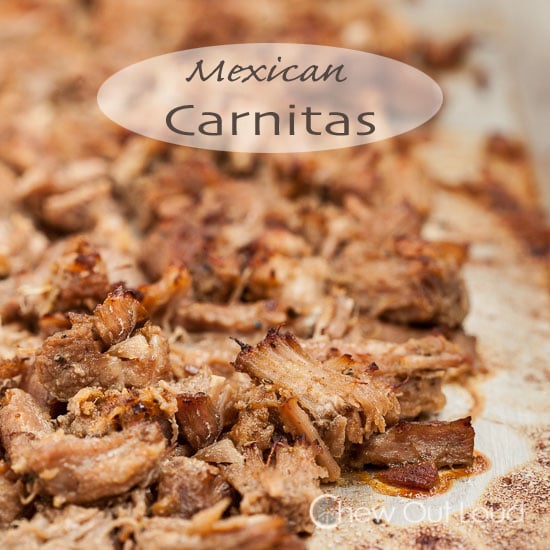 4. Parmesan 'n Panko Crusted Pork Chops. Tender on the inside, crispy on the outside. Easily done on the skillet.