Easy Lemon Butter Fish in 20 Minutes
By Amy Dong
Published Oct. 12, 2022
Updated Sep. 6, 2023
This Easy Lemon Butter Fish only takes 20 minutes and a handful of simple ingredients. It's a delicious and nutritious fish recipe using firm white fish fillets. Pair with rice and vegetables for a healthy weeknight dinner.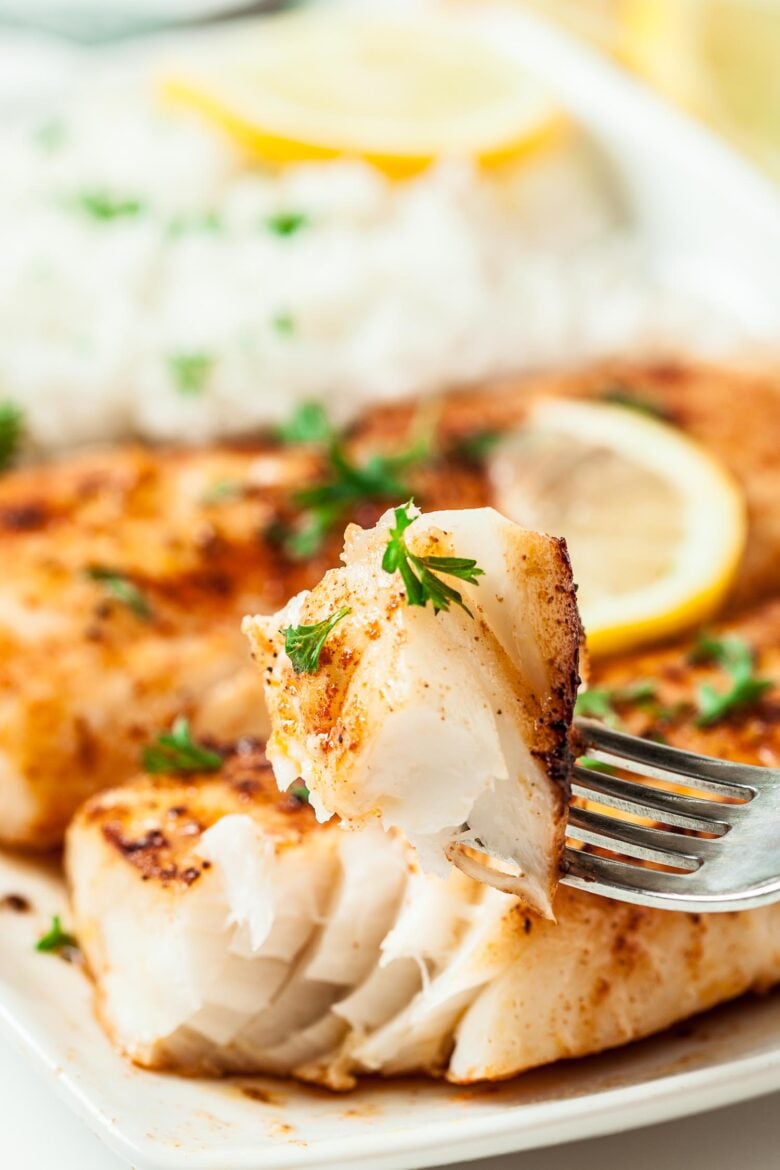 Easy Lemon Butter Fish Recipe
A dish like Lemon Butter Fish may be more frequently ordered at restaurants rather than made at home, as it's not what people tend to think of as Tuesday night fare. But an easy fish recipe can be, and absolutely is a fabulous weeknight dinner. This easy fish recipe with lemon butter sauce goes from stovetop to table top in just 20 minutes, just like our Seared Halibut and Perfect Barramundi.
What You'll Love about This Simple, Healthy Fish Recipe
It's much healthier than most busy weeknight dinners. You'll feel fantastic about feeding your family an easy cod recipe instead of pizza (though there's definitely a time and place for good pizza).
This is one fish recipe that's unbelievably quick, coming together in just 20 minutes.
You'll have a delicious fish dinner on the table using simple pantry ingredients, most of which you probably already have in your kitchen.
You can use a number of firm white fish, including cod, halibut, mahi mahi, bass, or snapper.
There's zero frying involved. Your family will be amazed at your ability to make the best fish recipe without any greasy breading.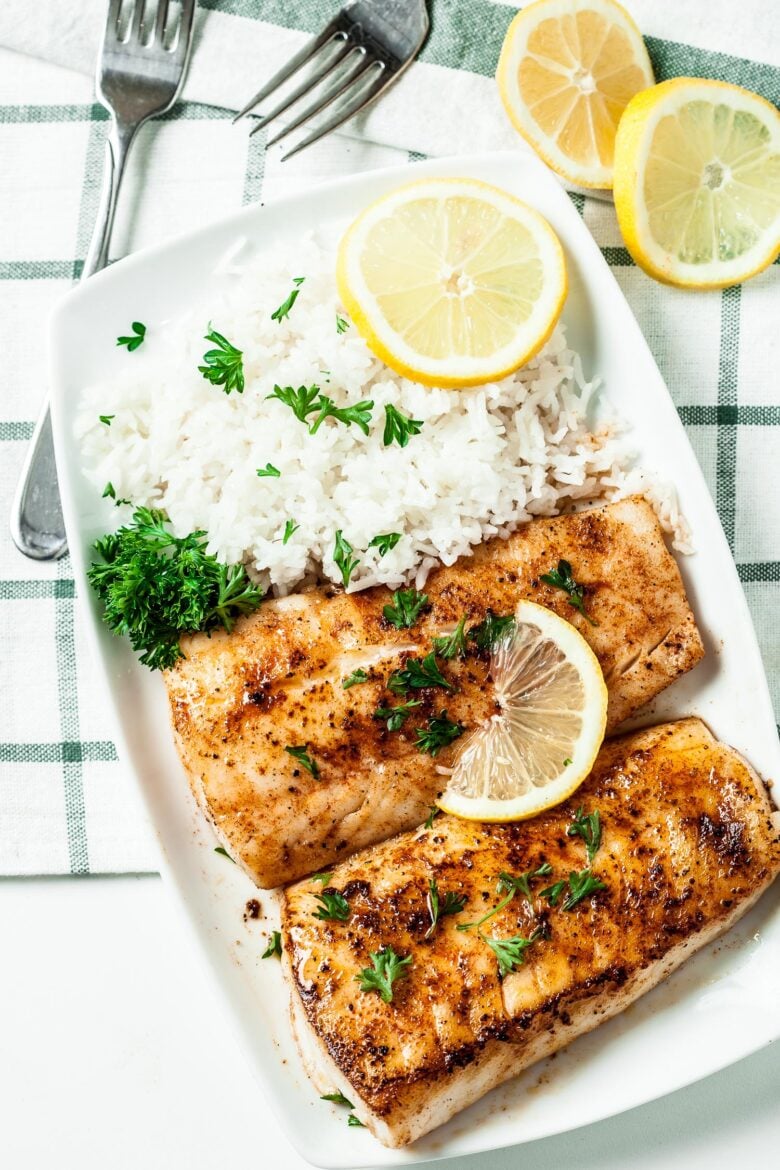 What Fish is Easiest to Cook?
This lemon butter fish recipe is fabulous with any tender, flaky, mild flavored white fish. Any firm white fish such as cod, halibut, snapper, or mahi mahi would work beautifully.
You'll want four generous pieces of firm white fish fillets that are about 6 inches in length and 1 inch thick. Definitely look for that 1-inch thickness, as thinner fish fillets won't cook up as nicely and tend to fall apart easily. Also look for fish fillets with the same thickness throughout, so your fish cooks evenly.
Watch This Recipe in Action
How to Make Fish

With Lemon Butter Sauce
Simple Equipment:
Basic Pantry Ingredients:
Melted butter (I use salted, but unsalted is fine) – real butter makes a huge difference in flavor, so skip the butter substitutes.
Juice and zest of lemon — avoid bottled lemon juice. If your lemon is on the larger size, use less of it.
Kosher salt, plus extra to taste – Here's why we always, always use kosher salt in our cooking.
Paprika, for a bit of smoky flavor and natural color
Garlic powder; it serves as your weeknight time-saving aromatic. Note that while freshly minced garlic is fantastic for marinades, it can burn easily in the skillet.
Onion powder, for the same reasons as above.
Freshly ground black pepper – we always use fresh peppercorns, with whole black tellicherry as our favorite. Use a pepper grinder to grind your black pepper fresh. It makes a huge flavor difference.
Olive oil; we use olive oil for most of our cooking, which is healthier and works really well with most recipes. We even use it in chocolate cake — ridiculously moist, with no trace of olive flavor.
Freshly chopped basil or parsley leaves, for garnish and flavor
Lemon slices for serving – fish always looks prettier with freshly sliced lemon slivers on top.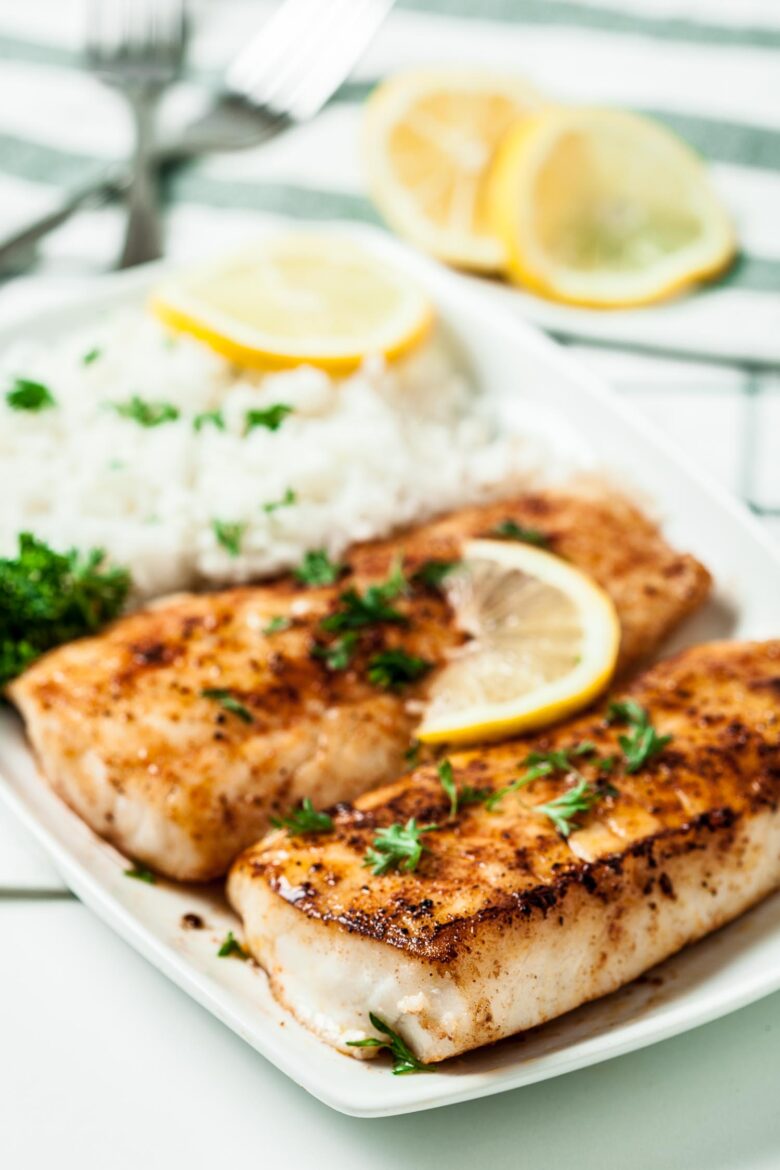 Easy Lemon Butter Fish Recipe
Commonly Asked Questions
Is this fish recipe healthy?
Firm white fish fillets such as cod, halibut, and snapper are full of lean protein and a great source of omega-3's and minerals. You can serve the lemon butter sauce on the side, to keep it super low in fat.
What is the healthiest fish to eat?
Tuna and salmon rank high on the list of healthiest fish to eat, but fish like cod and halibut are packed with nutrients as well.
What is the best tasting fish for this recipe?
Almost any firm white fish fillets that are 1-inch thick will taste fabulous using the cooking method below. Cod has a very mild flavor with flaky texture.
Halibut has a mildly sweet flavor and is a bit more robust in texture, which works wonderfully for this recipe. Sea Bass also has a very mild, delicate flavor, with a matching texture.
How long should I cook fish fillets?
Actual cook time will vary, depending on starting temperature of the fish fillets themselves and thickness of the fish. We recommend starting with 2 minutes per side, to avoid over-cooking, as you never want to over-cook fish.
More to Cook and Eat
---
Did you make this?
Please give us a rating and comment below. We love hearing from you!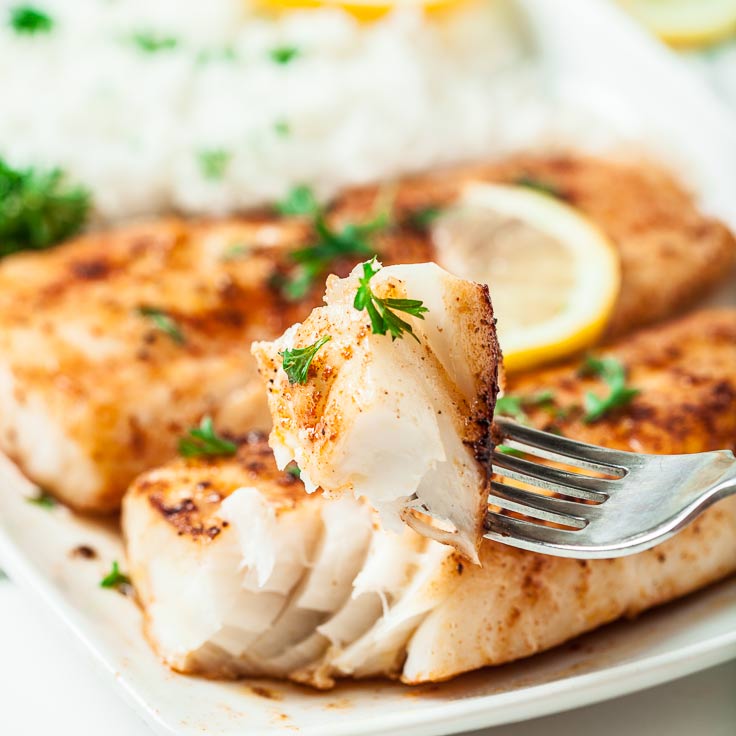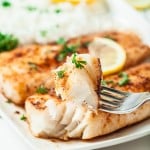 Easy Lemon Butter Fish in 20 Minutes
This Easy Lemon Butter Fish only takes 20 minutes and a handful of ingredients. It's a delicious and nutritious weeknight meal the entire family will devour (even non-fish eaters!)
Ingredients
4

firm white fish fillets

,

about 6 inches long, 1-inch thickness throughout (cod, halibut, or mahi mahi are great )

3

TB

melted butter

Juice and zest from 1 medium lemon

½

tsp

kosher salt,

plus extra to taste

1

tsp

paprika

1

tsp

garlic powder

1

tsp

onion powder

3

TB

olive oil

freshly chopped basil or parsley leaves

,

for garnish and flavor

extra lemon slices for serving
Instructions
Use paper towels to thoroughly pat-dry excess moisture from fish fillets. This step is crucial for fish to brown nicely in pan – otherwise, it will steam instead of brown. Set aside.

In a bowl, combine melted butter, lemon juice and zest, and 1/2 tsp kosher salt. Stir to combine well. Taste and add a bit more kosher salt, if desired.

In a separate bowl, combine the remaining 1/2 tsp kosher salt, paprika, garlic powder, onion powder, and black pepper. Evenly press spice mixture onto all sides of fish fillets.

In a large, heavy pan over medium high heat, heat up the olive oil until hot. Once your oil is sizzling, Cook 2 fish fillets at a time to avoid overcrowding (allows for even browning). Cook each side just until fish becomes opaque, feels somewhat firm in the center, and is browned, about 2-3 minutes per side; lightly drizzle some of the lemon butter sauce as you cook, reserving the rest for serving. Take care not to over-cook, as that will result in a tougher texture. Season with extra kosher salt and freshly ground black pepper to taste.

Serve fish with with remaining lemon butter sauce, basil or parsley, and lemon wedges.
Notes
*Be sure to use coarse kosher salt, not fine table salt. Learn more about kosher salt!
*Actual cook time varies, depending on type, cut, and starting temp of fish. I typically cook 2-3 minutes per side for cold fish fillets that are 1-inch in thickness.
*Check for doneness by lightly pressing fillet centers for firmness. Once it feels somewhat firm, it's usually done. The key to tender, flaky fish is to not overcook.
*A large splatter guard helps a ton against random oil splattering during cooking.
*Serve with Perfect Instant Pot Brown Rice or Best Easy Roasted Vegetables Recipe for a healthy meal that happens to be gluten-free.
If you enjoyed this recipe, please come back and give it a rating ♡
Nutrition (per serving)
Calories:
302
kcal
|
Carbohydrates:
9.9
g
|
Protein:
25.7
g
|
Fat:
19.8
g
|
Saturated Fat:
7
g
|
Cholesterol:
88.1
mg
|
Sodium:
158.1
mg
|
Fiber:
0.8
g
|
Sugar:
3.2
g