Easy, Perfect Barramundi Recipe
This Easy, Perfect Barramundi Recipe has all the perks of a healthy seafood dinner and comes together in just 20 minutes. Made with a lemon butter sauce and garnished with fresh basil, it's destined to be a family favorite!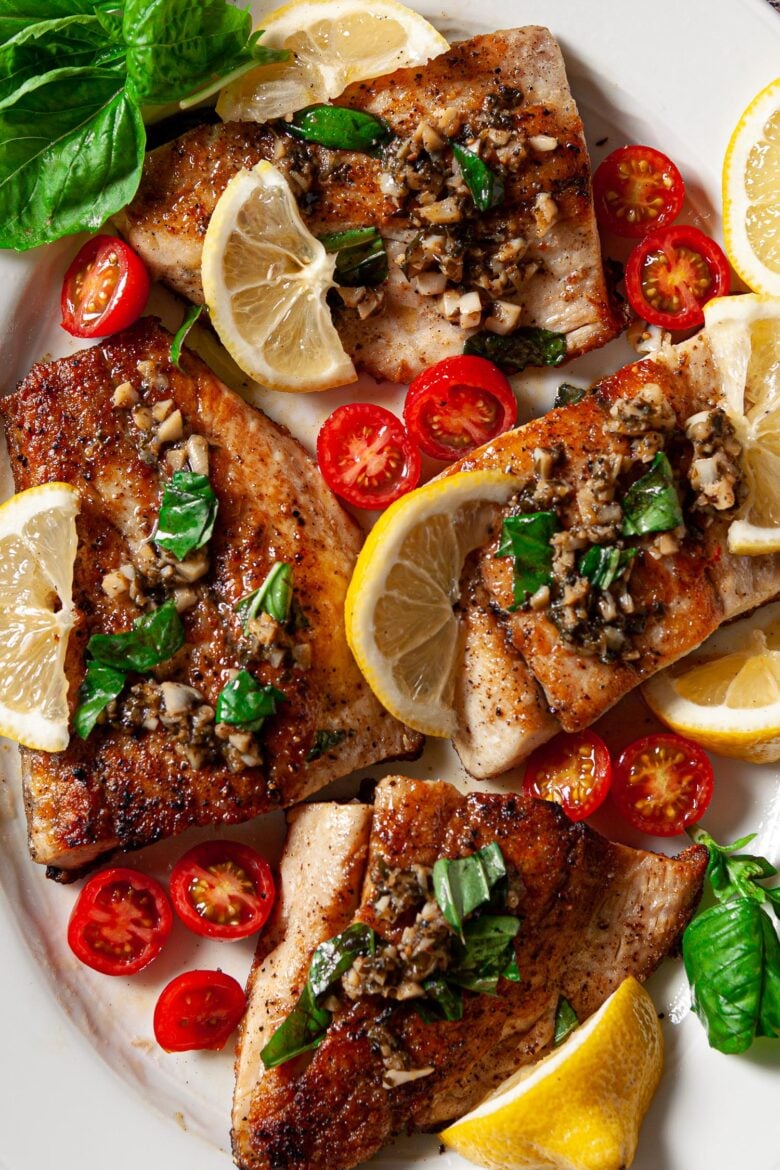 Video: Watch Us Make This Recipe
Easy, Perfect Barramundi Recipe
Lemon butter sauce on seafood is a classic combination for a good reason. There's just something magical about that buttery lemon and garlic sauce blanketing tender fish that makes us eager for seconds. This recipe pairs this classic combo with Barramundi, a mild, white-fleshed fish that's super easy-to-cook.
Packed with healthy omega-3s, lean protein, and calcium, Barramundi is the perfect fish for a light, healthy meal. This dish also comes together in just about 20 minutes, making it ideal for weeknights.
We love serving this easy Barramundi dish with our favorite salads and rice sides. It's always a crowd pleaser at family dinners, even for the ones who aren't fish fans – yet.
What Is Barramundi?
Barramundi may not be a fish you've cooked with before. It's not as common in the U.S. as tuna, salmon, or trout; but once you try it, you'll be hooked (no pun intended). The mild flavor of this fish is so versatile. It's absolutely delicious with a variety of dishes.
The word "Barramundi" comes from the Australian Aboriginal language translating to, "large-scaled fish". These fish are native to the Indo-West Pacific Region near India and Australia, but are farmed throughout the world. Due to their hardiness, large size, and mostly vegetarian diet, Barramundi farming is becoming more and more widespread making it easy to find these fish in grocery stores.
What Does Barramundi Taste Like?
The taste and texture of these fish are similar to grouper, striped bass, and snapper. Barramundi are white-fleshed fish and have a flaky texture when cooked. The filets come out mild, buttery, and rich.
This is definitely the fish for people who are more sensitive to any fish flavor that varieties like tuna and salmon may sometimes have. Barramundi doesn't taste or smell fishy at all. It's the perfect option for any recipe that calls for white fish.
How To Cook Barramundi
Pretty much any method from pan frying to steaming works well with this fish. Barramundi's mild taste and medium/high fat content make it not only versatile, but also hard to burn. So, if you're not used to cooking fish, this is a great one to start with.
In this recipe, we pan fry the fillets in olive oil on a cast iron skillet. It only takes 3 minutes on each side before it's ready to enjoy!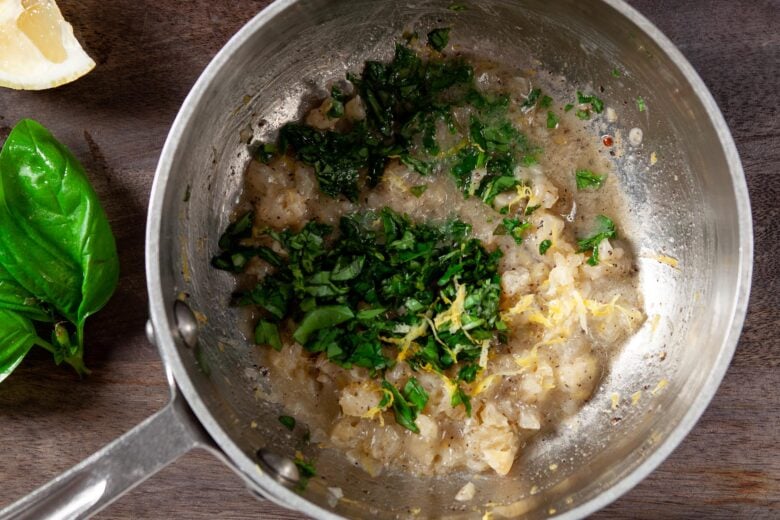 Key Ingredients
Butter – We like to use salted butter in this recipe for extra flavor. The fat in the butter balances the lemon for harmony of freshness and richness to this recipe.
Garlic – Freshly minced garlic elevates almost any meal to the next level. In this dish it plays up the mild taste of the Barramundi perfectly.
Basil – Fresh basil not only adds a pop of color, but also brings that hint of sweetness and spiciness that is sure to make your taste buds dance.
Lemon Juice – We prefer freshly squeezed lemon juice. This citrus adds that sour, tangy flavor that goes perfect with the basil and butter to bring those summer flavors to the recipe.
Lemon Zest – Adding lemon zest to the sauce assures that the lemon flavor won't be looked over. It's another fresh, vibrant, and healthy addition.
Kosher salt – Make sure you're using kosher salt for this dish. Fine table salt could result in an outcome that's too salty.
Black Pepper – Freshly ground black pepper gives this dish the slightest hint of earthy, spice that grounds the brighter, lighter ingredients.
Key Tips For Success
One of the great things about this recipe is that it's super straightforward and simple. To ensure a consistently delicious result, take a look at these tips and tricks for the perfect Barramundi.
Clean the fish. Always give your fish filets a good rinse to clean anything off of them. Just make sure to pat them dry thoroughly to ensure they cook properly.
Watch the Butter. Make sure to keep an eye on the lemon, butter mixture as it's cooking. Stir the mixture frequently to prevent it from burning, as butter can burn super fast.
Get the best fillets. Try to get Barramundi fillets that are about 1/2″ thick throughout to get the best results with the cooking times listed in this recipe.
Cast iron skillet. We love a good cast iron skillet for fish recipes. Not only are these a clean, safe cooking material, but they also help make evenly cooked and perfectly browned fish.
Use an oil splatter guard. When cooking the fish in the olive oil, things will get messy. To prevent getting splattered with oil, we like using an oil splatter guard.
Let it sit. When cooking fish, it's important not to move it too much to avoid the fillets breaking. For the best results, only flip your fish fillets once.
Commonly Asked Questions
What kind of fish can I use in place of Barramundi?
A few good substitutes for Barramundi are Snapper, Grouper, Cod, and Sea Bass. Really, any white-fleshed fish with a similar mild flavor and flaky texture will work great with this dish. Just note that Barramundi fillets tend to be thinner than other varieties. So, you may have to adjust the cooking times if you're using a thicker filet.
Where can I buy Barramundi?
Supermarkets like Whole Foods, Costco, and Sam's Club usually carry barramundi fillets either fresh or frozen.
Is it okay to use frozen Barramundi?
Absolutely! Barramundi filets are often flash frozen which means that you may actually have a fresher filet when you buy it frozen vs. fresh.
How long does this dish keep?
This barramundi recipe will keep in an airtight container in the fridge for 3 to 4 days. If you want to keep it longer, you can also freeze it for up to 3 months.
Is it safe to buy farm raised barramundi?
Yes! Barramundi tend to be a healthier fish to eat even if they're farm raised. Because they're so hardy, farm raised Barramundi won't usually have as many added antibiotics as other kinds of fish.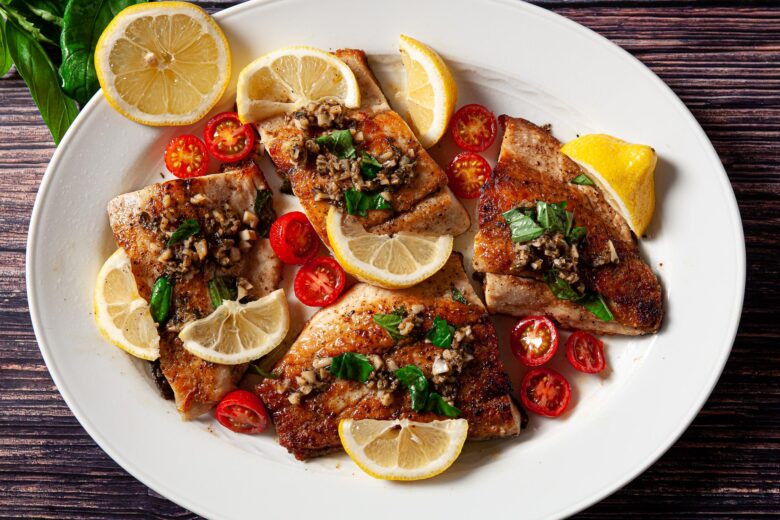 What To Serve With Barramundi
This easy Barramundi goes well with so many different sides. Take a look at some of our favorites!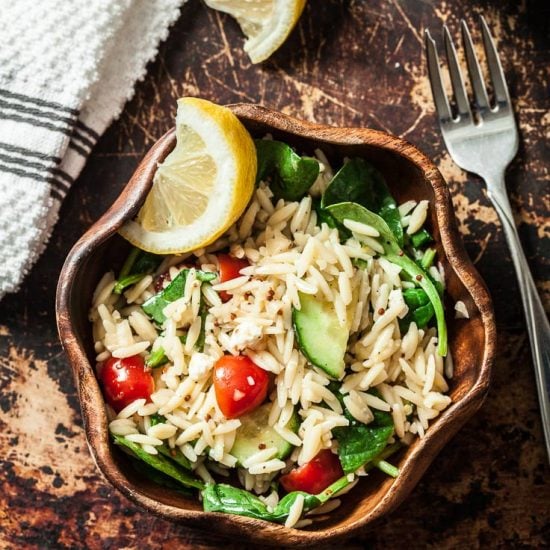 Did you make this?
Please give us a rating and comment below. We love hearing from you!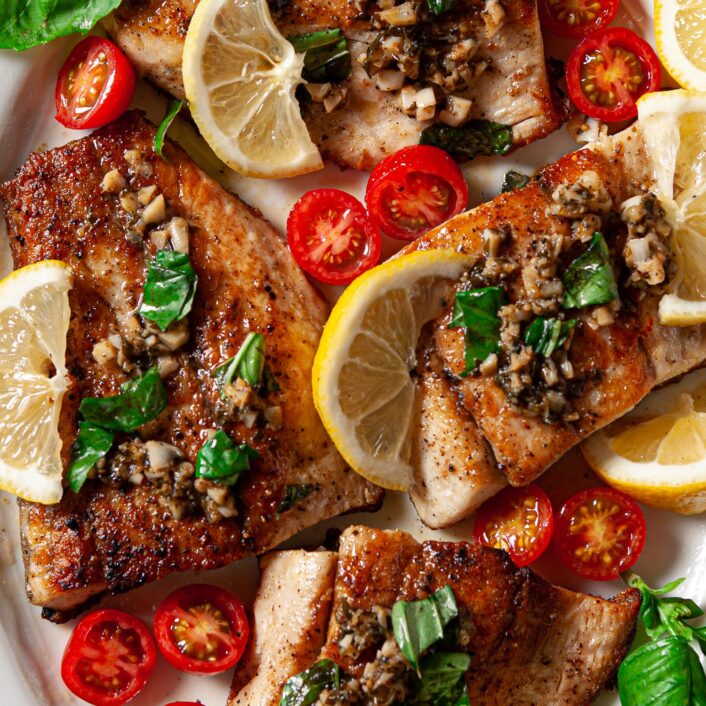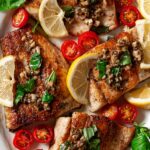 Easy, Perfect Barramundi Recipe
This Easy, Perfect Barramundi Recipe has all the perks of a healthy, seafood dinner and comes together in just 20 minutes. Made with a lemon, butter sauce and garnished with fresh basil, this vibrant meal will be a new favorite!
Ingredients
For Lemon Butter Mixture
2

TB

butter

,

salted, softened

2

TB

garlic

,

freshly minced

1

TB

basil

,

packed, freshly chopped

1

TB

lemon juice

,

freshly squeezed

1

TB

lemon zest

⅛

tsp

kosher salt

¼

tsp

black pepper,

freshly ground
For the Fish
2-4

TB

olive oil

4

barramundi fillets

,

1/2" thick, 5-6 oz. each*

Kosher salt and freshly ground black pepper
Optional Garnishes
Freshly chopped basil

Lemon slices
Instructions
Make Lemon Butter Mixture: in a small pan, combine all Lemon Butter Mixture ingredients. Heat sauce just until bubbly, stirring often. Once bubbly, turn heat off and keep warm.

Use clean paper towels to pat-dry all excess moisture from the fish fillets. This step is important to proper cooking, so be sure to dab off as much moisture as you can. Evenly sprinkle top of fillets with a thin layer of kosher salt and freshly ground black pepper.

In a large pan* heat 2 TB olive oil over high heat. Once oil is smoking and sizzling hot, carefully add 2 of the fish fillets, skin side down, and let cook undisturbed for 3 minutes – do not move fish around.

Use large metal spatula to carefully flip fish fillets over for another 3 minutes, without moving fish around. Gently lift cooked fish onto a serving plate and keep warm. Repeat with other 2 fish fillets.

Just before serving, re-warm the Lemon Butter Mixture if needed, and evenly distribute over the fish fillets. Serve with freshly chopped basil and lemon slices for garnish.
Notes
Barramundi fillets tend to be thinner than other fish, so try to get fillets that are as close to ½" thick throughout.
You can substitute freshly chopped chives for basil.
Be sure to use kosher salt, as kosher salt is much less salty per volume than fine table salt.
Use an oil splatter guard to prevent hot oil from splattering during cooking.
Use a large metal spatula for easy flipping of fish fillets.
We use a large cast iron pan for nice, even browning.
Serve with a fresh, colorful Caprese Salad or any crisp salad that you like. This dish pairs well with rice and potatoes or orzo.
If you want a bit more color on the plate, garnish with sliced cherry tomatoes.
If you enjoyed this recipe, please come back and give it a rating ❤️
Nutrition (per serving)
Calories:
260
kcal
|
Carbohydrates:
2
g
|
Protein:
9
g
|
Fat:
12
g
|
Saturated Fat:
5
g
|
Polyunsaturated Fat:
3
g
|
Monounsaturated Fat:
7
g
|
Trans Fat:
0.2
g
|
Cholesterol:
13
mg
|
Sodium:
119
mg
|
Potassium:
27
mg
|
Fiber:
0.3
g
|
Sugar:
0.2
g
|
Vitamin A:
203
IU
|
Vitamin C:
5
mg
|
Calcium:
23
mg
|
Iron:
0.2
mg