Ultimate Bacon 'n Egg Burger with Roasted Garlic Mayo
I can't help it. Every time I see pictures of big, juicy burgers, I feel the need to take a bite. Whether it's flipping through a magazine, surfing food blogs, or passing a colorful billboard… my eyes and stomach linger on the pretty burger. Burgers have come a long way – what used to be simple fast food has become a canvas for diverse gourmet creations. I'm of the variety who likes to try new things at least once. The first time I tried a burger featuring a gooey good egg, I fell for it. This summer, I grilled us up some juicy bacon 'n egg burgers.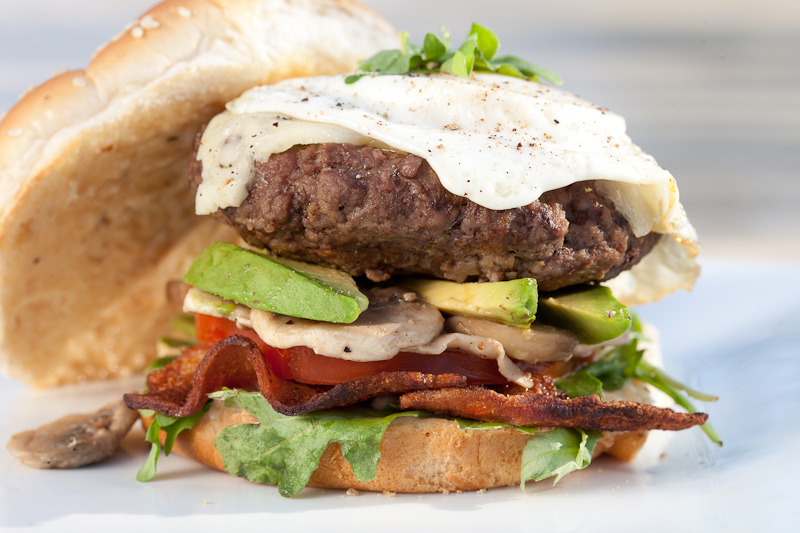 Yeah, I am a fan of almost anything involving eggs. And avocados. And bacon and sauteed mushrooms. Melty cheese and crisp arugula? Those, too.
This burger would be fantastic with just mayo or mustard, but since I'm a huge garlic fanatic (freak, really), I doctored up the mayo with roasted garlic. Make this roasted garlic mayo, and you'll have an awesome condiment for any burger, sandwich, burrito, etc. etc. If you haven't roasted garlic in awhile (or ever), here's how to do a fool proof roasted garlic.

You can, of course, cook your eggs to your preferred doneness. I crave a bit of runny egg yolk, so I do mine over easy. Enjoy the rest of summer with another great burger!
RECIPE (4 large burgers)
INGREDIENTS
2 lbs good ground beef (80/20)
4 eggs
8 slices bacon, cooked and drained
1 avocado, sliced and drenched in lemon juice
1 vine-ripened tomato, sliced
arugula
1 package sliced mushrooms
2 cloves garlic, minced
havarti or cheddar cheese slices
roasted garlic mayo*
salt and pepper
6 TB light olive oil
DIRECTIONS
Make roasted garlic mayo (recipe below). Keep in fridge.
Liberally season beef with salt and pepper. Shape into 4 large patties, and set aside at room temp.
Heat 2 TB oil and garlic in saute pan for about 1-2 minutes. Saute mushrooms until just soft. Remove from heat. Drain and set aside.
Heat up 2 TB oil in large nonstick pan on medium high. Crack two eggs directly into pan and sprinkle on salt and pepper. After about 30 seconds to 1 minute, carefully flip to other side, taking care not to break yolks. Sprinkle with salt and pepper again and cook another 30 seconds to 1 minute, or until your desired doneness. Heat up another 2 TB oil and repeat with other 2 eggs. Remove from heat.
Grill burgers to medium rare or medium. Keep warm.
Assemble your burgers: Spread garlic mayo on buns. Layer on arugula, tomato, avocado, bacon, mushrooms, and warm beef patties. Place sliced cheese over warm patties. Top with eggs.
* Recipe for 1/2 cup of Roasted Garlic Mayo: Roast 1 head of garlic (how to roast garlic). Mash up roasted garlic. Mix well with 1/2 cup mayonnaise. Mix in 1 TB lemon juice and 1 tsp paprika. Add salt and pepper to taste. Mix well. Lasts for up to a week in fridge.
Source: Chew Out Loud