Fried Egg Burger
These fried egg burgers are juicy, satisfying, and just so incredibly delicious! Amp up your burger game this season with these winning burgers.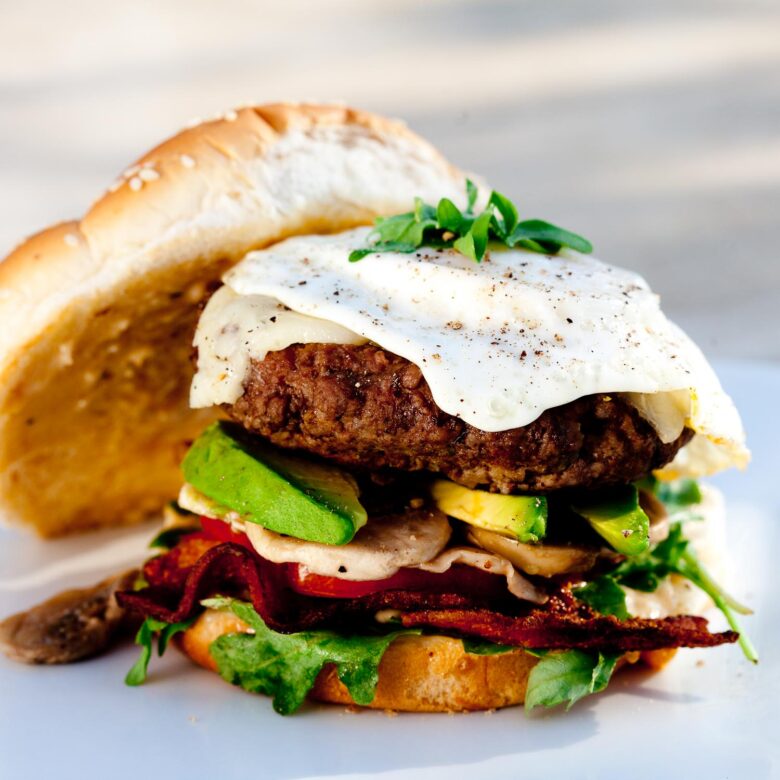 Fried Egg Burgers
Whether it's flipping through a magazine, surfing food sites, or passing a colorful billboard, my eyes linger on the pretty burger. Burgers have come a long way – what used to be simple fast food has become a canvas for diverse gourmet creations. I'm the eater who likes to try new things at least once. The first time I tried a burger featuring a gooey fried egg, I fell for it.
I am a fan of almost anything involving eggs. And avocados and bacon and sautéed mushrooms. Not to mention melty cheese and tomatoes.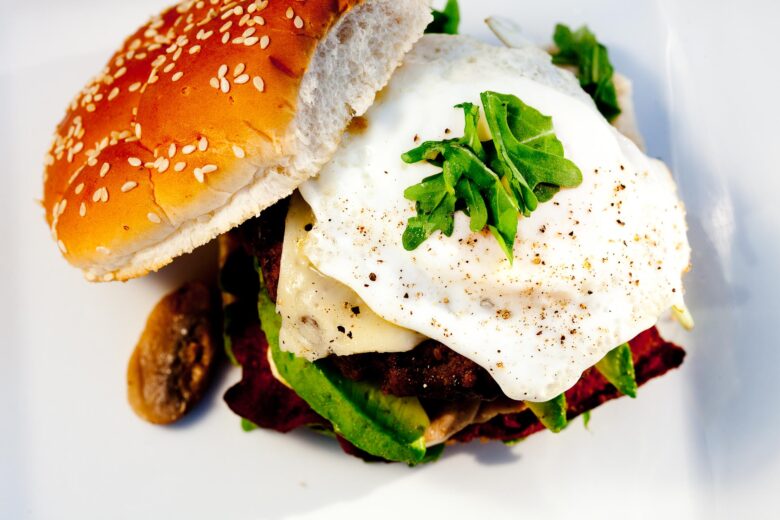 Garlic Mayo
This burger would be fantastic with plain mayo, mustard, or ketchup, but since I'm a huge garlic fanatic, this fried egg burger includes the magic of roasted garlic. Make this roasted garlic mayo, and you'll have an awesome condiment for any burger, sandwich, burrito, etc. If you haven't roasted garlic before, here's how to do a fool proof roasted garlic. You'll only need:

Roasted Garlic – this is every home cook's must-have for the basics.
Mayonnaise – use real, whole mayo for creaminess and flavor
Lemon Juice – a bit of citrus for refreshing flavor.
Paprika – feel free to use smoked paprika for an earthy, smoky flavor.
Other Key Ingredients
Ground Beef – we prefer 80/20 lean, for flavor and tenderness.
Mushrooms – use any variety you like, for umami flavors.
Eggs – you'll want 1 whole egg per burger.
Bacon – cook them in the oven for an easy, less-messy method.
Avocado – use a semi-ripe avocado, so it's not over ripe. Always sprinkle with lemon juice to prevent browning.
Tomato – we prefer the vine-ripened variety or homegrown, for best flavor
Havarti or Cheddar Cheese – these melt well and pair perfectly with fried eggs.
Arugula – we love the zest of freshly torn arugula, but you can use lettuce if you like.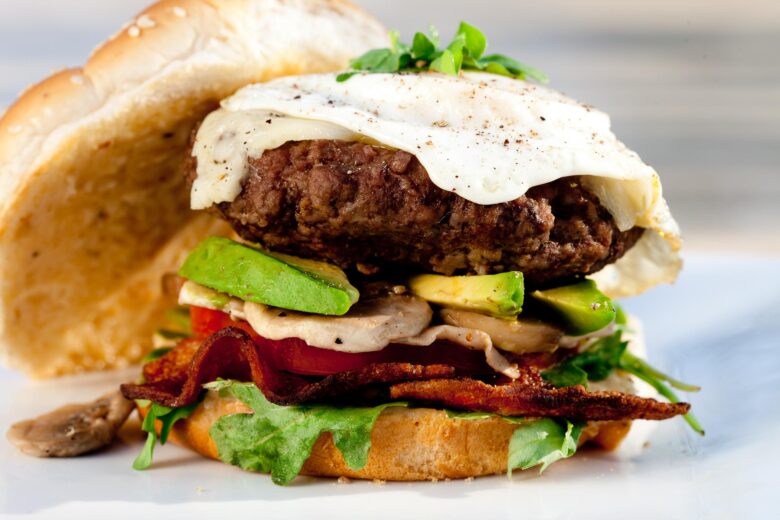 Runny Eggs vs. Fully Cooked
Feel free to cook your eggs to your preferred doneness. If you crave a bit of runny egg yolk, cook it over easy. You can make your eggs fully cooked, though they'll be less juicy – in this case, use more roasted garlic mayo to make up for it. You can also use poached eggs or even boil your eggs and slice them, using them to top your luscious burgers.
Piled high with creamy avocado and crispy bacon, you genuinely cannot go wrong with these fried egg burgers, all summer long. Enjoy.
Key Tips for Success
Use 80/20 lean ground beef for flavor and tenderness.
Roasted garlic mayo can be made up to 5 days ahead of time and chilled until ready to use.
Always sprinkle avocado with lemon juice to prevent browning.
Be sure avocado is semi-ripe, so it's not too ripe nor too firm.
More to Cook and Eat
Commonly Asked Questions
Can I use a different type of patty in a fried egg burger?
Absolutely! While beef patties are commonly used, you can experiment with different types of patties such as chicken, turkey, vegetarian, or even salmon burgers.

How should I cook the fried egg for a burger?
The fried egg can be cooked to your liking. Some people prefer over-easy eggs with a runny yolk, while others prefer over-medium or well-done eggs with a fully cooked yolk. It's important to ensure that the egg whites are fully cooked.
Did you make this?
Please give us a rating and comment below. We love hearing from you!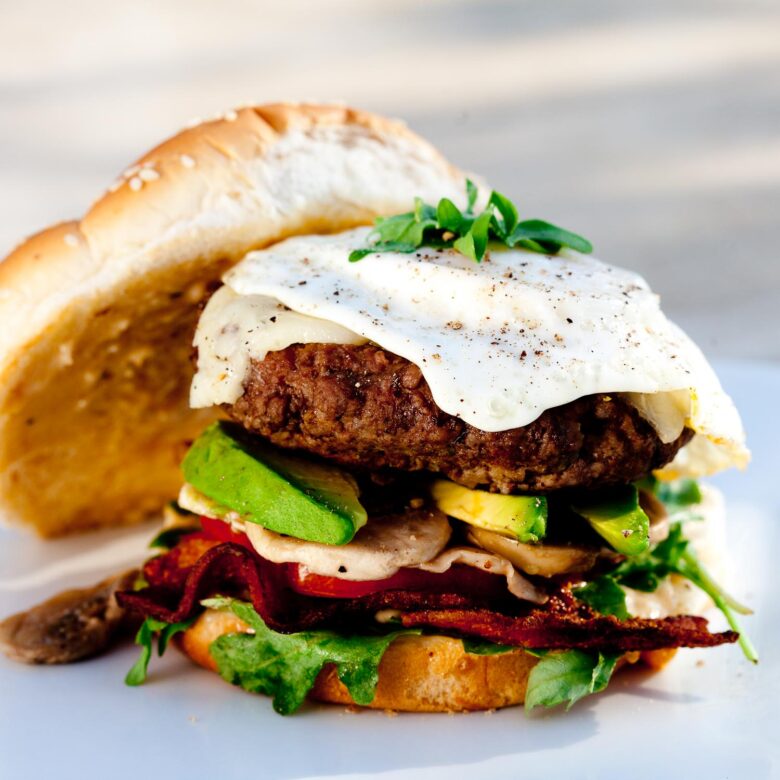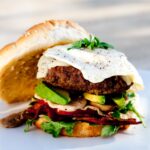 Fried Egg Burger (with Roasted Garlic Mayo!)
These amped up burgers are juicy, so satisfying, and seriously next-level delicious.
Ingredients
2

lbs

ground beef

,

80/20 lean

2

cloves

garlic

,

minced

8

oz

mushrooms

,

any variety, sliced

4

whole

eggs

8

slices

bacon

,

cooked and drained

1

whole

avocado

,

semi-ripe, sliced, drizzled with lemon juice

1

whole

tomato

,

vine-ripened, sliced thinly

4

slices

cheese

,

havarti or cheddar

lettuce or aruglua

,

torn to size

salt and pepper to taste

light olive oil for cooking
For Roasted Garlic Mayo
1

head

roasted garlic

, recipe here

½

cup

mayonnaise

1

TB

lemon juice

1

tsp

paprika

salt and pepper

,

to taste
Instructions
Make Roasted Garlic Mayo: Mash roasted garlic. Mix well with mayonnaise, lemon, and paprika. Add salt and pepper to taste. Mix well and keep chilled, up to one week in fridge.

Liberally season beef with salt and pepper. Shape into 4 large, evenly sized patties; set aside at room temperature. Preheat grill on medium-high heat.

Heat 2 TB oil in large pan until hot. Add garlic and cook 1-2 minutes until fragrant. Add mushrooms and sauté until soft. Remove from heat, drain well, and set aside.

Heat up 2 TB oil in large nonstick pan on medium high. Crack two eggs directly into pan and sprinkle on salt and pepper. After about 30 seconds to 1 minute, carefully flip to other side, taking care not to break yolks. Sprinkle with salt and pepper again and cook another 30 seconds to 1 minute, or until your desired doneness. Heat up another 2 TB oil and repeat with other 2 eggs. Remove from heat.

Grill burgers to medium-rare or medium, depending on taste – approximately 3 minutes per side, but actual cook time varies depending on true heat of grill.

Assemble burgers: spread garlic mayo on buns, layer on the lettuce, tomato, bacon, mushrooms, and beef patties. Place cheese over patties and top with eggs. Serve warm.
Notes
Feel free to cook your eggs to your preferred doneness.
You can substitute just mustard or plain mayo instead of the roasted garlic mayo, but garlic-mayo is really, really good!
Feel free to omit mushrooms, if you prefer your burgers without them.
If you enjoyed this recipe, please come back and give it a rating ❤️
Nutrition (per serving)
Serving:
1
g
|
Calories:
624
kcal
|
Carbohydrates:
8
g
|
Protein:
61
g
|
Fat:
71
g
|
Saturated Fat:
24
g
|
Polyunsaturated Fat:
17
g
|
Monounsaturated Fat:
24
g
|
Trans Fat:
2
g
|
Cholesterol:
120
mg
|
Sodium:
510
mg
|
Potassium:
1174
mg
|
Fiber:
1
g
|
Sugar:
3
g
|
Vitamin A:
739
IU
|
Vitamin C:
13
mg
|
Calcium:
252
mg
|
Iron:
6
mg