Grilled Teriyaki Chicken (+The Best Teriyaki Sauce)
By Amy Dong
Published Jun. 3, 2020
Updated Oct. 12, 2023
Grilled Teriyaki Chicken is easy, authentic, and big on flavor. The teriyaki sauce is like magic, and works wonders for any protein. This prep-ahead recipe is perfect for weeknight dinners as well as casual gatherings.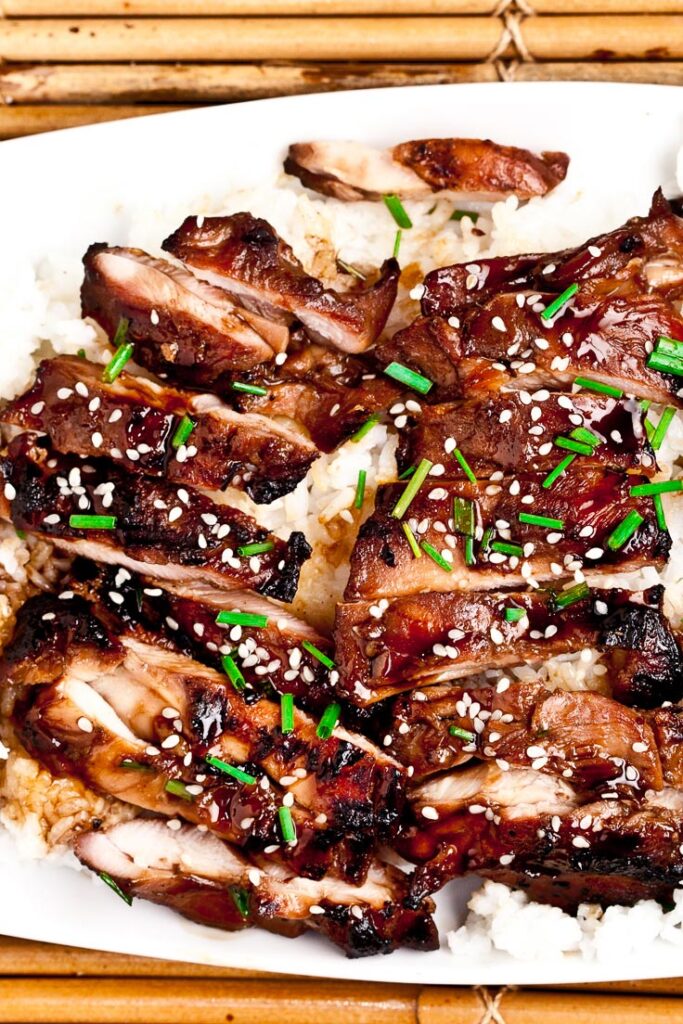 Grilled Teriyaki Chicken
We're here to divulge one of our all-time, all-star favorite dishes ever. There are few dishes we adore as much as a really great Teriyaki Chicken that marries tenderness with succulent flavors. Not many dishes can compare to the sweet, savory, tender goodness of grilled Teriyaki Chicken done right.
During cooler months, we do Stovetop Teriyaki Chicken with absolutely delicious results. But summer is synonymous with grilling, and even burgers get their teriyaki fix. Case in point: This Hawaiian Burger with teriyaki sauce is irresistibly mouthwatering. The time has come to proudly serve up the best chicken to meet your grill this summer.
The aroma of this Teriyaki Chicken cooking in your outdoor space will make your neighbors suddenly voraciously hungry. They'll either be a little jealous or they'll come knocking on your door. In fact, this grilled teriyaki chicken recipe is featured in our Gather Menu for good reason. It's always popular with friends and family at backyard cookouts.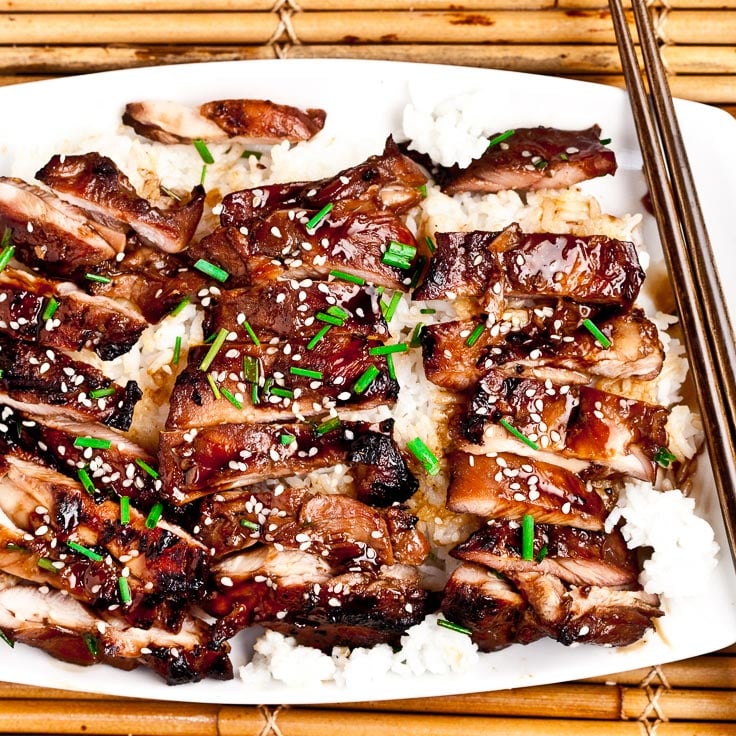 Why This Recipe Stands Out
Your friends and family will devour this tender and flavorful cookout favorite.
The saucy marinade works magic on the chicken; the charring produced by the grill takes it over the top.
Everything in this recipe can be prepared ahead of time. Mix the sauce up to several days ahead and keep chilled until ready to use.
Marinade the chicken overnight (up to 2 nights ahead) for incredible flavor and tenderness. All that's left is to throw the chicken onto hot grill while your guests munch on edamame hummus and chips.
Pro Tips for Success
If you're tempted to use chicken breasts, may we suggest sticking with fresh boneless, skinless thighs here. They turn out so much more tender and flavorful, as thigh meat is significantly more forgiving than breast meat.
Always towel-dry chicken pieces to remove excess moisture prior to marinading.
Do marinade chicken overnight for tenderness and flavor. We recommend having extra marinade to keep in the fridge, as it keeps well and is fabulous over steak and shrimp on a whim.
Baste while cooking; throw out any sauce that has come into contact with raw chicken. Heat up clean, reserved marinade for serving as a sauce.
Simple Gathering Menu
---
Watch this recipe in action
---
Did you make this?
Please give us a rating and comment below. We love hearing from you!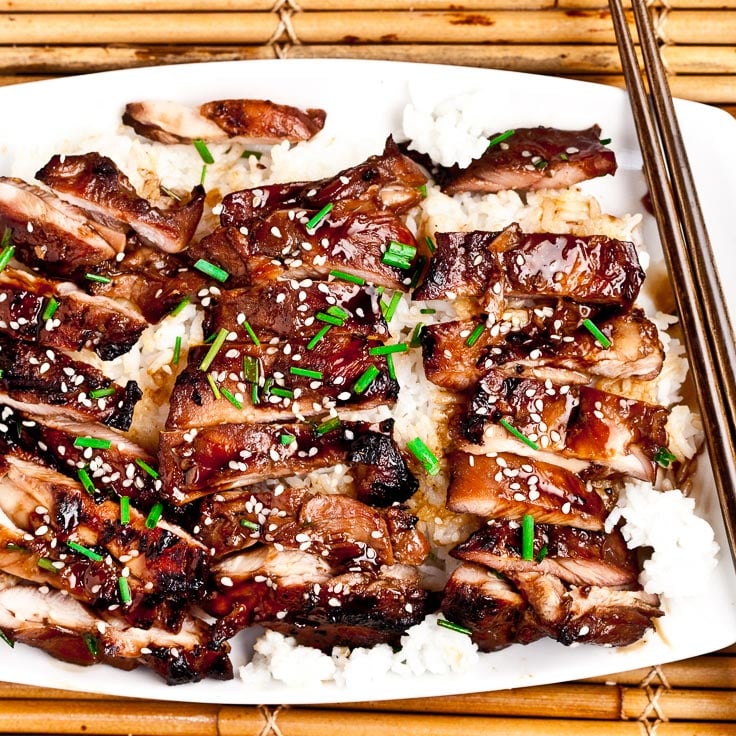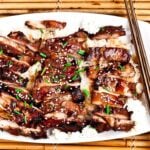 Grilled Teriyaki Chicken
This Teriyaki Chicken is easy, authentic, and big on flavor. The sauce is like magic, and works wonders. Be sure to let chicken marinate overnight.
Ingredients
3

lbs

boneless

, skinless chicken thighs

2

TB

cornstarch

1 ½

cups

regular strength soy sauce orTamari

1 ½

cups

white sugar

¾

cups

brown sugar

¾

cups

mirin,

Japanese sweet rice wine; not rice vinegar

3

cloves

garlic,

minced

2

TB

freshly grated ginger
Optional Garnish: Thinly sliced scallions and toasted sesame seeds
Instructions
Sauce: In a medium bowl, combine cornstarch with soy sauce. Thoroughly dissolve the cornstarch, whisking until any bits of white cornstarch no longer visible. Add soy sauce, both sugars, mirin, garlic, ginger, and pepper. Whisk sauce until ingredients are well combined. Set aside.

Dry:

Thoroughly dry chicken thighs with paper towels, and trim. Working one at a time, place each piece on a cutting board and top chicken with cling wrap.

Pound

chicken evenly to about 1/2 in. thick.

Poke holes: Remove cling wrap. Using a fork, poke holes all over chicken pieces; this allows marinade to soak in.

Marinade: Place chicken in large mixing bowl or large baking pan. Whisk marinade again and pour in just enough to completely cover every chicken piece front and back – reserve remaining sauce. Cover and let sit in fridge overnight, turning chicken pieces over once while marinading. Pour unused clean marinade in an airtight container and keep chilled.

Cook:

One hour before cooking, remove chicken from fridge. Generously grease and preheat outdoor grill (or indoor

stovetop cast iron grill

) until oil is smoking hot. Remove chicken from marinade, discarding used marinade. Grill chicken on medium-high heat until just-cooked. If using outdoor grill baste generously and frequently; less frequently for indoor grill. Cook approximately 5 minutes per side (actual cook time varies depending on heat of your grill.)

Heat Sauce: While chicken is cooking, pour desired amount of remaining, unused/clean sauce in a saucepan. Bring to a boil, stirring 1 minute until slightly thickened. If desired, add a bit more sugar to taste. Set aside.

Serve: Slice cooked chicken into strips. Serve over your white rice, brown rice, or a bed of fresh greens. Drizzle with teriyaki sauce. Sprinkle with chopped scallions and toasted sesame seeds, if desired.
Notes
Mirin is a Japanese sweet rice wine that can be found at Asian supermarkets, as well as regular grocery stores in their Asian or ethnic aisle.
Nutrition (per serving)
Calories:
202
kcal
|
Carbohydrates:
25.6
g
|
Protein:
16.4
g
|
Fat:
3.2
g
|
Saturated Fat:
0.8
g
|
Cholesterol:
70
mg
|
Sodium:
692.4
mg
|
Fiber:
0.2
g
|
Sugar:
21.9
g