Slow Cooker Chicken Teriyaki
This Slow Cooker Chicken Teriyaki is a must-try. It couldn't be easier to make this savory and tender chicken. You'll want to make a big batch of this saucy dish, because it's going to be an enormous hit with kids and grown-ups alike. 100% finger-licking great.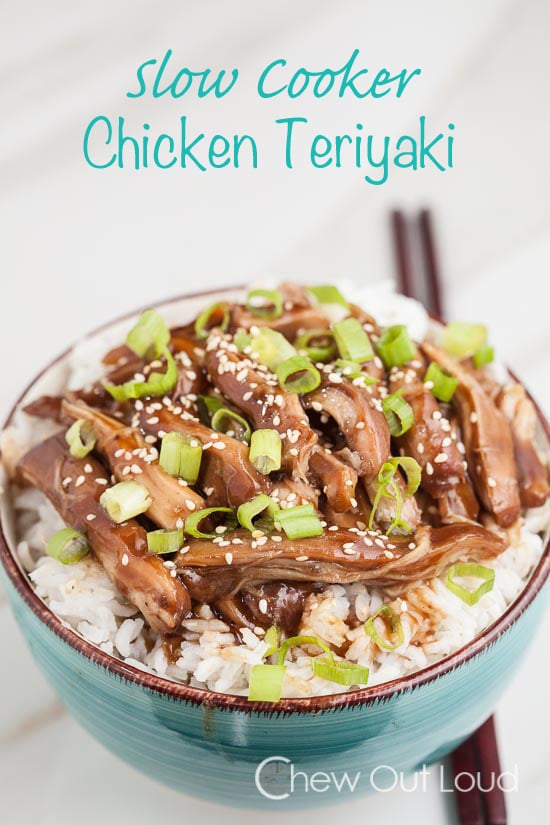 Slow Cooker Teriyaki Chicken
There are days in summer when we just don't want to turn on the oven. Or stand in front of a hot stove. Go out into the humid heat and work on a grill? There are even days when we who are self-proclaimed grill monsters won't go near that fire. The slow cooker is our hero.
Regardless of how busy we are, we still want something worthy of sitting down to the table for, and we're not doing takeout. Deliciousness is a requirement, and healthy is good.
And who's not always looking for new ways to cook up easy chicken dinners?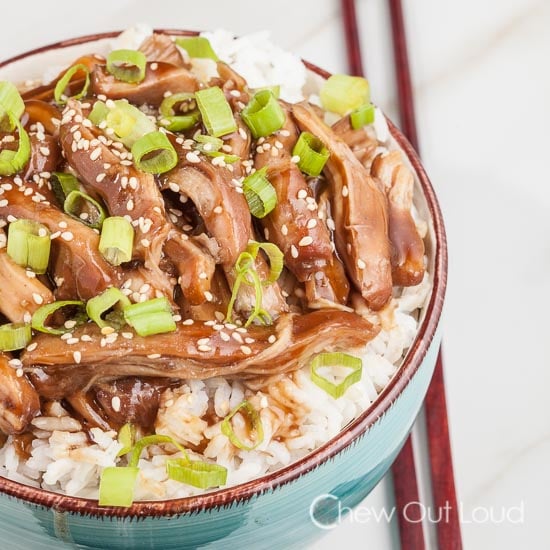 Healthy, Hands Free, Delicious
Not to mention that we've been on a bit of a health kick in recent years. Not the kind that ditches sugar, butter, or this tempting summer dessert, obviously. Not that extreme.
Rather, we go for healthyish. The kids have been regularly doing their own label reading at stores since kindergarten. I haven't decided if I like that or not, but that's another story for another time.
What's for sure is this: we're officially smitten with this easy, hands-off dish that goes with any kind of rice, salad, or even noodles.. We've fallen head over heals for this Slow Cooker Teriyaki Chicken. It was devoured so quickly, I wish I'd made a double batch. More, please.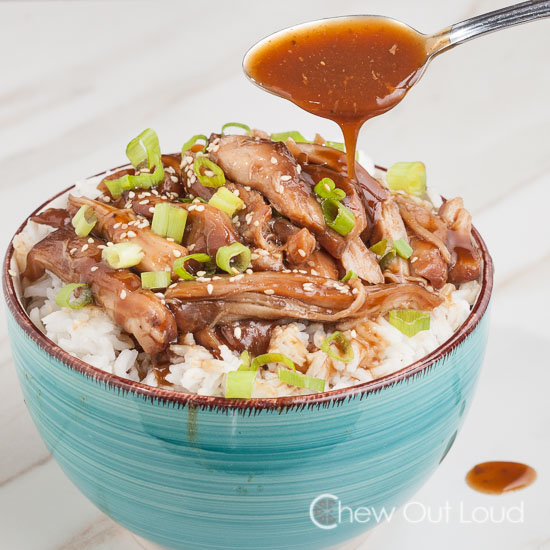 Unbeatable Teriyaki Sauce
For the scrumptious Teriyaki sauce, I use my trusty old recipe that I use for pretty much protein possible.
It's easy peasy and forever fail-proof. In fact, I habitually make extra sauce so I can keep an extra bottle of it in the fridge to use as a glaze over any protein.
Simply place the chicken thighs and sauce into the slow cooker, walk away, and ring the dinner bell when your house smells amazing. It doesn't take all day to cook this chicken in the slow cooker, since boneless chicken thighs cook in just a few hours on high.
You'll be able to smell the mouthwatering chicken the minute you walk in the kitchen. It's phenomenally delicious.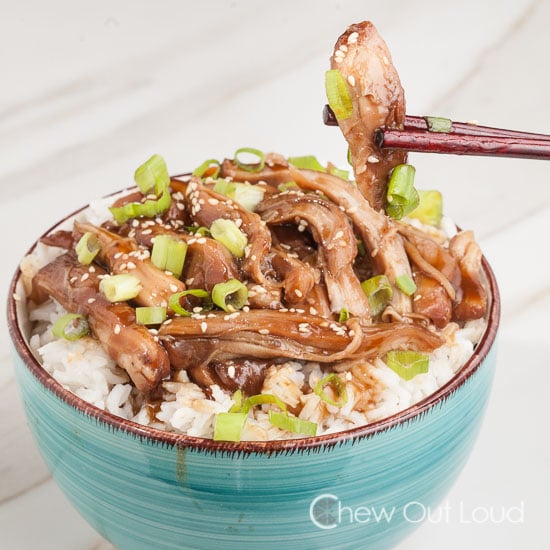 Use Boneless, Skinless Chicken Thighs
This Slow Cooker Chicken Teriyaki is superbly tender; I highly recommend using thighs for this. Boneless, skinless chicken thighs will yield the most tender results; they're much more forgiving when cooked long and slow.
There's plenty of sauce to go over the chicken and rice, so pour it on. Again, you may want to double batch the sauce to keep some in a jar for future use. This sauce is amazing over grilled salmon and steaks as well.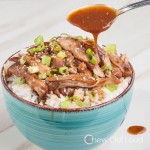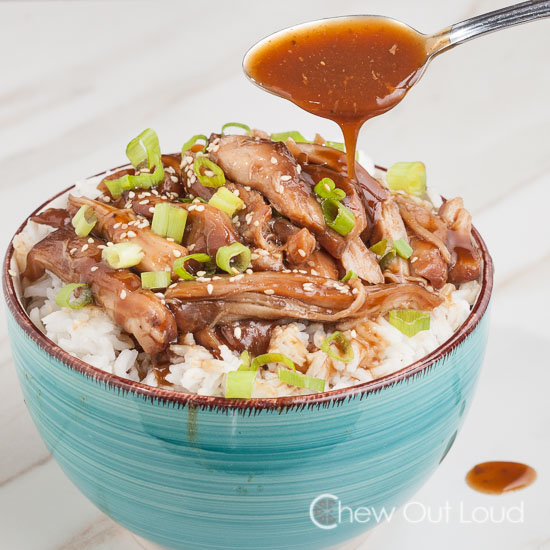 Slow Cooker Chicken Teriyaki
This Slow Cooker Teriyaki Chicken is simply magnificent. Be careful when you shred the meat after cooking, as it is amazingly fork tender. Tip: Make extra, unused sauce and store it in the fridge for future use.
Ingredients
3

lbs

boneless

,

skinless chicken thighs

1

T

cornstarch

¾

cups

regular soy sauce

¾

cups

white sugar

⅓

cups

packed brown sugar

⅓

cups

mirin

,

Japanese sweet rice wine; not rice vinegar

2

cloves

garlic

,

minced

1

T

freshly grated ginger

1

tsp

freshly ground black pepper

2

TB

cornstarch dissolved in 2 TB water

Optional: Chopped scallions and toasted sesame seeds for garnish
Instructions
Make the Sauce: In a bowl, whisk together 1 TB cornstarch, soy sauce, both sugars, Mirin, garlic, ginger, and black pepper. Whisk to combine well.

Place chicken thighs in a single layer in slow cooker. Pour enough sauce to almost cover the top of chicken. (Save any leftover for boiling after the chicken is cooked or keep it in fridge for future use.)

Cook on high for 3 hours or just until chicken is cooked through. To keep meat tender, don't overcook. If you need to keep the slow cooker on longer, use low setting and adjust cook time.

Remove chicken with slotted spoon and gently shred or cut into pieces (don't shred too finely, as it will break up more in the sauce)

Transfer sauce from the slow cooker into a saucepan. Add the 2 TB cornstarch dissolved in 2 TB water, stirring well. Bring to a low boil, stirring continuously, until sauce is thickened.

Pour sauce over chicken and rice. Garnish with green onions and sesame seeds if desired.
Notes
We highly recommend using chicken thighs, as they'll yield much more tender results than chicken breasts would.
If you enjoyed this recipe, come back and give it a rating ♡
Nutrition
Calories:
512
kcal
|
Carbohydrates:
100
g
|
Protein:
17.3
g
|
Fat:
3.2
g
|
Saturated Fat:
0.8
g
|
Cholesterol:
70
mg
|
Sodium:
921.6
mg
|
Fiber:
0.8
g
|
Sugar:
38.4
g
Did you make this?
Leave a comment below and tag @chewoutloud on Instagram