One of my favorite places in the whole wide world is Maui, HI. Right?? Those delicious Hawaiian vacations are sweetly nostalgic for me and, sadly, are all BK (Before Kids). These days, faraway tropical destinations live only in my BK memories.
At least when we go back to LA, there are bountiful offerings of Hawaiian menu items: shaved ice, mochi, and teriyaki burgers. OK, so I'm not in LA right now and I have yet to find good teriyaki burgers in my current Midwestern stomping ground. Fret not. I can grill 'em up in my own backyard.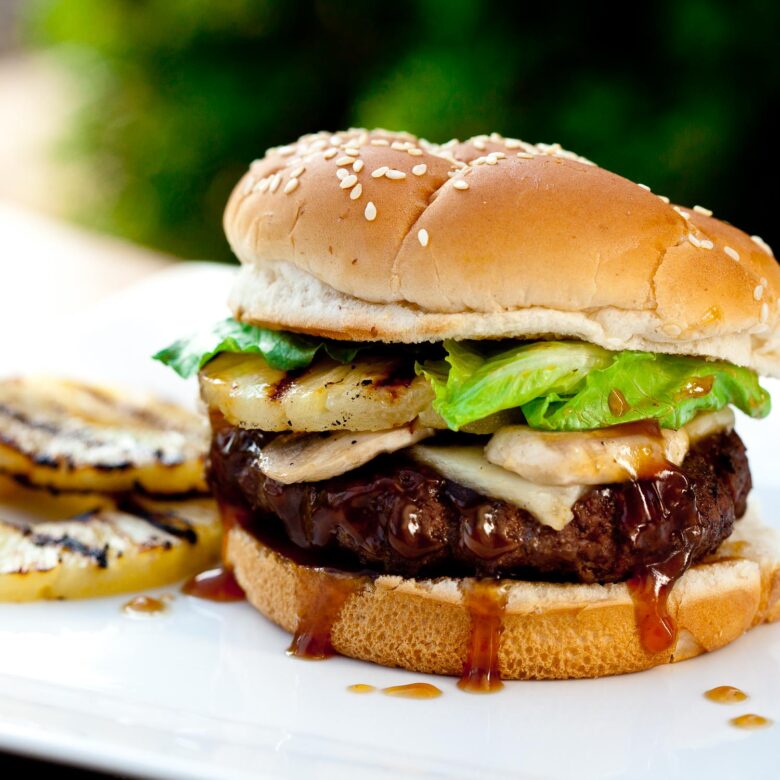 The savory and sweet teriyaki sauce and grilled pineapples really make this burger a stand out.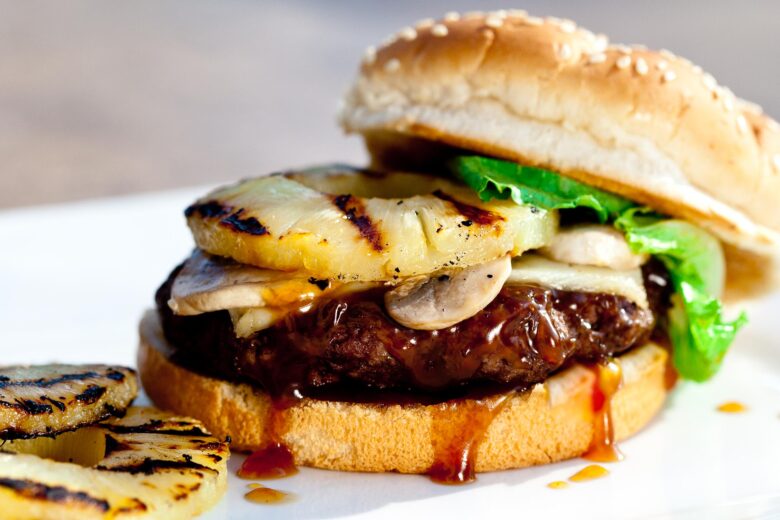 Is it lunch time yet?
I would totally jog an extra mile so I can justify eating an extra one of these teriyaki burgers. Which, by the way, are really one of the healthier burgers I make.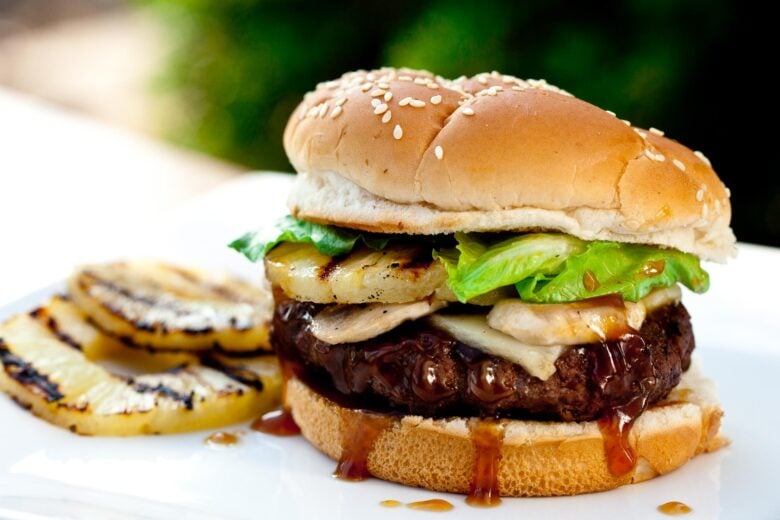 RECIPE (4 big burgers)
INGREDIENTS
2 lbs ground beef (80/20)
mushrooms, sliced (any varietal will do)
1 can sliced pineapples, drained
1 recipe homemade teriyaki sauce*
havarti cheese, sliced
sesame buns
romaine lettuce
salt and pepper to taste
2 TB butter
DIRECTIONS
Season ground beef with salt and pepper. Shape ground beef into thick patties. Set aside at room temp.
Saute mushrooms in 2 TB butter, adding a pinch of salt and pepper while cooking. Don't overcook; just until soft. Remove from heat and set aside. Make teriyaki sauce (recipe below), and set aside.
Grill beef patties to medium, or however you like it. Grill pineapples until nice grill marks appear.
Assemble your new teriyaki burger, and generously pour on the teriyaki sauce – it is what makes this burger!
*Teriyaki Sauce:
1/2 cup Kikkoman Teriyaki Sauce (that's the brand we stick to, because every brand tastes different)
1/2 cup water
1/4 cup white sugar
1/4 cup brown sugar
Juice of 2 fresh orange wedges
1 1/2 TB cornstarch, dissolved in 1 TB water
dash of ground ginger
Whisk together all ingredients for teriyaki sauce in small saucepan, mixing it well. Cook on medium heat, stirring continuously, until it just starts to reach a boil. Taste and add a bit more sugar if you want it sweeter. Remove from heat, stir again, and set aside until ready to use.
This can be stored for a long time in airtight container in fridge, and used for teriyaki chicken, teriyaki beef, teriyaki shrimp, etc. etc. There. I just shared my favorite, best, most secret sauce with you.