This Baked Spinach-Artichoke Yogurt Dip is loaded with plenty of veggies and yogurt for extra doses of yummy goodness. Delicious served hot with pita chips, tortilla chips, crackers, or baguette.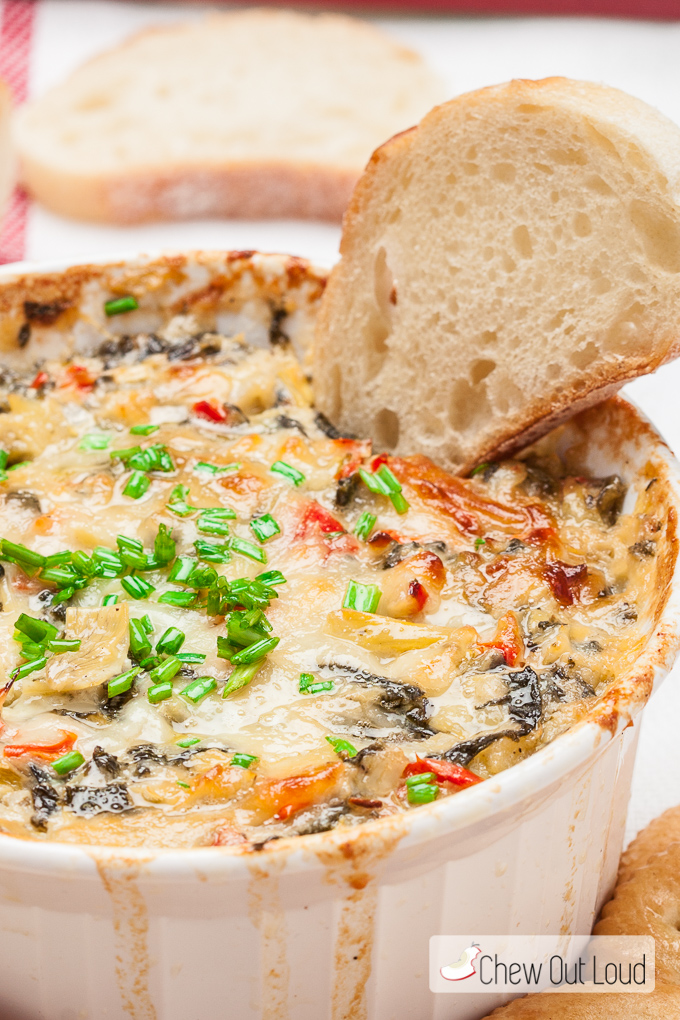 If there's a popular appetizer for the finger food table of any party, it's a creamy good dip.
Grad parties, Father's Day, and summer gatherings are all on the horizon, and our brains (tummies) are rolling in chips 'n' dips.
It's hard to beat an appetizing spread of various dips. From Chunky Salsa with Corn to Fresh 'n Chunky Guacamole to a luscious 7-Layer Mexican Dip… it's all very, very good.
One of my all-time favorite indulgences is a hot-from-the-oven Spinach Artichoke Dip.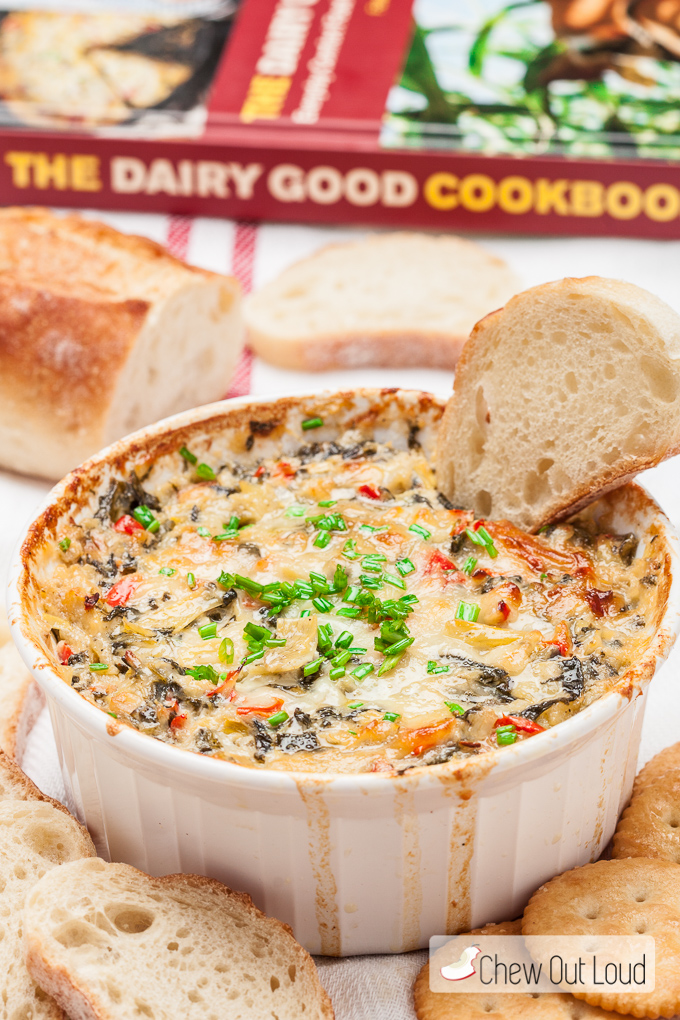 When I saw a recipe for Baked Spinach-Artichoke Yogurt Dip in my gorgeous new copy of The Dairy Good Cookbook, I knew that veggie-filled dip would be happily sitting on our kitchen table within 24 hours.
It just had to happen. It did happen. The crackers and bread were gloriously happy indeed.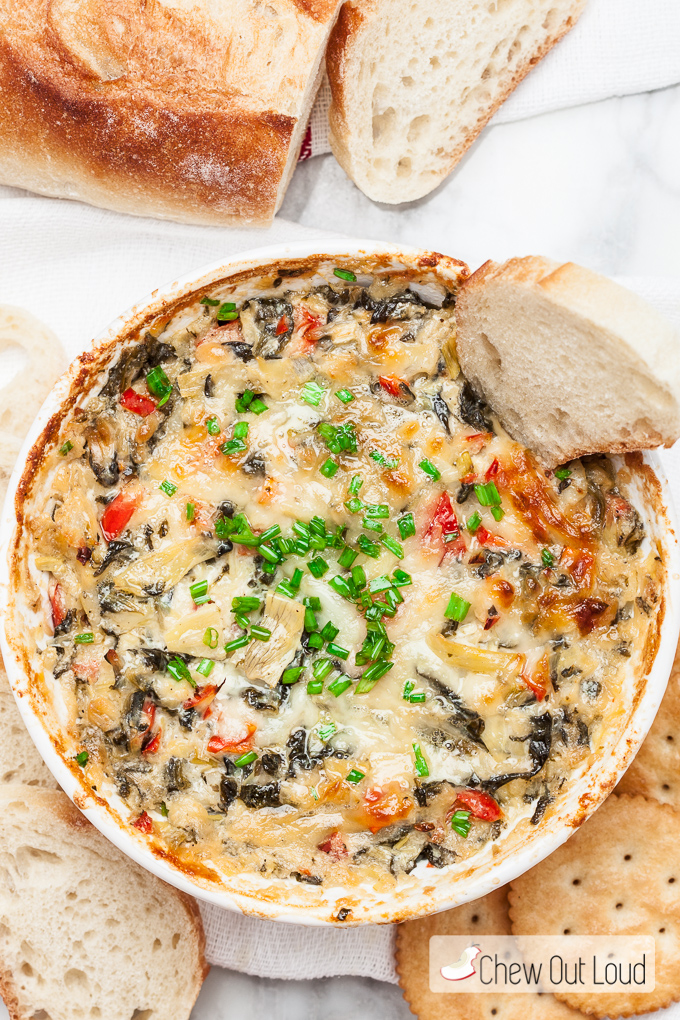 This Baked Spinach-Artichoke Yogurt Dip is chunky with plenty of artichoke hearts, chopped spinach, and fresh bell peppers.
Add in some green onions and tasty seasonings.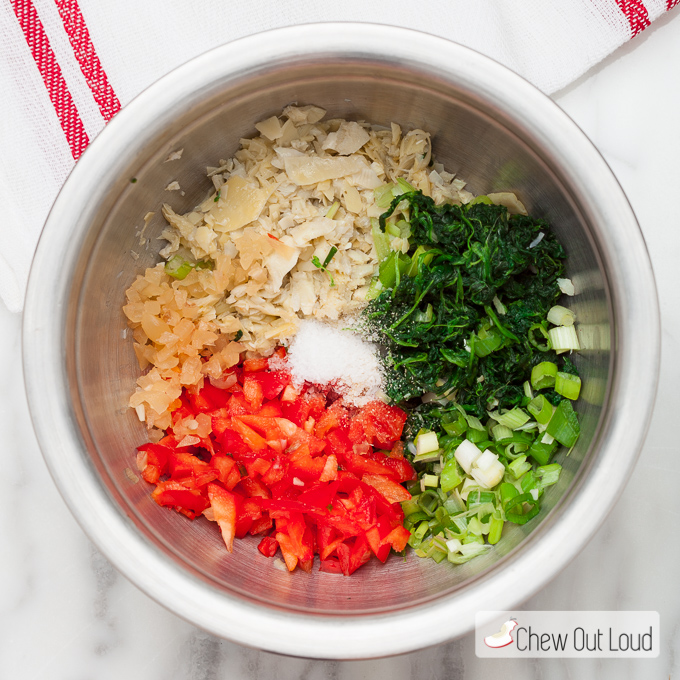 What attracted me to this dip was the addition of whole plain yogurt. I've never used yogurt in my spinach dips before, and I love twisting things up.
Especially if the twist means the extra goodness of yogurt. I adore yogurt and The Littles eat it almost daily. I literally start each week with a fridge-full of yogurt.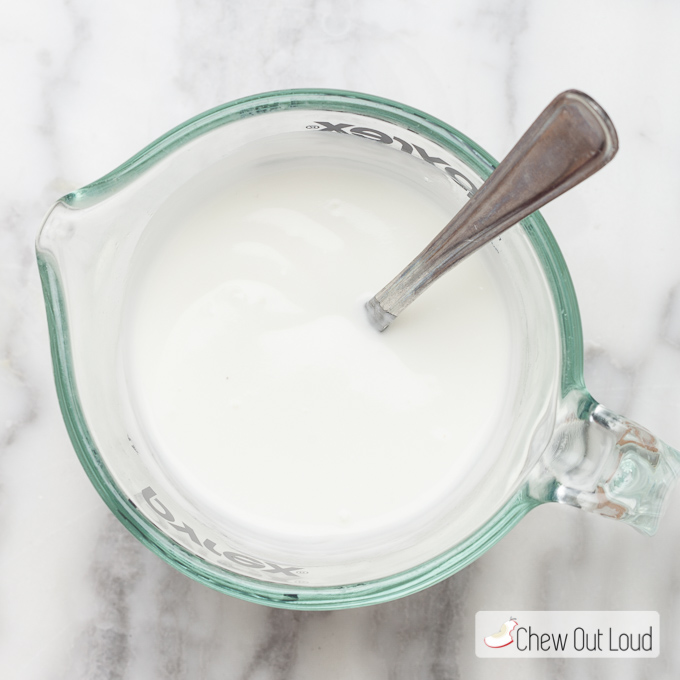 Of course we're going to toss in a full house of fresh mozzarella and Parmesan cheeses. Freshly grated is by far the best.
The Littles actually dig into freshly grated Parmesan cheese with a spoon. I don't blame them.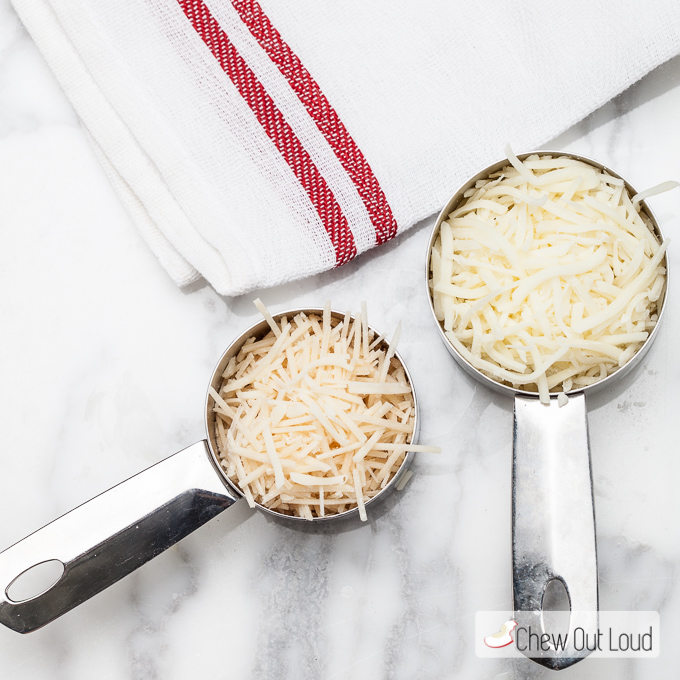 Onto that cookbook I just bragged about.

The Dairy Good Cookbook highlights everyday comfort food (fist bump) from America's dairy farm families.
There are more than 100 recipes – from cheese and yogurt to milk and butter. It's a celebration of thousands of dairy farm families and all the hard work they do every day to bring us all that yum!
My personal favorite farmer story in the cookbook is from a Minnesotan farm family who home-produces fresh Cheddar and cheese curds. Double whoop-whoop for Minnesota and cheese curds! (If you've never tried cheese curds, put it on your bucket list for sure.)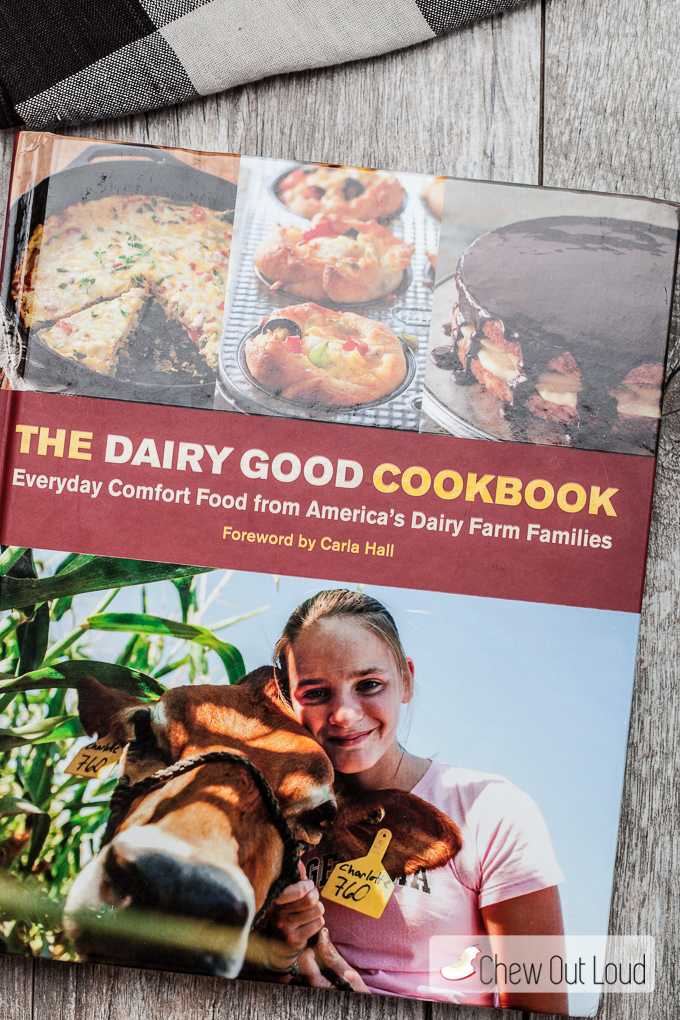 This cookbook is seriously gorgeous both inside and out.
We've all been taught not to judge a book by its cover.
Allow me to take you inside. Let's do the sneak peak…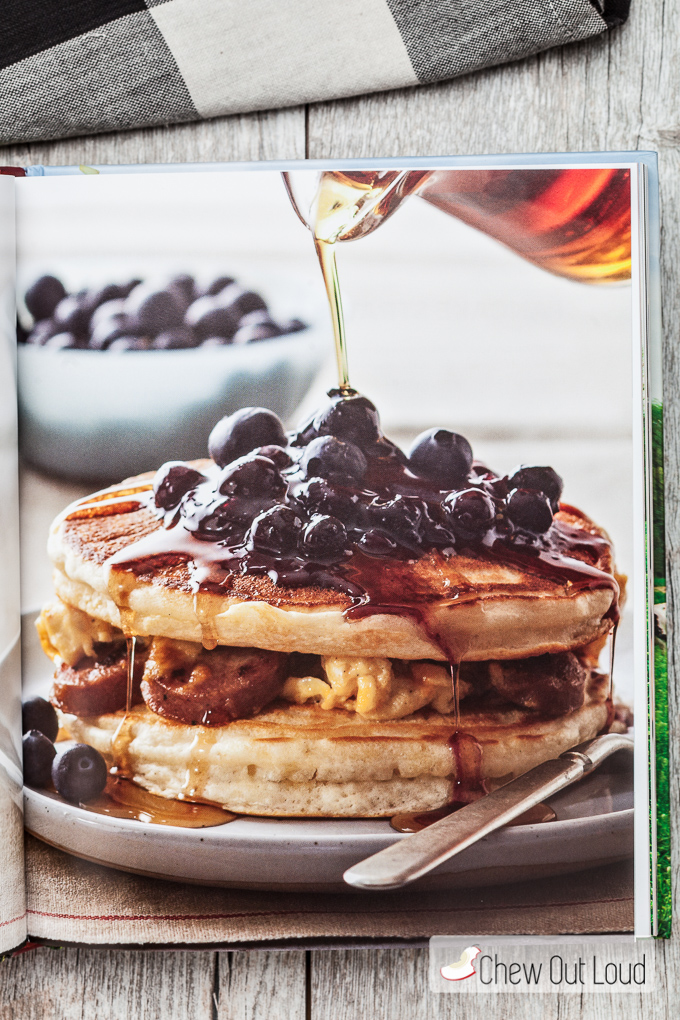 That beautiful pancake strata is calling my name right now. Every single time I see it.
I'm a huge brunch fanatic. This thing has got the mornings covered. Covered, I tell ya.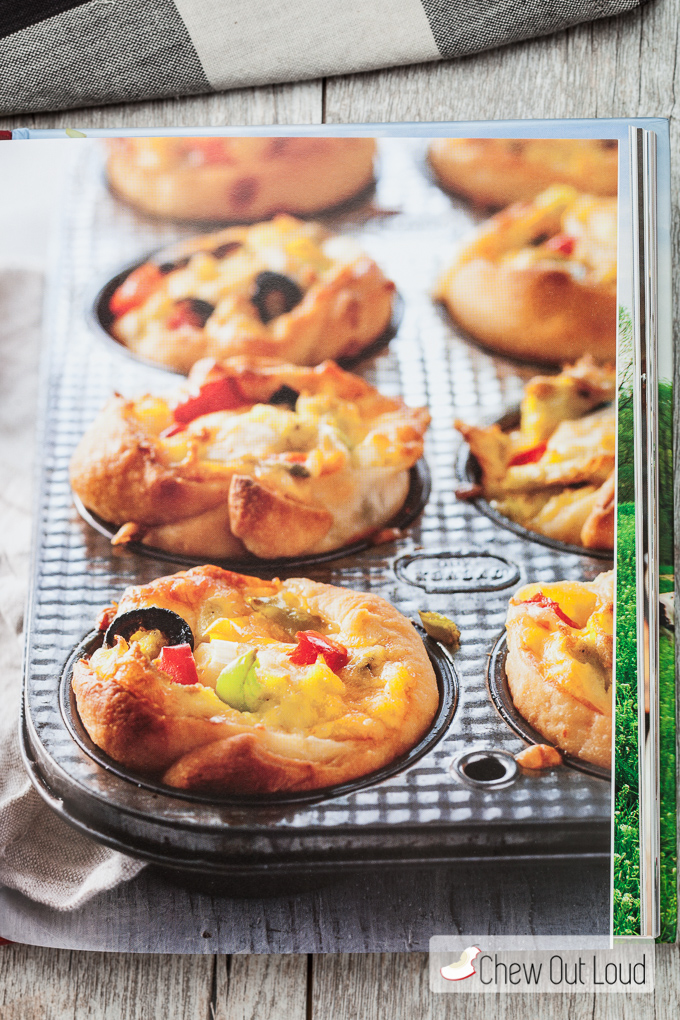 Did I mention the stunning photos that accompany all the recipes? Not itty bitty little thumbnails. These are full-blown, full page, full color photos.
The kinds that make you want to eat the page.
You'll find everything from snacks and smoothies to salads and main dishes.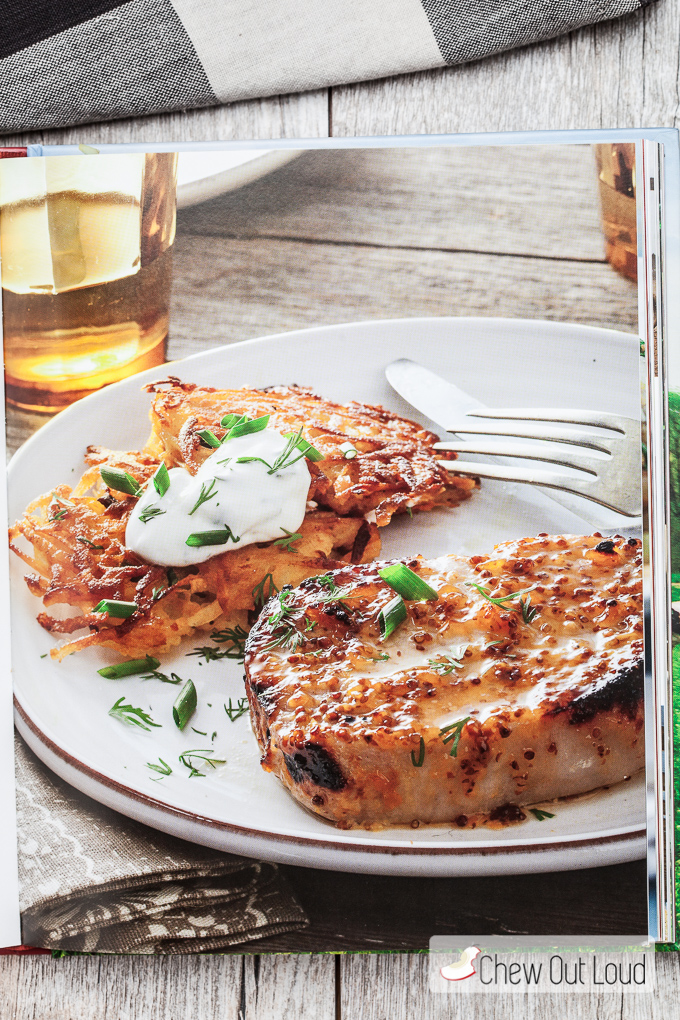 That just makes me hungry for dinner all over again. Never mind that I just ate.
And this…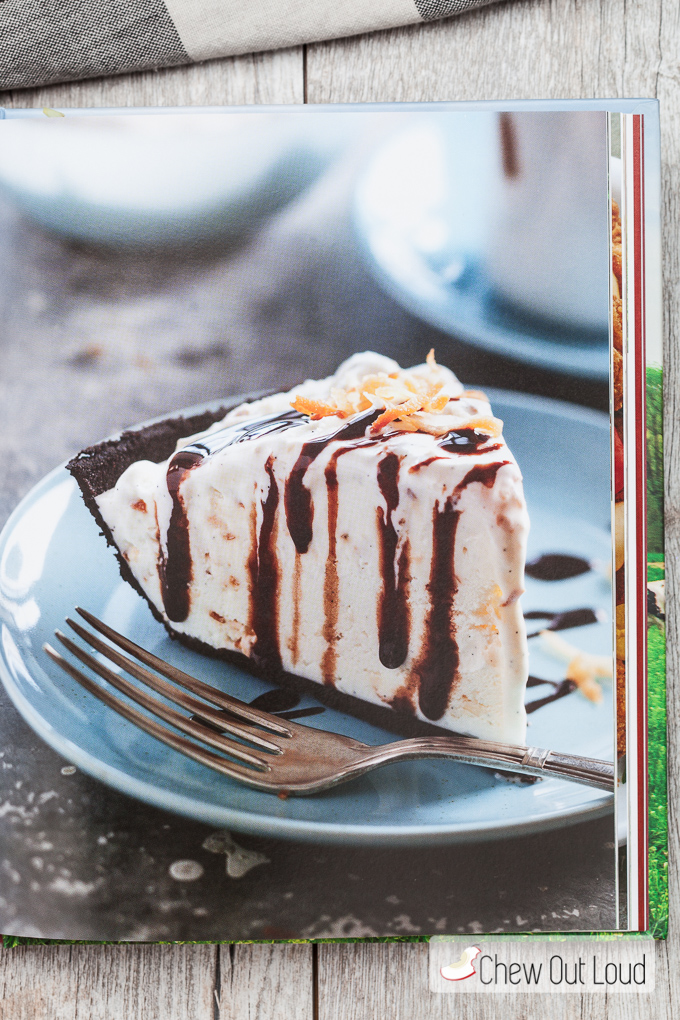 Hello, Wonderful.
I can't wait to make (eat) oodles of the recipes in the cookbook.
But not before I take another bite of this creamy, satisfying Baked Spinach-Artichoke Yogurt Dip.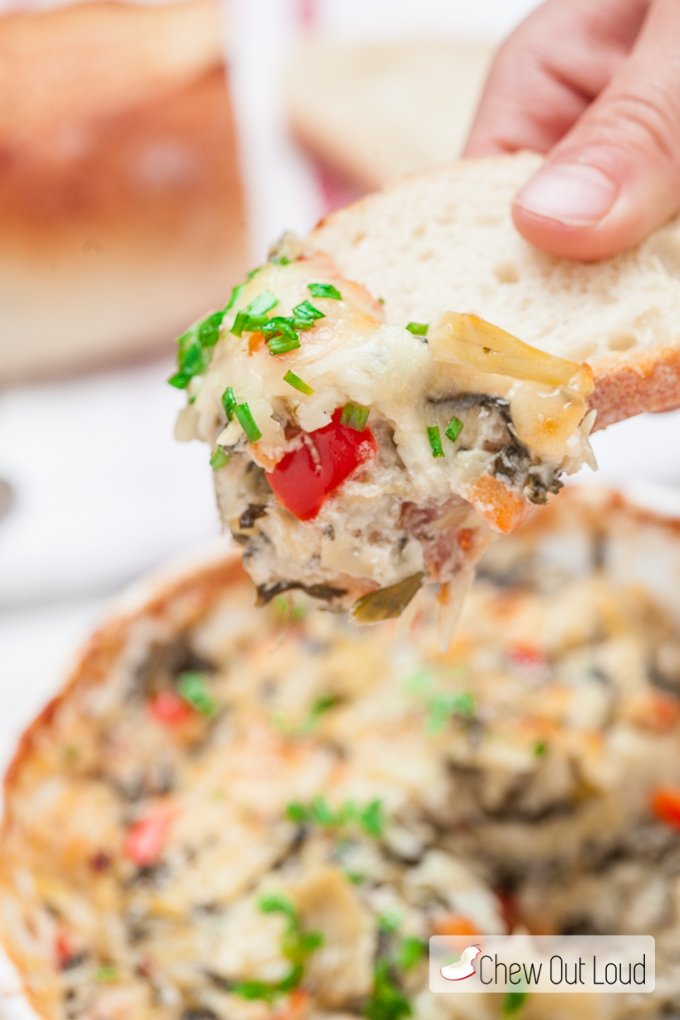 Healthy Spinach Artichoke Yogurt Dip
Print
Baked Spinach-Artichoke Yogurt Dip
Yield:

16

–

20

1

x

Category:

appetizer, snack
---
Description
This Baked Spinach-Artichoke Yogurt Dip is "healthified" with the addition of extra veggies and plain yogurt. Creamy, chunky, hot, and delicious! Serve with baguette slices, crackers, pita chips, or tortilla chips.
---
Scale
Ingredients
Softened butter, for the baking dish

1

(14 oz) jar artichoke hearts, drained and finely chopped

1

(10 oz) package frozen chopped spinach, thawed and squeezed dry

1 cup

plain whole yogurt

1 cup

shredded mozzarella cheese

1 cup

freshly grated Parmesan cheese

1/4 cup

thinly sliced green onions

1/4 cup

chopped red bell pepper

1/2 tsp

garlic powder
Other: Pita chips, tortilla chips, crackers, or toasted baguette slices for serving
Note: The above recipe is as written in the cookbook. Here are my recommendations: Add 1 cup real mayo, another 1/2 cup of shredded mozzarella cheese, another 1/2 cup of freshly grated Parmesan cheese, 1/2 tsp onion powder, 1/2 tsp kosher salt, and freshly ground pepper to taste.
---
Instructions
Preheat oven to 350F. Butter a 1 quart casserole dish or 9 inch glass pie plate; set aside.
Combine all dip ingredients in a large bowl and mix thoroughly. Transfer mixture to buttered baking dish. Bake for 30-35 minutes or until bubbling and golden brown on top.
Let stand 5 minutes. Serve with desired chips, breads, or crackers.
---
This recipe is used with permission from The Dairy Good Cookbook (Andrews McMeel Publishing, LLC; Cookbook photography by Peter Krumhart and Dean Tanner) This post is sponsored by Dairy Good. All opinions are my own. Visit Dairy Good on Facebook, Twitter, Instagram and Pinterest. The Dairy Good Cookbook is available nationwide wherever books are sold and you can purchase online at Amazon.com, Barnes and Noble, and Indie Bound