Sheet Pan Roast Pork Tenderloin with Potatoes
By Amy Dong
Published Nov. 29, 2021
Updated Jan. 29, 2023
This Sheet Pan Roast Pork Tenderloin with Potatoes is extremely tender, succulent, and healthy. This pork tenderloin recipe is easy enough for a weeknight meal and delicious enough for serving to guests. Little effort with big results.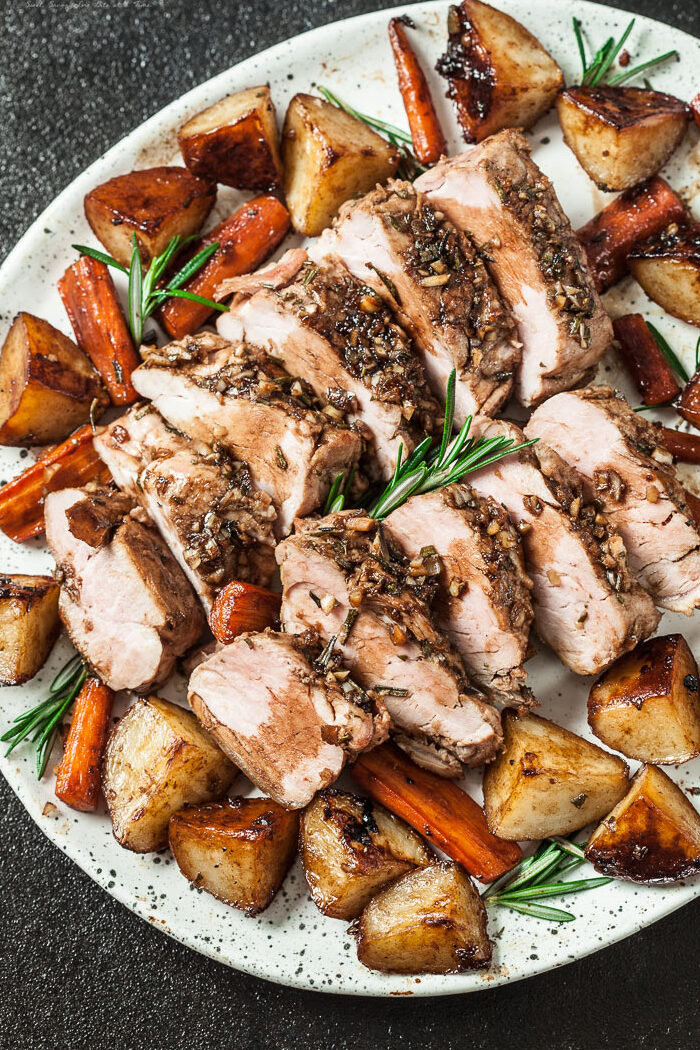 Easy Pork tenderloin with Potatoes
Whether you're going out of town, having friends over, or simply enjoying down time at home, we hope it's a wonderful season with your favorite people.
Of course, you know I routinely wish you plenty of yum, as in this popular BEST Carrot Cake with Cream Cheese Frosting. If cookies are your jam, both kids and grownups alike go coco-nutty over these Chewy Coconut Macaroons Recipe (Gluten-Free) and these chewy delicious Coconut Macaroon Nutella Nest Cookies.
As for the ham…may we humbly suggest that no other ham holds a candle to this time-tested 5-Ingredient Honey Baked Ham Recipe that I always get recipe requests for. So many people who normally don't touch ham have asked me for that one. It's a keeper so be sure to keep it.
Onto today's Sheet Pan Roast Pork Tenderloin with Potatoes…this is one of those great recipes you can dish up for either a special occasion or a casual family meal. It's easy enough to pull off any day of the week, as it happily cooks up in a single pan. This pork tenderloin recipe results in an impressive one-pan meal that's 250% tender and tasty enough for any situation.
This easy roast pork tenderloin is an all-in-one meal deal that tastes awesome. No need to dig out all the pots and pan. No mess, no stress.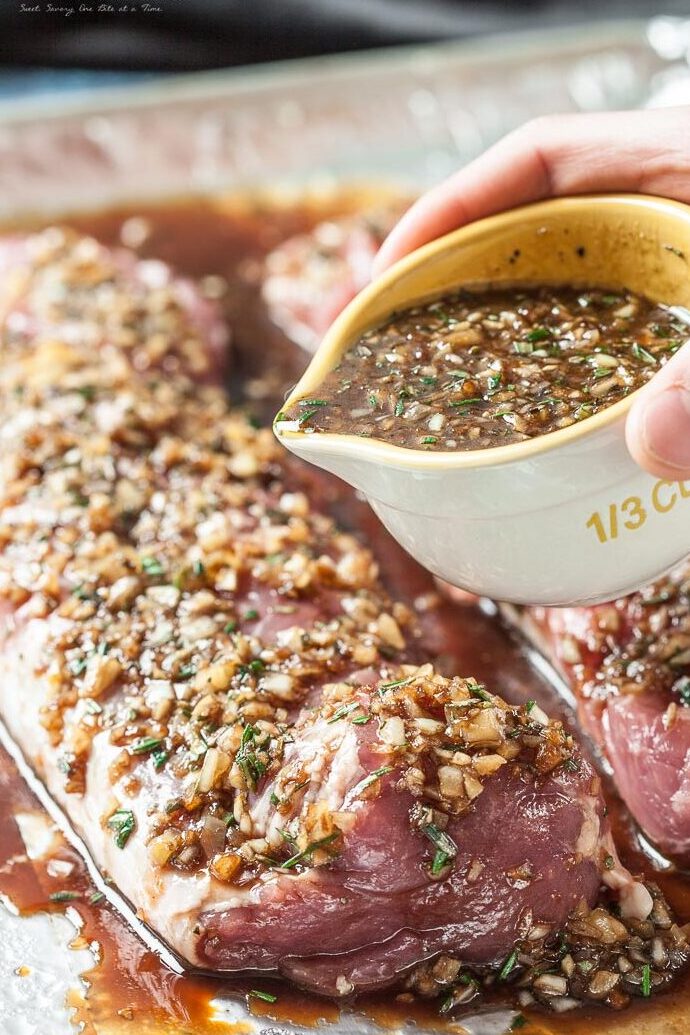 How to make Roast Pork Tenderloin with Potatoes
Be sure you buy pork tenderloins and not pork loins. The tenderloins are smaller in size and much more tender.
You'll make a simple marinade-rub to coat the pork tenderloin with. No chill time needed with this recipe. It gets to go straight into the oven, alongside of the baby potatoes and carrots.
Plenty of fresh herbs and spices make this roast pork tenderloin recipe taste fabulous.
Often, pork tenderloin does best with an initial short stint in the oven under high heat. We won't be doing that here, as that can cause the pork tenderloin to be done way before the veggies are.
Since our goal is for the entire pan of goodies to finish cooking at roughly the same time, we allow the pork tenderloin to go at 350F with the rest of the ingredients.
If your pork tenderloin is fully cooked before the veggies are done, you can simply remove the tenderloin and keep it warm while the veggies finish their beautiful browning in the oven.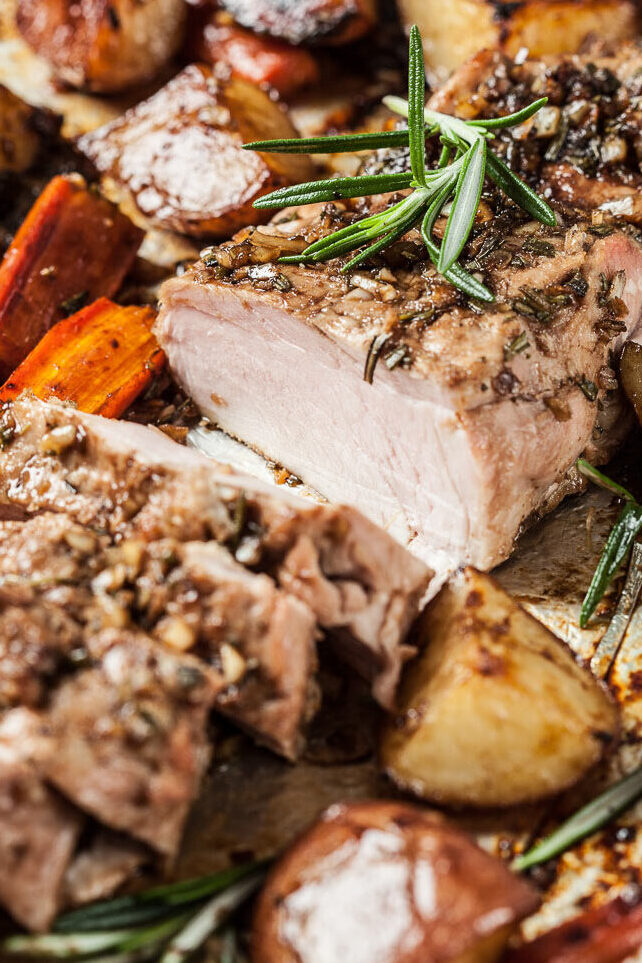 How Long do you cook pork tenderloin?
We have debated this for years now, with some leaning towards old school conservative cook times and others advocating new school (is that a phrase yet?) cook times that allow for slightly pink pork.
But. I think we've finally settled on a similar conclusion as the majority of pork-cooking chefs. USDA Guidelines have officially lowered pork cooking temperature to 145F internal center temp, followed by a 3-minute rest time at room temp. When the pork rests at room temp after roasting, its internal temp will continue to rise several degrees, and often land around 150-155F. That's pretty perfect for a juicy, tender, succulent roast pork tenderloin.
You'll definitely want to grab yourself a faithful meat thermometer, if you don't already have one. It comes in handy for all your future roasts.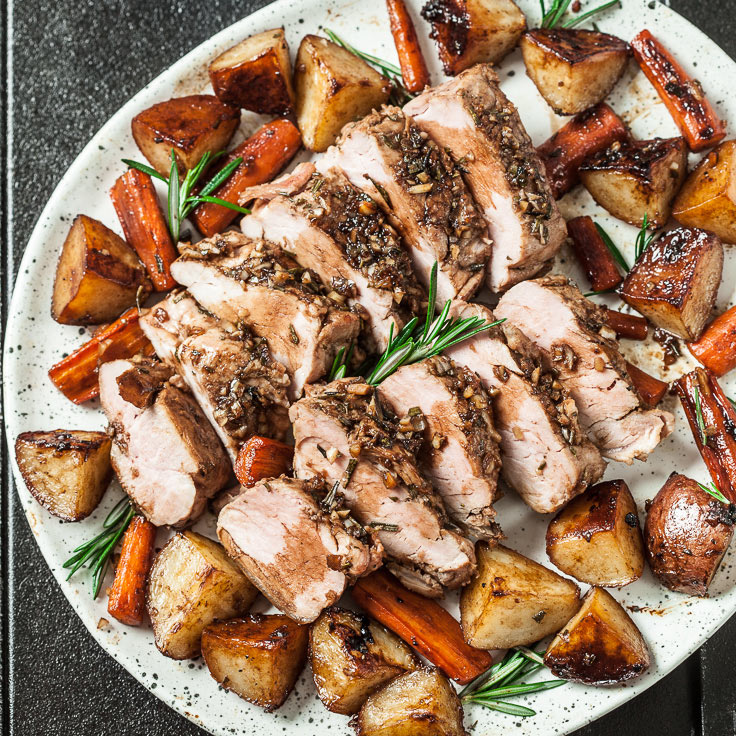 Hope your season is filled with lots of joy, plenty of flavor, and amazingly irresistible Perfect Chocolate Chip Cookies if you're so inclined 😇
---
More to Cook and Eat
---
See This Recipe in Action
---
Did you make this?
Please give us a rating and comment below. We love hearing from you!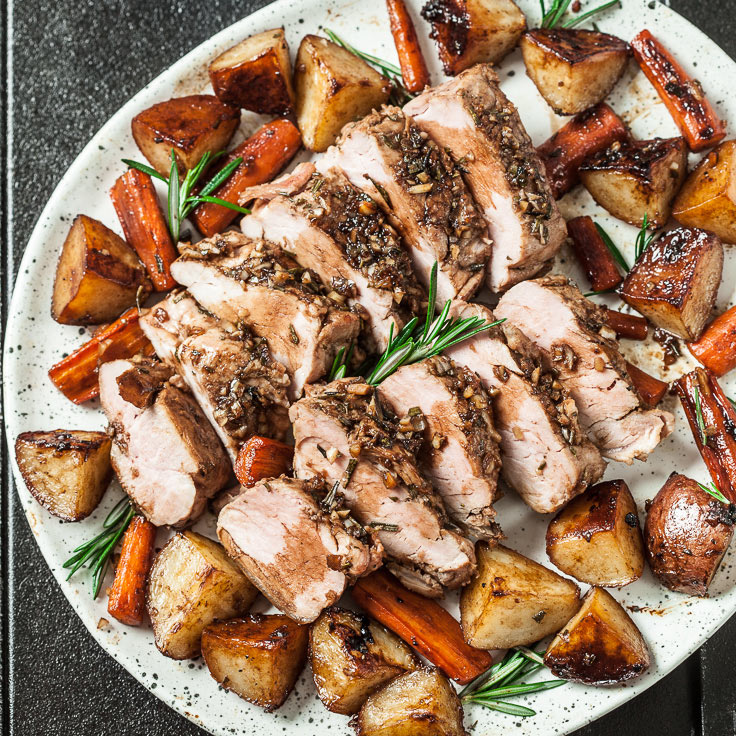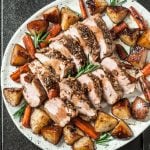 Sheet Pan Roast Pork Tenderloin with Potatoes
This Sheet Pan Roast Pork Tenderloin with Potatoes is extremely tender, succulent, and healthy. This pork tenderloin recipe is easy enough for a weeknight meal and delicious enough for serving to guests. Little effort with big results.
Instructions
Prepare Preheat oven to 350F with rack on lower middle position. Line a large baking pan with foil and generously grease foil. Use paper towels to pat-dry all excess moisture from the pork tenderloins; place tenderloins in center of greased-foiled pan and set aside.

Combine: In a large bowl, combine olive oil, balsamic vinegar, honey, garlic, onion, rosemary, salt, and pepper. Use a whisk to combine well to form the marinade. Reserve 1/3 cup of the marinade in separate small bowl. Add potatoes and carrots to the marinade in large bowl and toss to combine well.

Season: Evenly drizzle the reserved 1/3 cup marinade over the pork, ensuring all sides are coated. Place potato/carrot mixture evenly around the pork tenderloins, ensuring that all marinade is evenly dispersed.

Cook: Roast in oven 45-50 minutes, OR until pork reaches internal temp of 145F when tested in the thickest center portion. The correct thermometer allows you to monitor the rising temperature without disturbing the roast. Actual cook time will vary according to oven. If pork is done before veggies, carefully use tongs to transfer pork to a platter and tent with foil to keep warm at room temp.

Veggies: If potatoes/carrots need to cook longer, bump up the oven temp to 425F and continue roasting veggies until nicely browned and tender – check often for doneness. Actual cook time depends on the size of cut pieces.

Rest and Slice: always allow roasts to rest at room temp at least 5-10 minutes before slicing. The temp will continue to rise during resting; juices will re-disperse throughout the roast during rest period. Slice pork and drizzle with any pan sauces that remain. Serve with potatoes and carrots.
Notes
Balsamic vinegar quality and flavor varies widely between brands; we recommend using a high-quality balsamic vinegar that's rich, thick, sweet, and fruity – it balances out the acidity. If you love your choice of balsamic vinegar, use the full 6 tablespoons.
Do a taste test: if your balsamic vinegar is rather acidic, either use less of it OR balance it out by adding more honey.
This recipe is meant for pork tenderloins, which are much more tender and smaller in size than pork loin.
In order for the potatoes and carrots to cook properly, you'll need to cut them smaller than you may be used to.
If you enjoyed this recipe, please come back and give it a rating ♡
Nutrition (per serving)
Serving:
1
serving
|
Calories:
194
kcal
|
Carbohydrates:
23
g
|
Protein:
2
g
|
Fat:
11
g
|
Saturated Fat:
2
g
|
Polyunsaturated Fat:
1
g
|
Monounsaturated Fat:
8
g
|
Sodium:
507
mg
|
Potassium:
509
mg
|
Fiber:
4
g
|
Sugar:
6
g
|
Vitamin A:
6277
IU
|
Vitamin C:
20
mg
|
Calcium:
30
mg
|
Iron:
1
mg