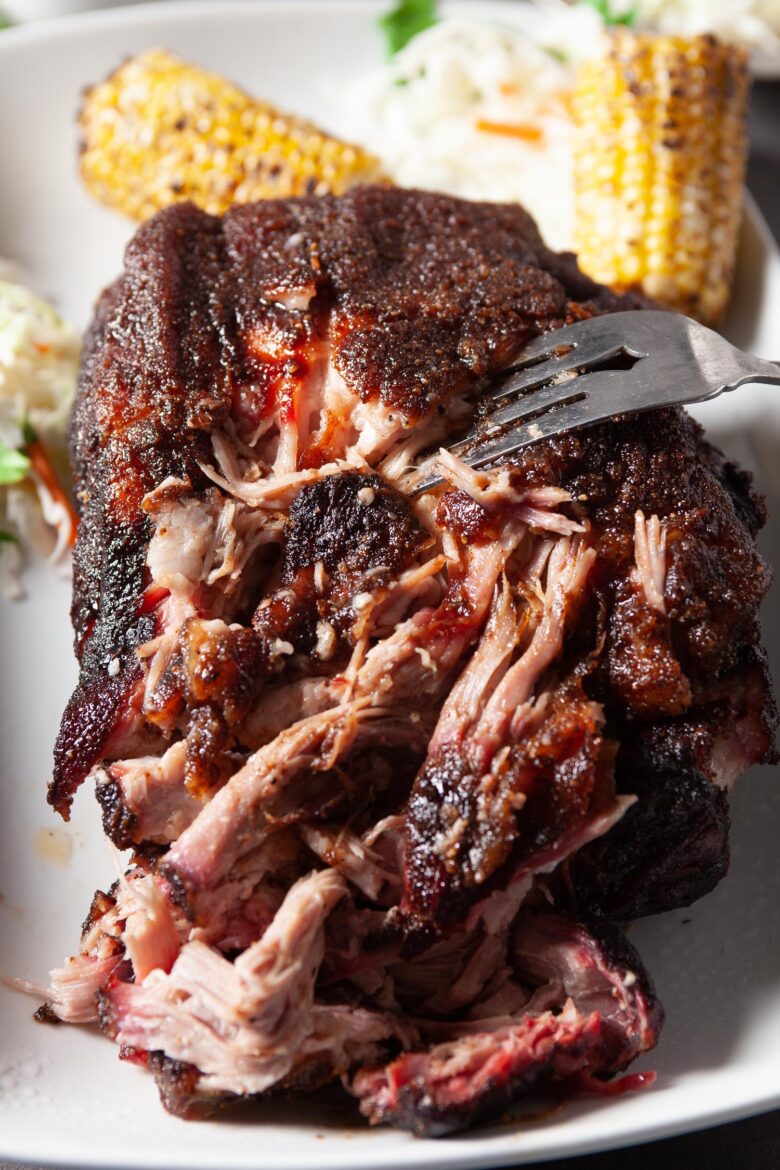 Video: Watch Us Make This Recipe
Smoked Pork Butt
Summer's here again, which means the days are getting longer, and we're all wanting to spend our evenings outside enjoying our favorite barbeque dishes. This tender, flavorful smoked pork butt is a perfect alternative to firing up the grill.
Packed with robust flavors only achievable through hours in the smoker, this dish stays true to the saying that the best things take time. A simple but delicious brown sugar rub is all that's needed to create the most juicy, tender pork dish perfect for any summer barbeque.
Make this dish for a cookout with friends or for a dinner with family. This Smoked Pork Butt is perfect on its own or shredded into a pulled pork sandwich. Looking for a side dish to serve? We love these side dishes alongside this mouthwatering entrée.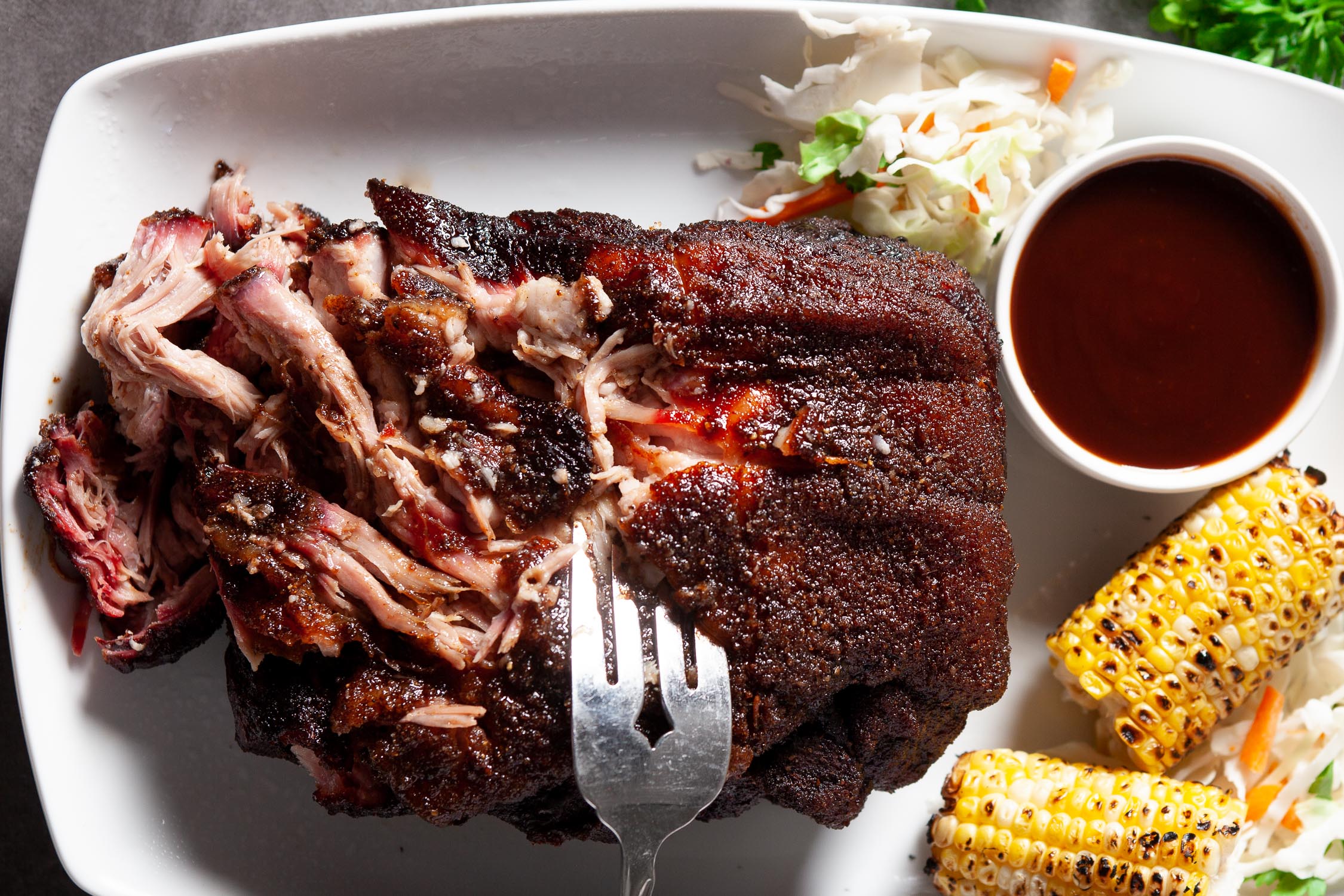 Why This Recipe Stands Out
It's quick and easy to throw together with only a simple, flavor-packed dry rub needed. The smoker is what really does the work.
The dry rub can be mixed up to a week in advance for even easier prep (just store it in an airtight container in a cool, dry space until ready to use).
The brown sugar and salt in the rub work together to create a crust on the outside of the pork butt while retaining a juicy, tender center making a restaurant-quality dish in the comfort of your own backyard.
The pork butt and pork shoulder generally are interchangeable, so you can use either cut with fantastic results.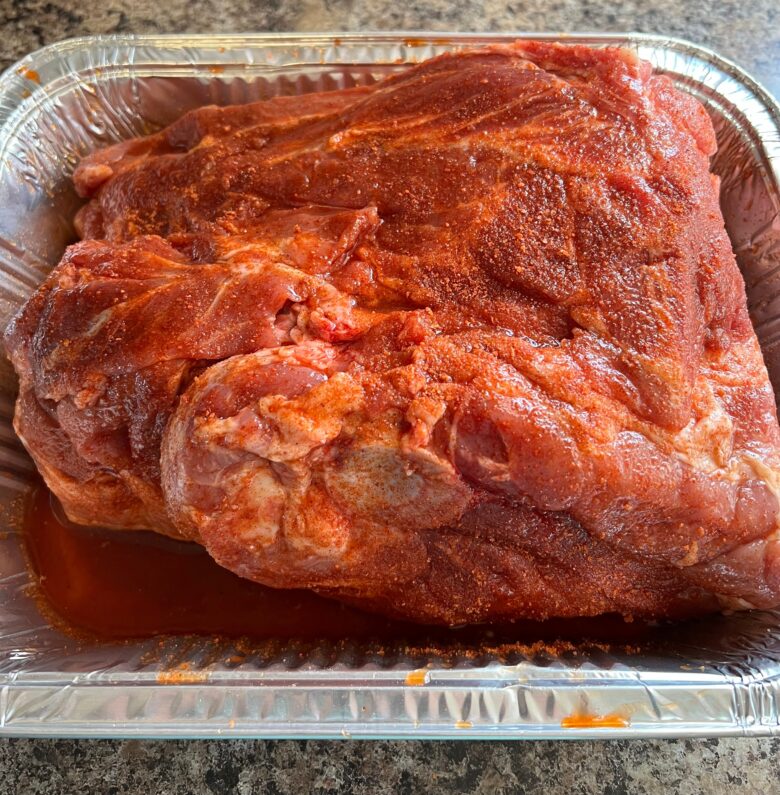 Key Ingredients
Brown sugar – Brown sugar helps create a crust on the meat and adds a touch of sweetness that balances out the smoked flavor of the pork.
Paprika – This vibrant spice is absolutely delicious on smoked dishes. For an even smokier essence, try Smoked Paprika.
Salt – We like to use Kosher Salt. It works alongside the sugar to tenderize the meat giving it that coveted fall-off-the-bone status.
Cayenne Pepper – Just a 1/2 tsp of this feisty spice gives the pork butt just enough of a kick without being overwhelming.
Freshly Ground Pepper – We like using freshly ground pepper because of its sharp, earthy flavor that complements the sweetness from the sugar so well.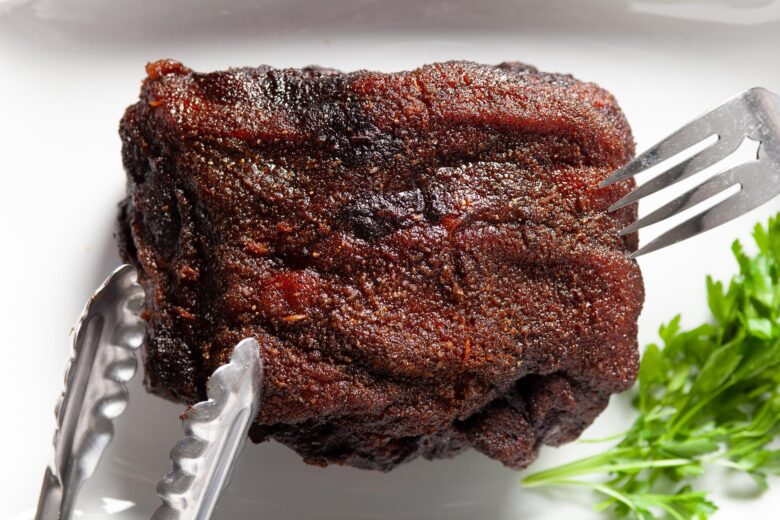 Tips For Success
Choose dark brown sugar to get the most tender meat and a more robust flavor from the molasses.
Use freshly ground black pepper for a bolder taste that brings out the smoky flavor of the pork.
Use hickory or maple wood for the smoker, or a blend of medium-flavored woods. Hickory is best for a stronger smoky flavor, while maple instills a more subtle, sweet taste. Choose whichever option you prefer.
Stick with a meat thermometer with a stainless steel probe and a long, metal wire that is heat safe.
Stay away from instant-read thermometers that require you to keep inserting and removing the probe into the meat. This will cause the juices to escape and make your pork too dry.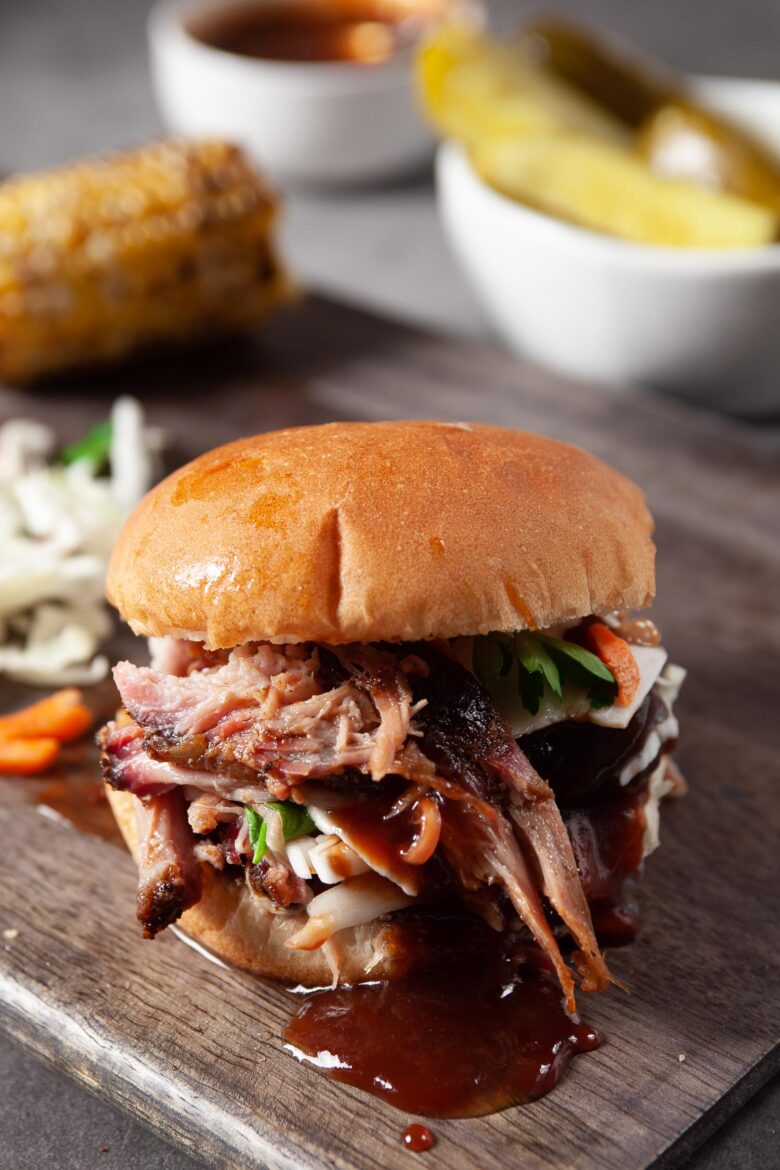 What To Serve With Smoked Pulled Pork
Barbeques are the perfect occasion to try out all the side recipes! This smoked pork butt goes wonderfully with a number of different sides.
More To Make And Eat
Commonly Asked Questions
Do I need to use pork butt with the bone in?
We like to use the bone in, because it helps hold together the roast and adds flavor. However, you can use boneless. Just make sure to tie the roast, as it will fall apart easier, and keep in mind that the cooking time may be shorter.
How do I store leftover smoked pork butt?
Leftovers for this dish store well in the fridge for 3-4 days. If keeping it longer, freeze the leftovers; be sure to freeze it airtight to avoid freezer burn.
Should I trim the fat cap on a pork butt before smoking?
It's recommended to leave the fat layer on the pork butt before smoking. The fat cap helps during the cooking process, keeping pork moist and adding flavor. You can choose to trim excess thick or uneven sections of fat, but leaving a thin layer intact is worthwhile; you can trim away the fat after cooking.
Why is it taking my pork butt so long to reach the right temperature?
Expect 10 to 20 hours for your pork butt to reach the right temperature. Don't worry if the temperature stalls for a while and isn't rising. That's completely normal.
What wood is best for smoking pork butt?
There are several types of wood that work well for smoking pork butt, and the choice ultimately depends on personal preference. Popular options include hickory, apple, cherry, oak, and mesquite. Hickory is known for its strong, smoky flavor, while fruit woods like apple and cherry impart a sweeter taste. Oak and mesquite offer a robust and intense flavor.

What are some popular recipes or dishes that can be made with smoked pork butt?
Smoked pork butt is a versatile ingredient that can be used in various dishes. Some popular options include pulled pork sandwiches, tacos, enchiladas, barbecue pork sliders, nachos, and chili. It can also be used as a topping for pizzas or incorporated into casseroles, soups, and stews.
Did you make this?
Please give us a rating and comment below. We love hearing from you!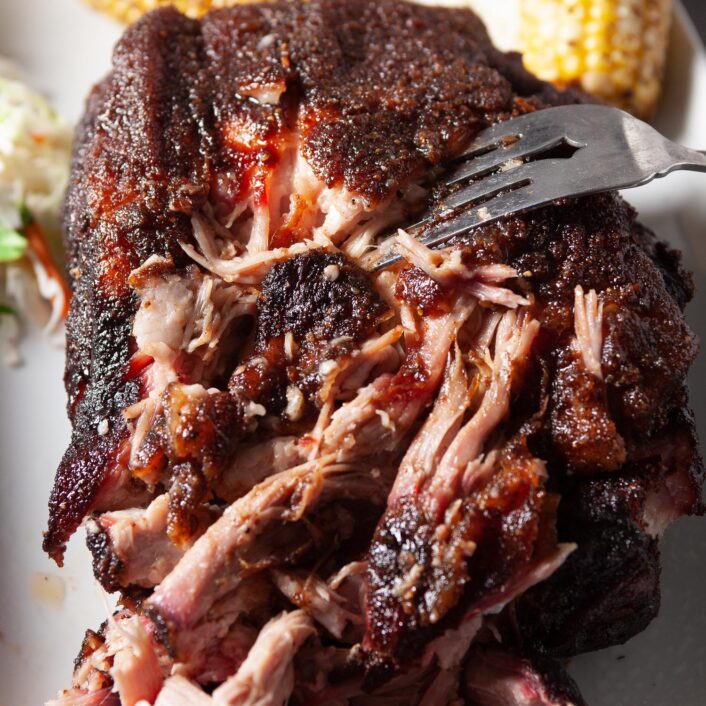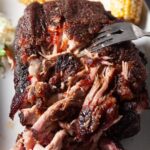 Smoked Pork Butt
You can absolutely make the most tender, flavorful, smoky-good pork butt or pork shoulder in your own backyard. This smoked pork recipe is perfect for casual gatherings and easy family meals.
Ingredients
8-10

lbs

Pork Butt or Pork Shoulder

,

bone-in
Instructions
Prepare Ahead: Combine all Dry Rub ingredients together in a container and stir to combine well. This can be done up to a week ahead of time. Keep in an airtight container in a cool, dry space until ready to use.

Preheat the smoker to 225F. Use hickory or maple wood for the smoker, or a mixture of medium-flavored woods.

Use clean paper towels to pat dry all sides of pork, removing as much excess moisture as possible.

Press dry rub onto all sides of pork roast; wear disposable gloves if you like. Depending on the size of your pork roast, you may or may not use up all the dry rub.

Place seasoned pork butt on the smoker, fattier side up. Insert heat-safe meat thermometer, metal probe portion only*

Close lid and smoke until internal temperature reaches 201F – note that the time it takes for meat to reach this temperature can take 10-20 hours, depending on the actual temperature inside the smoker, as well as the size of the roast.

Place finished pork on a cutting board and loosely tent with foil. Let it rest, without cutting into it, for 30-60 minutes before shredding. This rest time is important, as it allows juices to redistribute evenly throughout the roast, preventing it from drying out.

Using large forks or clean hands (disposable gloves are great) pull the pork butt, removing larger pieces of fat. Serve pulled pork in a large serving bowl or on buns.
Notes
It's worth repeating that actual cook time always varies by quite a bit. Even when you use the same size cut of meat, your cook time will likely be different each time. It can vary anywhere from 10-20 hours.
Be sure to use a meat thermometer with stainless steel probe and a long metal wire that is heat-safe. Do not use instant-read thermometers that require you to keep inserting/removing the probe into the meat, as that causes juices to escape.
If you enjoyed this recipe, please come back and give it a rating ❤️
Nutrition (per serving)
Serving:
1
serving
|
Calories:
421
kcal
|
Carbohydrates:
6
g
|
Protein:
57
g
|
Fat:
17
g
|
Saturated Fat:
6
g
|
Polyunsaturated Fat:
2
g
|
Monounsaturated Fat:
8
g
|
Trans Fat:
0.1
g
|
Cholesterol:
181
mg
|
Sodium:
780
mg
|
Potassium:
1051
mg
|
Fiber:
0.2
g
|
Sugar:
5
g
|
Vitamin A:
62
IU
|
Vitamin C:
3
mg
|
Calcium:
50
mg
|
Iron:
4
mg