Welcome to Chew Out Loud
Welcome to our kitchen! Here is the place where you'll find an ever-growing collection of all things yum. From healthy to indulgent. For every occasion. Grab a cup of coffee and enjoy your stay. We're so glad you're here!
Read More…
Latest Chew
April 18, 2014 By chewoutloud 5 Comments
This honey cornbread is hearty and robust.  It's rustic with plenty of cornmeal, yet tender and moist. Sweet, buttery cornbread that's baked in the skillet or cast iron for a soft interior and a slightly crispy golden exterior.
Cornbread is one of the little golden joys in life.  I'm a sucker for cornbread, and apparently, so is the rest of my family.  We break out the homemade cornbread whenever we have an excuse to have it.
Whether it's paired with this Chunky Homestyle Chili, White Chicken Chili, Slow-Cooker Chili with Sriracha, or  Baked BBQ Ribs… honey cornbread has a permanent fixture next to them all…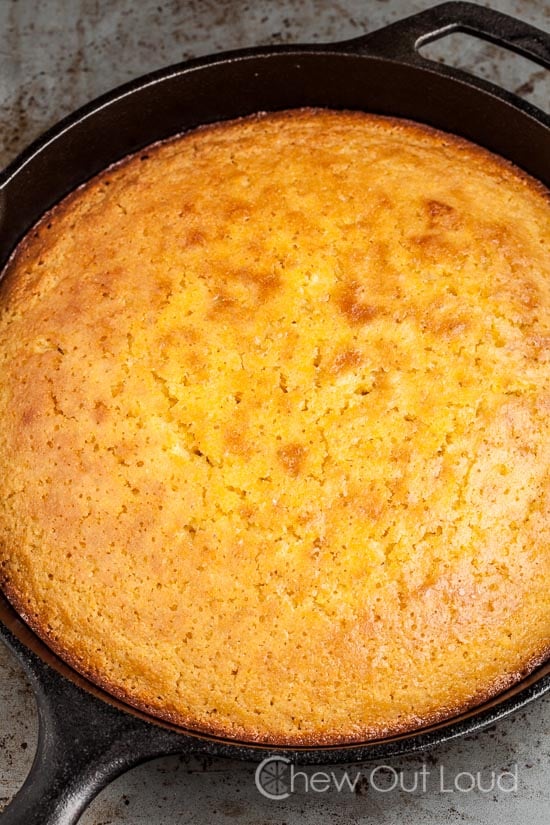 Just the sweet aroma of honey and cornmeal wafting throughout the kitchen and home is enough to tempt everyone's taste buds.
The sight and smell of freshly baked honey cornbread gets everyone racing to the dinner table, and I don't have to ring that dinner bell more than once.
In fact, they're usually tasting sweet pinches of honey cornbread before they even sit down at the table…
Recent Chews
These Double … [Read More...]
Ever wonder what … [Read More...]
When outdoor … [Read More...]
This chocolate ice … [Read More...]
There are takeout … [Read More...]
On busy weeknights, … [Read More...]
These blueberry … [Read More...]
Olive Garden's Pasta … [Read More...]
Carrot Cake is the … [Read More...]
This flavorful, … [Read More...]
These M&M … [Read More...]
This Angel Food cake … [Read More...]
If you love Olive … [Read More...]
These cookies are … [Read More...]
These Salted Caramel … [Read More...]