Branzino Recipe
By Amy Dong
Published Feb. 26, 2023
Updated Nov. 17, 2023
Learn how to make the best branzino recipe with lemon butter sauce. With just a handful of ingredients and 20 minutes, you'll have flakey, delicious fish that tastes gourmet. Pairs well with all your favorite sides!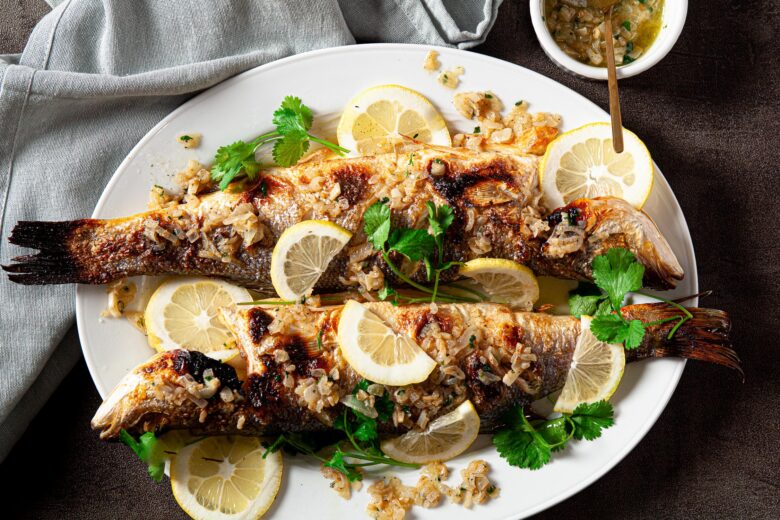 What Is Branzino?
Branzino, also known as European bass, Mediterranean bass, and loup de mer, is a type of mild, white fish. Native to the western and southern coasts of Europe as well as the northern coasts of Africa, it is lean, delicate in texture, and has a slightly sweet taste. Often served whole, it lends itself well to a wide variety of flavors and can be found as a common ingredient in Mediterranean, Italian, and Spanish cuisines.
Branzino Substitutes
Because branzino is a mild-flavored, flaky, white fish, the best substitutes will have the same characteristics. If you can't find branzino, try black sea bass, red snapper, rainbow trout, or even tilapia.
Ingredients You'll Need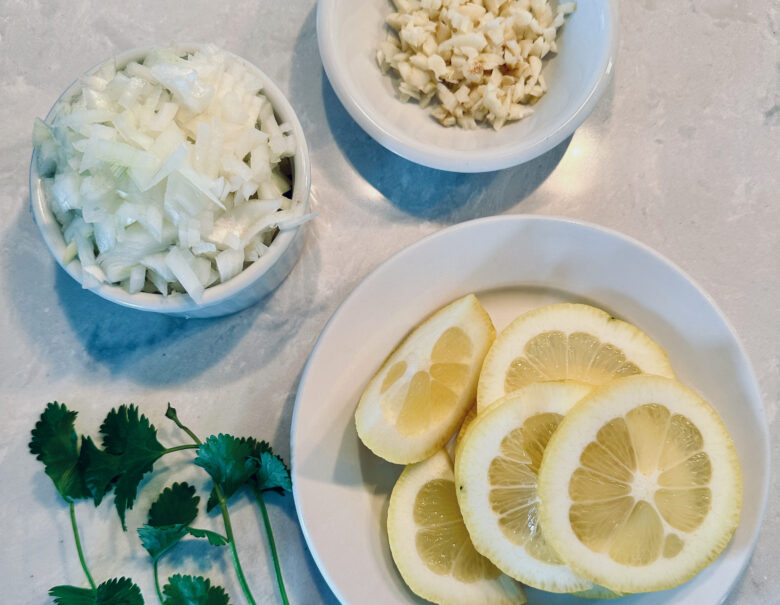 For this branzino recipe, we season the fish with just a couple of ingredients. Then, it is combined with a rich lemon butter sauce for a flavor that is out of this world delicious. Here's what you'll need:
For the Branzino
Branzino fish – You'll want three whole branzino fish that have been scaled and cleaned with their head and tail intact.
Lemon – The bright flavor and acidity help counter any briny flavors that may be present in the fish, creating a well-rounded recipe.
Extra virgin olive oil – This locks in moisture, helps the seasonings sticks to the fish, adds a boost of healthy fats, and provides a robust savory flavor.
For the Lemon Butter Sauce
Butter – We recommend using salted butter to create the base of the sauce.
Aromatics – Onion and garlic are sautéed to create a rich, caramelized taste.
Lemon Juice – The acidity helps cut through the heaviness of the fats and ties the flavor of the sauce in with the fish.
Parsley or chives – Their fresh flavor balances out the butter and oil and adds just a hint of peppery kick.
Salt and Pepper – Use as little or as much as you'd like.
Step-By-Step Instructions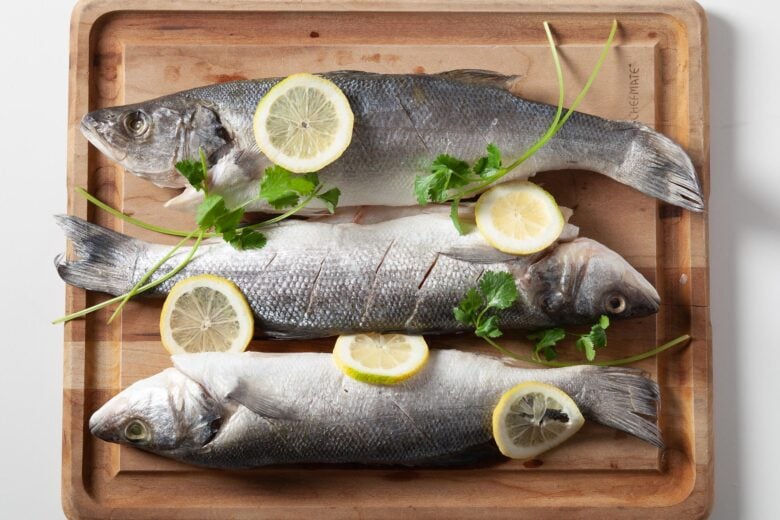 Due to its fancy appearance, you might assume that this branzino recipe is difficult to make. However, simply follow the directions for an extremely easy yet impressive whole fish dish.
Prepare the Sauce. Melt the butter in a saucepan. Next, add the onions, and sauté until they're soft and translucent. Then, add the garlic, and continue to cook until the mixture is golden brown. Remove the pan from the heat, and add your herbs and spices. Cover the pan, and keep the sauce warm.
Prepare the Fish. Use paper towels to remove any excess moisture from the branzino. Then, with a sharp knife, slice deep slits down both sides of the fish, and place it on a large lined baking sheet.
Season. Add salt and pepper to each cavity in the fish, and stuff them with lemon slices. Then, brush both sides of the branzino generously with olive oil, and top it off with a sprinkle of salt and pepper.
Roast. Place the fish in the oven for 10 minutes. Then, move the rack to the upper position, and broil the branzino on high for 5 minutes, rotating the pan as needed.
Serve. Plate your branzino recipe right away, pairing it with the warm lemon butter sauce, and enjoy!
Pro-Tips
If you're still a little nervous about making this branzino recipe on your own, we've got you covered with a few extra tricks below.
Slice Carefully. For the best results, make your slits 2 inches long and space them 1 inch apart all the way down both sides of the fish.
Don't Overbake. This branzino recipe cooks fast. So, keep a close eye on it in the oven, and remove it as soon as it is opaque and can easily be flaked with a fork; no more than 10 minutes.
Rotate the Pan. To ensure all sides are evenly cooked, carefully rotate the baking pan while the fish is under the broiler.
Make Ahead and Storage Options
This branzino recipe is best enjoyed right away while it's still warm. However, if you do happen to have leftovers, they can easily be stored for later.
Refrigerator: Once fully cooled, place leftovers in a shallow, airtight container, and store them in the fridge for up to 3 days.
Freezer: If you plan on freezing your fish, we recommend leaving off the sauce and making it fresh when you're ready to serve. Once baked, branzino can be placed in an airtight container and frozen for up to 1 month.
To Reheat: When you're ready to eat, let your fish thaw in the fridge overnight. Then, warm it in a skillet over medium heat. Or, place it back in the oven at 275F.
Fillet: You can fillet the fish after it's done cooking, for serving and storage.
What to Serve with Branzino
Grains
Potatoes
Breads
Vegetables
Salads
Common Questions
Do you eat the skin of branzino?
It's completely up to you. Similar to other fish like salmon, the skin of branzino is extremely nutrient-rich and can be eaten to get the most out of your fish. If you prefer, you can easily peel back the skin after cooking.
Can you fillet branzino?
If you prefer to cook branzino fillets rather than whole fish, you can use a sharp fillet knife to fillet the raw fish prior to cooking. Plan on cooking fillets for much less time. You can also opt to fillet the fish after roasting and broiling; it's super easy to remove the flaky fish meat from its skeleton once it's cooked through.
What does branzino fish taste like?
On its own, branzino can be compared to other mild white fish like grouper or trout. However, it easily takes on the flavor of whatever it is paired with, meaning this branzino recipe has a rich, lemony flavor we adore.
Is there another kind of fish I can use?
Yes, if you don't like branzino or can't find it in your grocery store, feel free to swap it out with sea bass, trout, or snapper filets instead.
---
---
---
Did you make this?
Please give us a rating and comment below. We love hearing from you!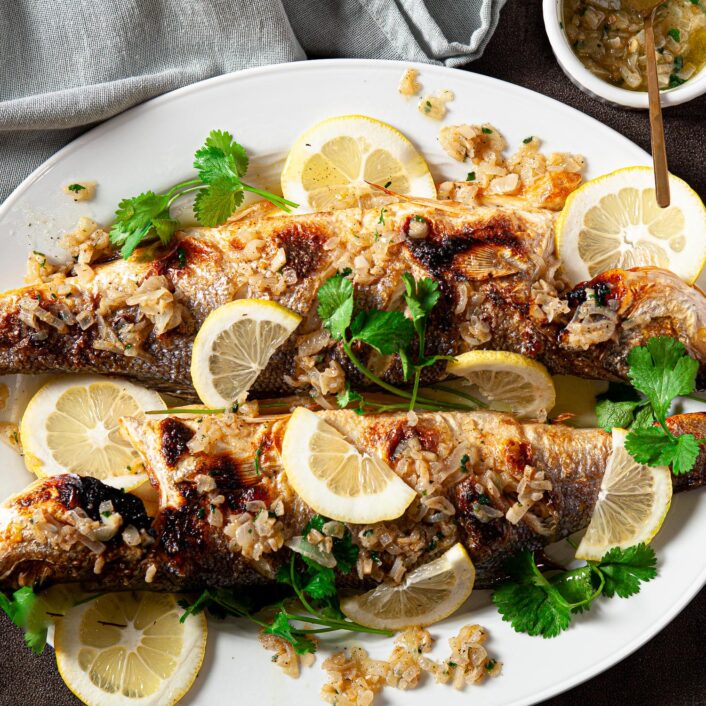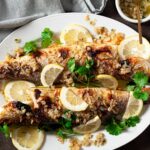 Branzino Recipe
Learn how to make the best branzino recipe with lemon butter sauce. With just a handful of ingredients and 20 minutes, you'll have flakey, delicious fish that tastes gourmet!
Ingredients
For Lemon Butter Sauce:
1

stick

salted butter,

4oz

4

cloves

garlic,

minced

1

small

onion,

chopped

1

TB

lemon juice,

freshly squeezed

1

TB

parsley,

or chives, freshly chopped

Table salt
For Branzino:
3

whole

branzino,

about 1 ¼ pounds each, scaled and cleaned

1

lemon,

thinly sliced
Instructions
Preheat oven to 425F with rack on lower middle position.
Prepare the Sauce
In a saucepan, melt butter over medium-high heat until it's liquid and hot. Add onions and sauté until soft and translucent, 3-4 minutes. Add garlic and stir 1 minute, or until onion/garlic mixture is golden brown.

Turn off heat. Add lemon juice, ¼ tsp salt, ¼ pepper, and parsley. Cover and keep sauce at room temp or slightly warmer.
Prepare the Branzino
Use paper towels to dry any excess moisture from branzino. Use a sharp knife to cut deep, 2-inch slits, about 1-inch apart along both sides of fish. Place fish on a large foil or parchment-lined baking sheet.

Season each branzino cavity with ¼ tsp salt and ¼ pepper. Stuff each cavity with 2 or 3 lemon slices. Brush both sides of each fish generously with olive oil. Sprinkle both sides of each fish with a light layer of salt and pepper.

Roast in oven for 10 minutes. Quickly remove fish from oven, move oven rack to upper position, and place fish under the broiler. Broil on high for 5 minutes, watching closely and rotating the pan as needed.

Serve immediately, with lemon butter sauce.
Notes
If you enjoyed these cookies, please come back and give them a rating ♡
Nutrition (per serving)
Serving:
1
serving
|
Calories:
127
kcal
|
Carbohydrates:
2
g
|
Protein:
22.5
g
|
Fat:
13
g
|
Saturated Fat:
7
g
|
Polyunsaturated Fat:
1
g
|
Monounsaturated Fat:
5
g
|
Trans Fat:
0.4
g
|
Cholesterol:
27
mg
|
Sodium:
82
mg
|
Potassium:
41
mg
|
Fiber:
1
g
|
Sugar:
1
g
|
Vitamin A:
355
IU
|
Vitamin C:
9
mg
|
Calcium:
11
mg
|
Iron:
0.2
mg