It's almost Cinco de Mayo. Time for something festive, delicious, and easy. Like a Mexican Pasta Bake. Or, serve up this foolproof Enchilada Casserole. No need to roll tortillas one at a time; just layer up the good stuff.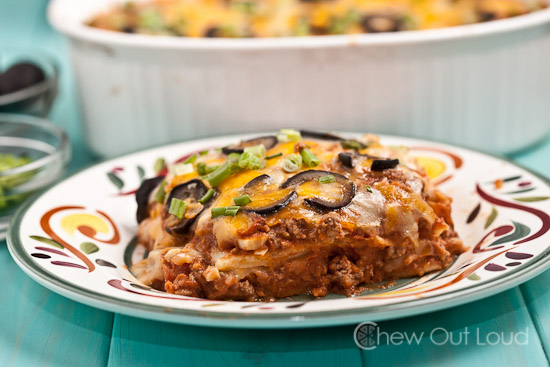 This Enchilada Casserole has been in my potluck repertoire for years. It's a sure-fire hit at parties. When I made it for the fam recently, my finicky 6-year-old eater swiftly polished his plate off and reached for seconds. To my happy astonishment, all my kiddos proclaimed themselves enchilada fans. Who knew?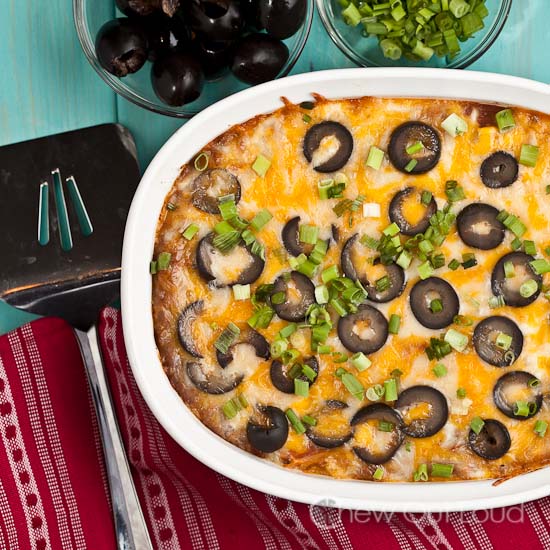 This Enchilada Casserole is hearty, hefty, and heavenly. Dee-lish. And unbelievably easy. It's piled high with melty cheese, savory meat sauce, and chunky salsa. Soft corn torillas are layered within. How can this not be good?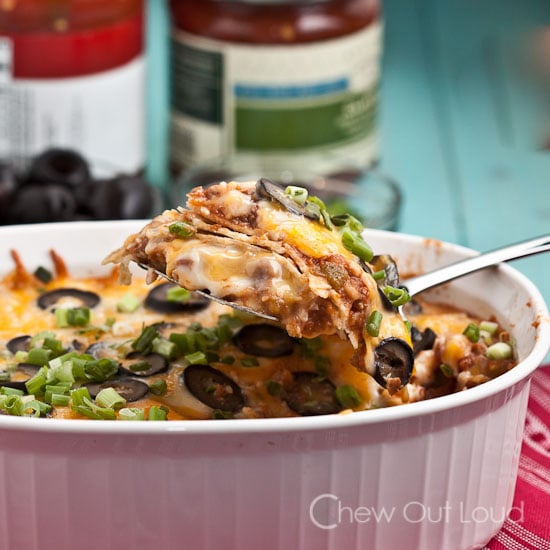 Ooh, let's not forget the best part. The sauce can be made the day before, and you can quickly assemble it when ready to bake. I simply adore all food that can be done ahead of time. In fact, this sauce tastes better as it sits overnight. Bonus!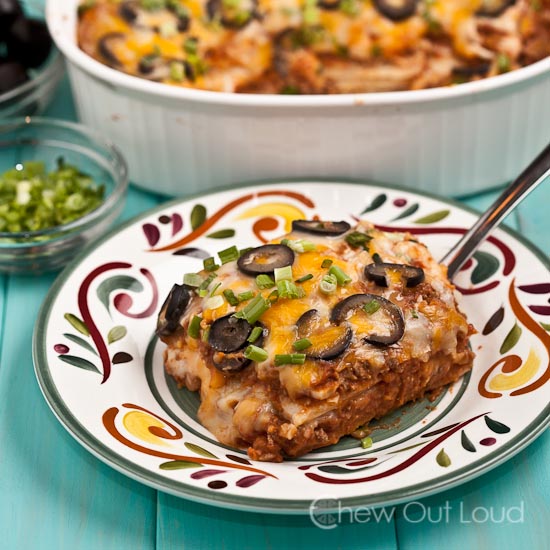 Enjoy, and happy Cinco de Mayo!
RECIPE for Enchilada Casserole (one 13×9)
INGREDIENTS
Light olive oil
1 lb ground beef, or ground turkey
1 chopped brown onion
6 cloves garlic, chopped
2 cups of chunky salsa (thicker the better)
16 oz refried beans
1 1/2 cups good enchilada sauce
1 cup sliced olives
18 corn tortillas, 6-inch size, sliced in half
4 cups Mexican blend shredded cheese
sliced green onions for garnish
DIRECTIONS
Make the Sauce: In large heavy skillet, saute onion and garlic with olive oil for one minute. Add ground meat and cook until browned. Drain if needed. Stir in salsa, refried beans, enchilada sauce, and olives. Bring to a boil, and immediately reduce to simmer. Cook and stir for 5 minutes. Remove from heat.
To assemble: Layer half of the corn tortillas on bottom of a greased 13×9 baking dish. Cover with half of the meat sauce. Sprinkle on half of the cheese. Repeat layers. Cover tightly with foil, and bake 20 minutes at 375F. Remove cover and bake another 5 minutes until cheese is nicely melted. Garnish with green onions and serve immediately.