Easy Soft Pretzel Recipe
You can have chewy, soft pretzels at home, anytime the craving calls. No need to head to the shopping mall for your favorite salty treat. This homemade pretzel recipe is a keeper.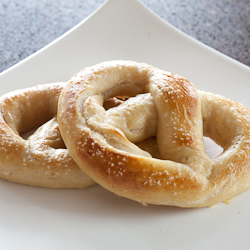 soft pretzels: so easy, the kids can join in
Some things in life can actually be easier than they look. Take these soft pretzels. Who would have thought I could gift my friends with soft and chewy homemade pretzels, straight out of my own oven? I mean, these twisty treats are usually reserved for shopping mall meanderings.
Before any assumptions can be made, know this: I'm the mom that chooses sprinkles over frosting because tossing sprinkles onto 3-ingredient shortbread cookies is way easier than frosting anything.
The point is, these homemade pretzels are 100% doable and fun to make, even if you've never baked bread in your life. Bonus: if you've got a budding little baker in the house, this is a super fun recipe to do together.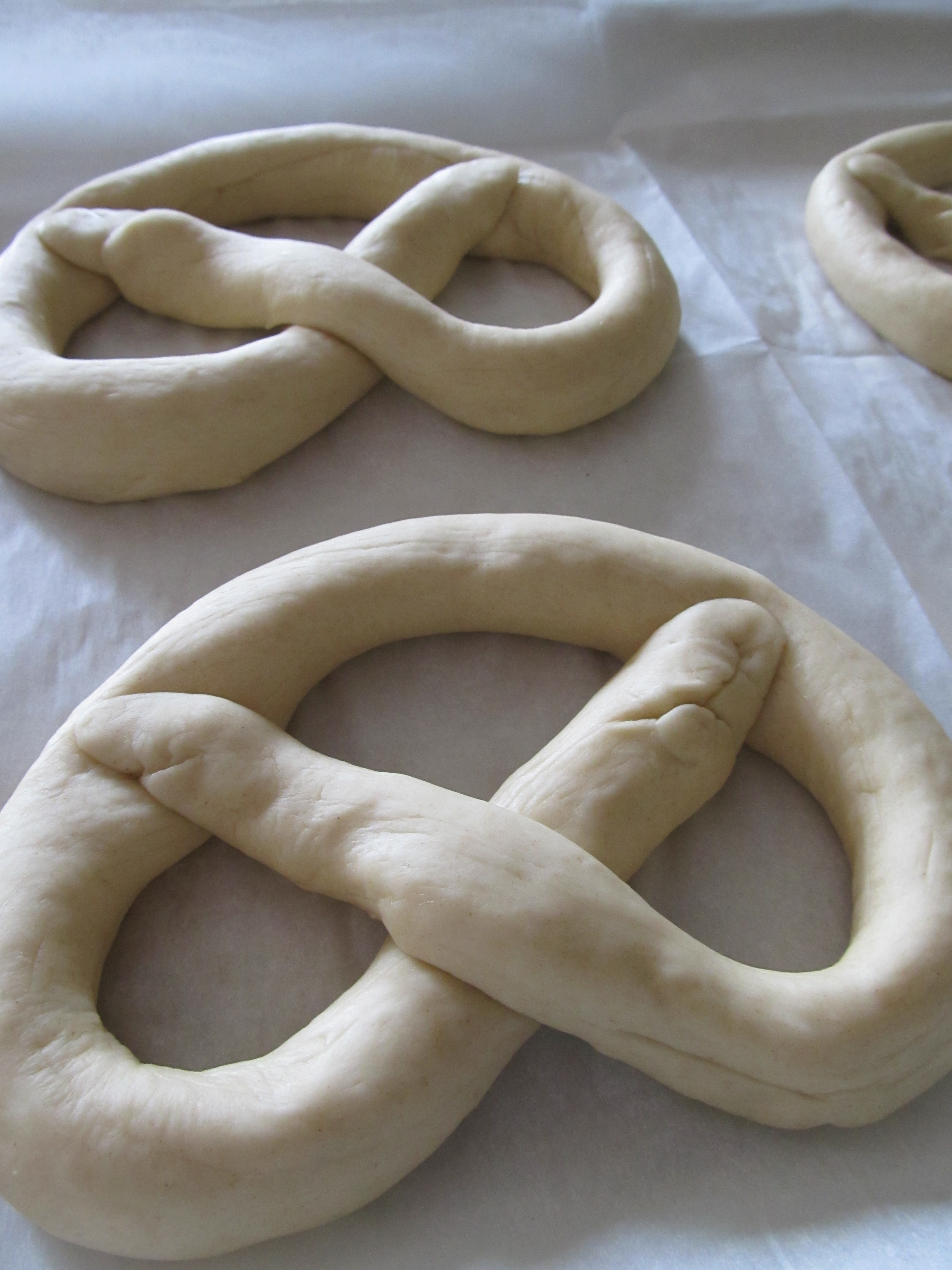 Tips for Pretzel Making Success
Use a digital kitchen thermometer for accurate water temperature, as it needs to be warm enough (but not hot) in order for yeast to thrive.
Be sure your package of active yeast is fresh.
Knead dough for the full 5 minutes on floured surface; if it's too sticky, add a tablespoon of flour at a time. If too dry, add a tablespoon of water at a time. Texture of dough should be like pliable play-dough.
Younger kids can get in on the kneading fun
Older kids can help shape the pretzels.
Everyone can join in the fun of topping pretzels with various options
Toppings and Dips for Soft Pretzels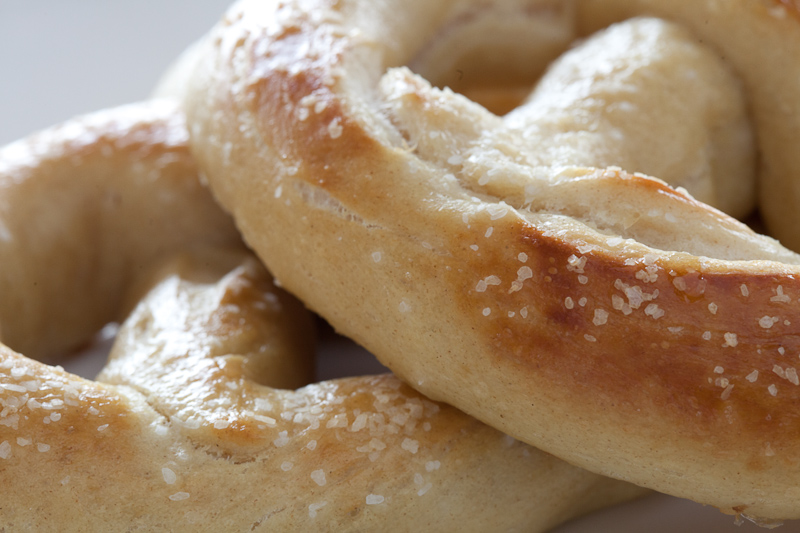 Common Question and Answers:
Q: What's the best way to store soft pretzels?
A: Chances are very high that your homemade pretzels will be snatched up before you get a chance to store them. That said, once the pretzels are fully cooled to room temperature, you can store them in an airtight container for a day or two, or freeze them for later.
Q: Can soft pretzels be frozen?
A: Yes, your homemade soft pretzels can absolutely be frozen. Wait until they are completely cooled to room temp, place them in an airtight container, and freeze.
Q: How do you reheat homemade pretzels?
A: If pretzels were frozen, let them defrost at room temperature first. To microwave, place pretzels on a glass plate and loosely cover with damp cloth/towel. Heat for 15 seconds at a time, until desired warmth.
Q: How can I keep my homemade pretzels warm for a party?
A: Let baked pretzels cool at room temperature, while oven cools off. Place pretzels in an oven-safe container with lid, or wrap them up in foil, and place on middle rack of oven set to "warm."

Other things to Bake and Eat:
---
---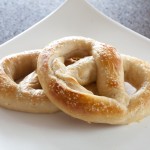 Easy Soft Pretzel Recipe
You can have chewy, soft pretzels at home, anytime the craving calls. No need to head to the shopping mall for your favorite salty treat. This homemade pretzel recipe is a keeper.
Ingredients
1 ½

cups

warm water

,

110-115F

2

TB

white sugar

1 ½

tsp

salt

1

package active dry yeast

4 ½

cups

flour

¾

stick salted butter

,

melted

canola

,

olive, or vegetable oil

⅔

cup

baking soda

,

mixed in 10 cups of water

2

egg yolks and 1 TB water

,

beaten together

Optional Toppings: coarse sea salt

,

butter, mustard, cheese, cinnamon sugar, parmesan, etc.
Instructions
Combine first 4 ingredients in large bowl, mixing it in a little. Let sit until mixture foams. Add flour and butter. Mix until combined, by hand or stand mixer.

Knead until dough is smooth and no longer sticks to bowl (about 5 min). Put dough into well oiled bowl and turn dough so it is oiled on all surface areas.

Cover with damp towel and set in warm place for 1 hour, or until doubled in size.The actual time it takes to double depends, of course, on the temperature. If the room is cool, I set my dough in the oven, with only the light turned on. If you do that, just make sure you remove the dough before preheating oven.

Preheat oven to 450F. Line cookie sheets with parchment paper, and grease paper with oil.

Bring baking soda and 10-cup water mixture to a boil in large pan.

Divide dough into 8 equal pieces. Roll out each one into a 1 1/2 - 2 ft rope. Lightly oil working surface if needed.

Making a U-shape with rope, cross the ends over each other and form pretzel shape. Press ends tightly in, so they don't come apart while baking.

One at a time, carefully lift and place each pretzel into boiling water for just 30 seconds. This gives it that wonderful outer texture.

Return to parchment-lined pan. Brush tops of pretzels with egg/water mixture. If desired, sprinkle lightly with coarse salt. Bake 9-10 minor until golden brown.

Remove from oven and brush with butter, if desired. Sprinkle desired toppings onto pretzels. Cool on rack a few minutes before taking a bite.
Notes
See original article for topping or dipping recommendations and recipes.
If you enjoyed this recipe, please come back and give it a rating ♡
Nutrition
Calories:
351
kcal
|
Carbohydrates:
55.1
g
|
Protein:
8.2
g
|
Fat:
10.4
g
|
Saturated Fat:
6
g
|
Trans Fat:
0.3
g
|
Cholesterol:
68.9
mg
|
Sodium:
5542.1
mg
|
Fiber:
2
g
|
Sugar:
1.3
g
Did you make this?
Leave a comment below and tag @chewoutloud on Instagram