Saucy Apple Pork Chops
By Amy Dong
Published Sep. 4, 2023
Updated Sep. 6, 2023
These Saucy Apple Pork Chops are amazingly tender, hugely flavorful, and the perfect autumn dinner. Ready in under 30 minutes, they're easy enough for weeknight dinners yet delicious enough for sharing with guests.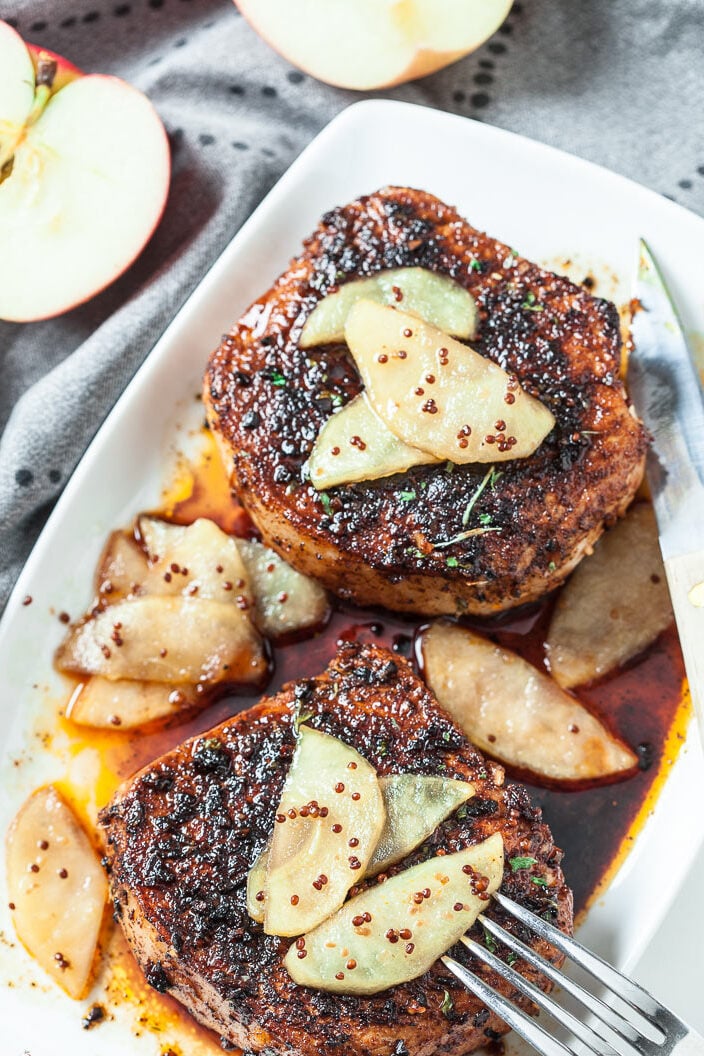 Saucy Maple Apple Pork Chops
Summer recipes are coming to an end, which means the season of pumpkin spice, cozy candle-lit nights, and soft sweaters is upon us. We love fall for a number of reasons, and one of the biggest is the food. Pumpkin recipes, apple recipes , maple pork chops, comforting soups, and all our favorite warm, cozy meals are making their annual comeback and we're not complaining.
Pork chops and applesauce is a classic meal because of it's simplicity and the fact that it's such a delicious combination. We take this much-loved recipe up a notch by adding a fall favorite, maple syrup. Serve this recipe with your favorite side dish and vegetable dish and you've got the perfect weeknight or weekend meal!
Why You'll Love This Recipe
It's quick and easy. Saucy Apple Pork Chops come together in less than 30 minutes making them perfect for days when you don't have a ton of time on your hands.
It has your favorite fall flavors. Not only does this recipe contain crisp apples, it also uses maple syrup in the sauce making a divine flavor combination perfect for autumn.
It makes tender pork chops. Sometimes pork chops can get dry if they're not cooked right. This recipe makes perfectly tender pork chops. Plus, we give you our favorite tips for making sure they're cooked to perfection.
The sauce is amazing. Not only does this sauce contain fresh apples and maple syrup, it's also packed with bold, earthy spices like chili powder and paprika. Our secret ingredient, coarse ground mustard, adds a pop of flavor that'll make your taste buds dance.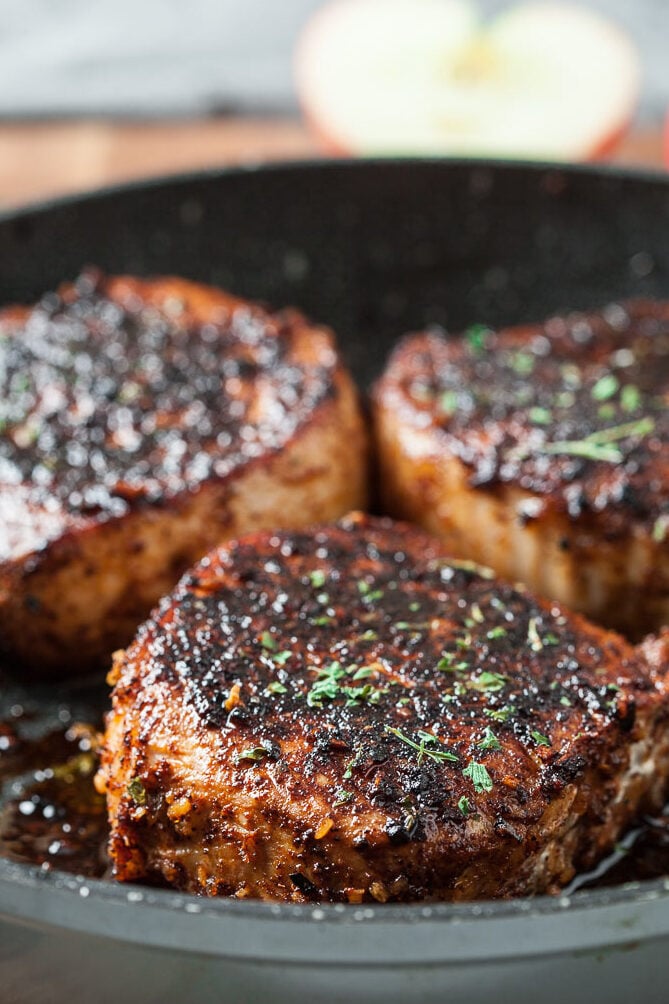 Key Ingredients
This recipe is full of both pantry staples and seasonal ingredients that work together to make the most delicious meal.
Apple – One fresh, crisp apple is all that's needed for this recipe. What variety of apple you use is totally up to you. If you like a tarter flavor, try Granny Smith or Pink Lady. If you're in the sweeter apple camp, try Golden Delicious or Honeycrisp.
Maple Syrup – This is one of the stars of this dish. We highly prefer pure maple syrup for this recipe. Syrups made specifically for pancakes that have corn syrup in them will have a much different flavor than the real thing.
Chili Powder – This earthy spice works together with the paprika to add a warm, comforting flavor and slight kick of spice to this dish.
Paprika – Feel free to use smoked paprika for this dish to add an even stronger burst of warm, smoky flavor.
Onion Powder – This sweet and pungent spice pairs wonderfully with the sweetness of the apple and maple syrup.
Salt – The measurements in this recipe are for Kosher salt. Note that using table salt will result in the recipe turning out too salty, because table salt crystals are finer than Kosher.
Apple Cider Vinegar – Apple cider vinegar adds acidity to the sauce helping to balance the sweeter flavors.
Coarse Ground Mustard – Coarse mustard adds a zing of flavor, and the seeds bring a nice texture to the sauce.
Pork Chops – We like using center cut pork chops that are 1″ thick. You can use boneless or bone-in.
Key Tips For Success
Clean and dry the chops. We like to always give meat a little rinse before using it, just to be sure it's clean. Make sure to thoroughly pat the pork chops dry to make sure the spices stick and to help them cook properly.
Don't crowd them. Depending on the size of your skillet, you may need to cook the pork chops in two batches. We're looking for crispy edges and tender centers. If you over-crowd the chops, they won't be able to crisp as nicely.
Thicken the sauce to your liking. This sauce recipe is not a glaze. If you're wanting to thicken your sauce more to get that glaze-consistency, simply add 1-2 TB of cornstarch to some water and dissolve it. Then add it to the sauce while it's boiling.
Cooking times may vary. Whether you use boneless or bone-in pork chops will alter the cooking time. For best results, we like using a food thermometer to make sure our pork chops reach just the right level of doneness. You'll know they're done when they reach 145 degrees.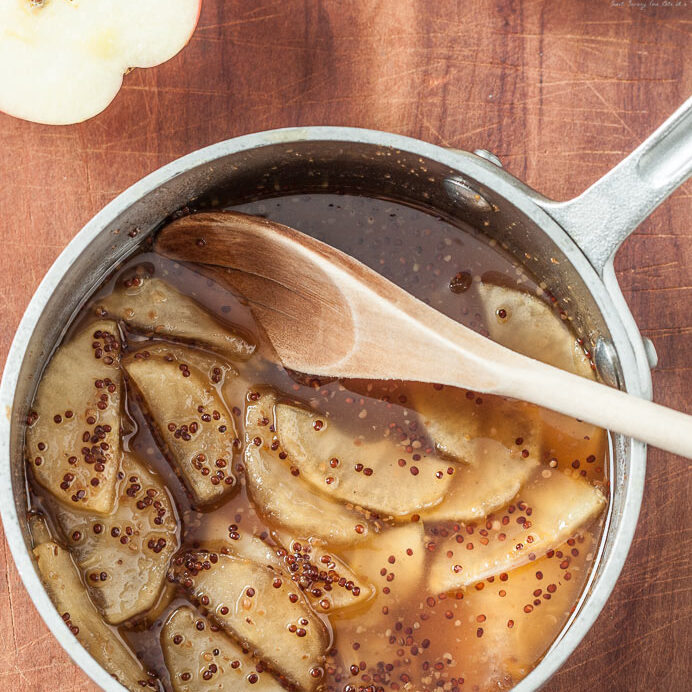 Commonly Asked Questions
How can I tell my pork chops are done without a food thermometer?
Press the pork chops in the center with your tongs or spatula. If they feel very soft, they are not cooked through. If they are extremely firm, they are already well done. Pork chops should be removed from heat when they feel firm, but not overly so. We don't recommend cutting open pork chops while cooking, as the essential juices will escape.
How long do apple pork chops keep?
These pork chops will keep in an airtight container in the fridge for up to 4 days. If you need them for longer, you can also freeze them for up to 3 months in an airtight container.
Are boneless or bone-in pork chops better?
It really depends on what you're looking for. Pork chops with the bone left in will be juicier and more flavorful than the boneless version. However, as long as boneless pork chops aren't overcooked, they can still be absolutely tender and delicious. Boneless pork chops will take less time to cook.
What apples hold up best when cooked?
Some firmer varieties of apple that will hold up when cooking or baking are Honeycrisp, Granny Smith, Fuji, and Gala.
What To Serve With Saucy Apple Pork Chops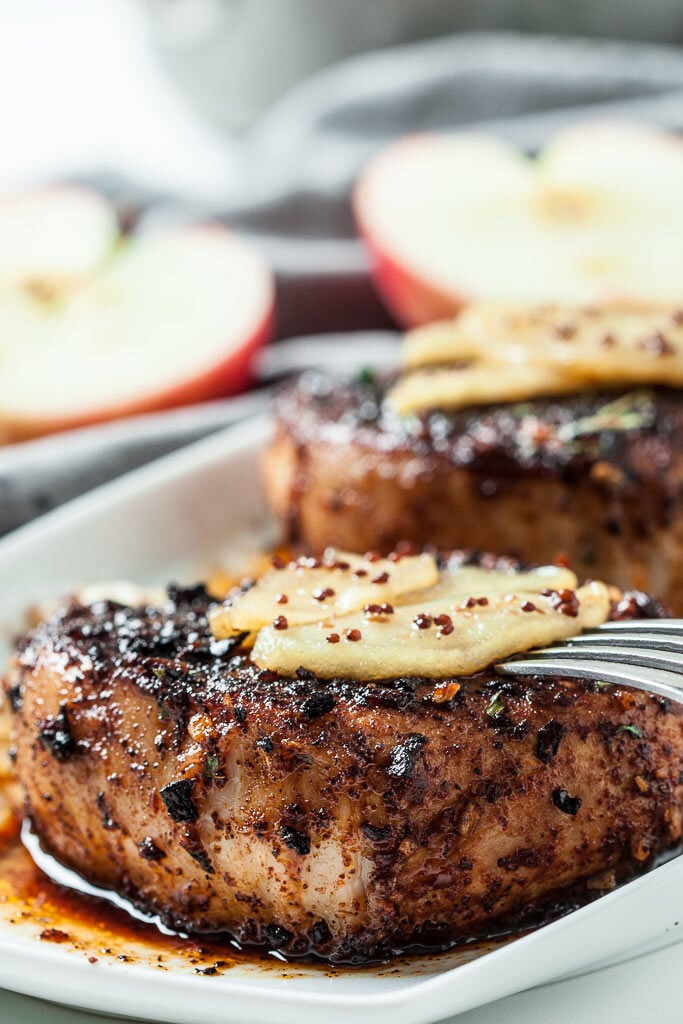 Did you make this?
Please give us a rating and comment below. We love hearing from you!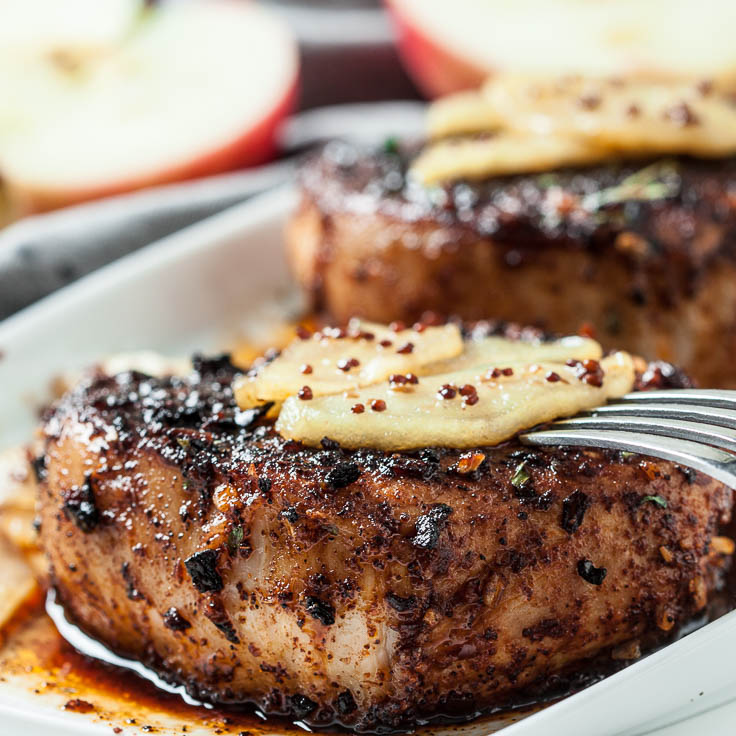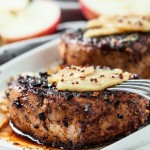 Saucy Apple Pork Chops
These Saucy Apple Pork Chops are amazingly tender, hugely flavorful, and the perfect autumn dinner. Ready in under 30 minutes, they're easy enough for weeknights yet good enough for weekends.
Instructions
In a small bowl, whisk together the chili powder, paprika, onion powder, and salt.

Use paper towels to dry excess moisture from pork chops. Press seasoning evenly over both sides of the pork chops. Set aside.

In a saucepan set over medium-high heat, add the apple cider vinegar and reduce it by half. Stir in apples, chicken broth, maple syrup, and mustard. Bring to a boil and continue boiling (uncovered) until reduced, 6 minutes. Turn heat off. Add 1/4 tsp table salt, or to taste. Keep warm.

In a large skillet, heat the olive oil over medium-high heat. Add the pork chops and cook until browned, about 2 minutes per side (cook in 2 batches if needed; don't crowd pan.) Reduce the heat to medium-low, with lid on but slightly ajar to allow steam to escape. Cook 2-3 more minutes or just until center is cooked; do not over cook.

Transfer to a serving platter and serve with the maple apple sauce. Garnish with parsley, if desired.
Notes
This sauce is au-jus style; not a thick glaze. If you want a thick glaze, simply dissolve 1-2 TB cornstarch in 1-2 TB water in a small bowl. Once fully dissolved, add it to the boiling maple-apple sauce during the boiling step.
Bone-in pork chops will take longer to cook; you may need to add an extra minute on both sides.
Serve Saucy Apple Pork Chops with Instant Pot Mashed Potatoes and Kale Brussel Sprouts Salad with Honey Mustard Dressing for a comforting and nourishing meal.
If you enjoyed this recipe, please come back and give it a rating ❤️
Nutrition (per serving)
Calories:
443
kcal
|
Carbohydrates:
35
g
|
Protein:
29
g
|
Fat:
20
g
|
Saturated Fat:
5
g
|
Polyunsaturated Fat:
2
g
|
Monounsaturated Fat:
12
g
|
Trans Fat:
0.1
g
|
Cholesterol:
90
mg
|
Sodium:
804
mg
|
Potassium:
684
mg
|
Fiber:
2
g
|
Sugar:
29
g
|
Vitamin A:
367
IU
|
Vitamin C:
4
mg
|
Calcium:
65
mg
|
Iron:
1
mg