Grilled Pork Tenderloin
Try this grilled pork tenderloin for your next cookout. Made with a peach BBQ marinade, it boasts sweet and spicy flavors and is perfect for grilling all summer long. Pairs well with potatoes, veggies, and more.
What is Pork Tenderloin?
Not to be confused with pork loin, pork tenderloin comes from the muscle that runs along the backbone of the animal. A lean cut of meat, tenderloin is long, narrow, and, as the name suggests, tender to the taste. Typically served as a roast, pork tenderloin is also great on the grill.
However, you should be warned. The minute you turn on the flame, you're likely to have hungry people hovering over your shoulder. Luckily, scrumptious appetizers like watermelon salad and mango black bean salsa dip are easily prepared ahead of time to keep them at bay.
Pork Tenderloin: What You'll Love
Here are just a few reasons why you'll absolutely fall in love with marinated pork tenderloin:
Irresistibly delicious, the combination of fresh peaches and grilled meat screams summer.
The peach sauce is crazy simple to make yet tastes gourmet.
Pork tenderloin cooks quickly on the grill, taking only 12 minutes.
An easy way to impress your guests, this recipe is a nice change from your typical burgers and hot dogs.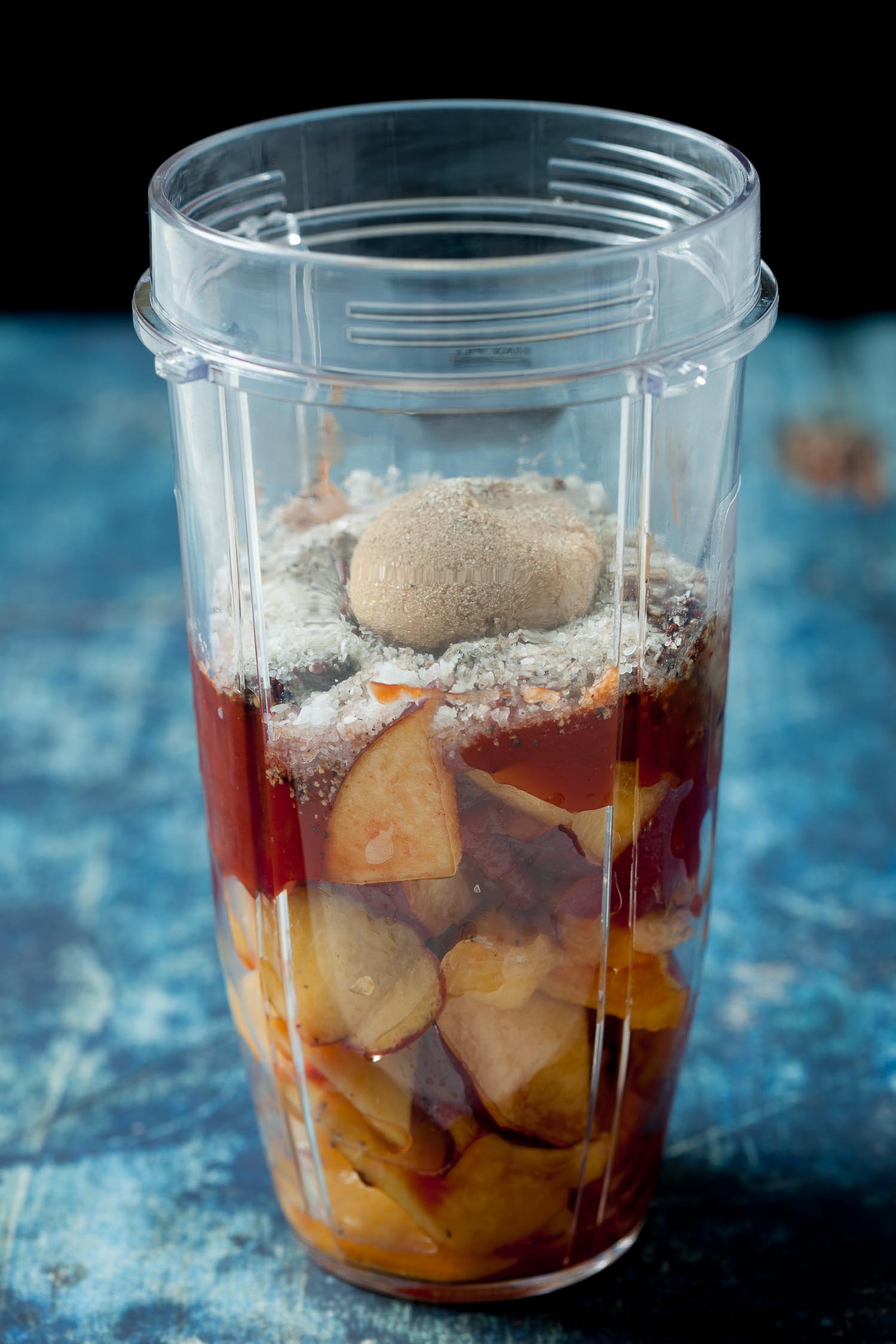 Grilled Pork Tenderloin Marinade
Fresh and vibrant, the peach BBQ marinade is truly the star of the show with this dish. It starts with a base of pantry staples including Dijon coarse ground or stone ground mustard, ketchup, and pure honey. Then, we add juicy summer peaches for an unbelievable taste. Once mixed, it's the perfect balance of sweet and spicy flavors with a bit of tang. Made ahead of time, it's crucial to lock in the moisture of the tenderloin and boost the flavor for an indescribably tasty dish. You can also use it on chicken or fish!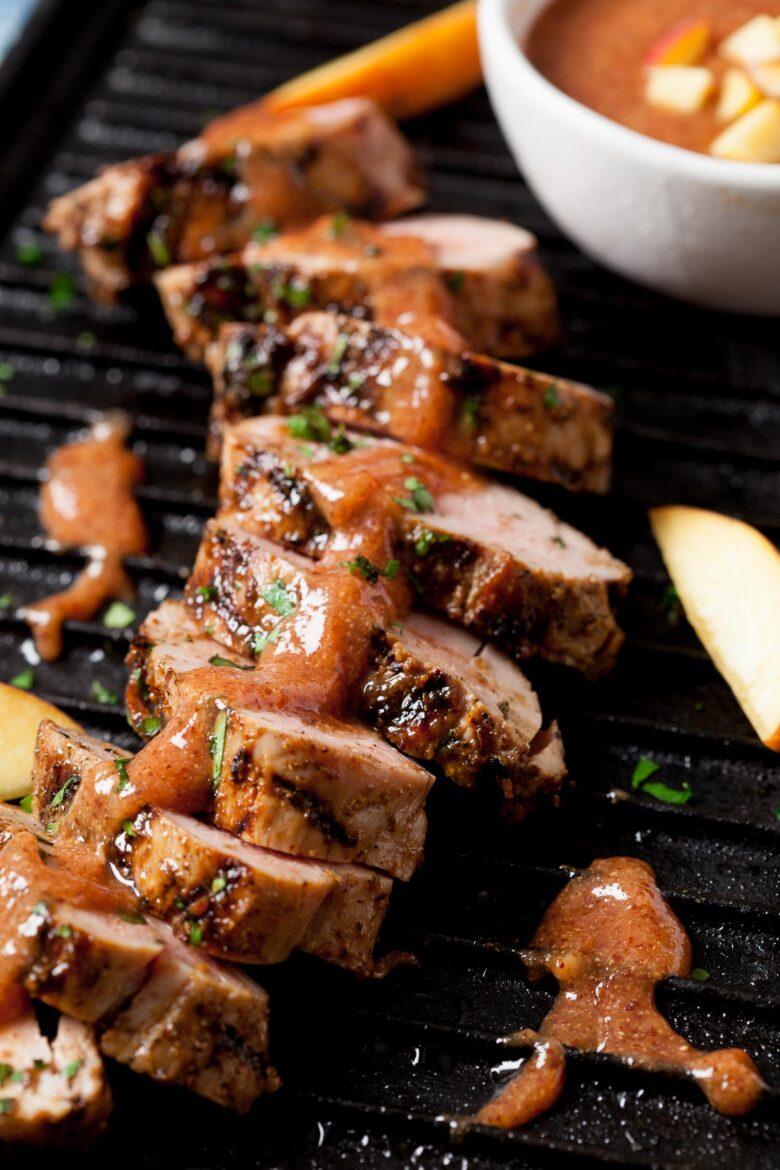 Marinated Pork Tenderloin
Prep Ahead/Meal Prep
Plan on doing your shopping and preparing ingredients before you want to grill. If the tenderloin is not soaked in the marinade long enough, the flavor does not stick. One to two hours is recommended; overnight is best.
For the best results, combine all of the ingredients for the marinade, and season the pork. Then, smother your meat with half of the sauce, and let it soak in an airtight container in the fridge until the next day. When you're ready to grill, you'll use the rest of the sauce as a baste, creating a sweet caramelized coating that will have you absolutely drooling and ready for a taste.
Or, if you're looking to do a little meal prep, go ahead and grill up your meat. Once cooked, it can be stored in the fridge for 2-3 days or placed in the freezer for up to 5 months. That means you can enjoy the flavors of summer all winter long!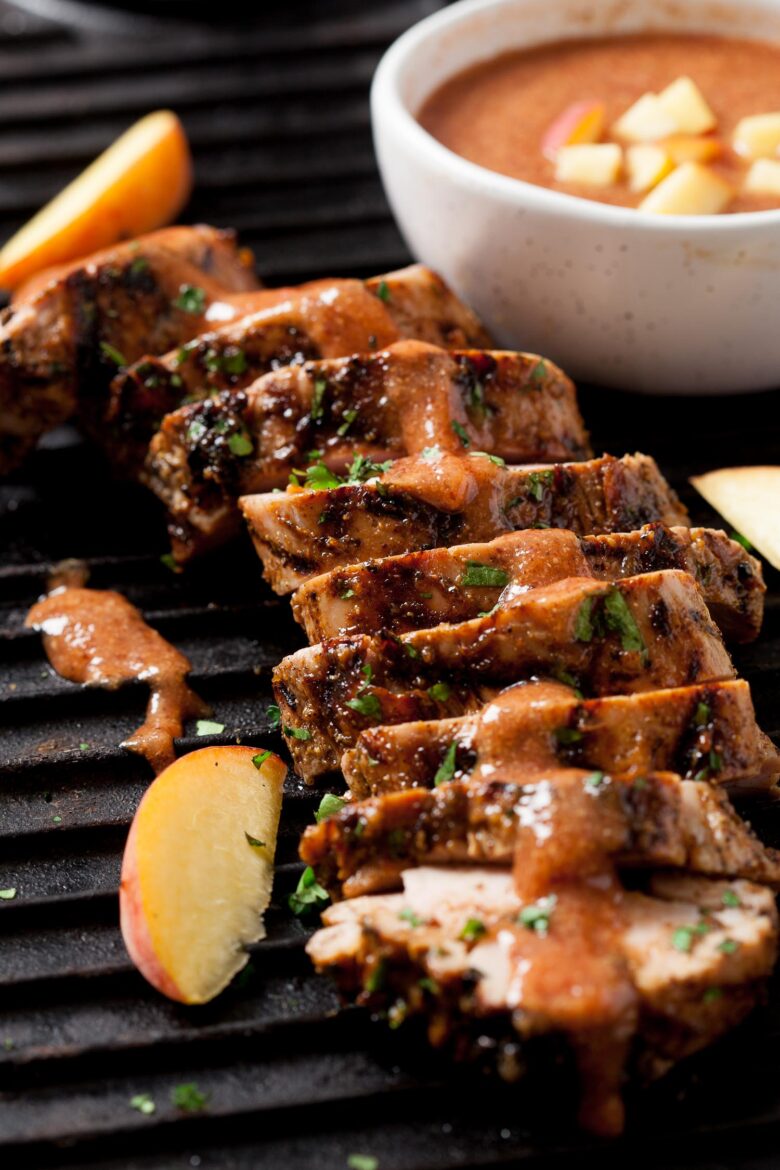 Grilled Pork Tenderloin Commonly Asked Questions
Do I need to flip the tenderloin once it's placed on the grill?
Yes, to ensure your pork cooks evenly, you'll want to flip it over using long steel tongs every 4 minutes.
How do I know when this recipe is done?
Grilling time will vary depending on the thickness of your tenderloin. To ensure it is cooked through, we recommend using a meat thermometer to check that the thickest portion of the meat reaches an internal temperate of 145° Fahrenheit before pulling it off the grill.
How do you keep pork tenderloin from drying out on the grill?
Letting the pork marinate and continuously basting it while cooking is the secret to keeping it from drying out. The liquid helps to break down the muscle tissues and connective fibers in the meat which helps to tenderize it and allows it to more easily retain moisture while cooking.
What should I serve with marinated tenderloin?
One of our favorite things about that it pairs well with everything! Pair it with everything from roasted potatoes to air fryer broccoli for a show-stopping dinner.
---
More to Cook and Eat
---
---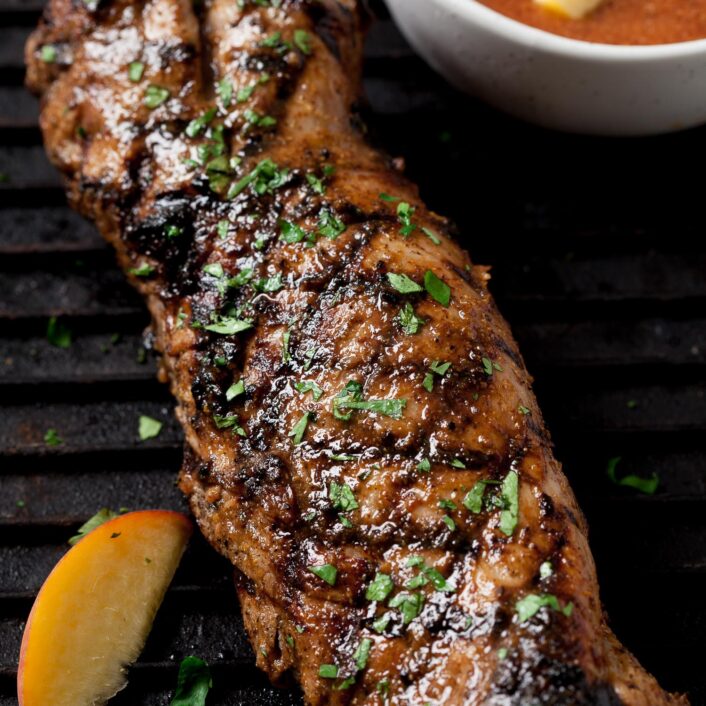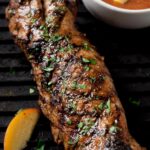 Grilled Pork Tenderloin
Try this grilled pork tenderloin for your next cookout. Made with a peach BBQ marinade, it boasts sweet and spicy flavors and is perfect for grilling all summer long. Pairs well with potatoes, veggies, and more.
Ingredients
For Peach BBQ Sauce:
3

large ripe peaches,

cut into large cubes (no need to peel)

3

TB

Dijon coarse or stone ground mustard

2

TB

ketchup

2

heaping TB pure honey

½

rounded tsp kosher salt
For the Pork Tenderloin:
Two

, 2 1/2 lbs each, for a total of 5lbs pork tenderloins, plain/unseasoned*

2

tsp

kosher salt
Instructions
Make the Peach BBQ Sauce: In a blender or food processor, combine all peach sauce ingredients and blend until mixture is a smooth puree. Can be made 24 hours ahead. Cover and chill until ready to use.

Season Pork: Sprinkle pork tenderloins evenly with 2 tsp kosher salt and 1/2 freshly ground black pepper. Place tenderloins in a large Ziploc and add 1/2 cup of the peach BBQ sauce to thoroughly coat the meat. Seal airtight and let pork marinade for at least 2 hours, up to overnight.

Separate: Divide remaining peach BBQ sauce in half. You'll use half of it for basting and half for serving.

Grill and Baste: Grease and heat grill to medium high heat. Grill pork tenderloins evenly, using tongs to turn every 4 minutes and basting regularly with peach sauce. Once exterior is nicely charred and an instant thermometer reads 145F at the thickest center portion of pork, it's done (approx 12-14 min, depending on thickness of pork.) Immediately remove from heat, transfer to cutting board, and let rest 10 minutes (do not slice yet.)

Cut and Serve: Slice pork into desired pieces and serve with remaining peach BBQ sauce.
Notes
*Some pork tenderloins come in packages that are in a seasoned or salted liquid solution. This recipe is for pork that has not been pre-salted at all. If your tenderloins are in a salted solution, then reduce the recipe's kosher salt to 1 tsp.
*If you enjoyed this recipe, please come back and give it a rating ♡
Nutrition
Calories:
247
kcal
|
Carbohydrates:
16
g
|
Protein:
36.1
g
|
Fat:
3.9
g
|
Saturated Fat:
1.2
g
|
Cholesterol:
109.4
mg
|
Sodium:
1912.8
mg
|
Fiber:
1.4
g
|
Sugar:
14.4
g
Did you make this?
Leave a comment below and tag @chewoutloud on Instagram