Carnitas – Mexican Pulled Pork
Carnitas, otherwise known as Mexican pulled pork, is one of the most popular choices from Mexican restaurants to food trucks. This homemade Carnitas Recipe is 100% fork tender and mouthwatering. The flavors are simply phenomenal.
*Note: Updated photos and instructions are here ←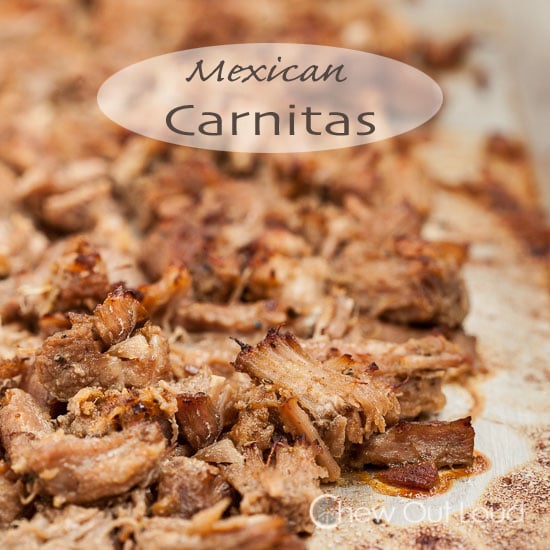 Pork Carnitas
Yesterday was Hubby's birthday. A week earlier, we did the grown-up thing and went out to a funky foodie restaurant sans kids. We always try to have an official date night out for our birthdays. Our ambition is to hit up all the foodie finds that Yelpers label not kid friendly.
That way, we have the luxury of nibbling slowly and Instagramming our plates while we chat uninterrupted. Awesomesauce.
So for Hubby's actual birthday on a Wednesday night after a full day's work and kids' soccer games, I decided to make his favorite Mexican dish. Carnitas.
Oh, my goodness graciousness. These carnitas are unbelievable….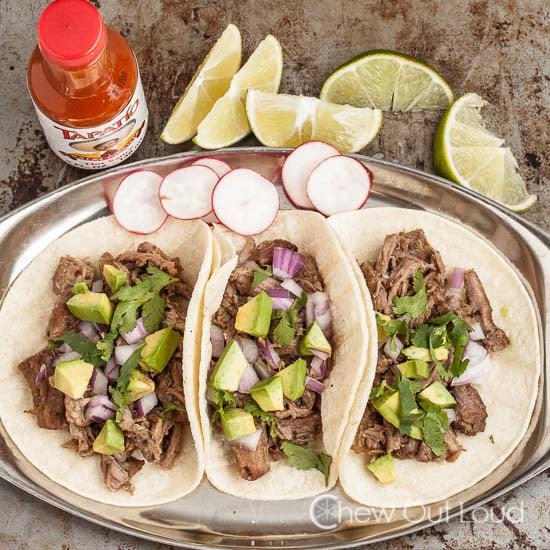 Street Taco Style
I've always been more of a mariscos person, as is clearly evidenced by all the seafood dishes I share. If something has shrimp in it, it's mine.
But Hubby is an all-out, loyal, die-hard Carnitas fan. His addiction began with a certain family owned Mexican taco truck in L.A. that opens shop late at night on a neighborhood street. Yeah, that kind. Authentic, real, and uncompromised.
He's been eating carnitas from that truck since he was a kid, and while he orders carnitas at every Mexican restaurant we go to, that humble late-night truck is still The Benchmark by which all others must measure up to.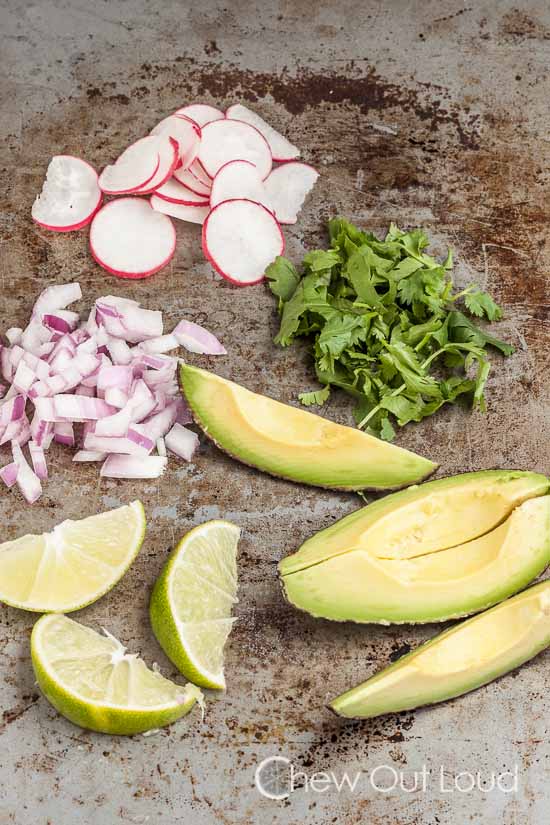 Fork Tender, Fall Apart Deliciousness
Now that we live cross country miles away from said Mexican food truck, we only get truly great carnitas once a year on our annual trip back to L.A.
Regardless of where we are staying whenever we go back to our hometown, Hubby will drive over an hour at 11pm just to sink his teeth into those famous carnitas. That's some foodie dedication. Or jetlag madness.
I decided to finally make carnitas at home. That decision has completely changed my taco eating habits. I will credit these carnitas for single handedly transforming me into an all out carnitas fanatic.
These carnitas are fork tender to the point of falling apart without any effort when you go to shred the meat. Fork. Tender.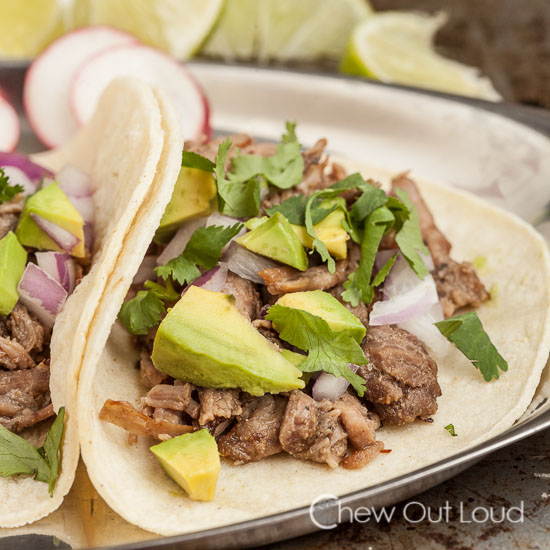 All the fixings
Plus, these carnitas are intensely flavorful. Every bite is a flavor bomb and ultra savory.
All the fixins' piled into a softly warmed corn tortilla… it's a party in your mouth.
The splash of lime, diced onion, cilantro, and dash of Tapatio create the perfect balance.
These carnitas were an absolute hit. The Littles had a blast choosing their toppings and devouring entire tacos too big for their mouths. They went back for seconds. Hubby barely spoke, except to nod and declare mmm…really good in between huge mouthfuls. He went back for fourths or fifths. Mission accomplished.
We'll definitely be doing this one over and over again.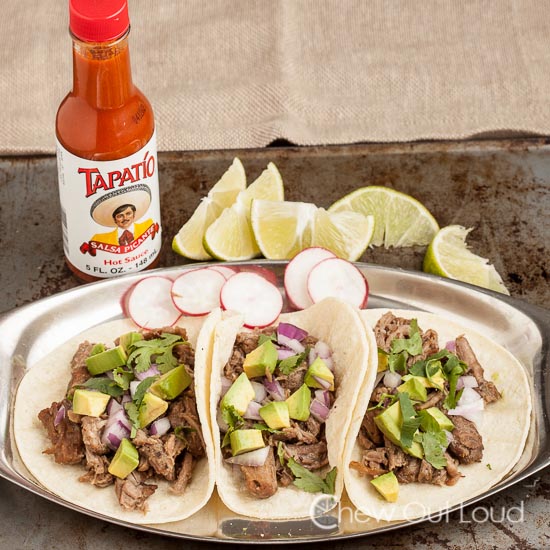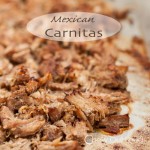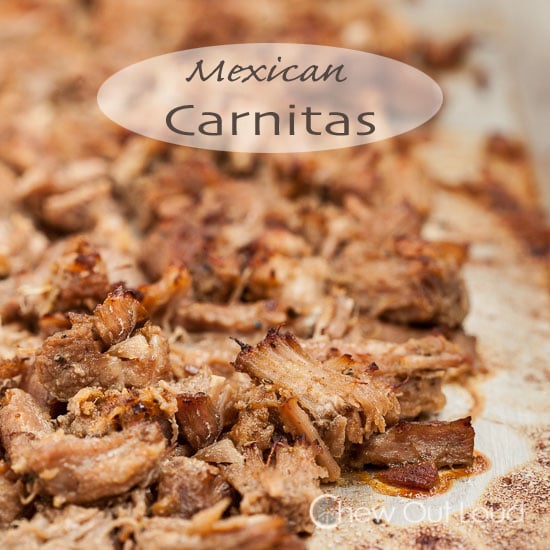 Mexican Pulled Pork (Carnitas)
This restaurant style carnitas are made up of tender chunks of lightly crisped and caramelized pork. No frying needed. Spoon into tacos or use as a filling for burritos and enchiladas.
Ingredients
1

3.5 to 4 lb boneless pork butt, fat trimmed to 1/8 inch thick, and cut into 2-inch chunks

1

brown onion

,

peeled and halved

2

whole bay leaves

1

tsp

dried oregano

2

tsp

ground cumin

1

tsp

garlic powder

table salt and ground black pepper to taste

2

cups

water

2

TB

juice from 1 fresh lime

1

medium orange

,

quartered

18

6 inch corn tortillas, warmed
Optional garnishes:
lime wedges

minced red onion

fresh chopped cilantro

salsa

thinly sliced radish

diced avocado

Tapatio hot sauce
Instructions
Adjust oven rack to lower middle position. Preheat oven to 300F. Combine pork, onion, bay leaves, oregano, cumin, garlic, 1 1/2 tsp table salt, 1 tsp pepper, water, and lime juice in a large Dutch oven Liquid should barely be covering the meat. Juice the orange in a bowl and add both the juice and orange remnants to the pot. Bring mixture to simmer over medium high heat, stirring occasionally. Cover pot and transfer to oven. Cook until meat is soft and is fork tender, about 2 1/2 hours, stirring meat around once during cooking.

Remove the pot from oven. Transfer pork to a bowl with slotted spoon. Remove orange halves, onion, and bay leaves from the liquid and discard. Do not skim fat from liquid. Place pot over high heat and simmer liquid, stirring often, until thick and syrupy. A spatula should leave trails when dragged through the glaze, about 8-12 min. You should end up with 1 cup of reduced liquid. Turn oven to broil.

Shred pork roughly. Fold in the reduced liquid, season with salt and pepper to taste. Spread pork in even layer on rimmed baking sheet. Place sheet on an upper rack and broil until top of meat is well browned but not charred. Edges should be slightly crisp. 5-7 in. Serve immediately.
Did you make this?
Leave a comment below and tag @chewoutloud on Instagram
Source: Chew Out Loud, adapted from America's Test Kitchen CookBook
For an easy weeknight dish with Mexican flair, this Mexican Rice with Chicken Shrimp is deeelish!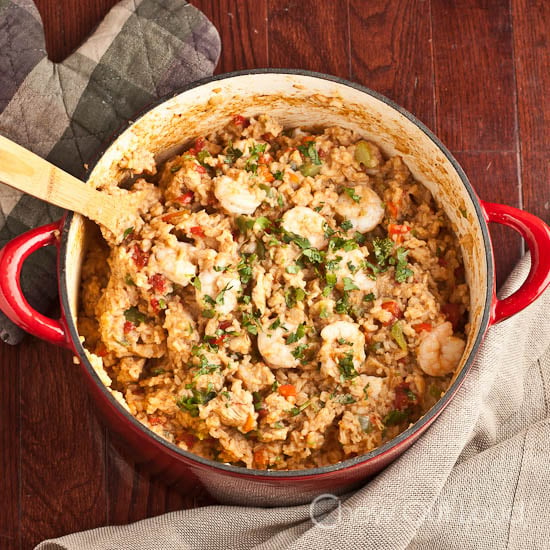 This Mexican Taco Salad is the perfect thing to bring to picnics, potlucks, and summer gatherings: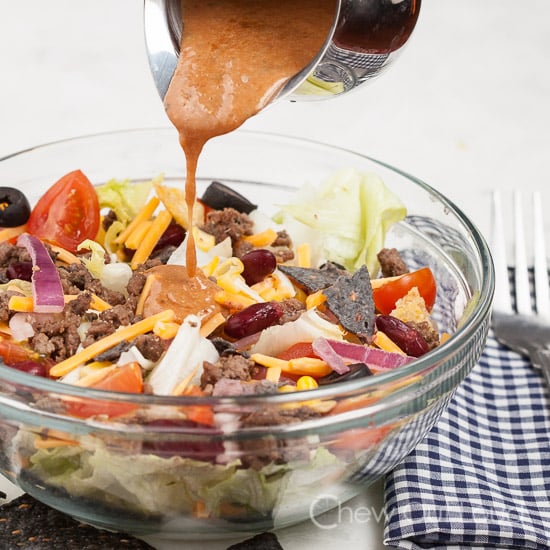 This 7-Layer Mexican Dip is one of my favorite, fail proof, and crowd happy things to bring to any gathering: