Mexican Street Corn Salad (Esquites)
By Amy Dong
Published Aug. 6, 2020
Updated Apr. 27, 2023
This Mexican Street Corn Salad recipe is quick, simple, and tremendously flavorful. This dish boasts bold, exciting flavors. Great for gatherings, as it can be made ahead of time.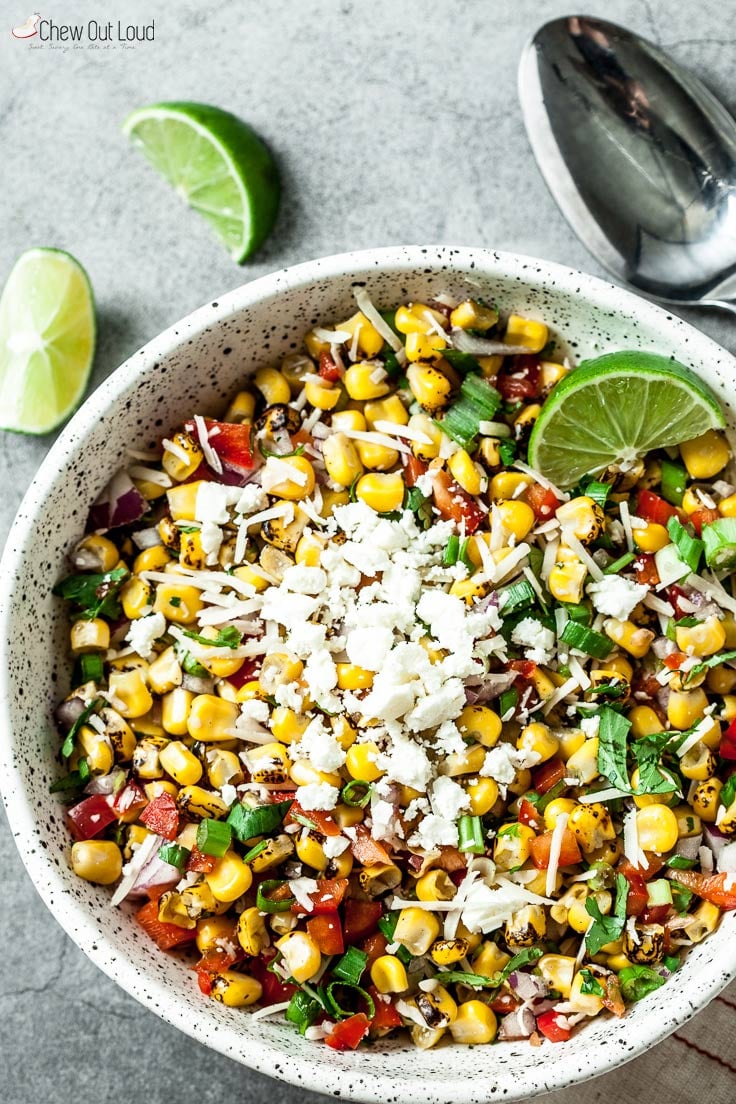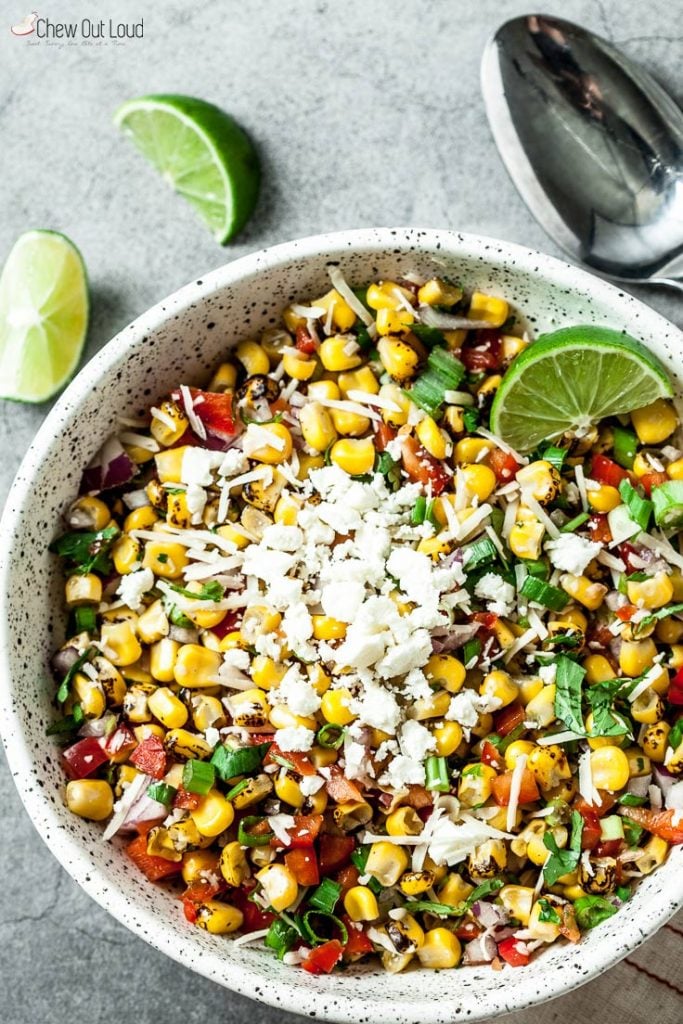 Mexican Street Corn Salad (Esquites)
Summer produce is simply unparalleled. Farmer's markets and grocery stores have been teeming with fresh picked berries and lush herbs. Now, freshly picked sweet corn is on the stands, and we are all in.
Fresh, ripe sweet corn is something to look forward to every single summer. There's nothing like freshly picked, sweet corn on the cob. Sometimes, such delicious corn only needs is a few minutes in boiling water and it's ready to serve up… perfect with a pat of butter, or simply as-is.
Sometimes, bold and zesty flavors are called for. That's where this Mexican Street Corn Salad comes in. This festive corn salad is otherwise known as esquites, which is a close cousin to elote or Mexican corn on the cob. Both are famous for their irresistible charred corn and slathering of a blissfully creamy-smoky sauce.
This Mexican Street Corn Salad, like our faithful avocado corn salad, is a jackpot for taco nights, gatherings, or simply a healthy lunch. A serving of this corn salad paired with crispy tortilla chips tends to incite notable happiness. It's a good thing leftovers of this stuff tastes awesome.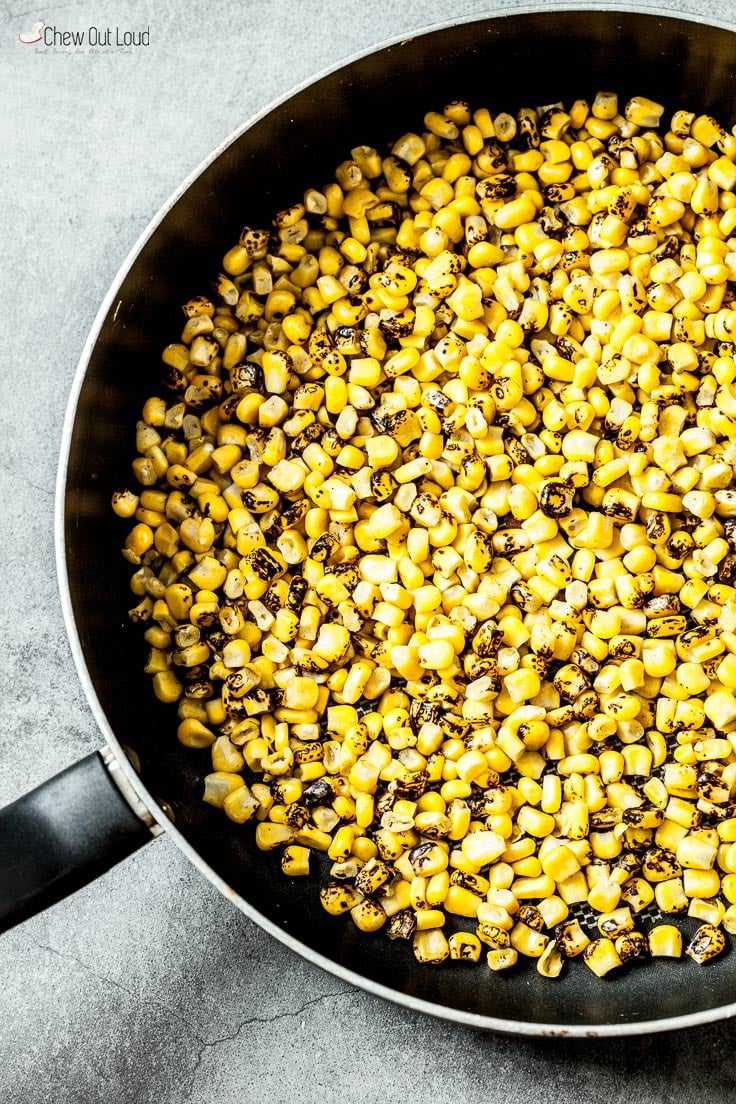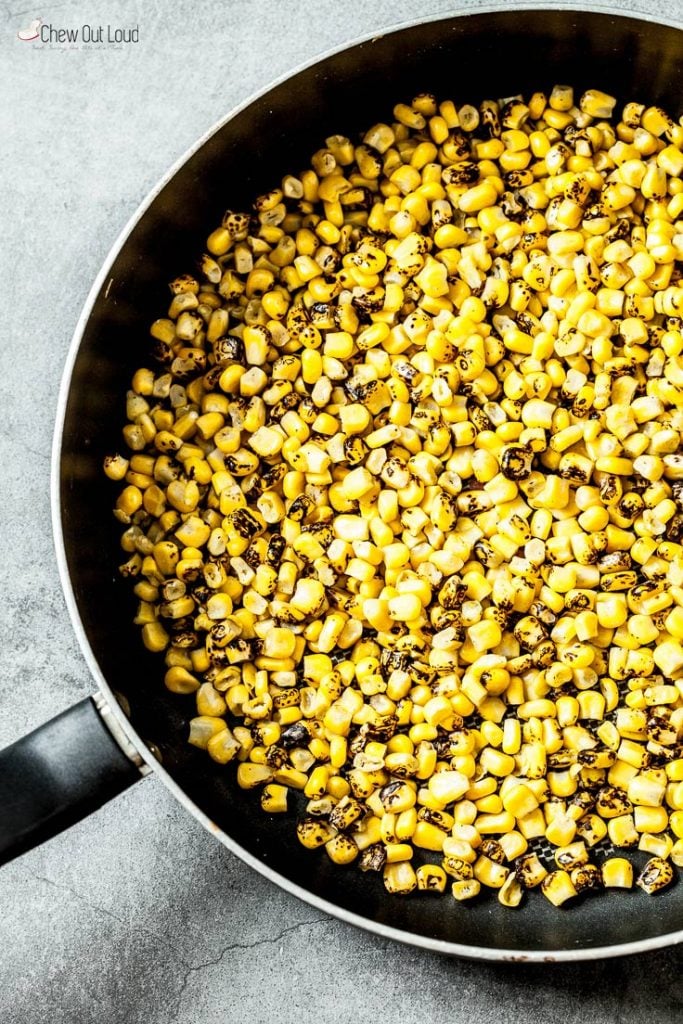 How to Make Mexican Street Corn Salad
The best way to start off is with fresh and sweet corn on the cob. (That said, you won't be faulted for using frozen sweet corn if needed. Just don't thaw the frozen corn, as it will become too soggy to produce the charring you're after.)
Cut the corn kernels off of the cobs, heat up some oil in a big skillet over high heat, and work on the char. You'll want to stir the corn kernels some, but not too much – they'll need a chance to char in the pan. Once the corn is nicely charred in some parts (it's not necessary for all kernels to be charred,) turn the heat off and add in remaining ingredients.
The dressing here is sublime. It's loaded with the bold and zesty flavors of smoked paprika, cumin, lime, and cojita cheese (if you can't find cojita, feta can be substituted.) We lightened up our dressing by using only 2 TB mayo and omitting sour cream altogether. We found that the tanginess from freshly squeezed lime juice was enough and we didn't need the sour cream.
We also found that freshly grated parmesan cheese truly packs in the flavor. Though parmesan may be going rogue a bit, be sure not to omit it, as it blends in with existing flavors amazingly.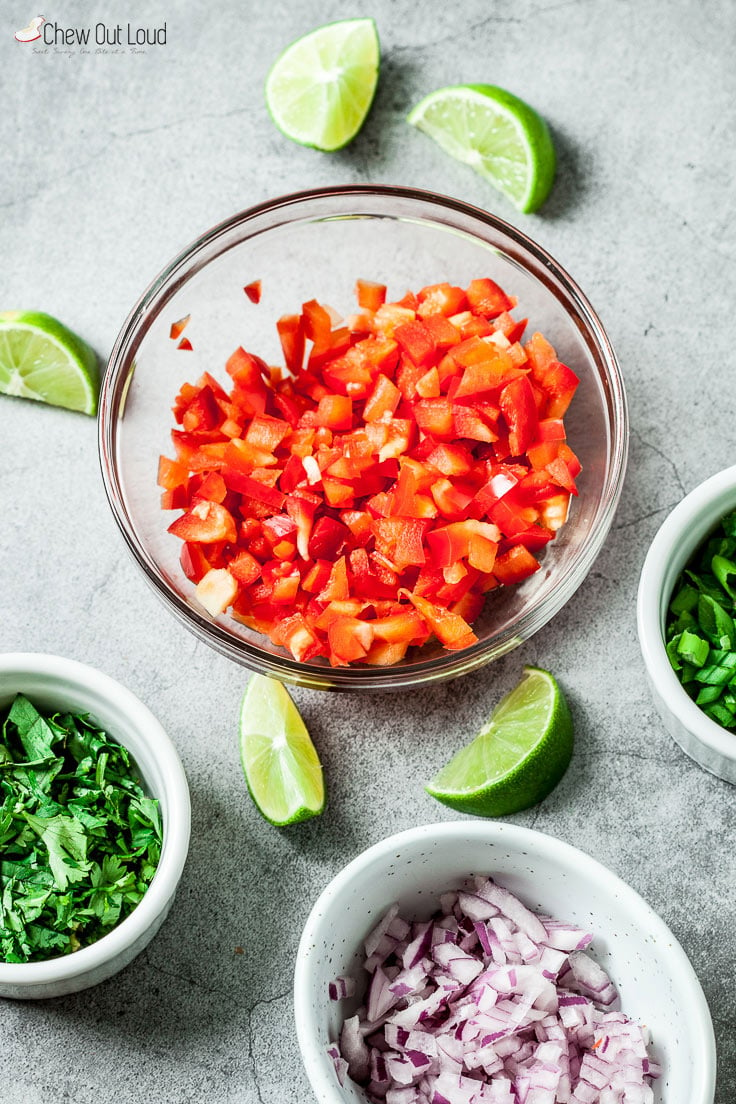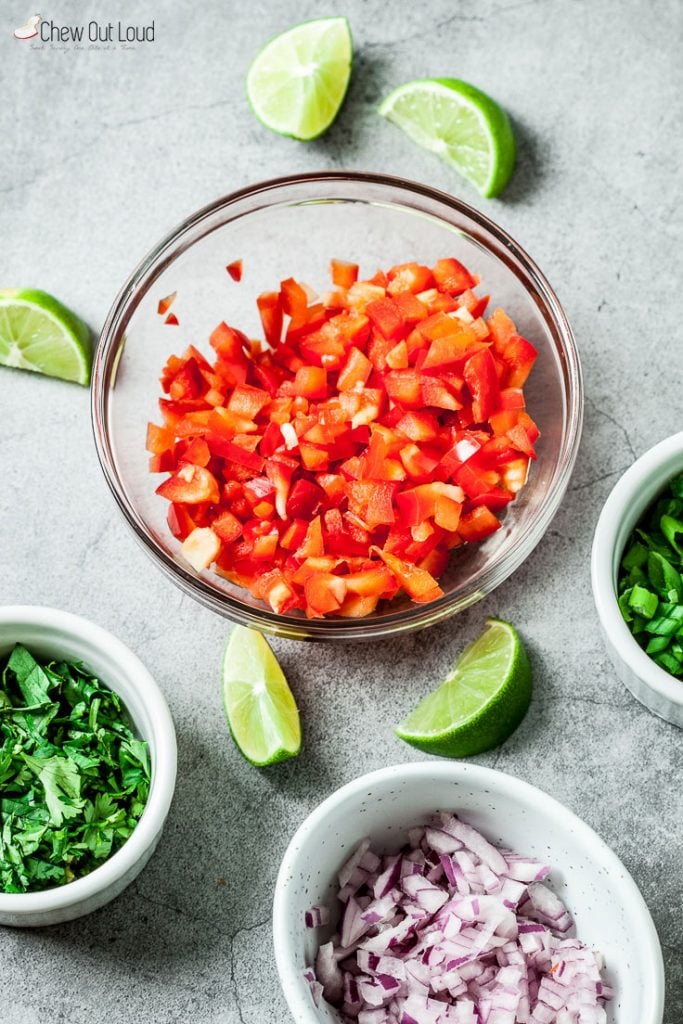 When and how to serve Mexican Street Corn Salad
Here's my bullet list of when or how Mexican Street Corn Salad would be totally perfect:
Any dips 'n chips themed gatherings
Picnics, potlucks, parties (hint: crowd-pleaser)
Wrapped in tortillas for quick, healthy meals
Served over grilled chicken or grilled shrimp
Lunch in a bowl, with lots of chips. Or just a spoon.
Plan Ahead
When planning a simple menu for gatherings (or just weeknight dinner) …it's always brilliant to plan ahead. Choose recipes that can be mostly prepared ahead of time, so you aren't scrambling when hungry people are hanging around.
Up to 2 days ahead, the amazing dressing can be mixed up and chilled. The rest of the salad can be prepared the day before and chilled overnight or a few hours prior to serving. Make it easy on yourself, cook smart, and enjoy your table time with friends and family.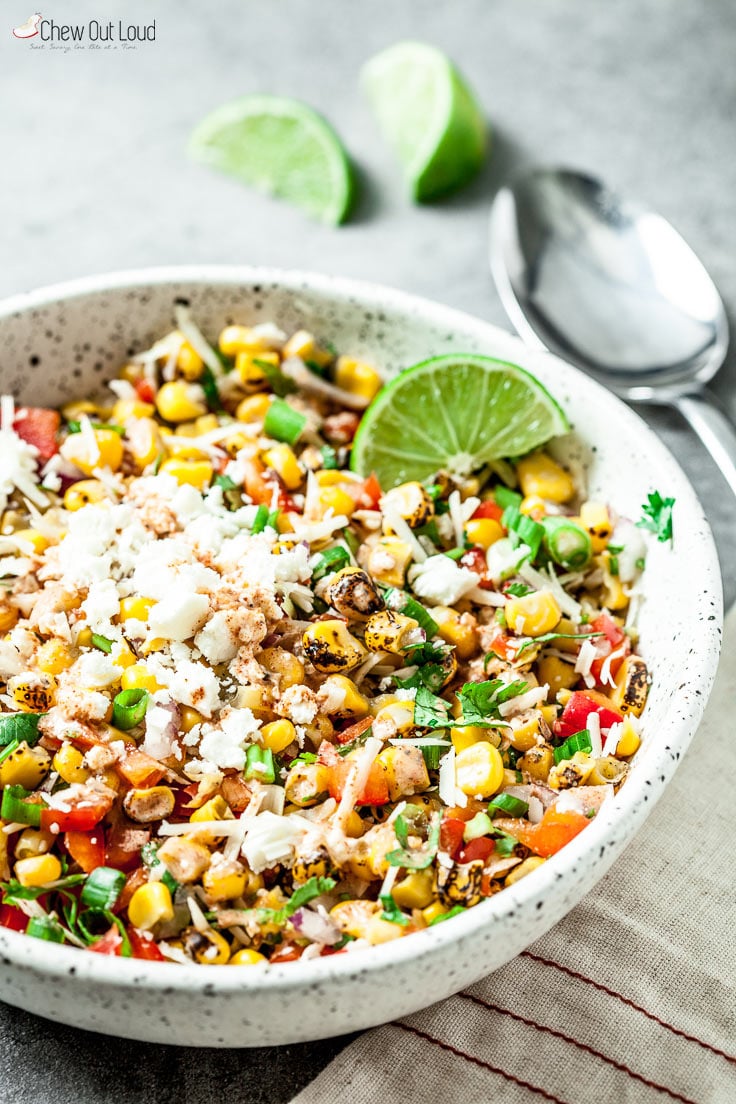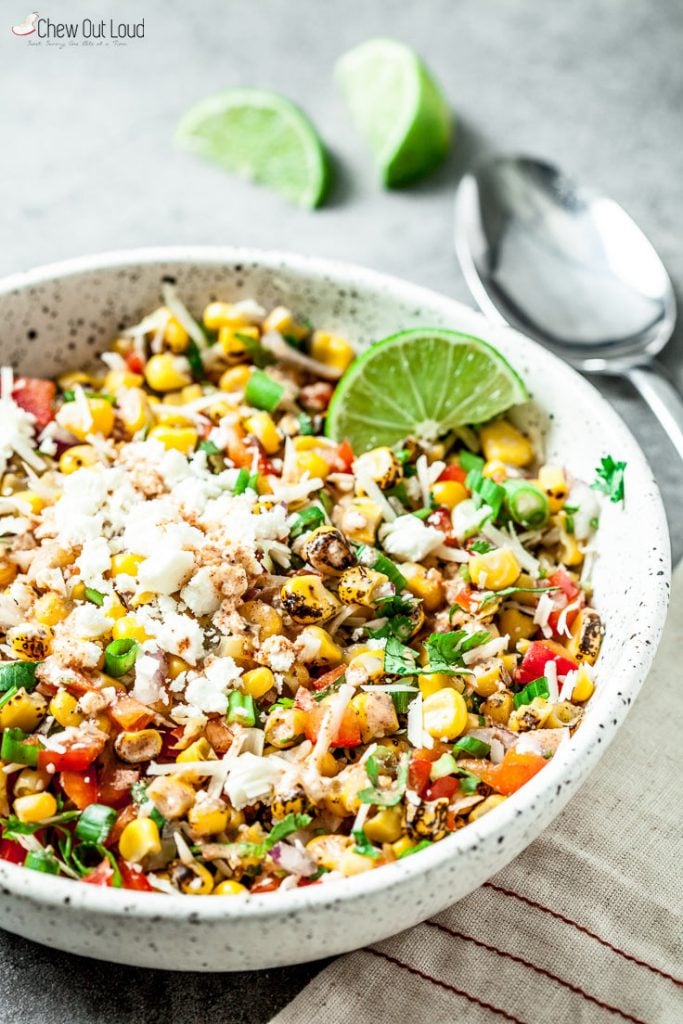 In case you missed it:
Did you make this?
Please give us a rating and comment below. We love hearing from you!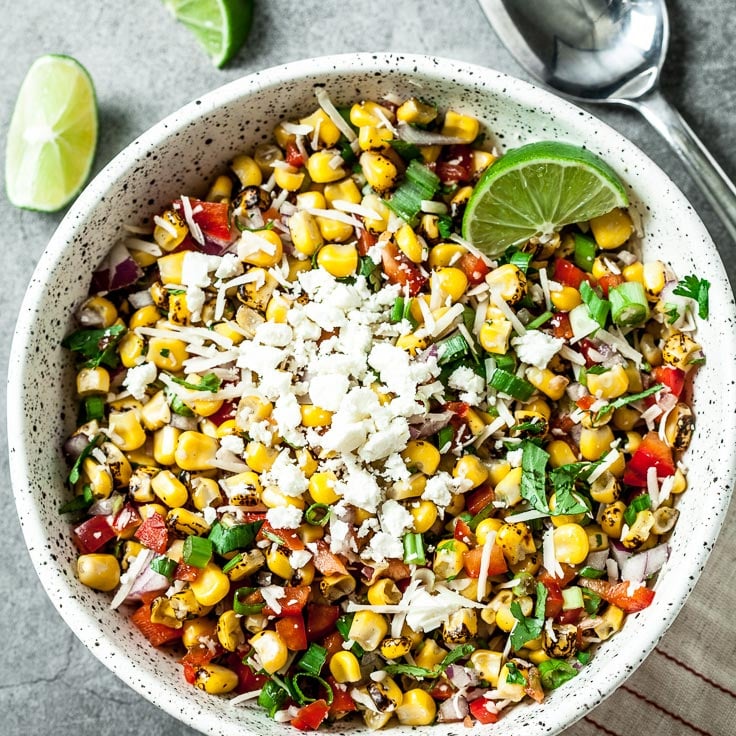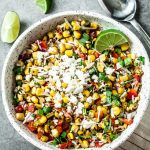 Mexican Street Corn Salad (Esquites)
This Mexican Street Corn Salad recipe is quick, simple, and epically delicious! Mexican street corn salad brings big, bold, exciting flavors to the table. Great for parties, potlucks, and lunch.
Ingredients
For the Salad:
3

cups

sweet corn kernels

,

cut off the cobs

1

TB

olive oil

1

cup

finely grated parmesan cheese

1

cup

freshly chopped cilantro

½

cup

red bell pepper

,

chopped

½

cup

thinly sliced green onions

¼

cup

red onion

,

chopped

1

jalapeño pepper

,

seeded and chopped

½

tsp

garlic powder

½

cup

crumbled Cojita cheese
Instructions
In a small bowl, combine all dressing ingredients. Use hand whisk to incorporate well; try to get mayo mostly dissolved. Set aside (dressing can be made ahead of time and chilled until ready to use)

In a large skillet, heat olive oil over high heat. Once hot, add corn kernels and cook 3-5 minutes, stirring only occasionally. Once some of the kernels are nicely charred, turn off the heat. Add in parmesan, cilantro, bell pepper, green onions, red onion, jalapeño, and garlic powder, stirring well to combine. Toss with dressing and sprinkle with crumbled cojita (or feta) cheese. Serve at room temp or chilled.
Notes
Salad can be made a few hours ahead of time, covered, and chilled.
If you enjoyed this recipe, please come back and give it a rating ❤️
Nutrition (per serving)
Serving:
1
g
|
Calories:
95
kcal
|
Carbohydrates:
11
g
|
Protein:
2
g
|
Fat:
2
g
|
Saturated Fat:
0.4
g
|
Polyunsaturated Fat:
1
g
|
Monounsaturated Fat:
1
g
|
Sodium:
274
mg
|
Potassium:
135
mg
|
Fiber:
2
g
|
Sugar:
4
g
|
Vitamin A:
469
IU
|
Vitamin C:
18
mg
|
Calcium:
8
mg
|
Iron:
0.5
mg
Deliciously Corny Recipes
Avocado Black Bean Corn Salad with Lime Dressing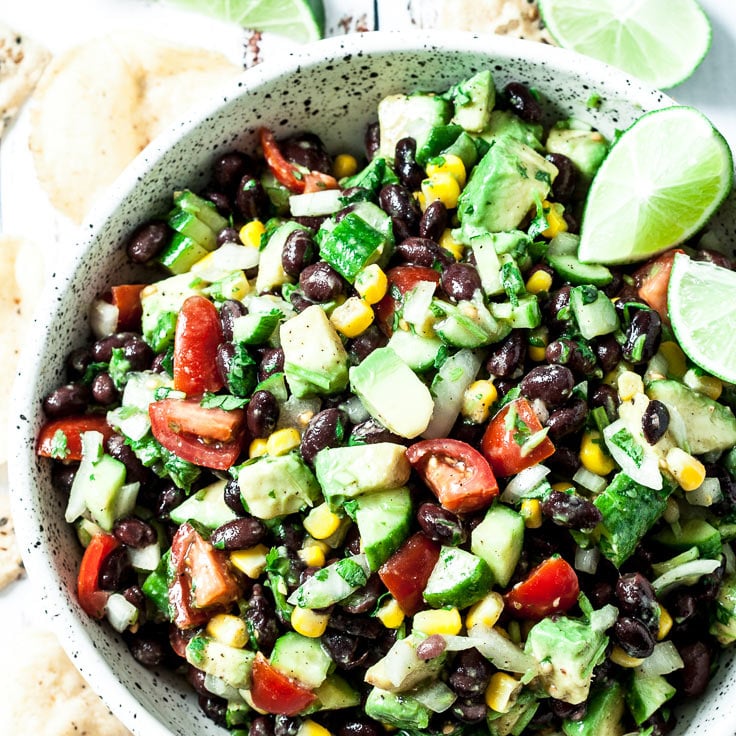 Honey Cornbread Muffins (No Refined Sugar)