30-Minute Chili Mac Recipe
Hearty, comforting, and cheesy, this 30-Minute Chili Mac recipe is a family favorite. This comforting, easy meal will have your family going back for seconds.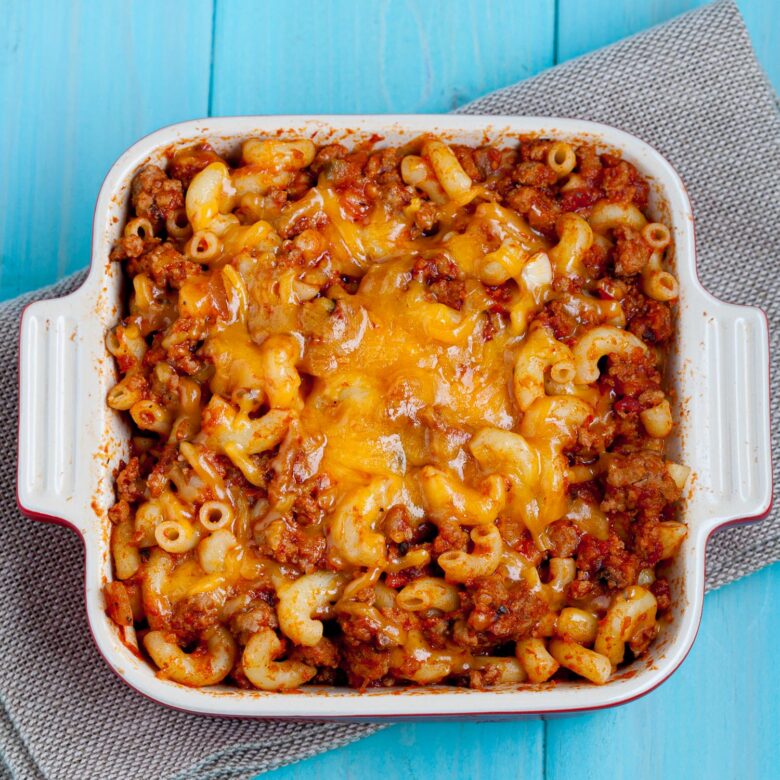 Video: Watch Us Make This Recipe
30-Minute Chili Mac
There's something truly nostalgic about a warm bowl of macaroni and cheese. Few dishes beat its status as a quick and easy meal enjoyed by picky kids and adults alike. Not to mention, it combines two of our favorite things – pasta dinners and cheese.
Not only is macaroni and cheese delicious and easy-to-make, it's also versatile! Keep it classic or add in toppings like bacon. This comforting 30-Minute Chili Mac Recipe a spin on this much-loved classic mac and cheese and we can't get enough of. It combines simple pantry ingredients to make a hearty, filling dish perfect for weeknights. Serve it with your favorite veggie side and you'll have an easy dinner recipe in a flash.
Why This Recipe Stands Out
It's quick and easy. You'll only need about 25 minutes to make it. It's also made with simple ingredients you may already have in your kitchen.
You can customize it to your liking. This recipe leaves plenty of room to make it your own. Pick your favorite sauce, choose what kind of meat you want, and add your favorite toppings!
Kids love it. This recipe is perfect for picky eaters. If you have kids, this is a must-try recipe.
It's hearty and healthy. The ground beef/turkey adds a boost of protein to this dish making it almost a full meal. Just add greens like this Easy Chopped Greek Salad, and you've got a balanced dinner.
We add a secret ingredient to this recipe for a pop of flavor. A bit of Sriracha gives this Chili Mac a little kick of sweet and tangy flavors.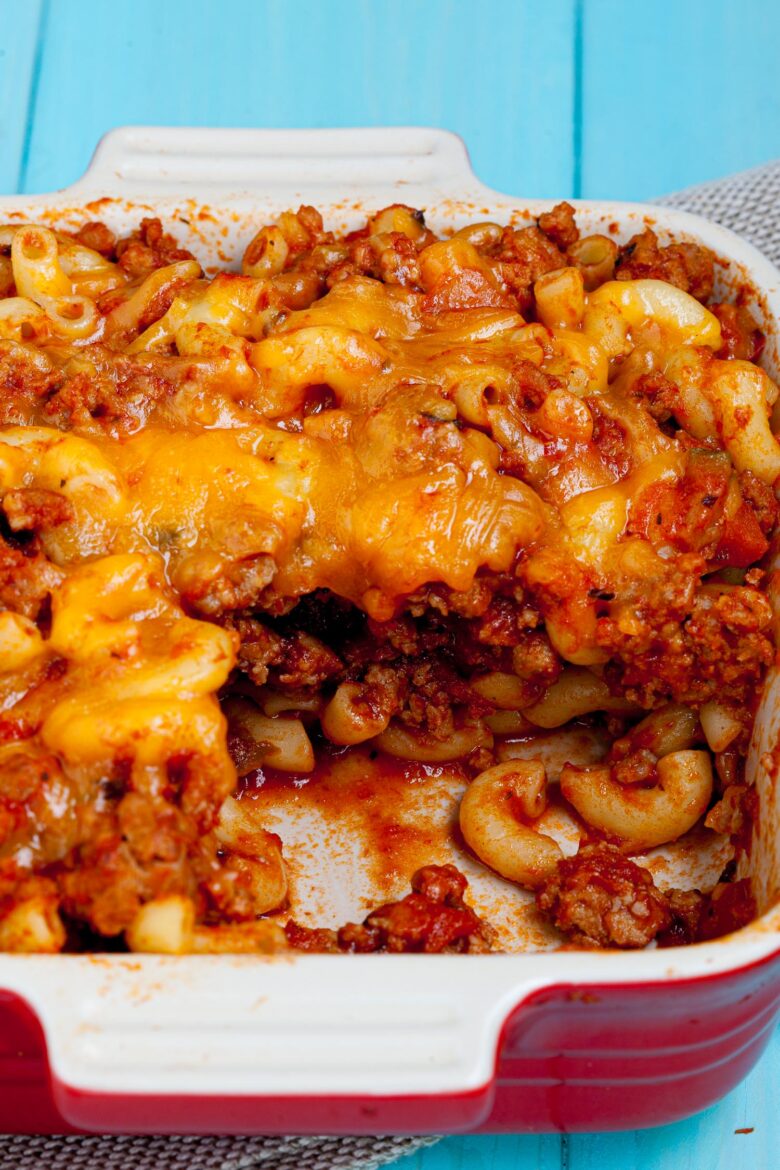 Key Ingredients
This Chili Mac is made with simple ingredients that are easy-to-find and don't require a lot of prep. They come together perfectly to make this cozy meal.
Ground Turkey/Beef – Choose whichever option you prefer. Ground meat gives this dish a boost of protein, elevating it from side to meal.
Table Salt – Just one teaspoon of table salt brings out all the amazing flavors of this recipe. Note that table salt has finer grains than many other kinds of salt, so measurements may vary if you're using Kosher salt.
Garlic Powder – Garlic powder is a must-have spice that elevates the flavor of any dish.
Onion Powder – Sweet and pungent, onion powder balances the boldness of the garlic and goes wonderfully with this dish.
Cumin – This nutty, warming spice makes this Chili Mac even more cozy and comforting.
Pasta Sauce – Using a pre-made pasta sauce is one of the things that makes this recipe so easy. Pick your favorite red pasta sauce for this dish.
Sriracha – For a little punch of spice, we like adding Sriracha to this dish. However, if you want to keep the spice level down, you can totally omit this.
Elbow Macaroni – Cook elbow macaroni to al dente and drain before adding it to the rest of the ingredients. To make this recipe gluten free, substitute your favorite gluten free pasta and make sure the sauce you're using doesn't contain gluten as a thickener.
Cheddar Cheese – Don't skip this garnish! Shredded cheddar cheese is added on top of the pasta for that melted, cheesy goodness.
Substitutions And Variations
This recipe is super versatile. Take a look at some of these ideas to play around with the ingredients of this dish..
Change up the sauce. Although we use red sauce for this recipe, you could totally change the whole flavor of the dish by using creamy alfredo sauce instead.
Change the cheese. We love cheddar cheese with this recipe, but you could absolutely experiment with different cheeses. Try using Gouda, Gruyere, Parmesan, or even goat cheese.
Change the meat. Especially if you choose to make this with an alfredo sauce, we think cooked chicken breast would be a great substitute for the ground turkey/beef. We also think Italian sausage in pasta is extra flavorful.
Garnish. We love using fresh herbs to garnish our favorite meals. Parsley, cilantro, basil, or rosemary will immediately take this dish to the next level.
Key Steps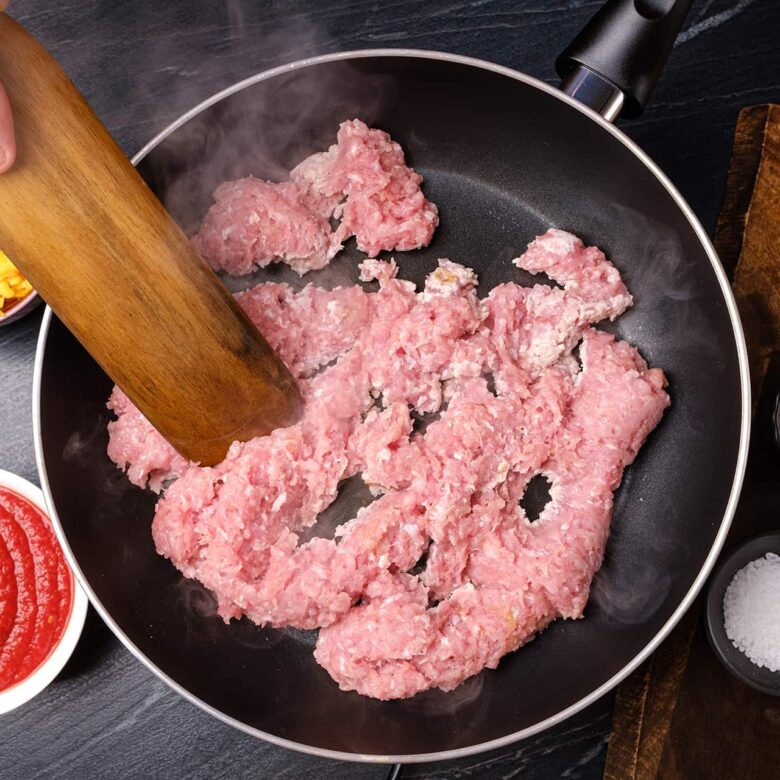 Add ground turkey or beef mixture to a large skillet on medium-high heat, and cook until browned.
Add pasta sauce to the pan, and stir well.
Add Sriracha, 1 tsp of garlic powder, and cumin to the pan. Stir and bring the mixture to a boil. Then turn the heat down, and simmer covered for 10 minutes.
Add the cooked macaroni to the pan, and stir to combine.
Place Chili Mac in a casserole dish, and top with grated cheddar cheese.
Place casserole dish in the oven for 10 minutes or until the cheese is melted.
Remove Chili Mac from the oven, and enjoy with your favorite veggie side!
For full list of ingredients and instructions, see recipe card below.
Key Tips For Success
This 30-Minute Chili Mac Recipe is super quick and easy. It's perfect for people who don't like to spend too much time in the kitchen. Here are just a few tips for the perfect outcome every time.
Don't overcook the pasta. Just cook your pasta to al dente (slightly firm). We don't want our pasta too cooked, because it could get mushy when mixed with the sauce ingredients if it's already well-done. Keep it on the side of less-cooked and you'll be all set!
Pop it in the oven. Although this step isn't required, we highly recommend putting the pasta and sauce mixture into a casserole dish with the cheddar cheese sprinkled on top and throwing it in the oven for around 10 minutes to get that bubbly, melted cheese topping that your eaters will love.
Choose lean meat or strain. We like using lean ground turkey or beef for this recipe, but you can totally use meat with a higher fat content. Just note that you may want to strain the fat after browning the meat if you don't use a lean variety.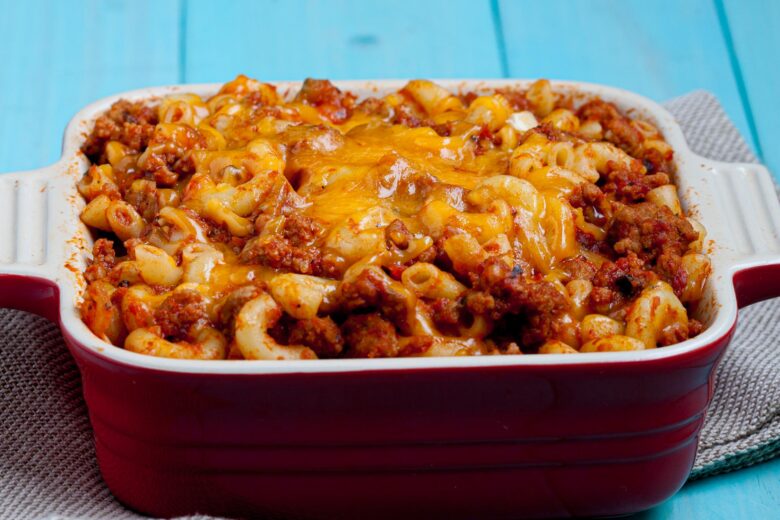 Commonly Asked Questions
How long does Chili Mac keep?
Store Chili Mac in an airtight container in the fridge for up to 4 days. If you want to keep it longer than that, you can also freeze it for 2 to 3 months.
How to reheat Chili Mac so it doesn't dry out?
You can reheat Chili Mac in the oven, on the stovetop, or in the microwave. We recommend adding a splash of water or broth to the pasta before heating up again to prevent it from getting dry. The biggest thing to watch for when reheating is that you're not cooking the Chili Mac more, but just barely heating it.
Can I make Chili Mac dairy free?
Yes! Just substitute the cheese for vegan cheese or omit it altogether, and this meal easily becomes dairy free.
Are Chili Mac and American Goulash the same thing?
Chili Mac and American Goulash are very similar. This Chili Mac recipe is almost identical to American Goulash, because we don't use beans as some other Chili Mac recipes do.
What To Serve With Chili Mac
Did you make this?
Please give us a rating and comment below. We love hearing from you!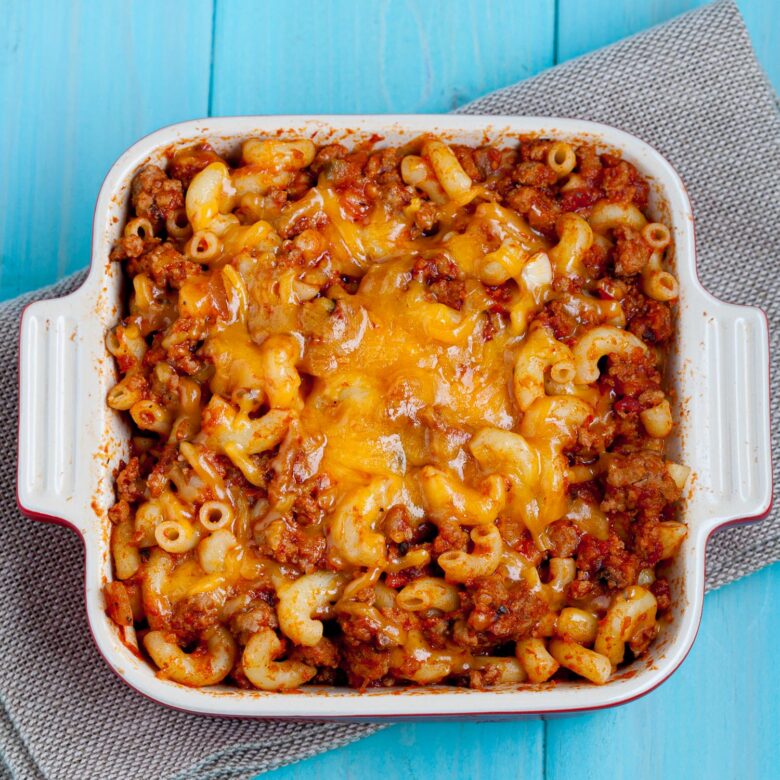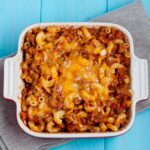 30-Minute Chili Mac
Hearty, comforting, and oh-so-cheesy, this 30-Minute Chili Mac Recipe is a family favorite. Cheddar cheese and bit of hot sauce packs will have your eaters wanting this dish on repeat!
Ingredients
1

lb

ground turkey

,

or ground beef, lean

1

tsp

salt

2

tsp

garlic powder,

divided

1

tsp

onion powder

1

tsp

cumin powder

24

oz

marinara sauce

,

or your favorite pasta sauce

2-3

tsp

Sriracha,

depending on desired spice level*

8

oz

elbow macaroni

,

cooked to al dente and drained (not rinsed)

Shredded cheddar cheese for serving
Instructions
In a bowl, combine ground turkey or beef with salt, 1 tsp garlic powder, and onion powder. Mix well.

In a large skillet over medium-high heat, brown the ground meat, stirring until cooked through.

Add pasta sauce, stirring well. Then add 2-3 tsp Sriracha, 1 tsp garlic, and cumin. Stir to combine.

Bring to boil over high heat, and immediately reduce to low heat. Simmer covered for 10 minutes. Then, stir in cooked macaroni until heated through. Serve with shredded cheddar cheese.

If desired, place finished chili mac into a casserole dish, sprinkle with cheese, and place in oven for about 10 minutes, or just until cheese melts.
Nutrition (per serving)
Calories:
387
kcal
|
Carbohydrates:
53
g
|
Protein:
37
g
|
Fat:
4
g
|
Saturated Fat:
1
g
|
Polyunsaturated Fat:
1
g
|
Monounsaturated Fat:
1
g
|
Trans Fat:
0.02
g
|
Cholesterol:
62
mg
|
Sodium:
904
mg
|
Potassium:
1001
mg
|
Fiber:
5
g
|
Sugar:
8
g
|
Vitamin A:
774
IU
|
Vitamin C:
14
mg
|
Calcium:
47
mg
|
Iron:
4
mg