For some reason, we've been doing more pasta recently.  Maybe it's the cooler fall weather.  Or perhaps it's just the call of carbs.  Knowing my hubby and boys have an affinity for Pasta Bolognese, I opted to make a delish chunky version.  The chunks of meat and tomatoes in the sauce feel substantial.  The noodles definitely curb any carb crave.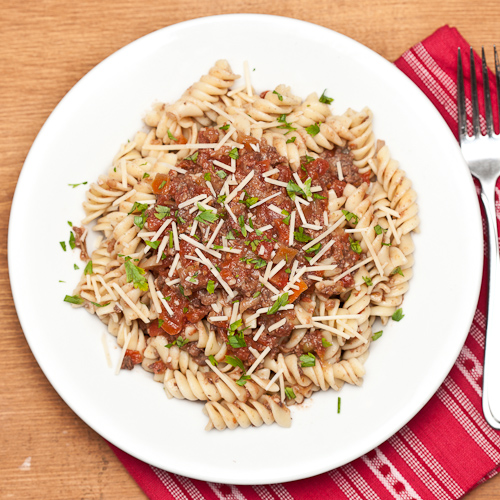 If you've read a few of my previous posts, you already know I adore my Cooks Illustrated.  The Test Kitchen does not skimp or mess around.  Sure, I will pad around the kitchen attempting anything ranging from Daddy's home style grub to Thomas Keller's creations.  Yet Cooks Illustrated has a special space in my collection of recipes, because I know it's gonna be good.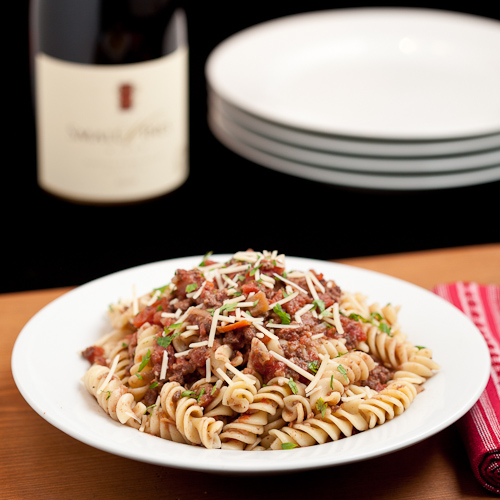 Take this classic Pasta Bolognese.  Such amazingly deep, complex flavors!  This is not to be mistaken for "red sauce with meat."  Oh, no.  This is a delightful savory experience that comes only with the right ingredients and a patient simmering.  Three hours of low simmering, to be precise.  I think I even went a bit longer.  So plan to give this baby some time.  The weekend is a perfect time to make this dish.  Once you have it all in the pot, you can walk away.  Let the sauce do its low-simmer thing.  Dress it up or down, and it can go from casual family meal to dinner-guest material.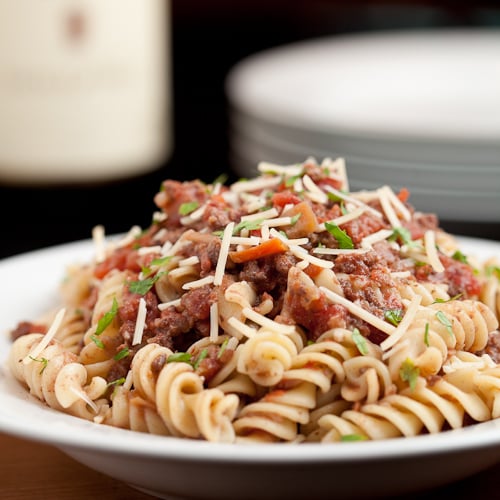 Bolognese.  Try saying it with a robust Italian accent.  I love the word Bolognese, just because it's one of those fun-to-say words.  If you make this dish, you could find yourself happily stirring and chanting the word.  Or at least thinking it in your head 🙂
I used fresh sausage, casings removed, for my choice of ground meat.  You can use 85% lean ground beef or a mixture of ground meats, such as a mixture of beef/pork/veal.  My family and I really prefer the ground sausage because it imparts a robust flavor into the sauce.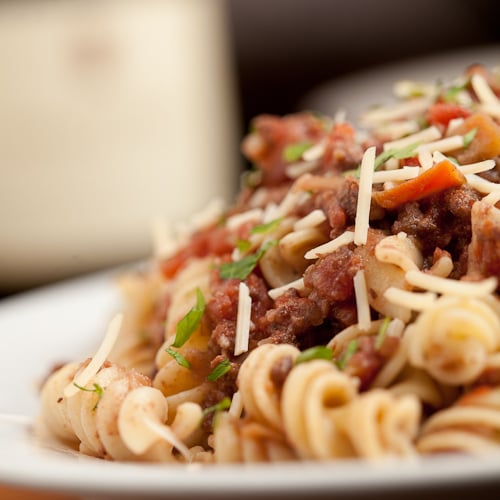 Oh!  Can't forget the best part… the sauce freezes well.  I double the sauce and freeze half of it in an airtight container.  Then, on a busy weeknight, all you have to do is boil some pasta and defrost your Bolognese sauce.  Dinner is served, and it is oh-so-good!  Enjoy this.
RECIPE (4-6 servings)
INGREDIENTS
5 TB regular butter
2-3 TB finely chopped onion
2-3 TB minced carrots
2-3 TB minced celery
4 cloves garlic, chopped
12 ounces ground meat of your choice (I use sausage, casings removed)
1 cup whole milk
1 cup Italian red wine, such as Sangiovese
1 (28 oz) can whole tomatoes, with juices reserved and tomatoes chopped fine
1-2 bay leaves
1 lb pasta of your choice
freshly shredded Parmesan cheese
salt to taste
freshly ground pepper to taste
DIRECTIONS
Melt 3 Tb butter in Dutch oven or a heavy large pot, over medium heat.  Add onion, carrot, and celery and cook 5-7 minutes until softened.  If not using sausage, mix about 1/2 tsp salt into ground meat before adding it to the pot.  Add meat to pot and cook, breaking up large pieces of ground meat with wooden spoon, until cooked through.
Stir in whole milk.  Bring to simmer.  Cook for 10-15 minutes.  Stir in wine, bring back to simmer, and cook another 10-15 minutes.  Stir in chopped tomatoes, tomato juices, and bay leaves.  Bring to simmer again.  Once it is back to a good simmer, reduce heat even lower so that sauce is just barely simmering, with occasional bubble or two at surface.  Let sauce barely simmer, uncovered, for about 3 hours.  Stir only occasionally.
Once sauce finishes simmering, it should appear visibly reduced.  At this point, skim excess oil off the top of sauce.  Add salt and freshly ground pepper to taste.
Bring generously-salted water to boil in a large pot.  Cook pasta until al dente, and reserve 1/2 cup or more  of the pasta water.  Drain rest of the water and return pasta to the pot.  Add Bolognese sauce and the remaining 2 TB of butter to the pasta, tossing to combine.  Add some pasta water as needed, to desired consistency.  Serve warm, topping plates with freshly shredded Parmesan.
by Chewoutloud, adapted from Cooks Illustrated cookbook
Wine Pairing Note:  Pasta Bolognese goes beautifully with a light, bright Italian red, such as Sangiovese or Chianti.